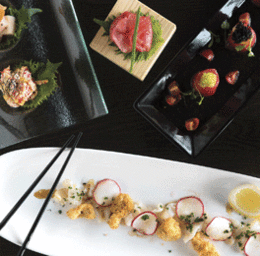 Gold Standard: The 25 Best Restaurants in South Jersey
At South Jersey Magazine, we're always hungry. When we're not chowing down at one of the remarkable restaurants in the area, we're talking about memorable meals we love, looking for what's new, and dreaming of our next great dish.
Luckily, the local dining scene is full of unique and talented chefs that take fine dining as seriously as we do. So, when it came time to choose this year's Golden Fork award winners, we were left with a difficult, albeit delicious, task of selecting the 25 Best Restaurants in South Jersey. Inviting décor and topnotch service, not to mention mouthwatering food, help separate these dining rooms apart from the pack.
We also reached out to our readers to find out their thoughts on their favorite cuisines in the area; where to find sophisticated lunch offerings; and for their take on the BYOB versus bar battle. And just in case you were hungry for more, we'll introduce you to three new restaurants poised to make this list next year.
So read on to find out where you should be having your next meal. Maybe as a token of your appreciation, you'll even invite us to tag along.
Zeppoli
618 Collings Ave., Collingswood
(856) 854-2670
ZeppoliRestaurant.com
Just two years after chef Joey Baldino left his post as chef de cuisine at Philadelphia's acclaimed Vetri Ristorante to open up Collingswood's first Sicilian fine dining establishment, Zeppoli has earned a reputation across the tri-state area as a can't-miss dining destination. Following a James Beard nomination this fall, the newest talk of the town isn't slowing down, with a constantly-evolving seasonal menu entirely devised by Baldino himself.
Cuisine: Sicilian
Vibe: Cozy Italian Kitchen
Don't Miss: A meeting with head chef Baldino, who can be found greeting guests and dishing out orders on most nights.
Best Value: Save some room for the free struffoli served with your check, a mini-dessert of marble-sized dough bites coated in honey and topped with rainbow diavulillis.
Best Table: Any available table is the best choice, as space is limited in the 35-seater dining room.
Can't-Miss Dish: An Italian rib-eye might throw some meat-lovers off, but the bistecca enna, crackling and coated in Sicilian herbs and spice then served with a fresh arugula and tomato salad, is one meal you won't ever forget.
Chef Recommends: Chef Baldino goes for the squid ink pasta entrée, consisting of jet black pasta made by hand. For dessert, try the semifreddo, a frozen pistachio and almond dish drizzled with caramel.
Added Perks: Outdoor seating sets a romantic scene on a cool summer night, and the BYOB option challenges you to find the perfect pairing.
Regular's Choice: Zeppoli's specials are constantly changing with the seasons, but you can't go wrong with the antipasto Siciliano, a starter of cured meats, cheeses and extras fit for sharing.
Sweet Ending: The obvious choice here is the restaurant's namesake: the zeppoli Siciliano, deep-fried dough balls dusted with cinnamon sugar and served with a side of Nutella. But don't neglect their seasonal gelattis and sorbettos, a refreshing finale to a big meal.
Dynamic Drink: Fresh-squeezed Sicilian orange-blossom lemonade is a sweet and unique alternative for those who chose to leave the wine at home. Pro Tip: Both weekday and weekend diners will want to make their reservation sooner rather than later, as seats in this tiny hotspot fill up fast.
Cross Culture
208 Kings Hwy. E., Haddonfield
(856) 428-4343
CrossCultureRestaurant.com
Serving as the hit of spice on Kings Highway is a big responsibility, but one that Cross Culture welcomes whole-heartedly. And they do that with an attention to detail and a rich fusion of Indian seasoning and flavors that practically burst out the front door.
Cuisine: Indian
Vibe: Perfectly Persian, with warm colors, inviting scents and ethnic accents
Best Table: Horseshoe booths tucked away offer a bit of privacy to larger parties.
Can't-Miss Dish: As with most Indian food, the vegetarian selection gets a lot of attention.
Chef Recommends: The chef prepares a specialty biryani basmati rice dish, cooked with chicken, lamb and shrimp alongside lightly spiced cashews, golden raisins and a pinch of saffron.
Added Perks: The wait staff provides new guests with a "spicy scale" from 1-10, to help determine the best options on the menu for each person. Regular's Choice: Both the chicken and vegetable samosa appetizers are a constantly popular way to start an evening here.
Sweet Ending: The gulab jamun—warm, homemade cheese balls with milk, dipped in a sticky sweet syrup—are worth every delicious calorie.
Dynamic Drink: There's an impressive pick of Persian drink options, like the yogurt-based lassi, available in mango, cardamom, cinnamon and strawberry.
Pro Tip: Here, the bread is not just for dipping. Cross Culture makes a whole range of Indian breads—from naan and puri to kulcha and partha—packed with flavors like garlic, cheese, and even sweet potato.
Tres Yan and Wu
3131 Route 38, Mount Laurel
(856) 608-8888
TresYanandWu.com
The traditional Chinese menu is nowhere to be seen at this fashionable locale. That's because the minds behind this Asian eatery draw inspiration from across the continent, pulling dishes from Thailand, Japan, China and more to create more of a trip around a map than a meal.
Cuisine: Cantonese-influenced Chinese with a sushi bar
Vibe: Imagine an Asian-centric atmosphere with a pinch of French inspiration.
Don't Miss: The Chinese New Year menu pays homage to the Year of the Snake, featuring new menu items until the end of April.
Best Value: The triple delight gives diners a few different bites for one price, serving up jumbo shrimp, chicken and roast pork in a smooth brown sauce with sautéed vegetables.
Can't-Miss Dish: Opt for both the land and sea with the chicken and scallops in black pepper sauce.
Chef Recommends: Broiled jumbo shrimp are a seafood fan's dream—stuffed with lump crab meat and broiled to perfection.
Added Perks: This BYOB has a no-corking fee all week, and stays open until 11 p.m. on Fridays and Saturdays for local night owls.
Regular's Choice: The pork dumplings are all handmade and hard to resist.
Sweet Ending: Two different bomba selections are a refreshing alternative to typical heavy desserts. The original flavor combines vanilla and chocolate gelato stuffed with cherries and slivered almonds, then coated in dark chocolate, while the exotic version features mango, passion fruit and raspberry sorbetto covered in white chocolate.
Pro Tip: Get something to go: It's a breath of fresh air from what you'll usually find in Asian takeout.
Zinc Café
679 Stokes Road, Medford
(609) 953-9462
ZincCafeNJ.com
Take a trip to the West Coast without the hassle of airport security. The dishes coming out of the kitchen of the Zinc Café ring true to the Cali feel: heavy on the seafood, with light and simple pairings and only the freshest of the fresh ingredients.
Cuisine: California casual
Vibe: Comfy and casual, but refined enough for an evening out
Don't Miss: Sunday brunch is an event in itself, featuring a sprawling list of sweet and savory options for both vegetarians and meat eaters.
Best Value: All Zinc Café entrées come in half and full portions, priced accordingly.
Can't-Miss Dish: The potato-encrusted Chilean sea bass with grape tomato beurre blanc blends some unusual flavors for a really pleasant surprise.
Chef Recommends: Chef and co-owner Chris Sammons picks the black and white fettucine as his entrée of choice, featuring seared scallops with basil, plum tomatoes and crispy garlic.
Regular's Choice: A protein-packed and popular choice for most visitors is the vegan plantain burrito, stuffed with avocado, black bean corn salsa and salsa verde.
Sweet Ending: The candy bar cake—layers of rich chocolate with toffee and peanut butter—is a super-sweet and incredibly decadent way to end a meal.
Pro Tip: This is another small spot with limited space, so it's worth making a reservation. Just give yourself plenty of time in advance.
Yokohama
300 S. Lenola Road and Kings Hwy.
Maple Shade
(856) 608-8812
YokohamaCuisine.com
Tucked away in an unassuming shopping center in Maple Shade, Yokohama's kitchen, overseen by chef Ken Sze and his mother Cyndy Chan-Sze, takes traditional Japanese cuisine to the next level, with modernized recipes and a careful consideration of local produce and seasonal flavors.
Cuisine: Japanese
Vibe: Modern design meets elegant and chic standards
Don't Miss: Trained Teppanyaki chefs provide dinner and a show for guests interested in a hot meal.
Can't-Miss Dish: You can't get any fresher than the live scallops, fresh from the shell onto your plate.
Chef Recommends: Chef Sze suggests the fresh- seared Ahi tuna with an orange ginger and wasabi aioli for an added punch to their Japanese staple.
Added Perks: Their happy hour—including sushi deals on Thursdays and Fridays—is enough to keep us coming back, but the BYOB option may please visitors with a particular option in mind.
Sweet Ending: A massive serving of fried green tea ice cream served with a mountain of whipped cream is one guilty pleasure you'll be glad you indulged in.
Dynamic Drink: The lychee saketini blends the perfect mix of exotic lychee fruit essence and traditional sake.
Pro Tip: Arrive ahead of your reservation and order up a flight of premium sake at the bar just inside the door.
Café Madison
33 Lafayette St., Riverside
(856) 764-4444
CafeMadison.com
Just within earshot of the old historic Riverside Watch Tower, Café Madison is designed to go effortlessly from day to night. The menu still holds onto its elegance, while the bar is stocked with a laundry list of their own cocktail concoctions, perfect for a big meal or a few bites with friends.
Cuisine: Continental a la carte dining with a Mediterranean and Asian flair
Vibe: Dark walls and chic colors create an upscale setting, and the rich menu only adds the necessary extra touches.
Don't Miss: The live pianist is on hand for every dinner service after 5 p.m.
Best Value: Sign up for the Café Madison Birthday Club. Those enrolled receive a free entrée every Wednesday during the month of their birthday.
Can't-Miss Dish: Delmonico steak is smoked before it meets the grill, then presented alongside applewood smoked lobster mac-n-cheese.
Chef Recommends: Lamb shanks benefit from a slow braising in rosemary jus and arrive with fennel mustard seed and a side of roasted pepper and spinach spaetzle.
Added Perks: The music just gets livelier every weekend, when bands come to perform for dinner and dancing on Fridays and Saturdays after 9 p.m.
Regular's Choice: There's always a demand for the grain-fed cuts of filet mignon entrée, served along with fluffy truffle boursin whipped potatoes.
Sweet Ending: While the dessert martinis are enticing, the bourbon vanilla crème brulee with seasonal fruit is a dessert you won't soon forget.
Dynamic Drink: The Madison has an impressive wine cellar, but we go with the Malibu Sunset from the martini bar: Malibu coconut rum mixed with mango and pineapple rum, cranberry juice and pineapple juice.
Pro Tip: Café Madison's outdoor courtyard is still fairly new and a great place to go when the weather is right. It features an outdoor bar, plenty of tables and a large stone fireplace for those chilly evenings.
Barcelona Bistro
126 S. Broadway, Pitman
(856) 270-2352
BarcelonaBistro.net
Authentic Spanish ingredients are the stars here, paying serious homage to the Mediterranean country. Spain comes to South Jersey through straightforward preparations, lots of seafood, and a tapas menu you could find in any Spanish city.
Cuisine: Spanish Mediterranean
Vibe: A simple, clean and informal bistro
Best Value: Prix fixe options give guests four courses, including a salad, soup of the day, a winding list of entrée options, and dessert for just under $16.
Best Table: On a nice evening, we opt to go al fresco on Broadway, Pitman's quaint main street that serves as a beautiful backdrop to any meal.
Can't-Miss Dish: The tilapia rellena takes a standard fish to new heights by stuffing it with a mountain of shrimp, scallops and crabmeat before finishing it off in a shrimp sauce.
Sweet Ending: Dessert specials pop up every day, but the tres leches cake is a sweet and traditional option that's almost always available.
Pro Tip: Embrace traditional Spanish eating and try the tapas, or small plates, menu. You pick from six or seven smaller dishes, like empanadas or chorizo fritos, to share at the table—or keep for yourself.
Arugula
373 Egg Harbor Road, Sewell
(856) 589-0475
ArugulaRestaurant.net
After taking over a graveyard of several restaurants past, young brothers Nicholas Tomasetto and Stefano Gervasi have proven that their heavily portioned and detail-oriented location has some serious staying power. Homemade pastas and seasonal options paired with a nod to Italian tradition give guests plenty of reasons to keep coming back.
Cuisine: Modern Italian
Vibe: Lots of color, splashes of modern art, and lowlight makes this space cool and semi-casual.
Don't Miss: The three-course menu runs only two hours a day from Monday to Thursday, but gives guests an appetizer, entrée and dessert for the low price of $25.
Best Value: House salads come with all entrées, but for only $3, guests have the choice of upgrading to one of Arugula's specialty pear, arugula or Caesar options.
Can't-Miss Dish: The Giovanni entrée pairs buttery veal tenderloin with jumbo lump crab meat and baby spinach, cooked in a champagne-lobster cream sauce and served with mashed potatoes.
Regular's Choice: While new specials are always a popular choice, the Nicola—pan roasted chicken with a crab and arugula salad and fingerling potatoes served alongside a citrus vincotto—is not to be neglected.
Sweet Ending: Desserts are prepared in-house daily and vary as much as the dinner specials. Chocolate budino is a kitchen standard, though, and arrives warm and gooey topped with pistachio ice cream and fresh fruit.
Pro Tip: Even if you don't want pasta for an entrée, order a half portion anyway. Trust us.
Da Soli Trattoria Rustica
116 Kings Hwy. E., Haddonfield
(856) 429-2399
DaSoliRestaurant.com
Chef Mark Berenato has hit quite a stride at this Haddonfield hideaway thanks to his ability to develop a menu of handcrafted entrées with a nod to localized produce and dishes that take traditional Italian preparations to the next level.
Cuisine: Italian
Vibe: The name says it all: A rustic trattoria with lots of energy.
Best Value: The lunch menu gives guests on a budget the same menu available at dinner for half the price, with a serving that's more than reasonable.
Best Table: Head upstairs for an intimate setting. That's where you'll find a smaller space that tends to escape the sounds of the kitchen and guests downstairs.
Can't-Miss Dish: You will fall in love with the maile alla griglia, a juicy pork tenderloin stuffed with salty prosciutto, sharp provolone and broccoli rabe. It's an elegant take on the classic Philly pork sandwich unlike anything you'll find across the bridge.
Added Perks: When the warm weather hits, the restaurant opens up an exclusive outdoor dining spot. That, combined with their BYOB option, can lead to a night of little luxuries.
Regular's Choice: Boneless beef short ribs, slow roasted until beautifully tender in a red wine sauce and served with Arborio risotto, are a standard on their menu that will not disappoint.
Pro Tip: Be sure to ask the chef about his latest homemade limoncello concoction.
Monsoon
418 Dearborn Circle, Mount Laurel
(856) 234-0080
MonsoonIndianCuisine.com
Chefs at this fine Indian establishment do not stray far from tradition, presenting guests with classic dishes and cooking techniques in a light and exotic setting. Guests receive all the flavors of India in one sitting, but the convenient location off Route 38 makes it an easy spot to revisit.
Cuisine: Indian
Vibe: Bright white walls and pillars pop alongside dark accents for a sleek setting, perfect for a romantic night out.
Don't Miss: You have to try the executive lunch and weekend buffets, which give you a taste of more than 10 meat and vegetarian dishes every afternoon, with dessert options available.
Best Value: Pillows of hot naan served with every meal function as a perfectly acceptable excuse to fill up on bread.
Can't-Miss Dish: To truly experience Indian cuisine, you have to go with anything cooked in their traditional tandoor oven, like the tandoori half-chicken. Marinated overnight then flash cooked in the overwhelming heat of the clay oven, you and your taste buds will be instantly transported overseas.
Added Perks: A varied vegetarian selection will please anyone looking to avoid meat, and the aforementioned naan bread comes in 10 varieties.
Regular's Choice: The tandoori butter chicken simmered in a tomato-based cream sauce is a favorite among carnivores, while vegetarians rave about the paneer tikka masala, the Punjabi standard featuring what could be described as a lighter version of tofu.
Sweet Ending: For one last decadent bite, we go for the gulab jamun, rich and creamy dough balls fried and infused with rosewater syrup and cardamom seeds.
Pro Tip: If you want to go for the true fiery nature of Indian food, make sure you request a spicier selection, as Monsoon caters to the traditional American palette with a respectful restraint on spice.
La Posata Ristorante
829 N. Route 73, Marlton
(856) 596-6885,
LaPosataRistorante.com
La Posata has become a South Jersey dining staple, and with good reason. Veteran chef Joe Vento—the nephew of the late Geno's Steaks founder Joey Vento—makes sure to stick with classic Italian dishes prepared with the proper amount of love and care.
Cuisine: Italian
Vibe: Family-friendly, with a warm and lively feel
Don't Miss: If you love the homemade pasta, make sure to buy extra at the door. In addition to what's on the menu, chefs prepare handmade pasta specifically for retail every day.
Best Value: The pasta fagiole has earned them a reputation for excellence. For only $4 a cup, it would be a shame to skip.
Can't-Miss Dish: When looking for something a little out of the ordinary, go with the Mara Tara, baby shrimp tossed in a rose sauce with sun dried tomatoes, asparagus and mushrooms, then topped with jumbo lump crab meat and spooned over cappelini.
Chef Recommends: Chef Joe added a few new select items to his menu and suggests the wild mushroom risotto, available with grilled chicken or shrimp.
Added Perks: Off-premise catering and banquet menus bring the satisfying bites off site.
Regular's Choice: The veal Abruzzi with potatoes, roasted peppers, peppericini and onions in a garlic white wine sauce has been a frequent choice by guests for years.
Sweet Ending: Tiramisu is made in-house, and fresh lady fingers with a mascarpone filling really shine above others in the area.
Pro Tip: If the generous portions don't leave room for dessert, be sure to grab something from the pastry case for when those midnight cravings hit.
The Capital Grille
2000 Route 38, Cherry Hill
(856) 665-5252
TheCapitalGrille.com
Located in the ever-growing dining landscape that is the Cherry Hill Mall, The Capital Grille has managed to live up to its reputation without getting overshadowed by newer neighbors. Whether you store your own bottle of wine in the lockers, or are just passing through for a well-crafted steak, it's hard not to fall in love with this menu.
Cuisine: American Steakhouse
Vibe: Stylish and intimate wine bar
Best Table: Request one of the many quiet booths if you prefer some privacy; or if you're with a larger party, head to the Chef's Table, situated right in front of the kitchen so you'll catch all the action.
Best Value: Guests can get some of the same excellent food in a more casual setting at the bar. Witness the miniature tenderloin sliders with wild mushrooms and Boursin.
Can't-Miss Dish: While steak is an obvious choice, seafood is not to be overlooked. The Grand Plateau is a study in shellfish, featuring chilled crab, North Atlantic lobster, shrimp cocktail and oysters on the half shell.
Chef Recommends: The Kona-crusted sirloin is a favorite of executive chef/partner Kevin Kramer. This bone-in steak is dry aged and cut right on the premises, before being flavored with Kona coffee and served with a shallot butter.
Regular's Choice: While managers note the filet mignon is by far the most popular, regulars also love the pan-fried calamari, a signature appetizer served with fiery cherry peppers.
Sweet Ending: Pure decadence describes the chocolate espresso cake, a dark and dense flourless sliver of heaven, topped with fresh berries and whipped cream.
Dynamic Drink: With 350 wines available, it's hard to choose just one. It's OK, put yourself in the hands of their master sommelier.
Dream Cuisine Café
1990 Marlton Pike E., Cherry Hill
(856) 751-2800
DreamCuisineCafe.net
Finding quintessential French cuisine can be difficult around South Jersey. Luckily for local Francophiles, Dream Cuisine Café has stepped up to the challenge, combining dedicated culinary French technique with a relaxing BYOB setting.
Cuisine: Modern French Provencal
Vibe: The open kitchen, warm colors and buzzing staff makes for a fun and relaxing scene.
Don't Miss: The restaurant hosts live acoustic music by local artists every Friday evening.
Best Value: The prix-fixe menu gives guests on a budget a full experience of the menu. Diners receive a house salad, small plate, entrée and dessert for only $50.
Best Table: If you can, ask for the corner booth. You'll get a full view of the space and some room to relax.
Can't-Miss Dish: Shellfish fans will fall for the mussels, which come served in a sherry broth over a mound of handmade pasta.
Chef Recommends: Head chef Vincent Fanari strays from his roots in Nice, France to suggest the Hawaiian seafood entrées, which change depending on selection available that day.
Added Perks: If you can't live without your last meal, you can now sign up for a cooking class with chef Fanari, a new addition to the restaurant as of 2013.
Regular's Choice: Dream Cuisine's lamb chops in a Provencal sauce of tomatoes, garlic, and Herbs de Provence is a decadent French standard that keeps guests coming back for more.
Pro Tip: Stick with the straightforward: Some of their best dishes—like the ratatouille, a sautéed mix of vegetables—are also the simplest, coming right from Fanari's familiarity and passion for French cooking.
Marlene Mangia Bene
43 S. Broad St., Woodbury
(856) 848-8488
marlenemangiabene.com
This year-and-a-half old neighborhood BYOB is one of the businesses waking up the neighborhood. The family restaurant, owned by husband and wife Christopher and Maria Fasulo and longtime friend Frank Filipek, is in part a tribute to Maria Fasulo's late mother, Marlene. The proprietors, along with executive chef Benny Taormina, carry on her legacy with authentic food with a homespun feel.
Cuisine: Italian
Vibe: Classy and familial, with food like Mom used to make
Best Value: A Tuscan Twilight dinner rewards early-birds with a three course menu (including the restaurant's signature meatball sampler) for only $25, every Tuesday through Sunday from 4-5:30 p.m.
Best Table: The long and narrow dining room is pretty standard (mostly four-tops with linen tablecloths and a long banquette), though there are a few tables outside for al fresco dining and people-watching if you're lucky.
Can't-Miss Dish: There's plenty to love with new pasta entrées and weekly specials, but one of the most surprising items is a crostini starter, served with jumbo shrimp and crushed tomato over toast in a limoncello sauce. (It's a dish actually created by mistake, but the flavors were so good it wound up on the regular menu)
Chef Recommends: Seafood is a specialty here: Try the jumbo sea scallops, pan-seared and juicy, served with lemon and tarragon reduction and crispy pancetta.
Regular's Choice: The trio of meatballs: beef stuffed with mozzarella, tender veal and potato, and spicy pork orbs, all smothered in a fresh tomato sauce with soft ricotta.
Sweet Ending: Marlene's has more than half a dozen house-made treats, but the salted caramel vanilla crunch cake is by far the most popular. A buttery vanilla pudding cake has layers of crunchy caramel pieces, smooth custard and salted caramel sauce.
Pro Tip: If you really want to put on a show, grab a group of six to 10 friends and book the Chef's Table dinner. For $75 per person, Chef Taormina will conjure a five-course meal paired with your choice of wines.
Megu Sushi
1990 Marlton Pike, Cherry Hill
(856) 489-6228
300 Young Ave. Moorestown
(856) 780-6327
MeguSushi.com
Megu is a culinary playground for local foodies looking for a refreshing twist on Japanese dining. Head chef Steven Megu Lin aims to give guests a gastronomic encounter, creating unique twists on his raw fish and cooked meal options.
Cuisine: Japanese
Vibe: Both Megu's Moorestown and Cherry Hill locations have their own feel, from modern and high tech to a classic dining room.
Best Value: Complete dinner boxes give you some variety for one set price. Both boxes come complete with a sushi roll, dumpling, shrimp and vegetable tempura, white rice, soup and a salad.
Best Table: We head to the sushi bar, where you can watch the careful preparation of your favorite sushi selections.
Can't-Miss Dish: The tiger roll is unlike anything else on the menu. Tuna, salmon and yellowtail with avocado and cucumber come wrapped in beautiful white seaweed, a surprising visual change from the ordinary roll.
Chef Recommends: Why not go for the Steven Sashimi Roll? After all, the roll—filled with spicy tuna, yellowtail and asparagus, then wrapped in soy bean paper and finished with a topping of salmon, eel, fish roe and avocado—is named after the creator himself.
Added Perk: Shore-goers will be excited to find a new Ventnor location slated to open soon.
Regular's Choice: Megu isn't just the name on the sign, it's also one of the more popular orders. The special roll comes packed with shrimp tempura and a crab stick, then gets a finishing touch with a beautiful cut of lobster.
Sweet Ending: Mochi ice cream is a standard Japanese sweet that should not be missed. Ice creams like green tea, red bean and mango are stuffed inside pounded rice balls to create an exceptional end to a meal.
Pro Tip: When it comes to hibachi, the Cherry Hill location is the place to be, but if you're looking for an extensive sushi and sashimi selection, head over to Moorestown, where the list runs slightly longer than the original location.
Fuji
116 E. Kings Hwy., Haddonfield
(856) 354-8200
FujiRestaurant.com
Head chef and owner Masaharu Ito got his start in the sushi and tempura kitchens of Osaka, Japan before opening up Fuji in Cinnaminson in the late '70s. The restaurant has since relocated to downtown Haddonfield, but that's about all that has changed, as the quality of Ito's product and precise cuts have earned him and his restaurant some local celebrity.
Cuisine: Japanese
Vibe: A great setting for an upscale and adventurous night out. While the clean design of the interior might not surprise you, the menu will.
Don't Miss: A conversation with the chef, whose experience and knowledge of his craft will leave you stunned.
Best Table: Get a view of Ito's handiwork at the sushi bar, where you can pick the brain of a culinary mastermind.
Can't-Miss Dish: Shabu shabu for two arrives at your table in raw form, with fresh-sliced fish, rib-eye and vegetables alongside a steaming copper pot of broth for you to cook your dish in.
Added Perks: Fish options change daily, depending on whatever comes in fresh to market that morning.
Regular's Choice: The small plate of tuna guacamole is always a top choice for starters. Fresh cut tuna is mashed up with diced avocado, then finished with flakes of Cyprus sea salt, wasabi-infused olive oil, soy sauce and micro red shisho.
Sweet Ending: Shirokuma ice is a popular Japanese treat that's hard to find around the area. Shaved ice is mixed with condensed milk and sweet red bean paste to form a texture similar to ice cream.
Pro Tip: You have to experience Ito's omakase dinner. Simply name a price per head, tell the chef your preferences and sit back. From there the chef will prepare a meal catered entirely around you and your budget. It doesn't get much better than that.
Melange @ Haddonfield
18 Tanner St., Haddonfield
(856) 354-1333
MelangeRestaurants.com
Jersey native Joe Brown, chef and owner, brings the Southern charm to this sprawling location right off of Kings Highway. Here, Brown cooks up food that's anchored in tradition, from Italian classics to the culinary secrets passed down from his Tennessee-born mother—translated into entrées like the popular shrimp and grits or linguine with clams.
Cuisine: Italian meets Bayou
Vibe: White tablecloth service, but down-home style cooking
Don't Miss: Popular in the South, Melange features a savory cheesecake, filled with crabmeat and Creole-spiced cream cheese, with a pecan crust. Each wedge is topped with caramelized onions and wild mushrooms.
Best Value: A trio of cooked-all-day soups, just $8, is a sampling of what's to come: Dip your spoon into smoky tomato and crab bisque, white bean and andouille sausage, and a cup of Brown's ever-changing "soup of the moment."
Can't-Miss Dish: The dish most recommended through word-of-mouth is Brown's jambalaya, a hearty and flavorful stew of shrimp, scallops, mussels, clams, andouille sausage, ham and chewy rice.
Added Perks: A plate of roasted peppers with sliced cheese, plus freshly baked bread, comes gratis with every meal.
Sweet Ending: For fans of cinnamon buns and gooey treats, try the bread pudding cake, drenched in a melty bourbon cream cheese sauce.
Caffe Aldo Lamberti
2011 Route 70 W., Cherry Hill
(856) 663-1747
CaffeLamberti.com
A Cherry Hill mainstay, this Italian restaurant from the Lamberti family has served Neapolitan cuisine in style for more than 20 years. But that's not to say they've gone stale: Caffe Aldo Lamberti's (or simply Aldo's to the locals) has brought consistency and creativity to its posh dining room and bar, earning awards for the extensive wine list, too.
Cuisine: Italian
Vibe: Upscale and chic
Don't Miss: The stylish indoor/outdoor bar and patio, with al fresco dining in season
Best Value: Sunday dinners include a family-style menu with classic dishes that feed two-three diners for only a few dollars more.
Best Table: Anything by the large picture windows in the main dining room.
Can't-Miss Dish: Caffe Aldo Lamberti is known for its fresh seafood, including the pan-seared Chilean sea bass, carefully fileted and served with caramelized leeks in a citrus-wine sauce.
Chef Recommends: Chef Michael Ferguson recommends any of the fresh fish specials—delivered daily—but particularly the whole fillets served tableside.
Regular's Choice: Savvy diners choose the zucchini crabcakes starter, where jumbo lumb crab meat is gently formed into cakes with barely any filler (just herbs and spices) and then crusted with zucchini.
Sweet Ending: Most sweets are made in house, but servers recommend the dense and indulgent chocolate-hazelnut Frangelico torte, drizzled in dark chocolate sauce.
Dynamic Drink: Take a sip of the Marchesi specialty cocktail, layered with organic cucumber vodka, a splash of French aperitif Lillet Blanc, St. Germain elderflower liqueur and lemon juice.
Pro Tip: The new wireless wine list allows diners to quickly identify the perfect bottle of vino.
Sagami
601 Haddon Ave., Collingswood
(856) 858-2288
Facebook.com/sagami.nj
Hidden in Collingswood, this BYOB sushi house isn't your typical Americanized Japanese restaurant. Here you'll get the real thing, made painstakingly by owner and head sushi chef Shigeru Fukuyoshi. Fish is chosen fresh, specifically for these straightforward, flavorful dishes.
Cuisine: Japanese and sushi.
Vibe: Think dark lighting and in-the-know diners.
Don't Miss: Though sushi is the real specialty here, it's worth it to try the zaru soba at least once: cold buckwheat noodles served with ginger, wasabi, green onion and nori, atop a bamboo plate.
Can't-Miss Dish: You may not find it in many places, but the soft-shell crab maki roll is one you won't soon forget. Here, soft-shell crab is tempura fried and rolled in sushi rice and nori.
Chef Recommends: The chirashi bowl, a colorful assortment of sashimi (like shrimp, octopus, salmon and tuna slices) arranged over vinegar-laden sushi rice. This overflowing bowl is also the restaurant's most popular dish.
Regular's Choice: Many chose the delicate starter of agedashi tofu; it's lightly fried soft tofu served in a broth speckled with little mushrooms—a Japanese favorite.
Sweet Ending: The dessert menu is small here, but if you've got an insatiable sweet tooth, choose between fresh pineapple slices and ice creams in flavors like green tea or red bean.
Sapori Trattoria Italiana
601 N. Haddon Ave., Collingswood
(856) 858-2288
Sapori.info
Since being voted best Italian spot in the state for 2011/12 by the national eating guide Zagat, Italian-born chef Franco Lombardo has only continued to improve at his Collingswood eatery. Authentic cuisine that is skillfully prepared coupled with a warm setting help keep the dining room full.
Cuisine: Tuscan-inspired Italian
Vibe: Rich velvets and bold tapestries, stone walls and wrought iron accents take you out of the heart of Collingswood and into a medieval Italian villa.
Don't Miss: The chef's tasting course gives diners a one-on-one experience with chef Lombardo, as he creates a five-to-six course, meal catered entirely around your personal preferences.
Best Value: In a day and age when farm-to-table is more than a trend, Lombardo's mix of grass fed and all-natural beef, chicken and veal is welcomed.
Can't-Miss Dish: The fish and shellfish is always extraordinarily fresh, like the caciucco di pesce, a hearty filet of red snapper sauteed in a white wine-saffron fish stock with equally-impressive clams, calamari and mussels and served atop crostini.
Added Perks: The chef will work off the menu to create specialty dishes upon request, though it's a challenge not to find something intriguing.
Regular's Choice: From-scratch gnocchi al tris di carne features veal, beef and pork braised in a red wine tomato sauce along with a generous helping of light and airy pasta.
Sweet Ending: Creme brulee is given a creamy and Italian twist as a mascarpone cheesecake.
RiverWinds Restaurant
1075 RiverWinds Drive, West Deptford
(856) 579-7900
TheRiverWindsRestaurant.com
The sprawling spaces in this picturesque restaurant are perfect for a romantic evening. Start at the swooping bar area for a few martinis before dinner for two in one of the sparkling dining rooms.
Cuisine: New American
Vibe: Romantic and elegant
Best Value: RiverWinds boasts South Jersey's "longest happy hour," 11 a.m. to 7 p.m. on weekdays and 11 a.m. to 4 p.m. on weekends. While it's not technically an "hour," there are plenty of bar specials for mixed drinks and $6 apps.
Best Table: Grab a seat with a view of the river and majestic Philadelphia skyline. There are plenty.
Can't-Miss Dish: You can't go wrong with a good char-broiled cut of Angus beef; the 16 oz. rib-eye recently earned high praise from our food critic, especially for its house-made port demiglace and delicate seasoning.
Sweet Ending: The house special is an opus of chocolate; the giant cake features two dense chocolate cake layers, two layers of chocolate mousse and a slice of cheesecake, all coated in glossy chocolate ganache.
Dynamic Drink: A citrusy blood orange martini, shaken with Stoli O vodka, two types of blood orange liqueur, and cranberry juice is a quality cocktail to be sure.
Filomena Lakeview Inn
1738 Cooper St., Deptford
(856) 228-4235
FilomenaLakeview.com
The historical setting of this classic restaurant dates back to Colonial times, but the food is all modern. In this reconstructed building, featuring original stonework and fireplaces on both floors, your evening is likely to consist of Italian pastas, aromatic wine sauces and appetizers fired in the chef's wood-burning oven.
Cuisine: Italian
Vibe: Cozy and warm
Can't-Miss Dish: Stuffed five-cheese sachetti: pursed shaped pasta with julienned prosciutto in a blush vodka sauce
Best Value: A three-course menu, just $20, is shared on Mondays and Tuesdays, with soup or salad, starters like veal and pork-stuffed mushrooms, plus satisfying pastas in four different sauces. Or grab a seat at the bar, where nibbles and brick-oven pizzas are available with your cocktail.
Best Table: There are only 45 tables in this intimate farmhouse-like eatery, but for special occasions or date-night romance, pick a spot next to one of the glowing fireplaces.
Chef Recommends: A tribute to Ol' Blue Eyes, the house specialty "Filet Sinatra" features a 10-ounce filet steak, char-grilled and topped with juicy shrimp and lump crab (and don't miss the smashed potatoes, too).
Dynamic Drink: Ask the bartender to mix you an Old Bay Bloody Mary, just $5 on weekends during Filomena's over-the-top brunch service.
Pro Tip: Wednesday nights are likely to include live jazz music, but be sure to check the calendar for monthly comedy nights; $45 gets you a night of split sides from local comics, plus a buffet dinner.
Nunzio Ristorante Rustico
706 Haddon Ave., Collingswood
(856) 858-9840
Chef Nunzio Patruno makes food above your average South Jersey Italian spot; from his homemade spaghetti and meatballs to more sophisticated entrées, he's showcasing all he learned while growing up along the southern Italian coast and cooking through regions along the Mediterranean before making the move to open restaurants in Pennsylvania and South Jersey. In this spot along Collingswood's "restaurant row," you'll feel transported to a sunny piazza by both the food and architecture.
Cuisine: Italian
Vibe: Rustic trattoria
Best Value: While sating your hunger with the gratis rustic bread and dipping sauce, order a starter of imported Buffalo mozzarella; only $12.50, this superior cheese is paired with salty proscuitto, tomato and peppery arugula, with enough to share.
Can't-Miss Dish: Chef Patruno hand-rolls the potato gnocchi before delicately cooking the plump little dumplings to be served in a creamy gorgonzola sauce, dotted with mushrooms, salty prosciutto and peas.
Added Perks: For events or special occasions, the chef can book a private dining room—including one inside the kitchen—for six to 12 guests, with a unique menu that's tailored to you.
Regular's Choice: It's a classic dish that keeps customers happy: Nunzio's breaded chicken parmigiana is covered with linguine and just the right amount of marinara—call it "red gravy" if you must, but there's more to it than that.
Sweet Ending: Among a dessert menu of cannoli and Italian tartufo affogato, you'll find fluffy profiteroles, one of the chef's specialties. Here the vanilla cream puffs are served with gelato and drizzled chocolate sauce.
Don't Miss: Frequent themed dinners and prix-fixe menus liven things up, like a recent Wild Game Night (think braised pheasant and venison meatballs) and an upcoming Valentine's Day menu to please your sweetheart.
Pro Tip: Be sure to ask about the restaurant's cooking classes, where Patruno combines his expertise with remembrances of the regions and dishes that inspired him.
Fleming's Prime Steakhouse & Wine Bar
500 Route 73 N., Marlton
(856) 988-1351
FlemingsSteakHouse.com
The only Fleming's in South Jersey, this steakhouse has corporate excellence backing up each juicy filet or lobster tail. Chef Aaron Fleisch heads the kitchen here, where the quality cuts of beef reign supreme, but aren't the only star of the show.
Cuisine: American Steakhouse
Vibe: Masculine and classic
Can't-Miss Dish: The New York strip, America's best-loved steak, gets the star treatment here. A seared 20-ounce cut is aged for up to four weeks to improve flavor, broiled and finished with butter and herbs; or ask for your choice of peppercorn, bearnaise, chimichurri or Madeira sauces instead.
Don't Miss: A special prime rib dinner, served only on Sundays, may give you a touch of nostalgia. Accompanied by a trio of au jus, creamy horseradish and dijon sauces, the dinner also includes a choice of classic salads (like the iconic wedge or Caesar).
Best Value: A daily promotional menu offers five selections for cocktails, wine and appetizers—like cajun barbecue shrimp or roasted mushroom ravioli—for just $6.
Chef Recommends: You'll be glad you ordered the peppercorn-rubbed prime strip, seasoned by cracked black and white peppercorns and served with house steak sauce and simple French green beans. Don't forget a pairing of chardonnays or merlot chosen specifically by the restaurant's director of wines.
Sweet Ending: Though we're always suckers for a good chocolate lava cake, the walnut turtle pie takes the, well, cake. Homemade caramel, walnuts and chocolate all baked in a chocolate crust—it doesn't get any better.
Dynamic Drink: More than 100 wines await, but retro chic cocktails are a fun throwback to another time. Try the Sailor Daiquiri, a tribute to JFK's favorite drink, with Sailor Jerry Rum, pineapple and lime.
Pro Tip: For groups, the selection of small plates can be just as enticing to share, with options like lobster tempura, shrimp scampi skewers and meyer lemon-glazed scallops.
Luna Rossa Biagio Lamberti
3210 Route 42, Turnersville
(856) 728-4505
lunarossabiagiolamberti.com
This sunny BYOB is a casual, friendly establishment from the Lamberti family of restaurants, specializing in luscious pastas, fresh-grilled seafood and classic entrées. It's family owned and operated, which means guests are treated like family, too. Colorful touches and contemporary décor add to the lively ambiance of this Turnersville restaurant.
Cuisine: Italian
Vibe: Casual
Don't Miss: Always ask about the pesce di giorno special, as you never know what fresh fish of the day the kitchen has cooking.
Best Value: A weekday prix-fixe menu, Tuesdays through Thursdays, starts you off with soup or salad, then a choice of entrées like penne in vodka cream sauce or chicken cacciatore, followed by house desserts for just $18.
Can't-Miss Dish: A beautiful tangle of pasta is presented in the Luna linguine dish, where roasted garlic and olive oil mingle with bursting cherry tomatoes, broccoli rabe and spicy andouille sausage.
Regular's Choice: A handmade starter of porcini mushroom-stuffed ravioli starts with the pillowy pasta, then is tossed and sauteed with mushrooms in a brandy wine cream sauce.
Sweet Ending: Don't miss the dessert tray, because options rotate; you might see a towering chocolate mousse cake with ganache and berries, or a light and airy slice of banana-ricotta cheesecake.
Pro Tip: Luna Rosa is a BYO, but if you forget to bring a bottle, don't fret. Selections from Hopewell Valley Vineyards are on sale for $18-20 a bottle.
ADVENTUROUS EATING
From organs to insects, South Jersey restaurants are providing more than the standard chicken dishes. Feeling a bit adventurous? Check out these five bizarre bites that had us doing double takes.
[ 1 ]
Barbacoa
La Esperanza, Lindenwold
This isn't your standard barbacoa dish. Instead, the chef uses tender goat meat, cooked slow with a special family blend of herbs and spices.
[ 2 ]
Elk and Ostrich Burgers
High Street Grill, Mount Holly
There's two brand new ground meat options in town. They're even leaner and still just as juicy as the regular thing.
[ 3 ]
Vineyard Snails
Blackbird, Collingswood
Perfectly-sized bites of snail are sauteed lightly in fresh herbs and truffle butter, to truly bring out their flavors.
[ 4 ]
Pho Dac Biet
Pho Xinh, Mount Laurel
Noodle soup in a clear broth, with eye round, flank steak, brisket, a ground beef ball, and plenty of spongy tripe and translucent tendon to share.
[ 5 ]
Chicken Feet
Joe's Peking Duck, Marlton
The dim sum menu offers plenty of small bites, like these crispy fried chickens talons in a brown sauce.
LETS DO LUNCH Serious foodies will agree: Lunch should be so much more than just another ham sandwich. That's why chefs in South Jersey are elevating their midday menus, turning a quick bite into the best, and some would say most important, meal of your day. Here are three amazing options come High Noon.
[ 1 ]
Braddock's
Medford
The days of lunchtime recess may be over, but you can still feed your inner-child. Head chef Timothy Eliason keeps a fully-stocked menu throughout the day, with hearty favorites like the B.Y.O Mac and Cheese. Guests create their own version of Braddock's three cheese baked gemelli mac and cheese by picking from a list of ingredients including lobster, pickled jalapeno and andouille sausage.
[ 2 ]
Al Dente Italiana
Moorestown
aldenteitaliana.com
Peanut butter and jelly has no place on their sandwich menu. Instead, Al Dente opts for choices like a blackened fish of the day with fresh veggies and Mediterranean tartar sauce on fresh baked bread and hand-cut fries, or a gourmet grilled cheese, with four varieties of cheese, caramelized onions, arugula and tomato served with homemade tomato bisque. They also run an equally-impressive take-out menu.
[ 3 ]
Illiano Cucina Mediterranea
Medford
There is no shortage of selection on this sprawling lunch menu. Classic pasta dishes like pasta primavera share space with a variety of seafood, chicken veal plates. Add the dozen of personal pizzas available and lunchtime-only paninis into the mix and you might find yourself leaving the brown bag at home more often.
THREE TO WATCH
The past few months have seen some promising changes among the South Jersey culinary scene, with a few newcomers from across the bridge and revamped concepts from longtime locals. With the ongoing renovations to the Moorestown Mall (and an upcoming Marc Vetri restaurant), recent chain additions, and other concepts still gaining steam, we think 2013 is going to be an even better year for fine dining in our neighborhoods. While there was much to praise this year, here are three newly-opened restaurants worth keeping an eye on.
[ 1 ]
Catelli Duo: Voorhees Town Center got a nice treat this year in Catelli Duo, somewhat of a do-over for owners Jan Talamo, Linda Rosanio and chef Lou Imbesi. After closing down their previous, more-traditional project Catelli Ristorante after 17 years, the team came back with a modern, chic osteria and wine bar that's right on trend. The kitchen pumps out artisan pizzas, steak, some Italian classics (like veal carbonara), plus small plates and meat and cheese boards for sharing.
[ 2 ]
Han Dynasty: Those who keep tabs on the Philly food scene have probably heard about Han Chiang, the charismatic chef known for sensational Szechuan food. The new restaurant at Saw Mill Village along Route 70 in Cherry Hill is a large space that still feels controlled and stylish. Don't miss the signature dan dan noodles or fiery yet delicate dumplings in chili oil. Order stir-fry entrées on a heat scale of one to 10, but beware—when the servers says it's hot, they mean it.
[ 3 ]
Tavro 13: A glamorous New American concept by chef Terence Feury, here bartenders whip up pre-Prohibition classics using artisan liquors, while Feury's menu changes with the seasons, but now holds bold dishes like smoked duck breast with parsnips and carrot purree, or a foie gras tarchon with toasted pistachios, baby radish and persimmon.
FAST FOOD
Culinary news to chew on
Ralic's Steakhouse in Haddonfield will close after a two-year run this month. The steakhouse's recently-opened Philadelphia location will remain open and honor any outstanding gift certificates.
Melange @ Haddonfield is now resuming its lunch service, 11 a.m. to 3 p.m., Wednesday through Saturday.
The Academy of Culinary Arts at Atlantic Cape Community College has another season of workshops this spring for wannabe-chefs. Don't miss the vegan dessert class on Wednesday, Feb. 27 or a two-day course on artisan breads and rolls, April 23-24, where you'll braid challah and knead Italian breads like a pro.
Tavro 13 in Swedesboro has recently announced a brunch service to complement their popular dinner menu. Expect more savory options, like sandwiches and the like, to appeal to your appetite.
The Moorestown Mall, continuing its ambitious revitalization project, signed leases with Firebirds Wood Fired Grill and the first South Jersey location for fast-casual cafe Corner Bakery. Firebirds will feature an upscale-casual interior with indoor fireplace and a wine wall.
The Turning Point, a cafe mini-chain that originated in Monmouth County, is opening a new location in Marlton this month. At 300 Route 73 S., the casual restaurant will serve big brunches, with soups, salad and sandwiches for lunch.
Iron Hill Brewery & Restaurant is projecting a summer opening for its 10th location, headed for the Voorhees Town Center.
Smashburger, an up-and-coming burger chain recently named "America's Most Promising Company" by Forbes, will make its first South Jersey appearance on Feb. 6. The fast-casual joint will open in Glassboro with a menu of burgers, hand-breaded chicken sandwiches, salads and vegetable frites (quick-fried carrots and green beans).
EXTRA PLATE
The 25 Best Restaurants broken down by cuisine
Italian 40%
Japanese 16%
Continental 16%
Steakhouse 8%
Indian 8%
French 4%
Creole 4%
Asian 4%
BYOB vs. Bars
We asked our readers: What do you prefer: the range of choices provided by a bar service or the convenience of a BYOB?
BAR: 62%
"With having two children, when I go out I like to relax and enjoy myself. So having a restaurant with a bar is ideal for me. One less thing I have to be responsible for!"
Lori Taylor Meloni, via Facebook
BYOB: 38%
"BYOB helps me control my dining costs and guarantees that my favorite wine will be available."
Denise Currie, via Facebook
Dining Finds
What is your favorite cuisine in South Jersey, and where can we find your favorite meal?
Mexican 2%
Chinese 4.1%
Indian 4.1%
Japanese 8.5%
American 15.3%
Italian 66%
"The stuffed pork chop at Arugula in Washington Township is great. As is most of their menu."
Eric Ricacho, Washington Township
"My favorite new dining establishment is Tavro 13 (formerly The Old Swedes Inn) located in the heart of Swedesboro. The meal and service were amazing. This is a dining gem that needs to be tried by all."
Michael Samalonis, via Facebook
"Filomena Cucina Italiana in Blackwood … have been going for years and will always go back because you know what you will get!"
Mary Beth Zimmerman, via Facebook
Published (and copyrighted) in South Jersey Magazine, Volume 9, Issue 11 (February, 2013).
For more info on South Jersey Magazine, click here.
To subscribe to South Jersey Magazine, click here.
To advertise in South Jersey Magazine, click here.