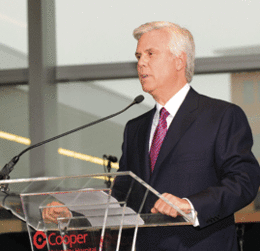 Position of Power
Politics. Camden. Education. These are just some of the pressing matters that concern George Norcross. Here, we offer A rare look at what makes South Jersey's most controversial power broker tick.
In one of the nation's last remaining bastions of Bossism, he reigns supreme. A prolific power broker, he unofficially heads South Jersey's Democratic juggernaut—and he did build that. A Pennsauken native and college dropout, he rocketed through the ranks of the insurance industry in his 20s and rocked the rank-and-file Camden County political scene in his early 30s. These days, he's a party superboss.
He's a kingmaker. He's the most powerful Democrat in Trenton, yet he's never been elected to office. He's been the subject of federal and state probes, yet he's never been indicted. In terms of finagling state resources, he can make it rain. In terms of revitalizing parts of Camden, he can make it happen. He's a man with a plan. He's in it to win it. He is George Norcross, and he is finally stepping out of the shadows.
It's Election Day 2012, and sitting amid a menagerie of wall-to-wall mementoes in his office at Conner Strong & Buckelew, Norcross briefly ponders a question he's been asked many times before: Will he ever throw his hat in the ring?
The simple answer is: Not on your life.
"I've never even considered running for office," he says. "In all the different aspects of my career, I've always been able to make choices. When you're in an elected position, other people make the choices and you must follow along. That just doesn't suit my personality very well—it's not really conducive to my skill set," he explains. "I like to make my own choices."
Some would say he prefers to make the decisions for other people as well—namely, South Jersey politicians. "They Have No Choice" was the title of a daring exposé that appeared in Philadelphia magazine in 2005, as well as a Norcross quote referring to his political influence at the top of the state's political food chain. The ominous line was plucked from a litany of private, incendiary remarks he made in a 2001 meeting with then-Palmyra Councilman John Gural, who secretly recorded the chat as evidence he was being bribed to fire a borough solicitor who had run afoul of the party. No charges came of the tapes, but when transcripts pertaining to Norcross were released during a subsequent election year, his political enemies had a veritable field day.
Still, when several local Republicans, including one Congressman, were tapped to comment for this story, they all declined. So did Gov. Chris Christie. Despite the fruitful relationship they've enjoyed over the years, now that Christie is hunkering down for a run at a second term, he too is keeping his distance. But it was just last year at a town hall meeting when Christie blurred party lines and showered Norcross with bipartisan praise.
"He has influence," Christie told the gathered crowd with regard to his relationship with Norcross. "What that means is if he calls, I return his call. If he has an idea, I listen. He's an important person in the business and philanthropic community."
At least one local member of the GOP is also willing to acknowledge Norcross' significance, albeit begrudgingly. "I think he's been a genius at the game," said the source speaking anonymously (again not wanting to attach their name in any way to King George). "He's a marvel of a politician. Nobody from inside his party has tried to take him out and that takes great discipline … the longevity of his reign is really remarkable. I have to tip my hat."
The so-called "Palmyra Tapes" notwithstanding, there is actually scant evidence of Norcross' purported intimidation techniques or the Tony Soprano-esque image put forth by his opponents. That's probably because as a private citizen, he's free to mastermind power plays, craft election-year attack strategies, and pull the levers of his political machine all behind closed doors. Since resigning as chairman of the Camden County Democratic Committee in 1995 (and passing the reins to his brother, Donald), he has harnessed the role of regional power broker to become a pivotal player at the state level. While some see Norcross's direct involvement in government as scandalous, his position of power "is just part of politics," according to Ingrid Reed, a New Jersey policy analyst. "Power brokers are the people who make things happen," she adds. "It depends on the person doing the evaluating whether that's good or bad."
Reed cites several reasons Norcross is the most influential party boss in the state.
"He's exceptional at marshaling resources, he excels at fundraising, and he's decisive. It also helps that he's got the power of personality—he knows how to make friends," she says. "And he's not too ideological—he's built up connections outside of the Democratic circle, and that gives him sway on both sides of the aisle, as well as with (Gov.) Christie. More importantly, he has ideas and he knows how to convey their importance. It takes all of these characteristics to get things done in politics, and he's proven he can do that." Of course, someone in his position doesn't hold onto power forever, she adds. "It depends on who's able to challenge him—and if you want to challenge George Norcross, you have to be better than him. I haven't seen that yet."
Not bad for a college dropout. His "brief career" at Rutgers University in the late '70s ended "when it became apparent I was not fit for academic life," he admits. Far more interested in the practical application of business than book studies, his father—a prominent South Jersey labor leader who passed away in 1998—helped him start a small insurance company in Camden and even introduced him to the city's mayor. It was the latter connection that netted Norcross the sole government position he's ever held: chairman of the Camden Parking Authority. At 32, after a decade of success in the insurance industry, he was tapped to be chair the Camden County Democratic Committee. By 1991, he had staged his first legislative coup—ousting Republican stalwart Lee Laskin from his Senate seat and taking over the GOP-stacked Camden County Board of Freeholders. His notable victories that election year not only upended the region's Republican stronghold but, strategically speaking, they were an operational game changer. From then on, South Jersey political campaigners have had to play at his level—and as anyone who's run against his team will tell you, it is not easy to beat Norcross at his own game.
"George is very competitive—in all aspects of his life. I mean, you should see him on the tennis court," notes Senate President Steve Sweeney (D-Gloucester), a longtime friend and one of Team Norcross' heaviest hitters. "He absolutely hates to lose. Fortunately," he chuckles, "I haven't seen that happen too many times."
His relentless drive, forceful nature, and an unshakable commitment to anything he undertakes are direct reflections of his father, George Norcross Jr., says former Gov. James Florio, who was close with the elder Norcross. "He was an enlightened leader in both labor and politics, always very passionate about progressive policies and improving communities. If he set a goal for himself, it was crucial he achieved it, and he would push himself until he did," Florio recalls. "George is a carbon copy."
His father made sure of that. A formative level of exposure to civic involvement began for Norcross when, at just 10 years old, his father began bringing him to labor meetings and political pow-wows. "He wanted me to observe and learn, to watch how things happened and listen to what people had to say. I was exceedingly curious about everything my father did, and I became very intrigued by it all at a very young age—it truly motivated me to get involved," he says. Of particular impact was his father's activity in Camden, the once-great city in which he grew up, received his education, and still serves on Cooper's board of trustees after more than two decades. "I was particularly drawn to (the hospital)," he adds, "so I've always shared my father's dream of having a medical school in the city."
This past summer, that dream finally came to fruition. In July, Cooper Medical School of Rowan University opened its doors to the applause of top government officials in both parties. The $139 million, six-story facility is New Jersey's first new medical school in more than 35 years, and Christie, who attended the opening celebration, called the project "long overdue." Norcross agrees. He has spent much of his 23 years on Cooper's board of trustees—half of them alongside his father—lobbying for the school. But it's only part of his grand vision for Camden, he says. In 2008, Cooper added a $220 million Patient Pavilion to its Health Sciences Campus. Up next? The $100 million state-of-the-art Cooper Cancer Institute, which broke ground last April and is expected to welcome patients this fall.
"My father instilled in me what an important pillar Cooper is for Camden. ... By quadrupling its size and making the city a destination for medical research, lots of jobs are created, the city gets cleaned up, everyone benefits. In a few years," he adds, "you're going to see dramatic changes—a big increase in the police force and public safety, Rutgers' expansion, Rowan will have a greater presence. Positive things are happening." It all plays into the desire to continue his father's legacy, but another component is Norcross building his own. "Much of what I've done in my career has revolved around South Jersey getting its fair share. We've been deprived of resources down here for decades," he says. "Not anymore."
Assemblyman Gilbert "Whip" Wilson, a lifelong Camden resident and former councilman, calls Norcross a visionary. "When I look around parts of the city and I see new housing, streetscaping, construction sites putting people to work, I say, 'Now that's a man getting things done.'" He gets a bad rap, Wilson adds. "People think there's always some sort of angle for him, that everything's a conspiracy. Anytime the 'N' word (Norcross) is brought up, it's an automatic red flag. But I'd like to ask these people what they've done for Camden. It's like that old Dragnet line: Check the facts. I can only speak from my experience, but he's always been straight with me—he's never lied about anything he said he was going to do."
Wilson wasn't always a fan. Campaigning for city council in '97 and 2005, the decorated Air Force veteran and former police lieutenant found himself battling the party boss' chosen candidates. Then, in 2009, Wilson got the shock of his life when he took a phone call from Norcross asking him to run on Dana Redd's mayoral ticket. "After all those years being on opposite sides of the same party, he asked me to be on his team," Wilson says. "I was very surprised by this." Even more so when he was again approached by Norcross a few months later—this time offering him the vacated Assembly seat of his brother, Donald, who took over Redd's state Senate seat when she became mayor in 2010. "I never thought in my wildest dreams I'd be an assemblyman," he proudly notes, "but here I am, and it's all because of Mr. Norcross. I'm very grateful to him for that."
Also grateful to Norcross is Susan Weiner, executive director of the Larc School in Bellmawr. The nonprofit is "close to his heart," she says. "He works tirelessly to make sure we get the maximum from donors and sponsors." In addition, the special-education facility significantly benefits from holding the annual Cooper Norcross "Run the Bridge" 10K fundraiser. "There isn't a time when I can't pick up the phone and reach George personally. People don't know what a big heart he has—I could give you a million examples," Weiner adds. "He's very involved here." So are his children. Lexie, 25, sits on the school's board of trustees, and his 14-year-old son, Alex, does volunteer work.
"George's motives are always questioned," contends Bill Tambussi, his attorney as well as a family friend. "It's a shame, really. I've known this man for a long time, and I truly believe he's driven by a need to do the right thing—he mainly just wants to help the people of South Jersey, and he does it his way," Tambussi says. "The culture of politics is a weird thing. You hear 'boss' or 'kingpin' when the right word is 'leader.' You need people out there who are forceful, who are direct, who are forward-thinking, who can work with different groups and achieve a coalition for a common goal. He is one of the few who are able to do that."
Yes, but what's in it for him? Sweeney hears that question all the time. "Look, he's made more money than he ever thought possible as a kid growing up in Pennsauken. He owns a helicopter, a newspaper, an insurance company. ... He's got everything he ever dreamed of—now he's sharing his success. The hell you can't do some things in life just out of the kindness in your heart," Sweeney says. "The work he's doing, particularly in Camden, is extremely gratifying to him."
Over the last few years, Norcross has made a conscious effort to raise his public profile and make his passion for Camden known, speaking out on the need to curb the city's crime rate, open charter schools (such as his proposed KIPP Cooper Norcross Academy), and continue redevelopment initiatives. A year ago, he pledged $5 million of his own toward Cooper's rapid expansion.
"He's a fighter," Sweeney adds. "And when he sets his sights on something, failure is not an option. That's what makes him unstoppable."
Norcross does have one area of weakness, though: his left knee. His love for competitive athletics over the years has resulted in repeated trauma to his ACL, multiple surgeries, steel pins, and some serious pain. "What can I say? I was very foolish to play sports the way I did when I was young," he admits. "I try to convey that to my son—just can't get him to listen to me."
But, in the end, not even a crippling chronic injury can stop George Norcross for long. "I don't really let it slow me down," he says. "It just takes some good tape, maybe a safety guard, and—game on."
Published (and copyrighted) in South Jersey Magazine, Volume 9, Issue 11 (February, 2013).
For more info on South Jersey Magazine, click here.
To subscribe to South Jersey Magazine, click here.
To advertise in South Jersey Magazine, click here.