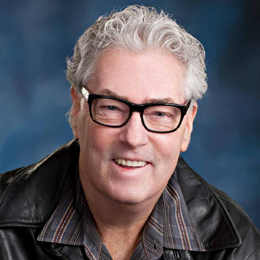 Big Words
My Jersey journey began 20 years ago when my best friend Jimmy moved to Mullica Hill. He was working for the New Jersey state troopers (not a bad pal to have) and somehow that's where he ended up. Mullica Hill had a gas station named Oscar Jenkins at the time that also sold fish bait and I think Jimmy thought that was cool. Come to think of it, how many non-turnpike petrol stops even have a name today, nonetheless sell fish bait?
Six months later, my other best friend Tommy follows Jimmy to Mullica Hill also. Now all three of us hail from Southwest Philly, which is stylistically as close to Mullica Hill as Andy Reid is to a size 36 waistline. (Farewell Andy!) I had been to plenty of suburban houses before, but these were close, close friends. Could I really follow them? I was a reasonably successful standup comic by then, working up and down the East Coast, so it really didn't matter where I lived all that much.
Well, follow them I did, and after 20 years, I thought I would point out all the wonderful things about South Jersey living that I have become to love and, well, some aspects of it that after two decades, I'm still getting used to.
WALKING VS. DRIVING
In Southwest Philly, you literally walked everywhere. To school, work, the doctor, movies, Little League games, the dentist and the supermarket to name just a few spots. Think about that, parents. No driving the tykes even for a practice! And if I couldn't walk to my destination, I could take the 36 trolley. In Jersey? I had to drive EVERYWHERE. Seriously, everywhere. Something as simple as picking up a meatball sandwich or getting the paper means "start your engine." That took some getting used to. However, in Southwest Philly, the older I got, the more I had to own a car, and coming home and not having to circle the block for a half hour looking for a parking spot only to wake up in the morning to a smashed window because some knucklehead stole your cassette deck makes simply pulling in to your driveway pretty sweet.
ROWHOME VS. DEVELOPMENT
Used to be when someone asked me where I lived, I would tell them "Philly," and they would inevitably ask, "Oh yeah, what parish?" Now when I tell them "Mullica Hill," they say "Oh yeah, what development?" Now that doesn't sound like a big deal, but if your development doesn't have a big lit up sign that says "Cherry Lane Way," it most definitely is. I think my development actually has a name like "Turtle Poop Crossing," or something like that, but that doesn't matter because there's no sign that says so. Therefore no one knows where it is. Even folks in Mullica Hill have no clue. To compare, when you told someone you lived at 7025 Elmwood Ave., everyone within seven parishes knew EXACTLY where that was. However, I am leaving out one tiny comparison. Rowhome living meant one bathroom and, for anyone who ever had to follow Pop onto the throne, well, enough said on THAT matter.
DIRECTIONS VS. GETTING LOST
I never got lost in Philly. NEVER. Addresses and locations were all so symmetrical. I found out quickly, however, when I relocated to Mullica Hill, that getting lost was a way of life. What really handicapped me was that I didn't know where the Five Points Diner was. Turned out that every single time I needed directions to some school to watch an away game of my daughter, every direction began with "OK, so you know where the Five Points Diner is, right?" I'm not kidding.
If I was driving to Topeka, Kan., and rang up AAA, the lady on the line, after asking me where I was starting my drive from, would without a doubt ask me if I knew where the Five Points Diner was. And get this: It's no longer called the Five Points Diner, so now I'm really screwed.
PUMPING YOUR OWN GAS VS. PAYING A CHEAPER PRICE WITHOUT DOING A DAMN THING MORE THAN PUTTING DOWN YOUR WINDOW
Uh, do we really have to discuss this? It is, without a shadow of a doubt, the single greatest attraction to living in New Jersey.
What's your favorite difference?
Write to me at BigDaddy295@aol.com, find me on Facebook or follow me on Twitter @BigDaddygraham
Big Daddy Graham is a renowned stand-up comedian and overnight personality on SportsRadio 94WIP. He is coming to the Broadway Theatre in Pitman on Feb. 16 along with Joe Conklin (and his daughter Casey). Visit BigDaddyGraham.com to get your tickets.
Published (and copyrighted) in South Jersey Magazine, Volume 9, Issue 11 (February, 2013).
For more info on South Jersey Magazine, click here.
To subscribe to South Jersey Magazine, click here.
To advertise in South Jersey Magazine, click here.