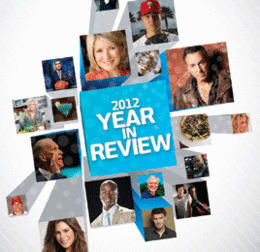 2012 Year in Review
2012 Year in Review
…From the pages of South Jersey Magazine…
As the page on the calendar welcomes us to 2013, we at South Jersey Magazine are taking our annual trip back in time to remember all that an action-packed 2012 had to offer. We scoured our pages in order to update you on the best stories from the past year, and we've also conveniently repackaged our Best of the Best, Top Physicians, Top Dentists, Awesome Attorneys and Best of Home and Garden lists from 2012. In addition, we'll take a look at the year ahead and the potential challenges facing the region.
January
While many people were trying to stick to the resolution of getting healthier in the New Year, we took a look at a serious side effect: people who become addicted to exercise and let it interfere with everyday life. We also caught up with former beloved Eagles coach Dick Vermeil, who still keeps a home nearby in West Chester and regularly makes appearances throughout South Jersey. Vermeil is taking that same passion he had for the gridiron and applying it to his Napa Valley-based Vermeil Wines, which went on to win several awards in 2012. Speaking of football, this month also saw a conversation with another area native with ties to the Eagles: Medford's Tra Thomas. The former offensive lineman spoke with us about his new fitness center, what he missed about the game, and why he decided to make South Jersey his permanent home.
Mount Ephraim's Brandon Libby won $31,600 after two days on Jeopardy!
February
For our fourth annual Golden Fork awards, we homed in on the 50 best dishes in South Jersey. Ranging from appetizers to entrees to desserts, this mouthwatering collection of plates helped diners plan out their meals for months to come. Shared services became a hot topic in the beginning of the year, as many communities sought to streamline a variety of resources in a cost-saving measure. In recent months, Mount Laurel has partnered with Willingboro for public works projects and Medford Lakes has aligned with Marlton for court services. The debate of medical marijuana continued to rage on as concerned citizens voiced their opposition to the opening of a treatment center in their hometown. More than 300 patients have registered for the service and the first dispensary opened in December in Montclair.
A proposed merger of Rowan University and Rutgers University – Camden created no shortage of public debate as "Keep Rutgers in South Jersey" signs popped up on lawns and dotted roadways.
March
For many, New Jersey and Bruce Springsteen are synonymous. But without South Jersey, The Boss may not have been so in charge. Randy Alexander, a noted professional with decades of experience in the music industry, traced Springsteen's South Jersey roots, from shows in tiny theaters in Cherry Hill to hanging out at a Camden luncheonette. We displayed several shots of his time spent in Haddonfield at photographer Frank Stefanko's home, some of which went on to be featured on his album covers and at the National Constitution Center in Philadelphia. The Phillies Ballgirls helped us welcome in the spring, showing off the season's hottest looks during a photo shoot at Citizens Bank Park, and super music producer Rodney Jerkins shared some of his life behind the scenes. The South Jersey native has collaborated on hit songs with the likes of everyone from Michael Jackson and Whitney Houston to Justin Bieber and Katy Perry.
April
To help kick off baseball season, we sat down with the newest Phillie, Jonathan Papelbon, for an exclusive interview. The former Boston Red Sox player became the highest-paid relief pitcher in the history of Major League Baseball when he joined the Phils, and in his first season, he went on to save 38 games and make his first National League All-Star team. We also profiled several local standout high school student-athletes, including Maddie Kiep, a three-sport athlete now playing field hockey at Cornell University.
After years of red tape, the $2.4 billion Revel Casino finally opened its doors in Atlantic City.
May
Few public figures are more iconic than Martha Stewart. The business mogul and lifestyle guru is also a Jersey Girl and was thrilled to talk to us about her area roots and some of the secrets to her success, not to mention her willingness to give back. "I feel being a teacher is my role in life," she said. Stewart released her most recent cookbook, Martha's American Food, in 2012, showcasing her favorite recipes from regions across the country.
A project that began in 2007, the Camden County Veterans Cemetery opening was celebrated. The eight-acre, park-like site is located on a bluff overlooking the Cooper River.
June
Kevin Bacon and his brother Michael served as the cover boys for our annual Best of the Shore issue. The accomplished actor and his sibling, known musically as The Bacon Brothers, brought their folksy sound to the Ocean City pier for a special summer show, and Kevin filled us in about his new show on Fox, The Following, which debuts later this month. Our town-by-town Shore roundup included the best spots for ice cream and pizza as well as invigorating spas and happy hour spots. We also dipped our toes into the always-contentious beach tag debate. Currently, Cape May County officials are embroiled in a battle against a state Senate bid to keep towns from charging for beach tags if they have accepted state or federal aid to restore areas affected by Hurricane Sandy.
July
We spotlighted 135 people, places and things that had us buzzing in our annual Best of the Best roundup. In keeping with our "best of" theme, we also spoke with several local athletes who were heading to London to compete in the Summer Olympics. Three of those athletes went on to win medals: Matt Emmons (bronze), Carli Lloyd (gold) and Justin Burroughs (gold). Just in time for the Atlantic City Food and Wine Festival, Anne Burrell chatted with us, revealing why she will always have better hair than her Food Network counterpart Guy Fieri.
The Cooper Medical School of Rowan University officially opened its door on July 24.
August
Our largest-ever list of Top Physicians (488) was published this month, giving the tri-county region and beyond plenty of stellar names to consider when making their next medical choice. Millville's Mike Trout spoke with us as he was taking Major League Baseball by storm just days ahead of his 21st birthday. The amazing talent would go on to win the American League Rookie of the Year Award and was heavily considered for Most Valuable Player. It's safe to say you can expect big things from Trout for the foreseeable future. Veterans who served in Iraq and Afghanistan formed a rock group, Band of Brothers, to help raise money for PTSD. The group held a large benefit concert last November at World Café Live in Philadelphia and continues to perform across the area.
September
Eagles wide receiver and West Deptford resident Jeremy Maclin graced our September cover. The star player shared stories of his difficult upbringing and the health scare that he once feared would cost him more than his career. Maclin also talked about the summer camps he runs in South Jersey and why he feels so connected to his adopted home: "I am a fan [of South Jersey]. I love the type of support the fans give us, the passion they show for the game," he said. Before she headed to the Shore for the first-ever Sweat A.C. festival, Jillian Michaels talked to us about her workout routines and life as a celebrity trainer. It has been announced that Michaels will return to the show that made her a household name, The Biggest Loser, when it returns this month.
South Jersey native and NFL Films President Steve Sabol died at age 69. Along with his father Ed, Sabol helped create the television and film studio that helped revolutionize the sport of professional football.
October
Long before she was starring in TV and movies, actress Maria Bello was slinging pizzas at her family restaurant in Sea Isle. We sat down with the Hollywood beauty to find out about her other passion outside of her career: giving back. Her philanthropic efforts have taken her from Darfur to Haiti, all in the name of women's rights. Shortly after our story appeared, Bello was named Good Will Ambassador to the women of Haiti thanks to the work she and her organization, We Advance, have done in the country both before and after the devastating earthquake of 2010.
Hurricane Sandy made landfall along the Jersey Shore, battering towns up and down the coast, causing billions in damage in an unprecedented storm.
November
David Boreanaz may have grown up in Philadelphia the son of a popular weatherman, but he made some of his fondest memories along the Jersey Shore coastline. He shared those stories as well as his passion for everything from acting to directing and producing in our November issue. We also took a trip to A.C. and across the bridge to bring you the Best of the Casinos; traced Collingswood native and author Matthew Quick's journey to Hollywood with The Silver Linings Playbook; and chef Tim Eliason of Braddock's in Medford captured our Top Chef crown after months of intense competition against some of South Jersey's most skilled cooks. We also met Marvin Samson, our first-ever Man of the Year. Mr. Samson has long been a fixture in the local business community, but it was his philanthropic efforts that caught our attention, including his donation of $1 million to the Virtua Foundation. A humble Samson summed up his approach. "You don't give to see your name on a building … you give because it is the right thing to do."
A train derailment in Paulsboro caused the release of the chemical vinyl chloride into the air. Residents were evacuated and schools were closed for 10 days during the cleanup. An investigation is ongoing.
December
To close out the year, we talked hoops with Sixers head coach Doug Collins, who before he led the team was one of its star players in the early '80s. It was during that time that he made his home in South Jersey. Collins took us for a ride around his old neighborhoods, revealing why the area will always have a special place in his heart. "Forty years later, one of the reasons I came back to the Sixers was because of how much I loved living here," he said. We also gave readers an inside glimpse at Hurricane Sandy, from the emergency responders on the ground to the residents trying to pick up the pieces after the storm.
2012 The Year in Headlines
• Joe Paterno dies from complications of lung cancer.
• Silent film "The Artist" takes home the Oscar for Best Picture.
• Whitney Houston dies.
• Encyclopedia Britannica discontinues its print edition.
• The Tokyo Skytree, the tallest self-supporting tower in the world at 634 meters, opens to the public.
• Twelve are killed in a shootout during a "Dark Knight Rises" showing in Aurora, Colo.
• The Diamond Jubilee of Queen Elizabeth celebrates the 60th anniversary of her accession to the throne.
• The 2012 Summer Olympics open in London; U.S. swimmer Michael Phelps becomes the most decorated Olympian of all time, with 22 medals.
• Former Penn State assistant coach Jerry Sandusky is sentenced to 30 to 60 years in prison.
• Lonesome George, the last known Pinta Island tortoise, dies at Galapagos National Park, making the subspecies extinct.
• Comedienne Phyllis Diller dies.
• On the Sept. 11 anniversary, terrorists attack U.S. diplomatic outposts around the world, leaving J. Christopher Stevens, the U.S. ambassador to Libya, among the dead in Benghazi.
• The Phillies miss the MLB playoffs for the first time since 2006.
• The Space Shuttle Endeavor reaches its final resting place at the California Space Center in Los Angeles.
• The Curiosity rover lands on Mars.
• Austrian skydiver Felix Baumgartner is the first human to break the sound barrier without the help of machinery.
• President Barack Obama is elected to a second term.
• A gunman killed 20 children and six staff members at Sandy Hook Elementary School in Connecticut, sparking a national gun debate.
• Andy Reid was fired after 14 seasons with the Philadelphia Eagles.
2012 The Year in Quotes
Business
Kristi Howell-Ikeda, President and CEO of the Burlington County Chamber of Commerce
"I think we're still going to see slow and steady growth. And thanks to projects like Subaru and the Burlington Coat Factory in Burlington County, we're going to see big growth, which is great for the community. We're seeing some improvement in the downtown shopping areas. I'm very excited because the Burlington County freeholders are supporting a 'buy local' campaign, which I think should be huge for our area. The recession is still impacting business; people are still holding off. I also think that New Jersey in particular is going to be cautious given the New Jersey gubernatorial elections. I think New Jersey will feel the pinch two years in a row, unfortunately, following this year with the presidential election. If the race is competitive, people will hesitate on future plans."
Education
Laurence Van Meter, Head of Moorestown Friends School
"From our 3-year-old preschoolers learning Spanish to our Middle School and Upper School students learning Mandarin Chinese and other languages, the globalization of education will continue to occur at Moorestown Friends School, in South Jersey and around the world. While high-quality world language instruction is important, 21st-­century skills like collaboration, critical thinking, problem solving and information analysis are also vitally important in the global economy and are integrated into all facets of our curriculum at Moorestown Friends."
Medicine
Martin A. Bieber, President and CEO of the Kennedy Health System
"I believe that in 2013, the focus in health care throughout our region will be squarely on the concept of quality. Under the Affordable Care Act, Value-Based Purchasing will provide economic incentives to reward health care organizations that have better patient outcomes. This raises the bar for the entire health care industry, as it should. Today's consumers are educated and savvy. They expect quality care—and good outcomes. At Kennedy, we've invested in ensuring quality outcomes at all our facilities and our numbers reflect that. It's something that we can be proud of, but that we must also remain constantly vigilant about."
Medicine
John P. Sheridan Jr., President and CEO of the Cooper Health System
"I think 2013 will be a watershed year in health care depending on what happens at the federal level. There will certainly be change. We're clearly moving ahead in health care reform and here at Cooper we're coming off of our busiest year ever. We expect to see considerable growth in the upcoming year including the Cancer Center in Camden coming online in September of 2013. We're continuing to grow every day, so I think 2013 should be a great year for Cooper. There will certainly be expansions through the health care reform, so people who have never had access to health care will have new options they haven't had before."
Medicine
Alexander J. Hatala, President and CEO of Lourdes Health System
"More hospitals and health systems will seek to merge with the goal to increase leverage with payers and improve operating efficiency; physicians and hospitals will more closely align to improve quality by developing a more seamless continuum of care; health care providers will seek ways to significantly increase the capacity of their outpatient services to prepare for the growth driven by the shift of inpatient services as well as the influx of new patients in 2014 when the Affordable Care Act (ACA) mandates that all Americans access health insurance; there will be a significant restructuring of the way small businesses provide insurance for employees due to the health insurance exchanges that should be initiated in 2014."
Business
Dr. Robert Ferrari, Coordinator of the Economics Program at Rowan
University "The U.S. economy is on a recovery path from a financial recession, i.e., a recession initiated by financial market disequilibrium. History seems to indicate that recovery from this type of recession usually takes a longer time to return to pre-recession levels. This seems to be the case at hand. Unfortunately, New Jersey is lagging the national recovery, and southern New Jersey is lagging the state's recovery.
Anecdotal evidence indicates that national growth in real Gross Domestic Product (GDP) for 2013 could be about 2.5 percent; New Jersey about 1.5 percent to 2 percent; and southern New Jersey about 1 percent. New Jersey's unemployment rate will also be less favorable than the national rates. Where the national unemployment rate is currently below 8 percent, New Jersey remains above 8 percent, and is not expected to drop below 8 percent until late 2013. Factoring in the disruption from Superstorm Sandy will further reduce the state's growth. A positive force will be the rebuilding efforts resulting from Sandy's devastation. But, how much of a positive force is still open to question."
Medicine
Richard P. Miller, President and CEO of Virtua
"Recent economic news shows positive direction for the economy at large. It appears that the economy is finally trending upward. Regionally, I see continued and increased partnering in health care. Examples are the partnerships that Virtua has with The Children's Hospital of Philadelphia and Fox Chase Cancer Center. These programs have enhanced the services we provide to our communities in South Jersey and beyond.
In health care, we expect a year of increased and continued innovation, especially in outpatient services. We will offer new services as our programs continue a growth trend. We also see tremendous growth in Virtua's wellness programs in our continued efforts to fulfill Virtua's mission for our communities to—be well, get well and stay well."
Education
Dr. Wendell E. Pritchett, chancellor of Rutgers University-Camden "Southern
New Jersey will continue to build upon its long-standing, and emerging, strengths in research and innovation throughout 2013. The coming year will see increased collaboration among our region's critical stakeholders as we work toward our shared goal of advancing South Jersey as a global destination for business development, higher education, health care, and new ideas."
Politics
U.S. Rep. Rob Andrews
"Jobs and the economy were at the forefront of voters' minds this November. Their concerns were loud and clear. This coming year, we must work together to create jobs at the small businesses that drive our economy and on our roads and bridges that are in need of repair. Last year, I worked with people from all parties to bring nearly 350 local businesses over $170 million in SBA loans. We made significant progress on an $800 million project to relieve congestion at Route 42 and I-295. We must build off these bipartisan efforts and grow jobs in our community."
The Best of 2012
Below are links to our "Best of" articles in 2012. Click on the header to go to the complete article.
Best of the Best
Each year, you anxiously await our July issue to see who we'll unveil as the year's Best of the Best in South Jersey. Putting together this list is no easy task, but that's why we take so much pride in doing it. We spend the entire year traveling throughout South Jersey's landscape to find the meals, services, shops and more that are deserving of high praise. And we upped the ante on this year's installment by introducing several new categories, so read on to see who's serving up the best ice cream, where to sip amazing cocktails, find the perfect place to get outfitted for a night on the town, and much, much more including readers' choices.
Super Women
When it comes to finding a balance between work and life, many women will agree there is no absolute harmony; there will always be give and take, sacrifices to make, priorities to set. But that doesn't mean it's not worth it, and it certainly doesn't mean it goes unnoticed.
Men of the Year
It's easy to measure a man's success by the size of his bank account, but it's not always the most accurate indicator. For many, there is a great need to supplement that net worth with personal worth. Whether it's community service, charitable contributions or spearheading cutting-edge programs, there are a multitude of those whose life extends well beyond their office door. Once again, we've sought out to shine a spotlight on some of these men who are making a lasting impact in South Jersey.
Legal Eyes
Meet the Awesome Attorneys of 2012. We collected votes from hundreds of readers across the area to nail down South Jersey Magazine's final list of Awesome Attorneys for 2012. A selection of 185 attorneys in 42 specialties that are going above and beyond to keep South Jersey's residents and businesses well-protected in the complicated legal world. Read on to meet some of the attorneys featured in this year's list, followed by our full list for this year.
Top Physicians
It's one thing to be a great doctor; it's another to be a Top Physician. Here, we talk with 30 leaders in medicine to get their input on the industry. We also unveil this year's list compiled by the independent organization Avvo, as well as many more readers' choices.
Top Physicians for Women
Meet the area doctors that are helping our women feel their best. From those that deliver babies to surgeons faced with the harsh reality of cancer, these doctors are worthy of the recognition. We've partnered with third-party medical information provider Avvo to find the cream of the crop.
All Smiles
Our area is full of top notch dental professionals willing to go the extra mile to make sure their patients are smiling wide, which is why we turned to our readers and asked them to vote for their favorites in several specialties. The response was overwhelming and the result is our 2012 list of the Top Dentists in South Jersey; 83 of the most trusted specialists in their field. We also visited the offices of nine of the honorees to get a behind-the- scenes look at the doctors known for their skill, their compassion and, most of all, their dedication.
Top Children's Physicians
Since many pediatricians could be considered extended members of the family thanks to the long-term bonds they form with children and parents alike, finding a physician you can count on for many years to come is of key importance. This year, we worked with third-party medical information provided by Avvo to gather this list of specialists throughout the South Jersey area. We've also included our readers' choices and got candid with a few of the doctors during our photo shoot at the Katz JCC Early Childhood Center.
Best of Home & Garden
Home is where the heart is, it's no wonder why so many South Jersey residents put all they have into making their living spaces the best they can possibly be. From amazing décor and flawless landscaping to waterproofing basements and choosing the right security system, jobs—and unfortunately sometimes problems—come in all shapes and sizes. That's why we've asked our readers to let us know who they turn to when it comes to home and garden overhauls. Here, the results of our SouthJersey.com poll as well as some trends to keep your eye on.
Published (and copyrighted) in South Jersey Magazine, Volume 9, Issue 10 (January, 2013).
For more info on South Jersey Magazine, click here.
To subscribe to South Jersey Magazine, click here.
To advertise in South Jersey Magazine, click here.