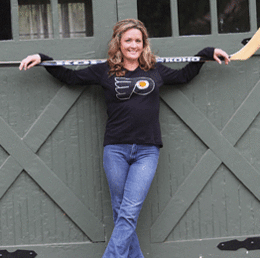 Frozen in Time
Daughter of Flyers' legend authors book that offers an inside glimpse at the stories behind some of the team's greatest players.
Jakki Clarke knows a thing or two about NHL hockey—after all, her dad is perhaps the most iconic of all the players who have ever donned Flyers orange and black: NHL Hall-of-Famer Bobby Clarke. But her lineage isn't the only thing that drew Clarke to her latest career endeavor, that as the author of a book about the team's most beloved players (dad, included).
The author of Flyers Lives: Philadelphia Hockey Greats Share Their Personal Stories—published in late October—Clarke says she had several goals in writing the book. The initial was to give Flyers devotees—"the best fans of any sport in the world," as she puts it—what they crave: "human interest stories, a behind-the-scenes glimpse into the lives of these guys who work so hard and keep us on the edge of our seats night after night."
But as Clarke began working on the book in the summer of 2011, the 34-year-old Haddonfield resident also kept coming across news articles and hearing more and more horror stories about parents behaving badly at youth sporting events. Then, she says, the book "took on a life of its own."
"It's meant to inspire—so many of these players overcame so much adversity—as well as give advice to both parents and kids involved in all athletics, not just hockey," the affable mother of 2-year-old twin boys says. She believes the 208-page Flyers Lives should prove helpful to sports-inclined parents and youngsters alike, "even if you're not a Flyers fan or hockey fan at all."
"I enjoyed writing this book so much," says Clarke, the third of four children of Bobby Clarke and his wife, Sandy. "I love researching the different players and getting to hear their stories. I found out so much about these guys. They really trusted me with telling their tales, and I was very humbled by that."
Clarke—who considers herself a "storyteller, not a sports writer"—has lived an interesting enough life herself to merit some ink. Born in 1977, when her dad was still Flyers captain, Jakki ended up attending three different high schools in four years: first when her family moved to Minnesota (where Bob Clarke became GM of the North Stars) and later to Florida (where he was GM of the Panthers) before returning to the Flyers organization in 1994.
"It was a bit challenging for a teenager, but we got through it," Jakki Clarke recalls, adding she was an avid athlete in high school and college. Soccer and tennis were her main sports then; these days, she's an avid yoga practitioner.
"Sports were a huge part of our lives growing up, and I do believe that you learn so much from athletics—things about discipline and teamwork and having a passion—that carry over into all aspects of your life," Clarke says. After graduating in 1999 from Rollins College in Winter Park, Fla., she worked for a decade in various political campaigns, focusing on fundraising. She also wrote two as-yet-unpublished novels (political thrillers) while being a stay-at-home mom for her boys.
Which brings us to Flyers Lives. Clarke initially got the idea for the book after learning that the Flyers would host the 2012 NHL Winter Classic.
"I wanted to tie-in the modern pond hockey experience of the Classic—which is played outdoors—with each of these guys' stories … how they all learned to skate outdoors," Clarke says. "You'd expect that from players of my dad's era, but even the young guys did, too, so that's where the inspiration came from."
She first floated the idea of a book past Flyers' owner Ed Snider, who was "totally supportive and did what he could to help me get interviews set up with some guys."
Clarke also landed a publisher, Chicago-based Triumph books, "and off I went."
Snider wrote the foreward to Flyers Lives and Clarke also got (what they would call in hockey circles) an assist from Flyers broadcaster Steve Coates, who joined her for several of the initial interviews—there were 21 players profiled in all—"because I was really nervous."
"He interviews these guys on a regular basis and I was so grateful for his help," she says. Clarke—an avid world traveler who still picks Ocean City as just about her favorite place on the planet—focused on pivotal years from each player's life and contextualized it, "like what was happening in Philly at the time, or in major sports or pop culture.
"If I had to sum up the book in one sentence I'd say, 'As the players take a trip down memory lane, so do the readers,'" she says.
From Broad Street Bullies-era players like Bernie Parent, Bill Barber and Dave "The Hammer" Schultz to other beloved players like Tim Kerr, Ron Hextall and Danny Briere, the full scope of the Flyers' 40-plus year history is covered. ('90s superstar Eric Lindross—who had an often contentious relationship with Bobby Clarke—is notably missing, but Jakki Clarke chalks that up to scheduling conflicts, nothing more).
So, who would she say was her favorite player to interview?
"I could have a 'Nicest Guy' contest with these players and there would be a 21-way tie," she quips. "They were all so candid and so open. I got some amazing stories."
When it came to interviewing her dad, Clarke admits she was a bit nervous: "I approached it as a real reporter and he responded like I was a real reporter. We both took it seriously."
This led her to finally getting the full story of what had been a half-told family folklore about her dad and his brother-in-law hitchhiking for 16 days—covering 850 miles—to buy a new pair of skates.
"My dad is a private guy and he doesn't want attention for himself—everything is about the team," Clarke says. "But he did share openly, just like all the others. I really got a sense of his roots and his passion for the sport and his love of the Flyers and the people of this region."
Jakki, by the way, isn't the only Clarke offspring whose ties to the Flyers run deep. Sister Jody works in hockey operations for the team; older brother Wade is a scout, and younger brother Luke is a network engineer who can be seen on the Flyers bench during home games, where he assists the trainers.
"It's in our blood, I guess," she offers. "And that's not a bad thing."
Published (and copyrighted) in South Jersey Magazine, Volume 9, Issue 10 (January, 2013).
For more info on South Jersey Magazine, click here.
To subscribe to South Jersey Magazine, click here.
To advertise in South Jersey Magazine, click here.