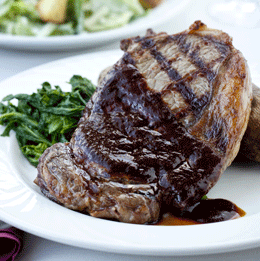 The RiverWinds Restaurant
Stunning Space, Polished Plates: The RiverWinds Restaurant
1075 RiverWinds Drive
West Deptford
(856) 579-7900
3.5 stars
Tucked behind the RiverWinds Golf and Tennis Club and Community Center, The RiverWinds Restaurant is a place I might have never located if I wasn't looking for it specifically. But when I stepped foot inside the double doors leading to the sprawling dining room, I knew it was a place to discover.
The massive building houses a marble foyer, with a bar at its center and adjacent dining areas. It's no surprise that this remains a popular banquet hall for local weddings and events; every space had its own elegant and fresh design, unlike any restaurant I had visited recently.
Floor to ceiling windows lined the external wall of the dining rooms, displaying a full view of the Philadelphia skyline. The lights of the arriving and departing planes twinkled in the dark night against the Delaware River, setting a romantic mood in the open seating area.
The menu—sizable but approachable—features classic cuts of meat and familiar entrees. And while the cocktail list consisted of mostly vodka blends, the wine list was varied with a seemingly endless amount of vintages to choose from. Thankfully, our astute waitress was on top of her game and quick to assist in helping us pick a pairing to complement our entrees.
I started off the night with mussels and chorizo, which arrived steamed in a light broth. Giant slices of juicy and salty sausage sat among the soft and meaty mussels, which were cooked to perfection. The broth lacked the finesse of its accompaniments, however, and drew most of its flavor from the chorizo alone. Cheesesteak spring rolls arrived alongside the mussels, which were actually two large, deep fried egg rolls stuffed with chopped steak and American cheese, then served with a house-made marinara sauce.
The flavor of the classic Philadelphia guilty pleasure was not lost in this plate's juicy meat; even without the roll, it made for a familiar and fun start.
Like clockwork, as one plate left another arrived, this time carrying an herb Dijon-encrusted New Zealand rack of lamb in a demi-glace with red bliss mashed potatoes and broccoli rabe. The portion was impressive and prepared exactly to my request, and the demi-glace was rich and developed, though I missed the Dijon flavor I was looking forward to on the lamb's crispy exterior. Potatoes were—much like the lamb—cooked well but lacking any memorable seasonings, however the broccoli rabe really impressed. The typical bitter taste that I associate with the side was replaced with a nice bit of heat and garlic.
Still, through every bite the star of the night was clearly the 16 oz. rib-eye. The beautiful cut arrived glistening with a light coating of demi-glace and a baked potato. It was one of the more memorable steaks I've eaten in restaurants around the area; juicy and seasoned so delicately by a chef that obviously knew what they were doing in the kitchen. The steak, so full of flavor, was good enough to stand on its own, even without the demi-glace.
With the remains of dinner packed away for future midnight snacking, our waitress brought over a tray of standard dessert options. We chose the house special: a layered chocolate cake. What looked like a small serving for two turned into a challenge after one bite. Two small layers of chocolate cake sandwiched two larger layers of dense chocolate mousse, which in turn held an even larger ring of moist and creamy cheesecake. A thick coating of chocolate ganache added to the decadence, turning our already-lavish evening into excess.
I wasn't sure what to expect when I set out for RiverWinds, but I'm pleased I took the long and winding road to the banks of the Delaware to find out.
The high-end décor and well-heeled guests let you know that this isn't your typical South Jersey dining destination. But the relaxing setting, quality service and memorable meal only further hammer the point home.
Published (and copyrighted) in South Jersey Magazine, Volume 9, Issue 10 (January, 2013).
For more info on South Jersey Magazine, click here.
To subscribe to South Jersey Magazine, click here.
To advertise in South Jersey Magazine, click here.