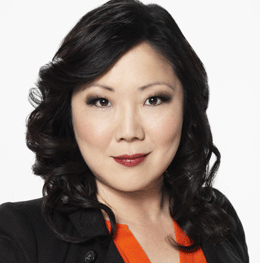 Funny Girl
Comedian Margaret Cho has won plenty of audiences over, now she just wants a Grammy.
Margaret Cho got her start out of San Francisco as the opening act for Jerry Seinfeld in the early '90s. What followed was a breakout career in standup, television, film, and on Broadway with a string of Emmy and Grammy nominations under her belt. On top of everything, Cho has emerged as a prominent author, fashion designer and an award-winning humanitarian in support of LGBT rights and the rights of women and the Asian community.
We spoke with Cho about her ever-expanding career and her plans for the future before her Feb. 2 standup appearance at the Tropicana in Atlantic City. She filled us in on the relationship with her fans, her humanitarian work, and why she has no plans to slow down any time soon.
SOUTH JERSEY MAGAZINE: Having played both serious parts and more comedic roles in film, do you tend to lean toward any specific direction?
MARGARET CHO: I hope to do more of everything. It was at one time much harder for Asian American actors to be cast in movies and TV, but now it's a different world, and so I hope to see more opportunities.
SJM: What does it take to draw you to a role these days?
MC: I just enjoy any challenge, and I like to stay as busy as possible. It keeps me young, I think.
SJM: How has your standup changed since your start?
MC: I am much more intuitive now, and I don't really care about consequences—which could be good or bad! I think it's good.
SJM: Is this how you envisioned your comedy career when you decided to pursue performing?
MC: I had no real vision—I just wanted to be a comedian. I don't know why I thought I could do it and I still am so grateful to be doing it. Everything is very exciting, and it's been very fulfilling, even though I had no idea that it could happen.
SJM: How have you seen your audience change throughout more than a decade of standup?
MC: I think we have all grown up together, and there's lots of different people in the crowd: all ages, gay and straight and trans and bi and those who are in between, men and women, racially diverse; there's a lot of joy in performing for me—it's really thrilling and wonderful. I love my audiences.
SJM: How do your humanitarian efforts inspire you?
MC: I guess it's all just kind of the same work in a way. I want to try to do some good in the world, whether it is to create change or make jokes and entertain—this is all a humanitarian effort.
SJM: One of your smaller parts, playing Kim Jong-Il in several episodes of NBC's 30 Rock, earned you an Emmy nod. What was it like, as a Korean American and as a woman, to take such a controversial and historical man and turn him into something to laugh at?
MC: It's great. Half my family is North Korean, and we are cut off from them, and it's very tragic and difficult, and this was an unexpected and a totally fun yet ironic moment for me.
SJM: Touring year-round can be tough. With all that is on your plate these days, what keeps attracting you to the stage?
MC: I really love it. I have always done it. I have been doing comedy for all my adult life, and it is my one true love. I will always tour. I will always do standup. I think that most standup comics feel this way.
SJM: This won't be your first time on stage in Atlantic City. How does the Jersey Shore compare to other spots on your tour list?
MC: It doesn't seem quite like the Jersey Shore I see on that show—and I actually know The Situation personally! I haven't really met people like him there!
SJM: Do you have any spots in Atlantic City that you like to stop by when performing in Atlantic City?
MC: No, not yet—so I need to know where to go!
SJM: What's life like for you when you're not touring or in front of a camera?
MC: I am trying to learn Italian, get better at playing guitar, enjoying my home—which is rare for me; I am usually traveling.
SJM: What are you looking forward to in the new year?
MC: I hope I win a Grammy this year—my third time nominated—I really want it! A woman has not won that particular Grammy—Best Comedy Album—since 1985!
SJM: What else is in your future?
MC: I want to do everything!
Published (and copyrighted) in South Jersey Magazine, Volume 9, Issue 10 (January, 2013).
For more info on South Jersey Magazine, click here.
To subscribe to South Jersey Magazine, click here.
To advertise in South Jersey Magazine, click here.