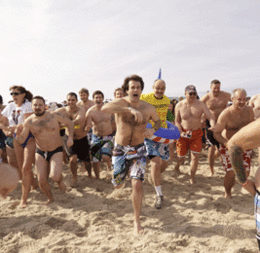 Southern Exposure: January, 2012
Hit or Miss
Two sisters from Deptford got the surprise of their lives on Nov. 20 when they both delivered healthy daughters within hours of each other at Underwood Memorial Hospital.
Somerdale native and 19-year-old NBA rookie Michael Kidd-Gilchrist of the Charlotte Bobcats reached out to his home county, donating 150 T-shirts and another 150 backpacks to the Sterling Elementary Basketball League in Camden County. The gear bore the brand of his team's famous owner—Michael Jordan.
Though no one came forward publicly, the Xpress Food Market on Mullica Hill Road sold a $10,000 winning ticket for the Powerball on Dec. 5.
The chairman of West Deptford's planning board was officially charged with lewdness after being caught naked while changing outside of a local elementary school following a recreational basketball game.
While the statewide average for graduation rates in New Jersey has increased, the average in eight of Burlington County's public high schools—including every school in the Lenape Regional High School district, Moorestown High School and Cinnaminson High School—has gone down, according to the Department of Education.
A former janitor at Gloucester Catholic High School was accused of secretly videotaping students and staff after the school discovered cameras hidden in the ventilation ducts and smoke detectors.
Street Level
Paulsboro
Police busted a party of 20 people, many being underaged, at a local hotel. Upon further review, it was discovered that the visitors were guests being housed in the hotel during the mandatory evacuation of Paulsboro following the chemical spill on Nov. 31.
Laurel Springs
A 27-year-old woman landed herself behind bars last December following two armed robberies—one civilian and one at a Wendy's fast food restaurant in Washington Township.
Tabernacle
Police didn't have to go far to arrest a local man for drunken driving, after he arrived at the Westampton police station on Nov. 30 intoxicated to pick up a friend who had also been arrested for a DWI.
Evesham
One local Wawa employee was arrested after allegedly trying to hold up his own store with a pellet gun, trying to take money from a register that was ultimately empty.
Gloucester Township
A man was arrested outside of a local convenience store after he called the police, alleging that thieves stole his $200 paycheck. The story was actually a cover-up, as the man had used the check to purchase drugs prior to his call.
Did you Hear
"Over the past few years, we have pointed out the failure of the county leaders to perform drills and to inspect, prepare and repair equipment."
—Washington Township Fire Commissioners Chairman Sam Micklus, following the resignation of several local firefighters who claimed the county provided those involved with the cleanup of the Paulsboro train derailment with faulty safety gear.
Book It: A New Kind of Healing
Moorestown's Gabrielle Korkor was diagnosed with cerebral palsy as a child, but that has never gotten in the way of her life. Gabrielle learned about the healing power of dog therapy during her hospital stays, and then Papageno, her own therapy dog, entered her life, and everything changed.
The happiness that came from Papageno led Gabrielle to share her joy with others, and in 2009 the pair began visiting nursing homes to provide comfort to Alzheimer's patients. The two volunteer throughout the community in hopes of spreading happiness through wagging tails and wet kisses. Gabrielle was inspired to teach others about dog therapy, and so at the start of 2012, with the help of her mother, Janet, she penned Puppies on Wheels, the tale of Papageno and his priceless volunteer work. Gabrielle hopes the book will spread awareness about volunteer work in South Jersey and the power of one good dog. Puppies on Wheels is available at PuppiesOnWheels.com.
Community: Recreating Memories
Whether they are sparked through pictures, heirlooms or paintings, the most prized possessions among families are memories. Unfortunately, for many along the Jersey Shore, Superstorm Sandy washed away some of those memories as the hurricane barreled through. In particular, the storm left the town of Union Beach destroyed, with a long road to recovery ahead and nearly 350 homes gone.
That's when one Mount Laurel woman saw a unique opportunity to help restore some of what was lost. Mary V. Danielsen, owner of Documented Legacy, LLC, and member of the Association of Personal Historians, recently donated her time to help restore and clean the thousands of precious photographs that were found within the wreckage.
Working quickly against the heavy damage in the Monmouth County town, Danielsen and a team of other volunteers helped process more than 3,000 salvaged photos, organizing and scanning them with technology donations she received from Colorado-based company Couragent, makers of an advanced mobile digital scanner.
Many of the items that have been washing up are wedding albums, baby photos and precious family mementos. Now they have been preserved online at UnionBeachMemories.wix.com/UnionBeachMemories, where displaced residents can try to reconnect with their lost images.
"Our personal photographs and cherished heirlooms are the emotional security we need, especially after a disaster," says Danielsen.
Charity: Taking the Plunge
On Jan. 19, the Wildwoods Convention Center will host its sixth annual Polar Bear Plunge. While most people have images of people rushing into freezing cold water for a laugh, the event is much more than just a chilly thrill. The Polar Bear Plunge is one of three sponsored by the Law Enforcement Torch Run, a group of volunteers in New Jersey's law enforcement community with the goal of raising funds and awareness for Special Olympics New Jersey, a nonprofit that provides sports training and competition to more than 22,000 individuals.
Participants are required to raise a minimum of $100 to be eligible to take the Plunge, and in 2012 alone the Law Enforcement Torch Run raised more than $2.7 million. With a cause that anyone can get behind, the Polar Bear Plunge is a testament to the extremes people are willing to go for charity.
Names to Know
Gloucester County College's director of the Center for People in Transition Jeanne LaBuz was named one of 10 "Women of Achievement" by the Gloucester County Commission for Women. LaBuz, of Washington Township, was honored for her commitment to volunteerism, humanitarianism and professionalism.
Kennedy Health System's Senior Vice President for Patient Care Services and Chief Nursing Officer Linda A. Carrick was honored with the Visionary Leader Award by the UMDNJ-School of Nursing. She was awarded in December for her contributions to the advancement of nursing through her public service work and health care education in the community.
In the days following Hurricane Sandy, Ilya Girlya, the owner of Sahara Sam's Indoor Oasis in Berlin, teamed up with the Mount Laurel Fire Department—for which he is a volunteer—to collect food, water and toiletries to donate to Seaside Heights victims. He also organized the Sambulance—a program that teaches fire and public safety—and went throughout Mount Laurel teaching students during Fire Safety Month.
Having grown up watching his father and grandfather at the Pitman Fire Department, it was no surprise that Andrew Gresko would want to follow in their footsteps. But the 30-year-old took the family tradition a bit further last month when he was named the department's new fire chief, the second in his family after his father.
Moorestown's Amanda Seymour, a physician assistant with Our Lady of Lourdes Medical Center, was awarded the Outstanding Physician Assistant Educator Award by the New Jersey State Society of Physician Assistants. The award is a first for Lourdes, given to accomplished physician assistants in the state.
Voorhees' Rob Curley, an executive with TD Bank, was chosen as a recipient of Bancroft in Haddonfield's yearly award at the organization's Butterfly Ball in February. Curley will be one of three New Jersey residents to be honored for his work with people with autism, brain injuries and similar disabilities.
Go Figure
5: The number of CVS MinuteClinic walk-in medical clinics in Burlington, Camden and Gloucester counties that will now be overseen by Virtua physicians, according to a statement released by Virtua at the end of November.
$333,890: The federal funding given to the Voorhees Fire Department to hire more firefighters, issued by FEMA and Staffing for Adequate Fire and Emergency Response.
300: Estimated number of homes and businesses forced to evacuate from a 2.2 square mile radius after a train derailed in Paulsboro on Nov. 30, spilling vinyl chloride into the water and the air.
285: Number of black bears killed across the state during the Dec. 3 to Dec. 8 legal bear hunting season. The number has gone down by 184 bears since last year, with 1,000 less hunters participating.
175: Pairs of shoes donated by the sales team of OKI Data in Mount Laurel during the holiday season through the Center for Family Services in Camden.
$150,000: Amount donated by Rowan alum Dr. Lillian Lodge Kopenhaver toward a Center for Alumni engagement, which has been named after her.
450,781: Winning lottery tickets from Nov. 28's $579.9 million Powerball lottery—the second largest top prize in U.S. lottery history—that collected some sort of cash prize.
8 : Number of in-state lottery tickets worth $1 million.
1,000,000,000: The number of times people have crossed the Delaware Memorial Bridge. The one billionth man was Wildwood's Jeff Wright. Wright was met by toll authority personnel in his lane for a quick photo op before getting in his car and continuing onto work.
300: Career wins by Haddonfield boys' basketball coach Paul Wiedeman after defeating West Deptford on Dec. 18.
6: Number of gas stations across the state that unknowingly had their regular product replaced with jet fuel.
Published (and copyrighted) in South Jersey Magazine, Volume 9, Issue 10 (January, 2013).
For more info on South Jersey Magazine, click here.
To subscribe to South Jersey Magazine, click here.
To advertise in South Jersey Magazine, click here.