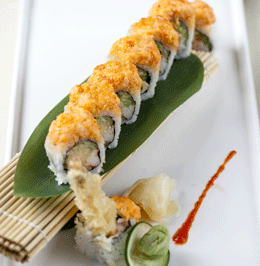 Megu Sushi
Rocking Rolls: Megu Sushi
300 Young Ave.
Moorestown
(856) 780-6327
4 stars
Though Wolfgang Puck may be the Godfather of modern fusion cuisine, we've seen plenty of admirable intersections in our own neighborhood. French and Thai. Korean and Malaysian. Chinese and Japanese. Some fall victims to too many ideas and not enough refinement, but now and then a contender rises above the others.
Chef Steven Megu Lin once again brings his own Japanese fusion to South Jersey, with a newer Moorestown restaurant that entertains inventive ideas in a warm and sunny atmosphere.
The sushi bar greets us with stone-covered walls and contemporary white seating. It's a sleeker, more modern partner to its Cherry Hill cousin, where sushi and hibachi are served in the same tucked-away alcove along the highway.
The original menu is largely intact at this Young Avenue BYOB, but this second location—which opened in 2011—is more focused on sushi and sashimi, with more than 60 styles of rolled, sliced or hand-packed fish on display. Lin's devotion to the craft is evident, with almost every section of the menu hiding some new spin on Japanese food: like sushi wrapped in cucumber or thinly-sliced beets instead of nori, or an ahi tuna "pizza" arranged atop tortillas.
A small bowl of pickled Japanese cucumbers was brought to our table shortly after we were seated—tart and sour, with a bite of chili to awaken the palate. To preface what was surely to be a sushi banquet, our table of four requested two classic dishes for Japanese-American fare: pan-seared gyoza and beef negimaki. The delicate dumplings arrived hot, crisped on the edges and browned just right, served with a sesame soy dipping sauce and stuffed with tender, seasoned ground pork; overall, a solid rendition of this usual starter, though nothing out of the ordinary.
The negimaki are chewy little rounds, comprised of juicy beef strips wrapped around gummy scallion greens and broiled. Each toothsome morsel is smothered in a tangy teriyaki sauce and showered with white sesame. Even my vegetarian guest was intrigued by the mouthwatering aromas wafting from the shared plate.
On a related note, when dining with vegetarians, it can be difficult to find items that are both satisfying for everyone and adhering to dietary restrictions. Not so at Megu. One of the best hand rolls of the evening was the Veggie Garden Roll, where sushi rice and sticky black nori wrap around cucumber, avocado, sweet red bites of beet and sour Japanese pickle. The plate was charmingly garden fresh, dressed with tiny sprigs of spicy radish sprouts.
Another inventive fusion dish brought visions of Mount Fuji as our server brought out the mountain-shaped Volcano roll. For this specialty inside-out sushi roll, spicy crunchy tuna is paired with avocado and wrapped with rice that's hand-shaped into a peak. It's finished with bright-orange tobiko (that slightly salty garnish of fish roe that pops in your mouth) and a squirt of lava-esque sriracha hot sauce on each slice. For extra sinus-burning power, I enjoyed pairing a few bites with some of the fresh white ginger that accompanied each plate; here, the pickled ginger is delicate in flavor and sans artificial pink dyes.
The restaurant eponymous Megu Roll is almost too much to handle. You've surely heard of tempura sushi rolls before, but what about tempura from the inside out? An inside-out maki roll is stuffed with battered and fried shrimp and crabstick, broken up by fresh cucumber, and then topped with thick mounds of fresh lobster meat. The result is a dish that feels decadent and maybe a little bit naughty.
Not all the rolls are as impressive: I was underwhelmed by the "Spice Girl" special of spicy tuna, salmon and yellowtail with avocado, which lacked moisture and depth. The simple California roll that came with a jam-packed bento box entrée also suffered from lack of flavor, but then, there's only so much one can do with such a plain formula.
The rest of the bento box was excellent however. Everything is arranged just so, and each compartment offered a different taste of what the chef can do.
Miniature shrimp shumai dumplings looked like steamed presents waiting to be opened. Tempura shrimp looked like flaky little soldiers, with their crispy pink tails standing at attention. As tempura goes, this preparation is above the rest: crunchy, light, not too greasy and full of flavor.
After such a meal, it may be tempting to just throw caution to the wind and polish off one of the frozen desserts or tackle the veritable boulder of tempura-battered fried ice cream, but my advice is to skip it. There's no better way to end the night than a cup of fresh black tea—strongly made and refilled often—and an order of petite mochi ice cream (in rotating flavors, but go for the green tea if it's available).
With two restaurants under his belt, we can't wait to see what's next for this chef, especially as Megu makes moves for a third location in Ventnor.
Published (and copyrighted) in South Jersey Magazine, Volume 9, Issue 10 (January, 2013).
For more info on South Jersey Magazine, click here.
To subscribe to South Jersey Magazine, click here.
To advertise in South Jersey Magazine, click here.