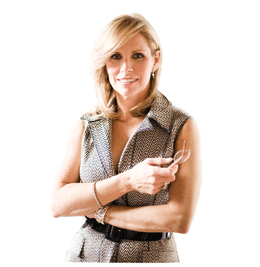 Her Call
Lynn Doyle, equality advocate and host of the Emmy-winning primetime talk show that bears her name, empowers and uplifts women of all ages.
"I always had the ability to tell a story."
So says Lynn Doyle, host and executive producer of The Comcast Network's It's Your Call with Lynn Doyle. For more than 15 years, the statuesque Doyle has been delving deeply into the weighty issues affecting our nation and sharing the stories of her high-profile guests—people named Obama, Clinton, Gorbachev, etc.—in thoughtful and compelling fashion. As many as 14 million homes, locally and nationally, have ready access to her Emmy Award-winning primetime program by way of Comcast and allied cable network RLTV.
More impressive than her program's reach or star-studded guest list, however, is her unwavering commitment to acting as a force for good in the world. Rather than being part of what she refers to as TV's "bad girls club," she uses It's Your Call as a platform to uplift, encourage and challenge her audience, especially women.
"If you look at the kinds of shows that get the backing these days, most of them make women look so bad, loud and obnoxious," she says. "I've always wanted to do something to protect women, empower women. [As a media outlet], we need to take ourselves as entertainment, but we also need to have some serious stuff, too—the teachable moments."
Unsurprisingly, she credits much of her success to having had good teachers, beginning with her mother, a registered nurse, while growing up in the Baltimore area. Although Doyle "never, not even once" flirted with the idea of pursuing a career in medicine, the lessons learned by her mother's side were nonetheless invaluable.
"My mother was a wonderful role model," she says. "She taught me that you have to have the ability to take care of yourself [by having the tools to build a career]. She always emphasized that, and I ended up repeating that later on to my daughters. You can choose to stay home, but you at least have to have that ability to take care of yourself."
Her parents—her father, a plumber, died when she was young, and her stepfather was a prominent attorney who, even at 85, continues to practice to this day—were the ones who instilled in her the sense of responsibility and hard work that would ultimately power her career. Her parents are also the ones who, perhaps inadvertently, launched her career in journalism.
A self-described "tomboy who loved sports" during high school, Doyle recalls fretting to her parents over the lack of coverage of girls' sports in the local newspaper, The Essex Times. Their advice: "You can't complain if you don't do something about it." So she marched into the office of the paper's sports editor to discuss the matter and, to her surprise, earned a job.
"That's how my writing career got started," says Doyle, who now splits her time between homes in Bucks County and along the Jersey Shore. "I covered girls' sports, and then they put me on boys' sports. By the time I was out of college, they had actually offered me the editorship of the paper. We tripled circulation and won all types of awards, and I ended up being the sports editor's boss. The experience gave me the groundwork to be a really conscientious, objective reporter. We covered the stories, took the pictures, laid out the copy, worked with ad sales. It was a great learning experience for transitioning into the cable industry.
"I always saw myself as a reporter or writer, not on TV. At the time, TV was a very exotic career for a girl who grew up on the east side of Baltimore."
Still fabulous
Doyle won her first TV job with Baltimore-based Caltec Cablevision, which was ultimately absorbed by Comcast. Later she served as inaugural host for newly launched networks such as QVC and CNBC, and also acted as a substitute host for Geraldo Rivera on FOX. (Her on-camera résumé also includes commercial work, most famously for Arm and Hammer toothpaste.) Fast-forward to 2013, and Doyle finds herself in her 17th season as host and executive producer of her eponymous program, which is filmed at Penn's Landing.
Her guests? A veritable who's who of local and national newsmakers, from current events and politics to sports and entertainment. In conjunction with the network's "America's Next President" election package, for example, she interviewed the leading candidates in the 2008 race to the White House—namely, then-Sens. Joe Biden, Hillary Clinton, John McCain and Barack Obama. The show has won multiple Emmy, Telly and Beacon awards, with more likely on the way; last August, the program received three nominations for the 2012 Mid-Atlantic Emmy Awards.
"I laugh because most times you just hope you're doing a good job, and then someone comes along and says, 'You're Emmy worthy,' and you just have to say, 'Wow,'" she says. "For one of the [Emmy-nominated spots], I interviewed Bernard Hopkins, who was the oldest man to win a major boxing title. He's since lost the title, but at the time, he was still the best in the world at 46. Both of us felt passionate about the concept of aging while still being youthful."
Doyle's on-air work has also gained attention from the likes of the Alice Paul Institute, a Mount Laurel nonprofit devoted to preserving the legacy of suffragist and equal-rights activist Alice Paul, who helped architect some of the most notable political achievements on behalf of women in the 20th century.
In early 2012, the organization bestowed upon Doyle an Alice Paul Equality Award for "showing that women can pursue their own path in the business world," according to the institute's executive director, Lucienne Beard. The honor was a particular joy for Doyle, who counts Paul among her female "role models."
"Based on what I've seen in her shows," Beard says, "[Doyle] is so positive and respectful and learns so much about whatever story she's doing. There's a breadth and depth of knowledge that you don't see very often. … She exemplifies where women can be and can go, in all parts of culture and society, and how women can be equal partners in all aspects of public life.
"She speaks from the heart about the challenges women face in the workplace. She's the real deal, and clearly she works incredibly hard."
Staying sharp
Youth and reinvention are recurring themes on It's Your Call, as underscored by the striking and always composed Doyle, who, at 55, has never shied away from celebrating her age in an industry known for being unkind to what she calls "women of a certain age."
"I've never hidden my age," she says. "I did a series called '50 and Fabulous,' with segments about women redefining and reinventing themselves. (Guests included Suzanne Somers, Delta Burke and Naomi Judd, among others.) … When you get married or enter a relationship, you redefine yourself as part of a twosome. Then if kids come along, you redefine yourself again. I think we need role models for women who are getting older, because a lot of the thinking has been along the lines of: She's 50, so she's done. That couldn't be further from the truth."
Although reinvention remains a common refrain on the show, it has also been a key part of the show itself. Most notably, the show has successfully transitioned from live TV—a format it followed for 12 years—to a taped show in a world increasingly dominated by the likes of Facebook and Twitter.
"Live TV is an animal unto itself, and I thrive on live," she says. "When the decision was made about four years ago to change the direction and go from live to tape, we had to reinvent the show to continue to make it more interactive through social media and other outlets.
"I was never more aware of what's going on than when I was on live TV. You are 100 percent in the moment, so it keeps you really sharp. You never know what's going to happen; you don't know what the caller's going to say. You can be the hero or the goat, and you just have to go with it."
Two of Doyle's most memorable moments stem from "the live years," and both of them speak to the program's variety, quality and inherent risk. The first involved a show she did on domestic violence, and a female caller phoned in to reveal that her abusive father was at that very moment threatening her with a gun. A producer quickly alerted the police, while Doyle assured the caller that the situation would be alright. (It ultimately was.) The second moment concerned former Russian leader Mikhail Gorbachev, a guest she describes as "wonderful and charming" yet cagy.
"We were talking in English before the segment, and literally five minutes before we were to start he decided he wanted to do the whole interview in Russian," she says.
"He wanted to control the interview. Luckily I knew the protocol and worked through the interpreter. … Those two are examples on opposite ends of the spectrum, and both were challenging, powerful moments."
She credits the support of her family—husband Michael Doyle, the pioneering cable TV executive, and her two grown daughters—for her strength and continued success. Her advice to other women for leading a well-lived life is simple yet revealing: Be happy with yourself—and if you're not, change whatever it is you don't like and keep going.
"I've never questioned what I was doing or whether this was the right path for me," she says. "Yeah, I have had a bad day at work, and 14 million people are watching you go through it, but that all goes aside on the air. I've had to do the show after family members passed away or when I had a sore throat or when my kids were having trouble with one thing or another, but you just have to put your head down and get through it.
"My approach to the show and the stories I cover hasn't changed. I just go with my gut and what people are interested in and talking about. I listen to people at the grocery store and the gym, and I always think that if people can stand around and talk about it, I can do a show on it. I've always gone with my gut, and so far it seems to be working. Call it women's intuition."
Published (and copyrighted) in South Jersey Magazine, Volume 9, Issue 10 (January, 2013).
For more info on South Jersey Magazine, click here.
To subscribe to South Jersey Magazine, click here.
To advertise in South Jersey Magazine, click here.