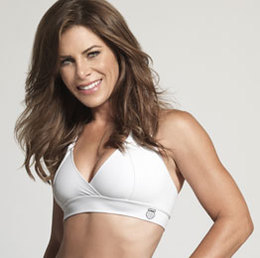 Ready, Sweat, Go!
Jillian Michaels brings her intense workout routine to Atlantic City for a unique three-day event.
Fitness guru Jillian Michaels has never been to the Jersey Shore, and so this month she'll be leaving her home on the West Coast and heading to Atlantic City for the first time ever. But the celebrity trainer won't be on vacation. In fact, she'll be working—or more accurately, working out.
The former star of The Biggest Loser will headline the inaugural Sweat AC, a three-day fitness festival taking place Sept. 21 through 23 at various venues across the city. The event will also feature Tony Horton of P90X fame and celebrity nutritionist and Today Show correspondent Kass Martin, among other notables in the fitness world. "Fun and high energy, that's what this event is all about," Michaels says. All told, more than 50 classes and experiences, ranging from aerobic dance to Zumba will take place, as well as several wellness seminars.
In addition, September will also be a busy month for Michaels as her comprehensive at-home weight loss system "Body Revolution" will be released in retail stores. She'll also be launching a new abdominal workout DVD. Currently, she's taking time out for family, but she tells South Jersey Magazine she won't rule out returning to television sometime next year. Here, Michaels clues us into the festival and tells us why she's comfortable being called America's Toughest Trainer.
SOUTH JERSEY MAGAZINE: What can you tell us about this event and how you came to be a part of it?
JILLIAN MICHAELS: It's a killer well-rounded fitness event with all the top people in health, fitness and food joining! I heard about the event and couldn't resist being a part of it. I figured if I wasn't invited to go, I would go just to be a part of it.
SJM: People must think you work out 24-7, but in reality, what is your routine like?
JM: I eat really well. I balance my calorie intake with my calorie output and avoid foods with chemicals as often as possible. I hit the gym hard for about 30-45 minutes four times a week. I train with holistic equality, working my balance, power, speed, flexibility, agility, etc.
SJM: There seems to have been a renewed focus on fitness in recent years; even the First Lady is involved. What do you think the country has to do to shed the image of being a fat nation?
JM: Take responsibility. We need to stop blaming everyone else and start looking to ourselves. I always hear people bitching about how big food or big government is responsible for our obesity epidemic. Then they look for saviors. The reality is that, while the obesity epidemic has been greatly contributed to by the greed of big business and extremely bad food policy by our government, we do have the power to change things. We need to get educated and get involved. Start a PE group with other parents after school for your kids. Start a co-op or buying group with your neighbors to make healthy foods more affordable. Engage in free forms of exercise like walking, jumping rope, lunges, pushups, pull ups, etc. Eat less and move more, as often as possible—then be a leader and an example to those around you.
SJM: You're a successful trainer, TV personality, author, etc. Is there anything out there you're not afraid to try?
JM: I like to take challenges and push myself to learn new things. One thing I won't tackle? I hate to run and truly believe that I am physically not built for it. I can't see myself ever taking on a full marathon.
SJM: When people lose weight, they feel better about themselves, they get that high. Do you get the same feeling in helping others achieve their goals?
JM: Definitely. Other than my family, it gives my life meaning.
SJM: You are billed as "America's Toughest Trainer." Why do you think that is a fitting title?
JM: I think it's an old title that I have expanded beyond despite the fact that it's still fitting.
SJM: As a fitness expert, do you find that people want to be inspired? And if so, how difficult is it to find the right way since each individual is unique in their situation and personality?
JM: I do, but I also realize my job isn't to inspire them, but rather lead them to inspiration. Their hopes and dreams are their best and most lasting form of inspiration. I simply help them identify and crystallize this.
SJM: You have several charitable passions, can you talk a little bit about why that is so important to you?
JM: I pretty much do anything for kids, animals, women, cancer, veterans—I've done everything from a USO tour in the Middle East to visit our troops to protesting the circus for elephant welfare. That said, there is one cause that I personally spearhead that is very important to me. I am currently building a database for Haiti that will register, charge, track and hold accountable nonprofits working in the country.
SJM: Lots of people look up to you, but who was your fitness inspiration?
JM: I never really had a fitness inspiration. I look to motivational people who are successful in their line of work and it motivates me in mine. I admire great humanitarians like Dr. Martin Luther King Jr. and so on.
SJM: You like to admire people, see how they've succeeded and then see what you can learn from them. What do you think people can learn from you?
JM: That anything is possible if you can tolerate failure, learn from your mistakes, and never quit believing in yourself.
Jillian Michaels shares five easy tips to incorporate into your fitness regimen.
1. Find your "why." If you find your "why," and focus on it, it will help motivate you through the tougher times. This could be anything—from the desire to fit into a pair of skinny jeans, to walking your daughter down the aisle, to seeing your grandchildren grow up. If you have a "why" to live for, you can tolerate any "how."
2. Write down your goal and post it anywhere and everywhere. It is key to have the constant, visual reminder.
3. Get a support group—friends, family, co-workers. Having support as you work toward your goals can work wonders.
4. Give yourself rewards for reaching your goals that are not food related.
5. Find images that motivate you and post them where you can see them. Again, it goes back to having those visual reminders. Maybe it's the dress you can't wait to wear or the beach you are planning to visit at the end of the year. Whatever it is, find photos that motivate you and put them where you can see them often.
Published (and copyrighted) in South Jersey Magazine, Volume 9, Issue 6 (September, 2012).
For more info on South Jersey Magazine, click here.
To subscribe to South Jersey Magazine, click here.
To advertise in South Jersey Magazine, click here.