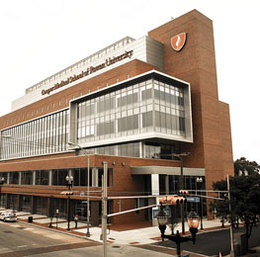 Building for Tomorrow
Cooper Medical School of Rowan University is a breakthrough in more ways than one.
What was once the location of a Domino's Pizza and a methadone clinic at the corner of Broadway and Bensen Street in Camden is now home to a six-story building of brick and glass; a plaque at the entrance signifying a commitment not just to future generations of medical students, but to the struggling city in which they'll call home for four years.
The core values of the new Cooper Medical School of Rowan University are featured on this rectangular piece of bronze: diversity, personal mentorship, professionalism, collaboration and mutual respect, civic responsibility, patient advocacy, and life-long learning.
Dedicated on July 24, Dr. Paul Katz, the founding dean of New Jersey's first new medical school in more than 30 years, says those words were so much more important to feature prominently at the school's entrance than the names of founders, donors, politicians and the like.
The words signify what the Cooper Medical School stands for, what its 50-student inaugural class and all of those who follow behind are striving to achieve through one of life's most arduous professions.
A new way of learning
Katz looks at this $139 million, 200,000-square-foot building forged by a partnership between Rowan University and Cooper University Hospital and can't help but harken back to the days of his own medical education. In the early '70s as he completed his degree at Georgetown University, much of his time was spent surrounded by textbooks, feeling lost in a lecture hall, and memorizing medical terms like a high school student recounts the amendments.
But times have changed. At Cooper Medical School, one would be hard pressed to find a single textbook—even in its first-floor library.
"Our library is primarily online," Katz says as he points to a long, L-shaped desk with just three computer screens. "Whether they're in London … or in a Starbucks around the corner, they have access to everything they need."
This premiere class will be cast out by their professors to find answers to medical anomalies and more—learning to make decisions based on self-researched evidence rather than anecdotes—and much of that time could be spent either in the learning commons that surround this small library space, or they could just as easily conduct their research from their apartment.
For those students—almost half of which have chosen to live in Camden—that's not the only thing they can do online. Each learning space in the school is outfitted with audio and recording equipment. With each lecture, small-group class and research lesson recorded, the students can review them at any time, from any place.
"This is a very high-tech, high-touch building," Katz explains. "These students have all grown up with the Internet and they'll be using electronic communication for the rest of their careers, especially with the electronic medical records. We're interested in having them learn and utilize that technology they'll be using in the future."
In fact, with the opportunity of a blank slate, the design of the entire building was centered around the curriculum and the need to keep up with health care reform, such as placing a new focus on ambulatory care and prevention.
"We also wanted it to be high-touch in terms of interaction," Katz adds. "One of our biggest areas of focus is not in the traditional sense of a professor at the podium and students in theater seats, but rather smaller group learning, which is more active and interactive."
The emphasis on small-group education is clear, going from the learning commons and moving upstairs to the gross anatomy lab—where students work around cadaver tables in groups of five, all connected by flat screen TVs to see what their fellow classmates are doing—and to the active learning and simulation rooms.
The active learning rooms, limited to eight students, a Ph.D. scientist and clinician, are set up akin to a conference room, the space equipped with a SMART Board and dry erase board that spans an entire wall. On this day, the board was covered with notes by a pre-matriculation class studying the case of a woman with symptoms of anemia.
The students meet, discuss a case, and are sent out, told to return with conclusions of their own. "Back when most of us went to medical school, and still in many medical schools right now, typically one spent the first two years sitting in a classroom," Katz says. "You'd spend six to eight hours a day with your classmates, there'd be a professor at a podium, you'd first learn to memorize words and regurgitate them later on in an exam and not really understand the context of what you're doing."
But that wasn't smart, Katz states rather simply, because being a physician is about problem solving, going out and getting answers, and working together.
There are 24 of these active learning rooms, taking up two floors, which will serve much like a homeroom to students, complete with a long stretch of locker-clad hallways right outside. Eventually, the school will hold a maximum of 100 students per class.
Another significant change in how these future doctors are taught can be seen in the simulation rooms, where actors are used to portray patients in rooms set up as an exact replica of a doctor's office. The professor will observe the students' patient interactions from behind a two-way mirror—calling a timeout if necessary to give the young practitioner pointers not just on diagnosis, but bedside manner.
"When most of us went to medical school and learned how to interview patients, examine patients and perform procedures, we did so by doing them to patients," Katz says. "That wasn't good for anyone. It was anxiety-provoking, and a lot has changed since then."
Across the hall from the "doctor's office" is a simulation hospital room with robotic mannequins as patients. From behind a two-way mirror again, a technician controls the mannequin—perhaps changing or even stopping the heart rate. "No one should learn how to resuscitate someone by actually resuscitating someone," as Katz puts it. And it gets as complicated as delivering a baby from a pregnant mannequin and learning how to do spinal taps and insert breathing tubes.
Larger spaces include the research labs, where students will investigate tissue samples and more. These look similar to the standard high school biology class, though the tables go on and on, spanning across the length of the building and mimicking the endless mirror effect.
Then there's the 120-seat multipurpose room, which could be used to show pathology slides one day or hold a small yoga class the next. And the 250-seat auditorium, where contractors were laying the last pieces of the hardwood floor just days before student orientation in mid-August. They'll steer away from that space for teaching; it'll mostly be reserved for special events.
Add in all the small touches—modern glass tilework, fabric wallpaper, bright colors, and even comfortable chairs that one lucky dean was charged with test driving in the decision-making process—and you get a building, with 24/7 access, that students and staff will be happy to call home. "We tried to make it a building that's not just functional but an attractive building, since we're all going to spend so much time here," Katz says.
Vision for the Future
The school's core principals can be seen in artwork that brings life to the gross anatomy room and reminds students of why they're there: Words like diversity, collaboration and advocacy are scattered around illustrations of bodies with muscle tissue and bones exposed.
Another subtle reminder of their mission can be seen out the expansive windows of the school's boardroom, where an empty lot sits and graffiti-strewn buildings are observed in the distance.
"While the building is impressive, you can't help but pause and think about the impact the program will have on improving health care," says Rowan's President Dr. Ali Houshmand. "The brick and mortar isn't important; it's what is accomplished within the walls and how that goes on to impact the region."
The commitment to community goes beyond medical education here. Each student is required to perform 40 hours of non-medical-related community service each year; the deans themselves have adopted a fourth-grade class at Lanning Square Elementary School where they tutor students, get them involved with special projects, and make show-and-tell presentations.
The goal is for the medical students to form an attachment with the people of Camden, as well as all people in underserved communities. "[The students are a] group that's unfazed about this city," Katz says. "We've been very candid with them all along the way about Camden, how great a city it was, how it fell on hard times, and how it's starting to come back—albeit slowly and not nearly as glamorously as the things we read about and cringe about every day.
"I think we all view this medical school and this building as a community asset, part of the revitalization of Camden, which is dear to us. We want to improve education in Camden."
A Courier-Post article from 1973 hangs in the school's lobby from the time when George Norcross II, father of the Democratic powerbroker who helped make Cooper Medical School a reality, was first pushing for a four-year medical school in Camden. Now that they've had the satisfaction of seeing a dream 40 years in the making come true, the focus is on what's next.
"As a state school, part of our responsibility is to pay back the support the state has given us," Katz explains, adding that for a state that is one of the wealthiest when it comes to per capita income, New Jersey does poorly in terms of health care. That's combined with an aging physician force and too many students lost to out-of-state medical schools. But if all goes according to plan, Cooper Medical School will change that.
After they've been introduced to a wide variety of possible specialties—such as oncology, radiation, obstetrics or pediatrics—and it comes time to graduate with a Doctor of Medicine degree and move on to a residency program, students will be encouraged to stay in New Jersey, perhaps at the residency program at Cooper. Statistics show doctors are more likely to practice within a 100-mile radius of where they trained.
And, according to Katz, the next compelling reason for picking a practice location is proximity to where the doctor grew up—explaining why 74 percent of Cooper Medical School's inaugural class hails from the Garden State.
He is proud of the carefully picked first class of students—there were nearly 3,000 applicants—and of the 400-plus faculty and staff he says share a "pioneering spirit" in their willingness to come to a brand new medical school and help build its reputation from the ground up.
What will make it work, he feels, is everyone's commitment to the school's mission to not just change health care, but to change South Jersey.
"If you're doing something exciting in a city and don't pay attention to the city," he says, "then the city gets no better. And I think we will have failed as an institution."
Published (and copyrighted) in South Jersey Magazine, Volume 9, Issue 6 (September, 2012).
For more info on South Jersey Magazine, click here.
To subscribe to South Jersey Magazine, click here.
To advertise in South Jersey Magazine, click here.