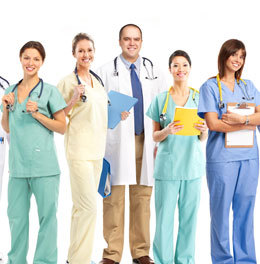 Cutting Edge
Advancements in medical procedures have been improving the lives of patients.
It's never easy to get through a hospital visit, but advancements in treatment and changing technology have been steadily improving the lives of patients everywhere.
That means that you can be in and out of the hospital in one day after surgery, rather than a week. Or that rather than a major incision, which can lead to a large scar, surgeons can now perform complex surgeries with one or two small cuts. The advent of 3-D computer imaging further enhances the way physicians approach situations—whether accessing growths within a woman's womb or adjusting vertebrae in the spine.
Early Notice
One of the most important—and frequently overlooked—health topics is the importance of early health screenings to detect potential problems or conditions.
At Advanced Cardiology in Mullica Hill, a combination of early screening, hormone replacement and genetic testing addresses cardiovascular health problems for patients as young as 20 to 25. According to Dr. Vic Bahal, the practice's triple board certified non-invasive cardiologist, the earlier health screening begins, the better. Much of what the cardiologists do at Advanced Cardiology is about risk prevention, he says. For example, doctors can identify a need for hormonal replacement therapy.
"If you have low testosterone, that has been indicated as a risk factor for cardiovascular disease, so we check hormone levels and provide hormonal replacement as needed," he says.
Hormonal replacement can lead to an increase in energy, endurance and more motivation to exercise, which decreases risk factors for both men and women. "Another thing we're doing is genetic testing; if we can do genetic testing to identify certain subsets of people who have a risk for diabetes, hypertension, stroke or vascular disease, that could make a big impact on how we treat these people," Bahal says. "In my opinion, this is the wave of the future in cardiology."
Typically, genetic testing consists of a simple blood test done in a doctor's office—though it's quick and painless from a patient's perspective, this is a very intricate and thorough test that can help prevent diseases for future generations.
Computer-supported Treatment
Dr. Peter Van Deerling, of South Jersey Fertility Center in Marlton, is an authority in robot-assisted surgery for uterine fibroids, a condition that can affect approximately a third of reproductive-aged women and causes symptoms like heavy menstrual periods or abdominal pain. If left untreated, they can even interfere with fertility and increase the risk for miscarriage.
"There are various approaches that women can take, but when they want to preserve their fertility and their womb, removing the fibroids entirely is just about the only way you can do it," Van Deerling says. By removing just the tumors, rather than the entire uterus, women are still able to have children later on.
"In the past, to remove these tumors, doctors would make a large incision almost as big as a C-section, and women would spend two nights in the hospital and six weeks recovering. The new techniques allow for (the tumors) to be removed and the uterus to be closed through small dime-sized incisions," Van Deerling says. Patients can then go home on the same day and are back to work within a week.
The device that makes this all possible is this da Vinci robot system, which provides the same precision as an open procedure but through the tiniest incision—even for tumors or cysts that are grapefruit sized. The system also allows for a three-dimensional view of the operating area, so surgeons can tie knots or do stitches using the robot as if with their own hands.
"It's worth it in my mind, because the patients will go back to work a full month earlier and feel less pain and feel better much earlier," Van Deerling says.
At South Jersey Radiology, doctors are using tomosynthesis, a new 3-D breast imaging system that's more accurate than a traditional mammogram.
Dr. William Muhr, president and CEO of South Jersey Radiology, explains that though the 3-D imaging takes about the same amount of time as previous techniques, it is much more accurate, particularly for women with dense breast tissue.
"If you think of a traditional mammogram X-ray, that takes a three-dimensional image and puts it on a two-dimensional film with lots of overlaying tissue," he says.
"With the 3-D imaging, it takes very, very thin slices of the breast and allows you to see more carefully into an image."
South Jersey Radiology was the first in New Jersey that used this technique after it was introduced at their Voorhees women's center earlier this year. From a patient's perspective, there's not much of a difference in the experience or any added hassle, but accuracy is improved—both in detecting problems and eliminating false positives.
"For women who have dense tissue, it's much, much harder to pick up cancers until they're more advanced, so we think this will help us pick them up earlier," Muhr says. "Our experience and some of the early literature shows it is clearly improving experiences in picking up cancers in women with dense breasts."
Computer technology has aided Marlton's Liebman Wellness Chiropractic to use 3-D models during chiropractic adjustments. Dr. Jesse Liebman, who brings 20 years of experience to his practice, explains the new ProAdjuster instrument determines the stiffness and mobility of each segment and vertebrae of the spine, enabling technicians to adjust the back more precisely.
"(The practice) has changed from manipulation—the cracking, popping—that scares a lot of people, to a more precise, analytical technical approach," Liebman says. "I think what's happened is that chiropractic has gone from addressing back and neck pain and it's now about helping some real niche specialties. There's a focus on much more gentle, low-force adjustments with very gentle instruments."
For patients with numbness and pain in the feet, usually caused by diabetes or cancer treatment, another new tool called the Rebuilder can simulate nerve impulse from the brain to the feet. The machine mimics the proper signal from the brain, using a light sensation that makes nerves work better to eventually reduce numbness and tingling.
Minimally Invasive
As trends go, the medical industry is quick to adapt and eager to find more effective ways to mend ailments and speed recovery time. But some doctors have taken that a step further, undergoing rigorous hours of training in order to be the first in the region to offer treatments that are more precise and effective than ever before.
Take for example Dr. Brad Bernardini of Orthopaedic Specialty Group in Washington Township—a sports medicine fellowship-trained, double board certified physician in both sports medicine and orthopedics.
"(The double board certification) hasn't really been offered for many years in sports medicine within orthopedics; that's a newer trend," Bernardini explains. "That indicates the highest level of training within sports medicine that you can achieve."
That additional knowledge has allowed Bernardini to approach cartilage restoration procedures in a new light.
"Most of what I do is arthroscopic, using small incisions," says Bernardini. The benefit of this process, whether for a common knee injury or when repairing a shoulder's rotator cuff, is that doctors "don't need to damage any normal tissue to get to the part you need to fix."
This new approach allows people to get back to a high level of function while preventing or postponing full knee replacements, he says. Partial knee replacements are also becoming more popular and can be completed as an outpatient with same-day surgery, allowing for a quicker recovery process.
The benefits of minimally invasive procedures have extended across many treatment areas. Vascular surgeons at Cooper University Hospital have become some of the first in the country, and the first in South Jersey, to adopt a new treatment option for patients with an abdominal aortic aneurysm.
Dr. Joseph V. Lombardi, program director for the Vascular and Endovascular Fellowship Program at Cooper University Hospital, is a leading vascular surgeon and an authority in minimally invasive endovascular therapy. He says the "one biggest thing" that's happened in vascular surgery during the past five years has been the development of the FDA-approved fenestrated aortic endograft, a method of repairing aortic aneurisms in patients that would have otherwise had to undergo a more invasive open repair.
"Now, a significant number of patients who were not candidates for minimally invasive aneurysm repair can now enjoy the benefits of decreased complications, early discharge and a quick return to a normal quality of life," he says.
Now, patients are able to be in and out of the hospital within 48 hours, rather than a 5-7 day stay and a 3-6 month recovery period as with other methods. "If you're able to get patients in and out of the hospital in one day and now with a minimally invasive procedure, that's huge," he says.
Lombardi says Cooper is also the only aortic center in South Jersey with a dedicated support staff for treating aortic emergencies, as well as a transfer service and its own helicopter. "Now, if say, someone has a ruptured aneurism in Cape May, they call our 800 number hotline and the patient can get transferred in 15 minutes and be on the operating table in half an hour," Lombardi says.
In a medical emergency, those valuable minutes can make all the difference.
Furthering Medicine
These medical experts are helping to advance the field.
CARDIOLOGY
Advanced Cardiology of South Jersey
Mullica Hill
(856) 241-3838
AdvancedCardiologySJ.com
CHIROPRACTIC
Liebman Wellness Chiropractic
Marlton
(856) 596-3000
LiebmanWellness.com
DERMATOLOGY
Connolly Dermatology
Cinnaminson: (856) 772-1333
Linwood: (609) 926-8899
Barnegat: (609) 660-8002
Cape May Court House: (609) 463-9933
ConnollyDermatology.com
Connolly Dermatology is the first practice in the region to offer MelaFind, an innovative and painless scanning device that helps determine whether a skin growth may represent melanoma skin cancer.
GENERAL MEDICINE
Lourdes Medical Associates
Burlington, Camden and Gloucester Counties
(856) 796-9200
LMANET.com
Lourdes Medical Associates (LMA) is a highly integrated network of physicians and multi-specialty health care facilities. With more than 125 clinicians providing more than 20 primary and specialty care services, LMA provides high quality, convenient and affordable health care to meet a broad range of patient needs across a widespread geographic area. LMA is dedicated to delivering compassionate, patient-centered care in both the inpatient and outpatient setting.
INFERTILITY/REPRODUCTIVE MEDICINE
Dr. Louis R. Manara
Voorhees
(856) 767-0009
LouisManara.com
Reproductive research has refined Dr. Manara's ability to freeze human eggs and achieve excellent live birth rates when eggs are thawed and inseminated, allowing women to preserve fertility while completing education or until they find the right partner.
Shore IVF Reproductive Medicine
Marlton & Lakewood
(856) 334-8030
ShoreIVF.com
Bringing state-of-the-art comprehensive medical treatment and technology together for all of your reproductive needs. Accomplishing goals together, while never forgetting the other half of the story: you.
South Jersey Fertility Center
Division of Regional Women's Health Group LLC
Marlton & Sewell ?
(856) 596-2233
SJFert.com
ORTHOPEDICS
Jersey Spine Associates, LLC
Marmora, Marlton & Hammonton
(609) 601-4920
JerseySpineAssociates.com
Although recent advancements have allowed better outcomes with faster recoveries, the most satisfied spine surgery patients often seek treatment with a surgeon that they trust and feel most comfortable.
Orin K. Atlas, MD
Hainesport
AtlasSpineLLC.com
Providing the highest level of quality and compassionate care, while devoting 100 percent of his time to operative and non-operative treatment of spinal disorders.
Orthopaedic Specialty Group
Sewell
(856) 629-2688
RADIOLOGY
South Jersey Radiology Associates, PA
10 locations in South Jersey
SJRA.com
VASCULAR SURGERY
Cooper Vascular Surgery
Offices in Camden, Marlton, Sewell, Voorhees and Willingboro
(856) 342-2151
CooperHealth.org/Vascular
Published (and copyrighted) in South Jersey Magazine, Volume 9, Issue 6 (September, 2012).
For more info on South Jersey Magazine, click here.
To subscribe to South Jersey Magazine, click here.
To advertise in South Jersey Magazine, click here.