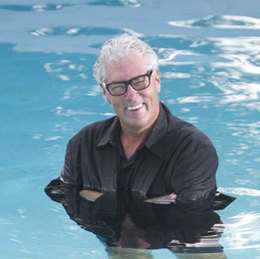 Just for Laughs
P> After a bout with cancer, Big Daddy Graham is back to doing what he does best. Even during the worst year of his life, it was still pretty good to be Big Daddy Graham. The long-time South Jersey resident, a multi-talented comedian and sports talk radio host, endured an unimaginable 10-month stretch in 2009-10, the kind you wouldn't wish on your worst enemy.
He underwent major back surgery, was diagnosed with throat cancer, suffered a staph infection in his back, lost his mother, and was forced out of his Mullica Hill home for more than two months due to water damage.
Yet as he took a leave of absence from his job as the overnight host at 94 WIP to deal with his health issues, Graham got to experience the George Bailey phenomenon. He discovered just how much he mattered to a lot of people, most of whom he doesn't even know.
"I swear, as sappy and sentimental as this sounds, it was the worst time of my life and the best time of my life at the same time," Graham, otherwise known as Eddie Gudonis, recalls. "It was just unbelievable, the outpouring of love and support I got. Not only from friends, but total strangers and listeners.
"So I took the good out of it. I got a chance to live It's a Wonderful Life a little bit. I found out that I really make a difference in people's lives who love listening to me every day. Not too many people get the opportunity to find out what they really mean to people. I did. ... It was really a touching experience."
Graham's impact on local fans shouldn't be all that surprising. In addition to interacting with callers at WIP for the last 16 years, he's been an in-demand standup comic since the 1980s, a successful author, a sometime actor, and a budding screenwriter.
Howard Stern may be the self-anointed "King of All Media," but Graham comes close.
"Entertainer?" Graham muses when asked to give his job description. "It's an old-fashioned word; it makes you sound old. I don't know, con man? It's hard to believe my phone's still ringing off the hook. My wife thinks I'm working too much, particularly after I got sick. ... But I keep telling her, 'Believe me, someday the phone's not gonna ring anymore.' And she says, 'Oh yeah, when's that gonna happen?'
"I enjoy what I do, but more than enjoying what I do, it would kill me if I didn't do it. I love being on the air, I love performing comedy, writing has become a big thing for me now. It all comes under the heading, I guess, of entertainment."
Not that Graham ever had a plan to get to this point.
The Southwest Philly native fell in love with entertainment, and music in particular, at an early age thanks to the influence of his older brother. After graduating from West Catholic High School, he tried college and several different jobs, but soon drifted toward show business.
After playing drums in a cover band and trying acting at a Germantown theater, he eventually landed a steady position at the Society Hill Playhouse, where Graham was part of a group of about 20 actors that would learn shows and put them on at area retirement homes, hospitals and prisons. It was during this time that he made the discovery that changed his life.
"I quickly got most of the funny parts in these skits we put on," Graham says. "That's when I found out I could make strangers laugh, and that's the key. Everybody knows how to make their friends laugh, because they know what their weaknesses are. To make 200 or 2,000 strangers laugh, now you have to find real common denominators that everyone shares, or they're not gonna laugh."
Graham caught the performing bug and transformed himself into a musical comedy act, singing funny songs and parodies at a local bar and developing a following. He later moved on to the Comedy Factory Outlet, mixing in standup with his music. One of his songs, "Nuns," got play on Philly radio thanks to well-known disc jockey John DeBella, gaining Graham notoriety in the area.
Finally, when the comedy-club boom happened in the 1980s, he had a career.
"I was finally fulfilling a dream of making a living in the entertainment business, which started with getting that job at the Society Hill Playhouse," Graham says. "Now I was off and running, and the nightclub comedy scene was just exploding. It kind of happened to me by accident."
By the 1990s, Graham—who has opened for some legendary entertainers, in­cluding nine Rock & Roll Hall-of-Famers—had grown tired of traveling along the East Coast for comedy gigs and leaving his wife and two daughters for days at a time. So he happened into yet another career: talk radio.
After two years in the business at 1210 AM, he moved over to his current home at WIP. The over­night slot is the perfect time for Graham, as he mixes in his love of sports with music, television, movies and just about anything else on his mind—which often in­cludes his love for Sea Isle City, where Graham owns a home and has been a fixture since his youth.
"It's fun going on the air and saying whatever I want to say about anything," Graham says. "There's nights when I barely talk sports. I talk about Nabisco Shredded Wheat for an hour. They let me do what I do and I have this great following."
Graham continues to perform comedy, mostly for corporate or private parties, but his semi-regular specials with buddy and impressionist Joe Conklin—"Two Funny Philly Guys"—have sold out the Broadway Theater in Pitman and the Borgata Music Box.
He wrote a touching book about his father, Last Call, which has been turned into a one-man play. Graham also had success with fellow WIP host Glen Macnow on The Great Book of Philadelphia Sports Lists, and he's currently working on a movie script that's a comedy set at the Jersey Shore.
"I've had a tremendous run in this (area)," says Graham, who spends a lot of time working but refuses to define it as work. "I've never been wealthy, but I've always made a good buck. My girls are through college, I got a house down the Shore. And it's all from entertaining people, whether it's writing, or the talk show, or comedy or the Quizzo nights I host. I'm really a lucky, lucky guy."
That luck shows in his health. He's now cancer-free, although radiation and chemotherapy have affected his taste buds to the point that he no longer enjoys most foods or his beloved Johnnie Walker Black whisky.
And he continues to do the job he loves, in an area he loves.
"People ask me all the time, 'Why didn't you ever think about going national?'" Graham says. "I kind of did (at one point early in my career), I can't say that I didn't. But the problem was, and it's not a problem, is that I'm a homebody, always was, always will be. Most of the comics I knew made the move to L.A. or New York so they could make money, because there wasn't a lot of money to be made in Philly, but I was.
"I'm sure Robin Williams was making a whole lot of money in [his hometown of] San Francisco, but he decided he didn't care, he was willing to take the risk and move to L.A. I was not willing to take the risk. And I don't even know if it was that, I was just having so much fun in the town I grew up in and I was becoming a semi-household name. And I never left.
"I've been in Jersey for 17 years now, that's a big chunk of my life. We obviously love it here. We love our house, we have great neighbors. It's a nice, convenient place to live."
See Big Daddy Live
Oct. 20
Villas Fishing Club
301 Pennsylvania Ave., Villas
(609) 889-9801
VillasFishingClub.net
Nov. 10
Eagle Theatre
208 Vine St., Hammonton
(609) 704-5012
TheEagleTheatre.com
For more information, visit BigDaddyGraham.com
Published (and copyrighted) in South Jersey Magazine, Volume 9, Issue 6 (September, 2012).
For more info on South Jersey Magazine, click here.
To subscribe to South Jersey Magazine, click here.
To advertise in South Jersey Magazine, click here.