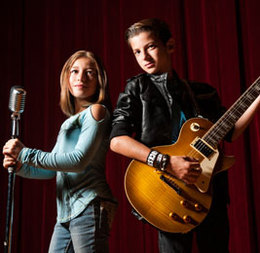 Behind the Music
Get to know the winners of this year's Top Talent contest.
There is so much musical talent in the South Jersey region; it's no wonder why the response to our annual Top Talent contest is always so well received. Once again, we sought out to find the next big stars from the area and asked them to submit a video entry showcasing their musical ability. Dozens entered, and nearly 12,000 votes were cast by our readers who selected the final three winners.
Ally & Jake, a winning duo made up of 10-year-old best friends, not only caught the eye of our readers, but also the producers of Fox's Good Day Philadelphia. The budding stars were invited to appear on the show on Sept. 7, a day ahead of a Second Saturday performance in Collingswood that will also feature the fellow winners. On Sept. 8, from 5 to 6 p.m., Ally & Jake will join Ashleigh Neilio and the group Only on Weekends for an outdoor concert smack in the middle of Haddon Avenue.
We sat down with the group of singers and musicians during a recent photo shoot at the TD Bank Arts Centre inside Washington Township High School. Read on to find out more about these rising talents and be sure to head out to Collingswood on Sept. 8 to see them live.
BAND (under 18)
Ally & Jake
These 10-year-old best friends, Ally Hartstein and Jake Fritz (pictured), have been inseparable since birth. Well, almost—they were actually born a week apart. With their parents being friends, it was natural that the two would become close. Perhaps a little less expected was their shared musical talent.
Hartstein serves as the duo's vocalist, belting out impressive interpretations of some of her favorites including Katy Perry and Lady Gaga. Fritz provides the instrumental side of things, strumming a guitar (though he can also play saxophone) with influences ranging from Eddie Van Halen to Angus Young.
When news came of their victory, a sleepy Fritz was awoken by his father. "I didn't believe him at first," he says. Though Hartstein was in Portugal at the time, the two were able to connect by phone to share their joyous excitement, even if it had to be somewhat muted. "I was in a store, so I couldn't really scream," Hartstein recalls.
SOLO ARTIST
Ashleigh Neilio
This 11-year-old talent from Magnolia is not unlike some of her peers in that she is a big Taylor Swift fan. What separates Neilio from the pack is her uncanny ability to stand up in front of a crowd and belt out vocals that sound like they may be coming directly from the Grammy winner herself.
In fact, it was Neilio's rendition of another Grammy winner, Adele, that helped her capture a spot in this year's Top Talent winners circle. Her version of the chart-topping "Rolling in the Deep" would be impressive for any vocalist, let alone one who just started taking singing lessons two years ago. Her reaction upon hearing she won? "I screamed real loud," she says. "I was very surprised because everyone else [in the competition] was really good."
Thanks to her grandparents, Neilio became exposed to Broadway at a young age, traveling with them often to see productions of Grease, Beauty and the Beast and The Little Mermaid. That helped her pursue leads in her own school plays, where she landed the roles of Cinderella and Belle in Beauty and the Beast.
With dreams of starring in a Broadway show, Neilio is already a master of the stage thanks to a seemingly simple approach to any performance jitters. "I get nervous right before I go on," she says, "but then I do what I have to do."
BAND (over 18)
Only on Weekends
This four-piece (and sometimes five) band features members from across the area. Cherry Hill, Voorhees, Deptford, Haddon Township, not to mention Philadelphia, are the places the members call home. A pop/punk group that also has alternative music influences, Only on Weekends has been an on-again, off-again love affair since first forming back in 2002.
While some of the members have changed over time, currently the band features Harry Rose on guitar and vocals; Kenny Ensign on bass and vocals; Anthony Dandrea on drums; Jes Clark on keyboards and vocals, and Joe Matteo on guitar.
Recently, the group released an EP, "Dig In," and Rose calls it "the best four songs that we have written so far." It seems their friends, family, as well as their fans agree. Upon entering the Top Talent contest, the group campaigned for votes, ultimately capturing the crown as our best band in the over 18 age group. "We are lucky to have such supportive friends and families," Rose says.
Published (and copyrighted) in South Jersey Magazine, Volume 9, Issue 6 (September, 2012).
For more info on South Jersey Magazine, click here.
To subscribe to South Jersey Magazine, click here.
To advertise in South Jersey Magazine, click here.