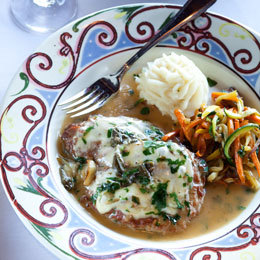 La Locanda
Room at the Inn: La Locanda
1250 White Horse Road
Voorhees
(856) 627-3700
3.5 forks
It started with a tingle in the back of the throat. From the dip of my fork into an olive oil-soaked dish—crab meat tossed in a tangle of sweet and hot peppers—my mouth came alive with garlic, herbs and the chilies' racy warmth.
Are all the dishes at La Locanda so piquant? Admittedly, no. But some of the best do bring a hit to your palate. This Italian BYO restaurant turned up the figurative heat with each additional course, and for a restaurant set inside a cavernous South Jersey shopping plaza, that's more than you'd expect at first glance.
At the restaurant, the name of which derives from an Italian phrase describing an inn or gathering space for travelers, the experience crafted by chef and owner Luigi Basile is both accessible and authentic. The Italian-born chef takes a menu of wood-fired pizzas, pastas and classic food and brings his own flair—including that touch of spice.
Though it's clear that Basile draws his inspiration and recipes from the homeland, rather than succumbing to an Italian-American "red gravy and parmesan" point of view, there are no rules when it comes to sticking within particular regions. "I've been doing this my whole life," he explains, describing the "long story" of his culinary background. "I serve simple Italian foods. My food, you can have in Rome to Vincenza." Or in Voorhees.
Previously, Basile occupied the kitchen at Laceno Italian Grill, but four years ago the business moved to a bigger space next door, with a new name and new capabilities. The dining room in the revamped restaurant is bustling at dinner service, bathed in light from picture windows which illuminate the many dark-wooded tables, plush booths and a floor-to-ceiling wall of wine corks.
Small plate appetizers are meant to be shared, in a dance of forks between friends to get the last tender morsels on each dish, as we did with the aforementioned Amalfi crab, served sautéed with lump crab meat, sweet bell peppers and hot green chilies, with onions, garlic and fresh herbs. A basin of steamed New England P.E.I. mussels were also gone as quickly as they came, the blue-tinged shells bathed in a familiar wine sauce—but here, it's done better than most and was happily soaked up with hunks of spongy white bread.
Don't look for the ever-present tomato and basil bruschette on the menu. Well, it's there if you prefer, but surrounded by far more creative and enticing offerings like the bruschette with fagiolata, a creamy spread rendered from many hours of lovingly simmered cannelloni beans, onions and garlic. In another option, slices of filet mignon were mixed with blackened peppers, seeds and all, atop two grilled bread toasts rubbed with garlic and oil.
Pastas make up a large portion of the menu, too. A recent special of house-made ravioli stuffed with lobster meat came dressed in a pink cream sauce; pleasant, though it could have used more pep. Bolognese, on the other hand, was quite obviously lavished with hours of attention during prep, with deep red flavors from the beef and tomatoes coming to the forefront of each bite. Request pappardelle—wide, flat pasta with an elastic snap to them—rather than thin spaghetti, as the surface of these noodles collects more of the addicting sauce. Just be wary: Sharing a plate with your neighbor will cost you a $5 "split fee," a policy that could cause grumbles with some guests.
Saltimbocca, meaning "jumps in the mouth," is another classic preparation employed by Basile. In this dish, veal medallions are marinated in a garlic white wine sauce with fresh sage, served wrapped in salty prosciutto slices and smothered in provolone cheese. The result needed refinement—a bit too salty and visually monotonous for my liking, though We enjoyed the quality of the meats and an accompanying grilled corn medley. With some tweaks and a touch of greenery, this could be a favorite.
Though it's typically my M.O. to favor house-made dessert over outsourced treats to close out the evening, the selection of frozen tartufo, in roughly half a dozen brought-in varieties, are not to be missed. I enjoyed the tangerine-sized orb of cappuccino ice cream with a liquid chocolate center, rolled in chopped hazelnuts and served sliced in quarters.
La Locanda has plenty of strengths, with room to grow. Basile's menu shows that solid Italian fare isn't restricted by regional lines—if wielded by a confident chef, you can find yourself enjoying Roman or Tuscan or Venetian, right here in South Jersey.
Published (and copyrighted) in South Jersey Magazine, Volume 9, Issue 6 (September, 2012).
For more info on South Jersey Magazine, click here.
To subscribe to South Jersey Magazine, click here.
To advertise in South Jersey Magazine, click here.