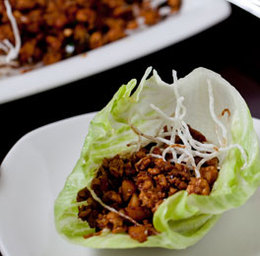 P.F. Chang's
The Chain that Commands: P.F. Chang's
500 Route 73 S.
Marlton
(856) 396-0818
4 forks
The food culture in this area has given me the opportunity to explore a fantastically long list of privately owned restaurants. Indian, British, Italian, Mediterranean: anything I ever craved within a 10-minute drive.
So I found it funny that despite driving past the Marlton outpost of the upscale Chinese chain P.F. Chang's nearly every day, I had never actually entertained the idea of stopping in for a bite to eat. Finally, it was time to discover yet another take on cultural cuisine.
Credited as a "China bistro," the dining room is dimly lit with deep red and orange hues, rich and intimate with only subtle hints at the Asian theme. Terracotta Warrior replicas stood on guard around the open space and a massive hand-painted mural—a replica of ancient Asian art—was all it took to set the scene for the evening.
I may have been new to P.F. Chang's, but I had heard about its signature chicken lettuce wraps from more than a handful of people, so it was a natural starting point for my dining party. We also picked steamed pork dumplings from the massive and surprisingly well-priced menu, which also had its own sake list and a selection of more than 25 gluten-free options.
The popular appetizer lived up to its reputation, with the bits of salty chicken playing off of crispy rice noodles and blended vegetables. The ice cold lettuce still managed to jump out, adding a freshness that you don't tend to find in an average stir-fry.
We followed this with the plate of six dumplings, hiding a generous lump of seasoned, juicy pork. They came with a sweet soy sauce, but we found ourselves drawn to the soy and spicy mustard sauce stirred together by our waiter tableside. The plate was satisfying, but overshadowed by the lettuce wraps.
I chose the Chinese five-spice duo of duck for my entrée, almost as a challenge to the chef. Finding a restaurant that will cook duck perfectly is hard to come by, and I wanted to see how this chain could tackle one of my favorites. The sweet scent of cinnamon and brown sugar announced the bird's arrival. Two pieces of moist duck, one leg and one breast, sat on a bed of cherry-ginger chutney with a side salad dressed in a ginger vinaigrette. The perfectly cooked protein needed no sauce, but the chutney was too enticing to resist, the sweetness of the cherry singing from the rich sugars that added a warmth to the meal.
Next up was the wok-charred beef: a medley of mushrooms, bell peppers, red peppers and flank steak in a brown sauce with a side of brown rice. It was a fairly typical stir-fry, though I was left wanting more bell peppers for a bit of added crunch to the soft dish, and the spicy red peppers almost wiped out my palate. Still, the beef melted in my mouth, and the mushrooms managed to preserve their own flavors in the wok.
For dessert, we chose the signature dish, the Great Wall of chocolate, intrigued by both the dish and its campy name. What came to the table was the largest slice of cake that I've ever seen, a seemingly literal wall of chocolate cake and rich chocolate icing swimming in a pool of raspberry sauce. Normally, my sweet tooth would have sent me face-first, fork flying into the plate, but my full stomach forced me into restraint. Still, it was so moist that we managed to tackle about a quarter before throwing in the towel.
Leaving P.F. Chang's already anticipating my leftovers for tomorrow left me a bit embarrassed. The restaurant isn't new to South Jersey, yet I had found plenty of excuses to avoid it in the past. Certainly, P.F. Chang's sterling reputation is built on some delicious success; I'm just glad I finally came around.
Published (and copyrighted) in South Jersey Magazine, Volume 9, Issue 6 (September, 2012).
For more info on South Jersey Magazine, click here.
To subscribe to South Jersey Magazine, click here.
To advertise in South Jersey Magazine, click here.