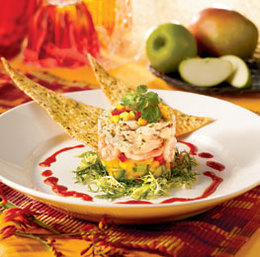 Cravings: Crab
5 Spot – Craving Crab
One of the best summer memories we have is sitting down with a bucket of crabs, a mallet and a cold one. But some local aficionados say the best crab-eating season is yet to come, from now until November. Whenever you choose to enjoy them, some area eateries are mixing crab meat into habit-forming dips, sandwiches and salads. Next time you're craving crustaceans, but not in the mood to get wrist-deep in broken shells, try one of these five dishes instead.
Bahama Breeze: Jumbo Lumb Crab Stack
In a creative take on ceviche, sweet jumbo lump crabmeat is piled high on top of morsels of chilled shrimp, avocados and a citrusy apple-mango salsa, with a frisée salad and tortilla chips for dipping. 2000 Route 38, Cherry Hill, (856) 317-8317
Cool Dog Café in Cherry Hill: Crab Cake Sliders
Forget those mini hamburgers—here they take white crab meat cakes and serve them on two soft little sandwich rolls with fresh scallions, lettuce and tomato, finished with a mild sriracha aioli. 2091 Route 70 E, Cherry Hill, (856) 424-0400
Pic-a-Lilli Inn: Crab Bread
If you're looking for the perfect snack to share—or not share—this one's for you. Hearty garlic bread is loaded up with a house-made crab spread and topped with melted cheese. 866 Route 206, Shamong, (609) 268-2066
J.G. Cook's Carolina Blue: Pancetta Wrapped Asparagus with Crab
At this peach wood-fueled smokehouse, not everything gets turned into barbecue. In this starter, ribbons of pancetta are wound around crisp asparagus, pan seared and topped with lump crab meat. 692 Lambs Road, Pitman, (856) 582-8586
Chickie's and Pete's: Crab Nachos
Not your everyday nachos, this pub staple comes with crisp corn tortilla chips piled high with lump crab meat, arugula, roasted red peppers and onions, and is then smothered in melted cheese and finished with a drizzle of tangy house aioli. 183 US Highway 130, Bordentown, (609) 298-9182
Fast Food
Culinary news to chew on
•La Campagne, a French BYO and Cherry Hill mainstay, has closed. Chef and owner Richard Benussi took to Facebook to announce the shuttering, but said the restaurant will be available for private events and a series of cooking classes in the next few months.
•The Atlantic City Seafood Festival calls together more than 200 vendors on Sept. 15-16, pairing top-notch live entertainment and cooking demos with fresh seafood from area restaurants like Tropicana's Fin, Forty North Oyster Farms and Ike's Crab Cakes. Your $10 ticket will get you into the tasting tent to sample Garden State wines and beer. For more info, vist ACSeafoodFest.com.
•Geeks rejoice: Technology is making its way to your dinner. At Caffe Aldo Lamberti, servers will now display their detailed "Wireless WineList" on iPads tableside, allowing guests to search for specific wines and read details on various regions.
•Terence Feury, previously of Philadelphia's Fork, is making moves to open Tavro 13 later this month in the former Old Swedes Inn space. No word on an official date yet, but chef/owner Feury has been vetting potential employees for the forthcoming Kings Highway restaurant, which will feature a 70-seat dining room and an outdoor patio.
•New Jersey Restaurant Week, presented by DineOutNJ.com, hits town from Sept. 16-22 and features prix fixe lunch and dinner menus for $14 or $35 at hot spots like Seasons 52, Luna Rosa Biagio Lamberti, and Thomas' Ristorante.
Imbibe
It seems like Halloween decorations get put out earlier and earlier each year, but we can think of one seasonal fixture that's welcome any time: pumpkin beer. At Iron Hill Brewery in Maple Shade, head brewer Chris LaPierre roasts actual pumpkins to get that authentic taste in The Great Imperial Pumpkin Ale. The resulting brew, making its debut on Sept. 29 alongside several others, is full-bodied and flavored with molasses, pumpkin pie spices and Belgian candi sugar.
Published (and copyrighted) in South Jersey Magazine, Volume 9, Issue 6 (September, 2012).
For more info on South Jersey Magazine, click here.
To subscribe to South Jersey Magazine, click here.
To advertise in South Jersey Magazine, click here.