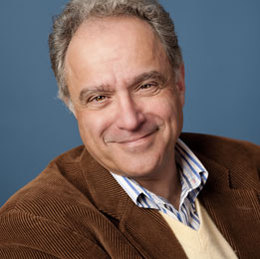 Living in the Past
Jersey native Anthony Laciura travels back to the 1920s for season three of Boardwalk Empire.
Already an accomplished performer who spent 27 years with the Metropolitan Opera, Anthony Laciura was teaching and directing at New Jersey City University when he got a phone call that changed his life. On the other end was a former manager urging him to go audition for a new HBO show that was centered around Atlantic City during Prohibition. He wasn't exactly nervous until he found out the pilot was being directed by one Martin Scorsese. Two screen tests later, he landed a role in Boardwalk Empire as Eddie Kessler, the assistant known for going above and beyond to cater to main character Nucky Thompson—played by Steve Buscemi. Currently in production on the third season, we spoke with Laciura in between takes to see what fans can expect when the award-winning show returns on Sept. 16.
SOUTH JERSEY MAGAZINE: The new season is almost here; how has it been shaping up?
ANTHONY LACIURA: It's really going to be an exciting season; not as dark as last season … really balanced. Some episodes are calm; some will knock you off your feet. Each episode is filled with information and it's all pertinent.
SJM: I would imagine going into season three that the cast has grown closer. Does that make the work even better because there's that cohesion that didn't exist when you first started?
AL: That's very valid to say. With the pilot, it was welcome and here are the characters. Some are historical, some are the creation of the writers, and it's all going to work. And Marty [Scorsese] set the tone and it grew from there. When we first read the pilot, Marty said "Well?" And we said, "This is a hit!"
SJM: You have lived in North Jersey for a long time, but did you know much about Atlantic City before taking on the role?
AL: Only that Atlantic City was where you went for gambling and it was not a place necessarily you wanted to go. But now that has changed so dramatically, and I think Boardwalk Empire has helped in some part of that rebuilding. It was able to show people how historic Atlantic City was in the growth of the nation that decided you couldn't have alcohol.
SJM: You have a large musical background, how much of that was shaped by growing up in New Orleans, a city known for music?
AL: New Orleans, you had it all there. You sung with orchestras, there's lots of opera and theater. You leave and you think everyone else had the same opportunities; they didn't. My career was nurtured by that environment. My supporters encouraged me as an opera singer, I was influenced by my city tremendously.
My first bow at the Met, the first thing I thought of was that all of New Orleans heard me … just as I used to listen to the radio to the singers when I was little. That was a real moment for me, to represent the Met, but also where I grew up.
SJM: How different was it for you to go from the stage to in front of a camera?
AL: I look at this set sometimes, I think I'm in Rhode Island because they have the same amount of people [working on the crew] as they do in that state!
You don't have the instant energy from the audience. There's an energy when you are on stage, it's like walking on a tight rope. The audience is thinking "I hope he doesn't fall, but if he does, it will be so exciting."
SJM: Your character is based on a man named Lou Kessel. What do you know about him?
AL: We know that Lou Kessel was my height, but he was 260 pounds … he was a wrestler. He was a cab driver who would wait for Nucky until eight or nine in the morning, drive him back to his apartment at the Ritz-Carlton, undress him, put him in the shower, put him to bed … later on Nucky offered him a job as his chauffeur.
SJM: I know you're close to his granddaughter, how did that relationship form?
AL: We corresponded, she and her daughter came to the set and they watched filming. We talked and the next thing you know, my wife and I are in Brigantine every other weekend to hang out with the Kessel family. We look through pictures, piece things together. … [On the show] I wear Lou Kessel's pocket watch. It's a wonderful relationship.
SJM: Is there anything you can divulge about the new season?
AL: The only thing I can tell you about is how it ends.
SJM: Yes?
AL: It ends with the credits.
Published (and copyrighted) in South Jersey Magazine, Volume 9, Issue 6 (September, 2012).
For more info on South Jersey Magazine, click here.
To subscribe to South Jersey Magazine, click here.
To advertise in South Jersey Magazine, click here.