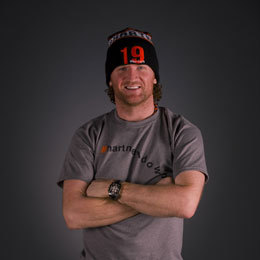 Spotlight: A New Goal
On the heels of signing a new contract that will keep him a Philadelphia Flyer for the next six seasons, we talked with all-star Scott Hartnell about his new charitable foundation—affectionately named Hartnell Down for all the spills he takes on the ice—and his upcoming celebrity golf tournament on Sept. 17 at Woodcrest Country Club in Cherry Hill.
Where did you get the organization name?
It was kind of a little joke that a couple fans had, making fun of me for how many times I fell on the ice. There was a ticker for me with how many times I fell down and on twitter there was a hash tag, #HartnellDown. It was all in good fun and now it's raising a lot of money for organizations all over the area
All of the success we've had so far... it's blown us out of the water. We had the idea to make a few t-shirts and donate them, make a couple hundred bucks. Then I made it into the All Star game and that gave it a lot of attention all the way up until now. We didn't expect the success this so soon
I wanted to give back to Philadelphia. I wanted to keep it promoting athletics and sports and keeping kids fit and things like that. So I partnered up with the Ed Snider Youth Hockey Foundation, took in 10 kids and took them to Minnesota for a hockey camp out there. It was a real treat to be able to look at these kids. It's what I did, go to these hockey camps in the summer.
Now that you'll be in Philly for another few years, what are your plans with the foundation?
We've talked about it with the board, we don't want to get too big where everyone's stretched too thing. We want to keep everything local here in Philadelphia, but I want to get back into Canada as well, turn it into something that supports both Philadelphia and Canadian fans.
Are there a lot of Canadian Flyers' supporters?
Back home, in my home town, people have heard a lot about my foundation and support me. Every city we go to and play, whether it's Edmonton or Montreal or even Los Angeles or Detroit, there's always these diehard Flyers fans that travel and come out to support us. You always see the Flyers jerseys which is pretty cool to see when you're on the road.
How's your game on the green?
I played at Woodcrest the other day and didn't shoot too well, so I've got to get my game up before the outing. Everyone's coming back for training camp so I hope to get a few guys out there.
Competition between Flyers in golf
The competition is huge; it's just like anything else we do. Sometimes when we're on the ice we have outscoring competitions and it doesn't change when we hit the green. There's competition between us no matter what, be it golf, hockey, even cards. But it makes it all that more fun.
Who's your biggest threat at the upcoming outing?
Claude Giroux's pretty good, but Danny Briere is great too and pretty much the entire team are really great players, so we'll have to see how it goes that day.
The lead singer of the Dropkick Murphys will be there too, along with some other great golfers and celebrities. It's really cool that music and sports and all fields are going to come together for the Claddaugh Foundation and for this event.
Published (and copyrighted) in South Jersey Magazine, Volume 9, Issue 6 (September, 2012).
For more info on South Jersey Magazine, click here.
To subscribe to South Jersey Magazine, click here.
To advertise in South Jersey Magazine, click here.