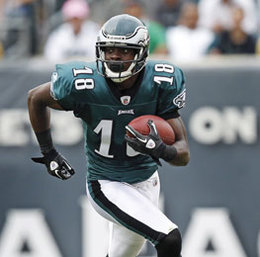 A Giving Receiver
Philadelphia Eagle Jeremy Maclin scores on and off the field.
"Don't take anything for granted. Cherish every moment, every time you step on that football field, because it could be the last time."
Those words courtesy of Philadelphia Eagle wide receiver Jeremy Maclin come a little more than a year after the resolution of a labor dispute that nearly cost the National Football League its 2011 season. It was a work stoppage that lasted from early March through late July, as the NFL and its players engaged in negotiations to hammer out a new collective bargaining agreement. Team facilities were off limits and offseason activities were canceled.
One hundred and thirty six days later—or roughly the equivalent of an entire regular season and two weeks of the playoffs—the lockout ended and the season had been saved with mere weeks to spare.
But, on that day the young offensive star wasn't speaking about the lockout. That's because, heading into last football season, with all the uncertainty surrounding the NFL, there was even more surrounding Jeremy Maclin.
Shortly after the NFL owners and the Players Union had an agreement in place, the Philadelphia Eagles made their annual pilgrimage to Bethlehem and Lehigh University for a suddenly accelerated training camp. With precious time lost, new league-wide rules to follow, and new players to work into the fold, each practice was of the utmost importance. So it was puzzling when Maclin was notably absent when camp began.
Unlike his counterpart DeSean Jackson, Maclin was not holding out for a new contract, so not reporting to Lehigh on time didn't seem to make much sense. Bits of information began to surface that Maclin had lost nearly 20 pounds in the offseason due to illness, but was on the road to recovery. The Eagles remained tight-lipped about the situation. After missing the first five days of practice, Maclin arrived at Lehigh, but he didn't look like quite right. Rumors began to swirl. His career was in jeopardy. He had leukemia. He had AIDS.
The truth was, Maclin had wanted his privacy while he worked through a series of tests for lymphoma after discovering on his birthday that his lymph nodes were enlarged and had hot spots. Suddenly, his offseason preparation took on a whole new direction, one that included bone marrow examinations and radiology scans. Complicating matters was the lockout, which meant Maclin was forbidden from conferring with the Eagles training staff on the matter.
Doctors continued to test Maclin, going as far as to remove his lymph nodes through his belly button, before ultimately ruling out the cancer. It turns out Maclin's worst fears were generated by an inflammatory virus that needed time to run its course through his body. After months of doubt, a return to normalcy was finally in sight.
"It was tough, not really knowing what the future held," reflects Maclin while traveling to his West Deptford home. "It was a challenge. … I knew what was going on and I wasn't worried about what people were saying… I remained strong and my friends and family helped me get through it."
The health scare gave Maclin a renewed sense of purpose, as he used the time to take an introspective look at what mattered most in his life. If playing in the NFL was a dream, then this was certainly a nightmare. Now with his eyes wide open, he is determined to embrace each day as a blessing, with a new appreciation for life and the game he loves to play.
"At this point in my life, [football] is a big part of me; it's what I do. At the same time, when you experience things like that, life is bigger than just football, it's a special thing. That's kind of how I look at it; you cherish life—not just football," he says.
Remarkably, just a few weeks after being medically cleared to play football, Maclin was in uniform when the Eagles opened the season last September in St. Louis (his hometown). And despite only catching one pass that day, he would go on to lead the team in receptions for the season—despite missing three games in the latter part of the year due to shoulder and hamstring injuries.
It was a shining example of how to persevere, and the fans rewarded Maclin with their highest praise, similar to the way they rallied around Coach Andy Reid this offseason when his eldest son tragically passed away during training camp. But Maclin is no stranger to overcoming adversity; it's something he's been dealing with since he was a kid growing up in the St. Louis suburbs.
Maclin's father abandoned him as a child, and his mother's issues with drugs and alcohol made his youth anything but picture perfect. He found his refuge on the football field, following in the footsteps of his two older brothers. That's where Jeff Parres, a St. Louis-area urologist coaching little league football, first noticed Maclin.
"I had been involved in little league for 20 years and, at that age, it is all about speed, and he was the fastest kid on the field," Parres says. "[But] beyond that, he was sharp, picked things up quickly, he was attentive. You could tell he was one of the better athletes."
While Maclin's youthful skill set caught Parres' eye, so did his adverse home life. "I had to pick him up every day for practice and take him home, he never had a ride," Parres says. "We'd get done at 8:30 at night and I would take him home and there would be nobody there, just a dark house. Here was a kid who hadn't eaten supper … it was immediately apparent he had a tough home situation."
Parres and his wife Cindy would often host sleepovers, allowing their two sons to invite some players from the team each weekend. There would be different players each time, except for Maclin: He was the one constant. A year or so later, it wasn't just weekends Maclin was spending with the Parres family, it was Christmas break, then spring break, finally entire summers.
"He had two households … he had his own room, a closet full of clothes," Parres says.
By the time Maclin was a sophomore in high school, he was living with the Parres family full time. "We didn't treat him any differently; he was one of us. In the beginning, there was some slowness. He had another home and we had to be cognizant and didn't want to overshadow what his mother could provide for him.
"Right or wrong, it's hard for a natural mom to give up her son. But it was something she was always willing to do, she had an awareness that it was a better option for Jeremy and she was willing to let that happen. We did it with cooperation throughout," Parres says, adding that the family and Maclin keep a close relationship with his mother.
"His mom and my wife get together every week to 10 days."
The bond Maclin shares with his surrogate family is so strong that he still spends his offseasons in the Parres home, sleeping in the same bedroom he did as a teen. "It's like he's 13 years old again living upstairs in his room … my wife moans about how lazy he is, how messy his room is," Parres quips.
Rather than use his upbringing as a crutch, Maclin found positives in his situation and used the experience to build the same character and strength that carries him on the football field today. "My childhood in general makes me stronger as a person. Going through what I went through and to come out of that situation to be successful in life and live the dream I always had … yeah definitely," he says.
Maclin's challenging childhood has inspired him to lend a helping hand to other kids who may dream big, but see little opportunity. He created the Jeremy Maclin Foundation to work with underprivileged children in the South Jersey/Philadelphia area, as well as those back in his native St. Louis. This past June, Maclin hosted his second annual summer camp at RiverWinds in West Deptford, working with young boys between ages 7 and 16; waiving the fee for more than 100 campers.
For the kids, getting lessons from a professional football player is an unforgettable experience, but Maclin's just as interested in seeing them grow off the field. Stressing the importance of hitting the books, not just the playbook, while helping these young boys develop into young men is the rewarding part and it's helped Maclin leave a mark on the community in which he's found a second home.
"It's all about giving back," says Maclin. "Working with kids is something I love doing. To see the joy and type of excitement we can bring to them, that's what it's all about. When I'm done playing football, it's something I plan on doing full time. It's all about giving the opportunities I never had as a child."
"It's a natural thing for him [to give back]; it's not forced," Parres adds. "What makes me proud is the way he conducts himself. I enjoy that as much as I do seeing him score touchdowns on Sundays."
Of course, Eagles fans are hoping that his on-the-field ability contributes to a more successful season for the team in 2012. After finishing with an 8-8 record last year, the ill-named "dream team" fell short of the playoffs, forced to watch as their division rival the New York Giants went on to win the Super Bowl.
No matter the disappointment, Maclin says he's always felt the love from those who bleed green. It's one of the reasons he's made his second home in South Jersey. "I am a fan [of South Jersey]. I love the type of support the fans give us, the passion they show for the game. It makes us want to play harder and give them what they really want."
A Super Bowl?
"Hopefully we can get there eventually. It's a weird season that happened last year. It's not how anyone in that locker room or organization thought it would go. Guys are eager to compete for one another. We have a lot to prove to everybody and ourselves. I think it's going to be a special year for us."
Published (and copyrighted) in South Jersey Magazine, Volume 9, Issue 6 (September, 2012).
For more info on South Jersey Magazine, click here.
To subscribe to South Jersey Magazine, click here.
To advertise in South Jersey Magazine, click here.