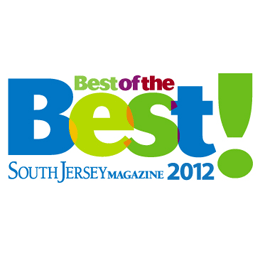 Best of the Best
Each year, you anxiously await our July issue to see who we'll unveil as the year's Best of the Best in South Jersey. Putting together this list is no easy task, but that's why we take so much pride in doing it. We spend the entire year traveling throughout South Jersey's landscape to find the meals, services, shops and more that are deserving of high praise. And we upped the ante on this year's installment by introducing several new categories, so read on to see who's serving up the best ice cream, where to sip amazing cocktails, find the perfect place to get outfitted for a night on the town, and much, much more including readers' choices.
FOOD & DRINK
BEST CHEESESTEAK ON A PIZZA
Washington Township's Slice is more than just your average suburban pizza joint thanks to a menu full of model-thin pies fashionably dressed with everything from sautéed clams to San Marzano tomato sauce. Our favorite? The decidedly delectable offering topped with mozzarella, caramelized onions and ribeye steak; finished with white truffle oil.
137 Egg Harbor Road, Sewell, (856) 302-5099, SlicePa.com
BEST CREAM-FILLED DONUTS
At Deluxe Italian Bakery in Runnemede, they take their cream donuts seriously. Here, the powdered pockets aren't simply filled, instead they are sliced open and piped full of your choice of vanilla, chocolate or strawberry cream. Whether you're indulging for breakfast or treating yourself to a late-night snack—or both—there's nothing quite like them.
680 E. Clements Bridge Rd., Runnemede, (856) 939-5000, DeluxeBakery.com
BEST RECREATION OF 9th STREET
Abbruzzi and Giuanta's in Mount Laurel is South Jersey's answer to Philly's Italian Market, with an array of cheeses, antipasto, homemade prepared foods and much more. It's also where you'll get the area's best hoagies. Nothing fancy here, just authentic, well-constructed sandwiches that require repeat visits.
3211 Route 38, Mount Laurel, (856) 231-0203, AbbruzziGiuanta.com
BEST REASON TO POUR A GLASS OF MILK
Over at Crazy Susan's Cookies in Voorhees, the longtime Ocean City landmark run by Camden County native Susan Adai, has found a home—not to mention a sizable kitchen—to create their exceptional assortment like mint chocolate chip, oatmeal cherry coconut, cranberry white chocolate and more than two dozen others. You can never go wrong with the Crazy Turtle – a chocolate chip and cashew cookie topped with both a layer of caramel and Belgian milk chocolate.
1224 Berlin Rd., Voorhees, (856) 767-1019, CrazySusansCookies.com
BEST LESSON IN MIXOLOGY
Seasons 52's dining room is warm and inviting, but arriving a little ahead of your reservation will allow you to take advantage of the custom creations being served at the bar. Seasonal sips like the strawberry basil fusion—strawberry-infused vodka with fresh basil and agave nectar—vary, but even the basics (think margarita) get a boost (think Patrón).
2000 Route 38, Cherry Hill, (856) 665-1052, Seasons52.com
BEST WEDNESDAY COMFORT FOOD
At The Apron in Haddonfield, the middle of the week is reserved for one of their most popular dishes—the pot pie. These oversized specialties are heavily loaded with chunks of chicken, potatoes, peas, carrots and plenty more and the flaky, buttery puff pastry is worthy of its own attention. If you couldn't tell these were made with love, the raised heart on the crust tells you all you need to know.
47 Kings Highway E., Haddonfield, (856) 795-4333, TheApronOnline.com
BEST KING OF THE WINGS
Ordering wings used to mean choosing between buffalo, teriyaki or barbecue. Well, these days, places are coating their chicken in more imaginative sauces and glazes, and none do it better than Swedesboro's Village Pub. These plump crowd pleasers come conventionally, but we can't get enough of their more unique styles like the chipotle bleu, spicy ranch and our current go-to, spicy creamy parmesan.
5 Village Center Drive, Swedesboro, (856) 832-4586, TheVillagePubNJ.com
BEST BURGER WITH (BLUE) CHEESE
From fast food joints to fine dining restaurants, there are a lot of burgers being slid between two buns out there, but they pale in comparison to Blue Monkey Tavern's signature angus patty topped with portobellas, caramelized onions and crumbles of creamy blue cheese. It's tender, juicy and full of flavor—one bite and you'll never limit yourself to choosing between American or cheddar ever again.
2 S. Centre St., Merchantville, (856) 661-8008, BlueMonkeyTavern.com
BEST BRAIN FREEZE
We'll admit the name threw us at first, but Let's Yo! should be judged on one thing and one thing alone: the frozen yogurt they serve. From birthday cake (everything but the candles) to tropical fruit (with real fruit pureed into the yogurt), the self-serve flavors being pumped into bowls and waffle cones here are anything but ordinary.
123 Route 73 S., Marlton, (856) 751-8400, LetsYoYogurt.com
BEST REASON TO PUT SALMON ON A ROLL
We love cheesesteaks and chicken cutlets just as much as anybody, but sometimes we want a sandwich that won't slide us into an immediate food coma. That's when we turn to Jake's on the Bypass for their piquant salmon filet on a Liscio's roll (make sure it's seeded); topped with spinach, bruschetta and a sour cream dill sauce made in-house.
141 Tuckahoe Road, Washington Township, (856) 728-8001, JakesontheBypass.com
BEST PLACE TO ORDER ANOTHER ROUND
With 20 rotating taps and a bottle list that reads like an encyclopedic entry, The PourHouse is a craft beer lovers dream home, where hop-filled IPAs and well-balanced Belgians share the real estate. Whether you're using the suggestive pairings on their menu or just out to try a limited edition brew, even the most discriminatory drinker can quench their thirst. Ever wonder what beer is supposed to taste like? Order whatever's on the firkin and savor the cask-conditioned ale.
124 Haddon Ave., Westmont, (856) 869-4600, PJsPourHouse.com
BEST COOKING LESSONS FROM A TOP CHEF
When Chef Nunzio Patruno took home our Top Chef honors a few years back, many readers wished they could prepare such skillful meals. Thankfully, Patruno is willing to share a few of his secrets during his "Cooking with Nunzio" series at his namesake Italian BYOB in Collingswood. Whether you're picking fresh ingredients from the farmers market or making your own pasta, Patruno will improve both your culinary knowledge and technique in a way that's less Hell's Kitchen and more heaven on earth.
706 Haddon Ave., Collingswood, (856) 858-9840, Nunzios.net
BEST PLACE TO GET TWISTED
Long before a certain chain flooded the area, we were regulars at South Jersey Soft Pretzel in Stratford. Guess what? We still are. These doughy delights, which come in shapes that vary from traditional twists and braids to party-pleasing options like Christmas trees and Valentine's hearts, are perfectly browned and highly addictive with or without the Keller's mustard.
912A N. White Horse Pike, Stratford, (856) 435-5055, SouthJerseyPretzel.com
BEST PLACE TO GET THE SCOOP
Daddy-O's is a Marlton institution where throngs of South Jerseyans regularly line up for a taste of homemade ice cream in oh-so-not-vanilla flavors like cotton candy and apple pie. Not sure if you're ready for banana cream pie? Don't worry, you'll find plenty of other excellent choices.
300 E. Greentree Road, Marlton, (856) 983-0011
BEST REASON TO HAVE ANOTHER SLICE
Christine McHale, better known in Moorestown as The Pie Lady, is always invited to our house for dinner as long as she brings her mouthwatering Key lime pie. Or her coconut cream. Or her apple crumb. Is it too early to start placing orders for Thanksgiving?
9 E. Main St., Moorestown, (856) 778-7437, PieLadyCafe.com
BEST PLACE TO BEAT THE HEAT
For more than 75 years, Leo's Ice Cream Company in Medford has been making their own version of water ice, dubbed Yum Yum, in notable concoctions such as honeydew and cherry-pineapple. Come summer, we love the creamy texture and array of fruity flavors that become more memorable with each spoonful.
7 Tomlinson Mill Road, Medford, (856) 797-8771, LeosIceCream.net
BEST SWEET TOOTH FIX
When we have a craving for chocolate, there's only one place to turn and that's Duffy's Delicious Candies, a family-run business that dates back more than eight decades and features inherited recipes that date back to the early '20s. Here, everything from Oreos to figs are covered in milk and dark chocolate, but they also make cotton candy, gummi bears, licorice and other assorted items.
29 N. Broadway, Gloucester City, (856) 456-2955; 1107 Mantua Pike, West Deptford, (856) 464-0600, DuffysCandies.com
BEST SANDWICH YOU'VE NEVER TRIED
Over at Sammy Chon's K-Town BBQ in Cherry Hill, they know a thing or two about Korean barbecue. You may also be surprised to learn they know about quality sandwiches, too. Witness the koagie: your choice of steak, chicken, pork or even fish on a bed of sesame coleslaw and topped with a pile of kimchi. If only all Asian fusion cooking was this successful.
404 E. Route 70, Cherry Hill, (856) 216-0900, KTtownBBQ.com
BEST TRIP TO HANOI
Marlton's Pho Xinh, the latest location in a dynasty of Vietnamese restaurants across South Jersey, transcends the typical takeout found in a shopping complex. But we recommend you take the whole lunch hour here and dip a porcelain soup spoon into their namesake noodle soup, an ocean of deeply flavorful broth filled with gossamer rice noodles and paper-thin strips of tender brisket, layered with crisp bean sprouts, scallions, onions and sweet Thai basil. Don't forget to embellish with hoisin and sriracha sauces to kick things up.
147 Route 73 S., Marlton, (856) 988-1666
BEST REASON TO FORGET ABOUT CANNED SOUP
It may be summertime, but that doesn't mean soup should be off your radar. Tucked into a shopping center in Marlton, Ragazzi Restaurant is an unassuming casual spot making upscale restaurant quality bowls of homemade soup. The chicken pastina is thankfully always available, while daily selections like Italian wedding or cream of chicken rotate in and out. With only two offerings, some may scoff, but here it's definitely about quality, not quantity.
44 Route 70 E., Marlton, (856) 810-8810, RagazziMarlton.com
BEST HOMEMADE STROMBOLI
We love to hit up Croce Pasta Products in Cherry Hill around lunch time to scoop up one of their killer strombolis. Chunks of pepperoni or sausage are generously distributed throughout the pocket of crusty dough the size of a well-developed forearm. They only make so many, so get there early to get one hot and fresh, right out of the oven.
811 W. Route 70, Cherry Hill, (856) 795-6000, CrocesPasta.net
BEST EGGPLANT FRIES
Everyone loves a good french fry, but sometimes you come across something that sounds too good to be true. At Ponzio's Diner, they cut eggplant into strips and batter them in breadcrumbs for a crispy alternative, then serve them with a light, refreshing tzatziki sauce.
7 W. Route 70, Cherry Hill, (856) 428-4808, Ponzios.com
BEST REASON TO GET UP AT 6 A.M. FOR BREAD
Come holiday time, you have to get up pretty early if you want to snag some bread from Cacia's Bakery, the fourth-generation family business that only shuts down its ovens twice a year. Whether you are looking for seeded or unseeded, French or Italian, dinner roll or hoagie roll, Cacia's is the name South Jersey has trusted for decades.
Multiple locations, CaciaBakery.com
BEST DINNER PARTY GIFTS
Anyone can walk into the supermarket and pick up some generic olive oil, but at Taste of Olive, you can actually taste the subtle nuances of varieties that span the globe from Italy to Australia. Oils and vinegars are on tap, giving you the chance to sample the goods before bottling up your own blend. You'll also find honey, specialty salts, various mustards and other gourmet items that will make you the guest of honor.
106 Kings Highway E., Haddonfield, (856) 795-0043, ATasteofOlive.com
BEST OENOPHILE ECSTASY
With more than 160 wines offered by the glass, Annata Wine Bar has no shortage of options to pair with their menu of Italian-influenced tapas dishes. But, we love the fact that they don't make wine feel like an exclusive club for snobbery. A combination of familiar and obscure vintages make the wine list here both approachable and credible, and we'll raise a glass to that.
216 Bellevue Ave., Hammonton, (609) 704-9797, AnnataWineBar.com
BEST PASTA MADE FROM SCRATCH
When given the choice, we always opt for fresh pasta; it just tastes so much better and it's really not hard to make. However, the trick is being able to make it well and that's where someone like Chef Mark Berenato of Haddonfield's Da Soli comes in. From his snappy "guitar" string pasta to the delicate ricotta-filled gnudi, Berenato has mastered the art of creating amazing fresh pasta that even carb counters should be embracing.
116 Kings Highway E., Haddonfield, (856) 429-2399, DaSoliRestaurant.com
BEST NEW KID ON THE BLOCK
When Zeppoli opened its doors in Collingswood, it generated a lot of buzz, mainly because of Chef Joseph Baldino's pedigree, which includes stints in Italy as well as Philly's famed Vetri Ristorante. As it turned out, the hype was more than justified as Baldino's succinct Sicilian-inspired menu wowed diners, including one of our food critics who awarded the 35-seat shoebox-sized eatery 5 Forks, our highest culinary rating. The food is simple in nature, complex in preparation and exquisite in taste, resulting in not only the best new restaurant in South Jersey, but one of the best restaurants anywhere.
618 Collings Ave., Collingswood, (856) 854-2670, ZeppoliRestaurant.com
BEST POWER LUNCH
Nobody likes talking shop on an empty stomach, which is why when it comes to a successful business lunch, the key is to plan ahead. Concentrating on your talking points is one thing, but pick the wrong restaurant, and you might as well just sit down and ask for the check. Luckily, at Caffe Aldo Lamberti, sealing the deal is made easier with its sophisticated dining space and a menu full of ultra-fresh seafood, entrée salads and rich pasta dishes. Your client will be thankful you didn't invite them to another tired steakhouse and, if all goes according to plan, you'll both be celebrating at the bar.
2011 Route 70 W., Cherry Hill, (856) 663-1747, CaffeLamberti.com
BEST CASUAL LUNCH
Braddock's bills itself as "casual gourmet dining," meaning the atmosphere is laid back, but the food isn't lazy. Impressive appetizers, from tartar to terrine, are just one way to satisfy your midday appetite. Want pork belly on that salad? No problem. Can't decide between chicken or fish? Get both on the chicken Oscar. If you're celebrating, make sure to order the soufflé well ahead of time.
39 S. Main St., Medford, (609) 654-1604, Braddocks.com
BEST REASON TO OVEREAT AT LUNCH
There are lunch buffets and then there is Monsoon's lunch buffet. Try not to fill up on the naan so that you can chow down on other traditional Indian favorites like tikka, vegetable samosa and biryani, which are cooked in abundance, allowing diners to indulge in a lavish ethnic feast. And don't worry if your work schedule doesn't allow for a sit-down lunch; the buffet is available for weekend warriors, too.
4180 Dearborn Circle, Mount Laurel, (856) 234-0080, MonsoonIndianCuisine.com
BEST END TO THE WORKDAY
After a tough day in the office, there's nothing better than a stiff drink and a quick bite to eat, but the days of wings and cheap swill for happy hour are over. These days, we head to RiverWinds in West Deptford for a blood orange martini or one of the dozens of wines available. Even the noshes are elevated—think vodka penne with lump crab or steamed PEI mussels with chorizo—and are just $6 before 7 p.m.
1075 Riverwinds Drive, West Deptford, (856) 579-7900, TheRiverWindsRestaurant.com
BEST HIDDEN GEM RESTAURANT
Not far from the Gloucester County Courthouse sits the Woodbury Station Café, a renovated former train station depot where the kitchen is cranking out some truly remarkable food given the small space. Once just a spot for sweet crepes for breakfast and stellar sandwiches for lunch, a newly added dinner service brings accomplished plates like osso bucco and prime rib to the table, and the attentive servers only enhance the overall dining experience.
101 Cooper St., Woodbury, (856) 384-6700
BEST REASON WHY CUPCAKES AREN'T DEAD YET
The whole cupcakes everywhere you look is getting a bit old, but that doesn't mean we should retire them just yet. Krista Walker, the sweet scientist behind Pretty Sweet Bakery in Haddonfield, is known for mixing up tantalizing batches based on your preference or with seasonal ingredients. And there's no limit to her creativity with selections like peanut butter and jelly and German chocolate cake.
427 N. Haddon Ave., Haddonfield, (856) 429-0063, PrettySweetBakery.com
BEST WAY TO GET INTO THE GAME
When we can't get a ticket to the game, we head straight to Miller's N.J. Ale House in Mount Laurel for an ice-cold adult beverage and to find a seat near one of the big-screen televisions. There are 63 HDTVs inside Miller's, which means no matter how crowded it gets, you'll always have a good vantage point for all the action. Beer and cocktail specials and a serviceable menu that mixes gameday grub with larger entrees means you'll have plenty of reasons to cheer long after the buzzer sounds.
554 Fellowship Road, Mount Laurel, (856) 722-5690, MillersAleHouse.com
BEST REASON TO SLEEP IN LATE
The Mansion is known for its elegance, so it should come as no surprise that their Sunday brunch buffet gets the white-glove treatment. In addition to the standard breakfast fare, you'll find cooked-to-order omelets and waffles, a carving station, fresh fish and a variety of gourmet entrees that change frequently. Start with your complimentary mimosa and finish with a selection of indulgent desserts. Keep an eye out for special themed brunches, like the upcoming seafood-inspired event on Sept. 9. Reservations aren't only recommended, they are required.
3000 Main St., Voorhees, (856) 751-1717, MansiononMainStreet.com
BEST REASON TO LICK YOUR FINGERS
One thing South Jersey is not known for is solid, stick-to-your-ribs barbecue. Well, Gerald Dougherty changed all that when he opened up Little Louie's BBQ in Collingswood in 2011. Since then, locals have filled the space for a taste of his brisket, ribs and chicken, which takes inspiration from the barbecue capitals of the country—Memphis, North Carolina, Kansas City and Texas—but you'll also find tasty specialty items like smoked duck and spaghetti with pulled pork and barbecue sauce.
505 Haddon Ave., Collingswood, (856) 854-0600, LittleLouiesBarbeque.com
BEST WAY TO GO GREEN
Just because you are eating a salad doesn't mean it has to be boring (we're talking to you Caesar), which is what makes Washington Township's Salad Society such a treat. Steak with blue cheese crumbles, grilled chicken with edamame and mandarin oranges, and grilled salmon with goat cheese, toasted almonds and sundried tomatoes are just a few of the exciting menu options. They also have more than 20 dressings in flavors like cream cucumber dill and hot bacon.
137 Egg Harbor Road, Sewell, (856) 302-1357, SaladSociety.com
BEST WAY TO ORDER OFF THE MENU
Few culinary experiences are as rewarding as the chef's tasting menu. There's just something about putting your fate in their capable hands that elevates the evening. At Sapori, this means diners turn to Chef Franco Lombardo for his creativity and deft hand in the kitchen and the result is your choice of a five- or six-course-meal crafted around your likes and dislikes. They'll be other people in the restaurant, but the attention to detail will make it feel as if you have the place to yourself.
601 Haddon Ave., Collingswood, (856) 858-2288, Sapori.info
BEST BAR FOR OUT OF TOWNERS
Visiting guests feel right at home at Bar 555, located within The Westin in Mount Laurel. Far from a run-of-the-mill hotel watering hole, this sleek space just off the lobby is cosmopolitan in scope and serves up distinctive light bites while the attentive barkeeps make sure your drink is always full.
555 Fellowship Road, Mount Laurel, (856) 778-7300
BEST WAY TO SPICE THINGS UP
Over at Los Amigos, the Mexican food is unapologetically authentic, which means you'll find plenty of heat on the menu. From the spicy tequila-braised chicken to the Texarkana burrito, you'll definitely need a glass of water nearby, but you'll also taste the rich flavors in every bite. They have several dishes that don't climb as high on the heat scale, but where's the fun in that?
461 Route 73 N., West Berlin, (856) 767-5216, LosAmigosRest.com
LIFESTYLE
BEST REASON TO HIT THE DANCE FLOOR
Arthur Murray offers private lessons and group classes in more than 15 types of dance, from the classy Viennese waltz to the upbeat style of salsa. And the instructors here will make sure you don't embarrass yourself at your wedding; just bring a recording of your song and you'll learn all the right moves. Or, bring the entire wedding party for a unique bonding experience.
117C S. Route 73, Marlton, (856) 396-2490, NJArthurMurray.com
BEST WAY TO RING IN THE NEW YEAR
If you're looking for a family-friendly way to spend New Year's Eve, First Night Haddonfield is just the ticket. Live music, comedic and theatric performances, events especially for the kids (like the annual teen dance), and food from some of the town's popular eateries make this a can't-miss celebration.
(856) 429-4700, FirstNightHaddonfield.org
BEST REASON TO TOAST THE HOST
If you're bored of the usual venues for corporate events and private parties, try The Wine Room, where the Tuscan setting makes it seem much further away than Cherry Hill. Your guests can not only take part in tastings and get an education in the vino they are sampling, but they can also prepare, bottle and label their own vintage to take home and enjoy.
1 Esterbrook Lane, Cherry Hill, (856) 424-9463, TheWineRoom.com
BEST REASON TO AVOID THE SUPERMARKET
You can pick your own fruit at Johnson's Corner Farm or you can put the cooking and baking into their more-than-capable hands. Their pies are staples around these parts, especially come holiday time, and don't get us started on their addictive apple cider donuts. But more than just a farm stand for fruits and veggies, Johnson's also offers dinners to go and a variety of plants and other gifts to spruce up the home.
133 Church Road, Medford, (609) 654-8643, JohnsonsFarm.com
BEST PLACE TO LET YOUR KID BLOW OUT THE CANDLES
At Little Sport, when you schedule your child's birthday party, you get the entire venue. The package includes free play time, coached activities, a birthday ride in the golf cart, and, of course, plenty of cake. It's very little work for parents, too—the staff will handle everything from setting up to cleaning up.
121 E. Kings Highway, Unit 204, Maple Shade, (856) 234-6445, LittleSport.net
BEST PLACE TO DO IT ALL
What doesn't Katz JCC offer? Concerts, swim lessons, field trips, camps, piano lessons and sports leagues? Check. Programming for kids, teens, adults, couples, families and those with special needs? Check. And don't forget about special events like their annual festival, which draws some big names and even bigger crowds to this community mainstay.
1301 Springdale Road, Cherry Hill, (856) 424-4444, KatzJCC.org
BEST MEMBERS-ONLY PRIVILEGES
Not only does Main Street Cigars sell premium cigars, they offer a public lounge where you can light up with fellow cigar aficionados. But you'll want to be a member here, as it gains you access to the private lounge complete with leather seating and large screen TVs. You'll also get your own personal locked humidor and after-hours access as well as invitations to exclusive tasting events and plenty of store discounts.
7 S. Main St., Medford, (609) 654-5700, MainStreetCigarsNJ.com
BEST WEDDING RECEPTION EVERYONE WILL REMEMBER
Although there are multiple venues within Lucien's Manor to choose from, you'll never be bothered by another party going on—the spotlight is on your event. And your guests will never complain about not getting anything to eat during cocktail hour, where food is in abundance. Come dinner time, guests can choose from three entrees, even ordering seconds if they desire. But make sure to save room for dessert— in addition to wedding cake, the enormous dessert table will have your guests talking for months.
81 W. White Horse Pike, Berlin, (856) 768-9444, LuciensManor.com
RETAIL
BEST WELL-HEELED DECISION (Women)
With designers like Manolo Blahnik, Jimmy Choo and Alexander McQueen always on hand—or should we say foot?—there is no shortage of high-end, chic styles to choose from at Nordstrom in the Cherry Hill Mall. From stilettos to slingbacks, this is the top spot for any respectable shoe closet.
2000 Rt. 38, Cherry Hill Mall, (856) 773-5600, Nordstrom.com
BEST WELL-HEELED DECISION (Men)
Benjamin Lovell Shoes, one of the many great shopping stops on Haddonfield's main drag, has just what men need to finish up a great outfit. Here, you'll find plenty of loafers and oxfords from lines that range from Allen Edmonds to UGG of Australia, and styles that go from backyard barbecue to a night on the town.
212 Kings Highway E., Haddonfield, (856) 429-7801, BLShoes.com
BEST WAY TO DRESS LIKE A PRO
Cole Hamels and Claude Giroux are just some of the local celebrity clientele who can be seen regularly sporting the latest fashions from Hugo Boss. Luckily, you don't need to be a star athlete to don the same attractive attire, the tailored fits and modern looks are available to anyone with a modern sense of style.
2000 Rt. 38, Cherry Hill Mall, (856) 488-2010, HugoBoss.com
BEST PLACE FOR EVERYTHING UNDER ONE ROOF
When it comes to really unique retail therapy, the Cherry Hill Mall has it all. Newcomers like The Art of Shaving, Michael Kors and True Religion have upped the mall's profile, and soon-to-be tenants like The North Face and the famed Henri Bendel will help give King of Prussia a run for its money. The dining options, from casual to classy, mean that once you park the car, it's going to be hard to leave.
2000 Rt. 38, Cherry Hill Mall, (856) 662-7441, CherryHillMall.com
BEST PLACE TO UPSCALE YOUR CASUAL CLOTHES
Joey's Unique Boutique in Marlton is overflowing with stylish staples that will turn your evening out into a fashion show. Owner Dana D'Antonio pays attention to her customers and only carries lines that will have them looking their best. We keep coming back for irresistible jeans from 7 For All Mankind and J Brand and absolutely love the tops from the likes of Ella Moss and Sanctuary.
6001 Lincoln Dr. W., Marlton, (856) 810-3496, JoeysUniqueBoutique.com
BEST RED CARPET-READY LOOKS
We know how hard it can be to find that special dress for a big evening, which is why we put our faith in Marlton's Primadonna. You'll stand out in designers like Elm Design and Re.Set; brands that are hard to come by in South Jersey, but make a big statement.
6001 Lincoln Dr. W., Marlton, (856) 810-7577, PrimaDonnaBoutiques.com
BEST DRESSES TO PARTY IN
Don't let the name deceive you; Denim Habit in Marlton goes way beyond their impressive inventory of jeans. It's also our go-to shop for trendy cocktail dresses that are sure to turn heads, whether you're headed to happy hour or a housewarming party.
500 S. Rt. 73, Marlton, (856) 596-2121, DenimHabit.com
BEST WAY TO PUT A RING ON IT
When tying the knot, the perfect ring is an essential finishing touch. Haddonfield's McNelis and Sherry, Inc. knows the importance of creating a timeless and personal feel with their engagement rings and wedding bands. They offer a wide range of cuts and designers like David Yurman that will create the perfect finale to your fairy tale romance.
116 Kings Highway E., Haddonfield, (856) 354-0083, McNelisandSherry.com
BEST INTRODUCTION TO GIRL'S BEST FRIEND
When it comes to shiny stones, we make Billig Jewelers our first stop to shop, and with good reason. After all, this family-owned jeweler has earned their sparkling reputation largely because of their diamonds, all of which are handled by their certified graduate gemologist. Designs are custom-made in store, too, with a constantly rotating stock that means you'll never stumble on the same thing twice.
330 S. Rt. 73, Marlton, (856) 983-2300, BilligJewelers.com
BEST REASON TO DUMP THAT DIGITAL WATCH
Stay on time in style with any one of the fine timepieces from Family Jewelers' collection of designers. They sell an impressive collection of both automatic and quartz watches from names like Citizen, Gucci, Seiko and Tissot and the expert jewelers are always on call for repairs.
65 E. Rt. 70, Marlton, (856) 983-6337, FamilyJewelers.com
BEST WAY TO ACCESSORIZE
We have stopped in to Jewelbilee in Moorestown for their tables of costume jewelry in the past, but their accessories are what have caught our eye this year. They stock their shelves with unique handbags, wallets, clutches—even kids gear. Check out their hair accessories, which are constantly rotated to match whatever styles are available in-store.
1165 Nixon Drive, Moorestown, (856) 780-5581, Jewelbilee.com
BEST EVERYDAY BAUBLES
Moorestown's La Di Da is the ideal place to find items to complement your favorite outfits. With a wide line of jewelry (think Brighton, Pandora, Alexis Bittar and Viv & Ingrid) to suit any style and any season, you'll look good no matter what the occasion.
17 E. Main St., Moorestown, (856) 222-1778, LaDiDaLaDiDa.com
BEST FINISHING TOUCH
When we're looking for the best fashion jewelry to tie our favorite outfits together from designers like Gottlieb and Sons and Henri Bar, we focus our sites on Morton and Rudolph. It's one of the few spots in South Jersey where you can find Troll Beads, Italian Murano glass beads and eclectic sterling silver and 18 kt. gold charms that you arrange to suit your mood and style. 1900 Rt.
70 E. and Springdale Rd., Cherry Hill, (856) 424-1101, MortonandRudolph.com
BEST GIFTS FOR THE HOSTESS When it comes time to shop for the lady of the house, we turn to Mixellaneous. Patterned serving dishes and cooking utensils will customize any kitchen, while personal picture frames, scented candles and assorted home décor items may inspire you to make a purchase for yourself.
947 Rt. 73 S., Marlton, (856) 574-4310, DiscoverTheMix.com
BEST WAY TO SET YOUR SIGHTS
The styles at Optique Boutique turn an everyday necessity into a fashion statement. That's because they carry designer frames from Oakley, Alain Mikli, Jimmy Choo, Betsey Johnson and more. With that kind of selection, who needs contacts?
3223 Route 38, Mt. Laurel, (856) 234-7881, OptiqueBoutique.com
BEST WAY TO DRESS UP THE LIVING ROOM
The selection at Unique Interiors in Cherry Hill extends far beyond their armchairs and sofas, with modern and contemporary accessories that will liven up any décor. The 13,000-square-foot showroom boasts an impressive collection of window treatments, bar sets and stools, ottomans and tables that add a level of style and sophistication to your living space.
1604 Marlton Pike W., Cherry Hill, (856) 665-1911, UniqueInteriors.com
BEST BOUTIQUE FOR YOUR BABY
The new location of kids' store Ragamuffins, now on Route 70 in Cherry Hill, is where "style is born." This means you'll find an extensive selection of layettes, toddler wear and all your special occasion needs to make sure your child is always the best dressed.
2110 Rt. 70, Cherry Hill, (856) 751-9333, RagamuffinsNJ.com
BEST PLACE TO FIND SOMETHING FOR YOUR TEENAGE DAUGHTER
Picking out clothes for your teen can quickly become an exercise in futility if you don't play your cards right. Alleviate the stress at Dare Boutique, where you'll never go wrong with the fun and flirty—yet age-appropriate—fashions on the shelves from popular designers like Sherri Hill, Comfy KT and Tkees.
2100 Rt. 70 E., Cherry Hill, (856) 424-8306, DareBoutique.us
BEST INTIMATE APPAREL
Georgie Girl Boutique in Haddonfield stocks their store with a nice variety of clothing, but their lingerie is what really has people whispering. Cleo, Little Minx and In Bloom are just some of the bare essentials you'll want to stock up on here.
105 Kings Highway E., Haddonfield, (856) 354-4700, GeorgieGirlBoutique.com
BEST SPECIALTY KITCHEN SUPPLIES
If you're looking for some unique items for your pantry, we've found just the spot. In the Kitchen Cooking School is not just a place to learn your way around the stove, it also houses a tiny retail store full of gadgets, utensils and some of Chef Kathy Gold's favorite items like gourmet chocolates and other handpicked ingredients.
10 Mechanic St., Haddonfield, (856) 489-1682, IntheKitchenCookingSchool.com
BEST BRANDED BLING
If you're the type of person that needs a brand name attached to your fine jewelry, look no further than Bernie Robbins. At any time, you can find their cases lined with pieces from Ivanka Trump, John Hardy, Ippolita, Marco Bicego and other high-end names. Looking for something a little more unique? The store also carries their own collection to choose from.
500 S. Rt. 73, Marlton, (856) 985-4500, BernieRobbins.com
BEST WAY TO BRIGHTEN YOUR DAY
When we're looking to spruce up our surroundings for a special occasion or celebration, we turn to the arrangements at Petals and Blooms in Marlton. Not only do they use the freshest flowers when creating their stellar arrangements, but the owners were trained at Longwood Gardens, so they not only know about the petals their pushing, they know how to make them look gorgeous.
795 E. Rt. 70, Marlton, (856) 334-8215, PetalsandBloomsNJ.com
HEALTH & BEAUTY
BEST MEDITATION METHOD
Not only can you escape daily to relax and practice yoga at five area locations with more than 125 classes a week, Dhyana Yoga also plans an annual retreat in the U.S. Virgin Islands, which consists of yoga twice a day and meals as a group, along with a variety of other activities such as snorkeling, sailing, and hiking. If you're too busy to make it to the Haddonfield location, yoga instructors will come to you; traveling to your home or workplace for a private session.
53 E. Kings Highway, Haddonfield, (215) 496-0770, Dhyana-Yoga.com
BEST WAY TO DISCOVER CROSSFIT
The personal trainers at Fusion make sure you keep up your workout routine—they'll even check up on you via e-mail if you haven't been to the studio in a while. Fusion's unique philosophy of training ensures your development of cardiovascular health, muscular strength and flexibility, as well as relaxation. Make friends by training in a group or get your own personal coach in a variety of specialties—including golf, softball, and weight management, to name a few.
3 Hovtech Blvd., Mount Laurel, (856) 778-5900, FusionCrossTraining.com
BEST REASON TO ACTUALLY USE THAT GYM MEMBERSHIP
Future Fitness is the gym with the lowest dropout rate in America for a reason—is it the 12 different lines of machinery? The nationally certified trainers? The 85 free group fitness classes a week? Or the free monthly medical monitoring? The gym also offers ballroom dancing, swim lessons, and a unique Arthritis Foundation exercise program.
Locations throughout South Jersey, FutureFitnessCenters.com
BEST PEOPLE TO GET YOU THROUGH YOUR WORKOUT
At Smart Bodies, there's no hassle associated with contracts or memberships —and when you go in, you always have an appointment with a personal trainer, who devises an individualized workout plan just for you. That means you're getting the best workout for your body, not some generic routine that doesn't produce any results. They also offer unlimited use of the cardio room, plus spinning and boxing classes, and nutrition coaching so you not only get healthy, you stay healthy.
117A Route 73 S., Marlton, (856) 983-2625, SmartBodiesNJ.com
BEST WAY TO BREAK A SWEAT
Available seven days a week, the Zumba experience at Cherry Hill's Artists in Motion is unlike any other. With motivating music, energized instructors and mood lighting, the dance-filled workouts target not only cardio, but legs and upper body as well to create a well-balanced exercise. Novices needn't worry, they'll even bring beginners along or tame the tempo for new mothers and active adults.
16 Rock Hill Road, Suite C, Cherry Hill, (856) 427-0100, AIMDanceandFitness.com
BEST GOOD HAIR DAY
Whether you're getting ready for a prom or wedding, just getting a trim, or undergoing a major hair makeover, Lotus Salon's owners bring a combined 30 years of experience in making clients look their best. As a bonus, they offer specialized hair consultations in which the knowledgeable staff give you advice on which of their many advanced hair treatments is right for you.
36 W. Route 70, Suite 212, Marlton, (856) 574-4377, LotusSalonNJ.com
BEST TRIP TO THE BARBER CHAIR
When you make an appointment at Main Street Barber Shop, you're guaranteeing yourself a barber with more than 20 years in the business—no matter who is holding the shears. Besides just haircuts, this modern barber shop with old-school ideals offers a straight-razor shave and a beard trim. You can also get a manicure and a wax—without your wife.
3 E. Main St., Marlton, (856) 983-0144, MainStreetBS.vpweb.com
BEST HAIR TO DYE FOR
Thriv offers a variety of hair coloring services, including single and double process color, highlights, hair polish, and corrective color. If you're not sure what exactly suits you, a brief consultation will allow you to customize your treatment. Don't forget to shop before you leave—Thriv carries numerous high-end products which will help you maintain your new look.
2076 E. Route 70, Cherry Hill, (856) 751-0014, ThriveSalon.com
BEST EASY ON THE EYES
Looking for an alternative to waxing every few weeks? Head over to Dharma Karma where you can get your brows threaded, a technique that removes entire rows of hair rather than one at a time. The results last longer than waxing (five to six weeks), and the procedure is pain-free and without side effects when performed by the experienced threaders on site.
1900 Greentree Road, Cherry Hill, (856) 751-0801, DharmaKarma.com
BEST CAMERA-READY LOOKS
Women want to beam with beauty, but caking on tons of makeup is never a good look. Over at Martino Cartier, the expert makeup artists know this, which is why you'll never feel like a clown getting ready for the circus. Opt to get the makeup airbrushed; it will hold up better and feels lighter on your face, creating a flawless look on your skin.
304 Hurffville Cross Keys Road, Sewell, (856) 582-6600; 1902 Route 70 E., Cherry Hill, (856) 520-8777, MartinoCartier.com
BEST DAY OF PAMPERING
Of all of the spa treatments offered at Toppers, it can be difficult to choose just one, but if we had to, we'll go with The Classic Day service. This unbelievable package includes a Swedish massage, a five-step facial, haircut or style, manicure and pedicure, makeup application, and even a bite for lunch. Take some of the luxury home with an eye pillow, spa bath collection and aromatherapy candle.
945 Route 73 S., Marlton, (856) 596-3500, ToppersSpa.com
BEST BLOWOUT PARTY
Ever wonder how far to hold the blow dryer from your hair? You'd know if you were a regular at the "Blow Dry Bar," a section inside The Make-Up Bar where award-winning stylists offer blowouts based on your preference of straight, volume or tousled.
480 E. Evesham Road, Cherry Hill, (856) 795-0025, MakeUpBarSalon.com
BEST WAY TO NAIL IT
There's something magical about Rizzieri's experienced nail technicians and you'll feel the difference as they buff, soak and scrub with precision and purpose. The wide variety of OPI and Essie colors are great and so is the gel polish if you need that color to last longer. Treat yourself to one of their seasonal specials, like the mango or pumpkin spice pedicure; it's an hour of bliss.
Route 73 and Greentree Road, Marlton, (856) 985-5500, Rizzieri.com
BEST WAY TO PUT ON A NEW FACE (Women)
At Haddonfield's Mane Stop, there are a solid variety of facials that will stimulate and exfoliate your skin, and they cater to everything from improving tone to anti-aging techniques. They also understand each person's skin is different, and so the staff will work with you to determine the best approach, whether you're getting the acne-reducing clear complexion treatment or passing through for the abbreviated mini facial.
116 E. Kings Highway, Haddonfield, (856) 795-5122, ManeStopSalon.com
BEST WAY TO PUT ON A NEW FACE (Men)
The Gentleman's Facial at Suede Salon and Spa is the manlier version of their signature facial, complete with a skin analysis in order to customize the treatment and the products they will use. After your skin is thoroughly cleansed, enjoy a hand and arm massage to sooth those overworked muscles. Let your friends laugh if they want, but you'll both look and feel like a new man.
500 Route 73 S., Marlton, (856) 985-0700, SuedeSalonSpa.com
BEST BONUS FOR THE BRIDE
Frazzled and in a hurry on your wedding day? Most brides are. Thankfully there's The Little Touches, a family trio that specializes in everything from hair and makeup to accessories for the big day. They offer customized packages, trial services, as well as airbrushed sun-free tanning to get that extra glow in your white dress. And because you don't want to be scurrying all over town, they'll travel to your location to make the process a smooth one.
(609) 352-1434, TheLittleTouchesNJ.com
Readers' Choice
Food & Drink
Hot Wings >> PJ Whelihan's Pub and Restaurant, locations in Cherry Hill, Maple Shade, Medford Lakes, Haddon Township, and Washington Township, (856) 663-1351, PJsPub.com
Ice Cream >> Maple Shade Custard Stand, 340 W. Main St., Maple Shade, (856) 663-1351
Pizza >> Rexy's Bar and Restaurant, 700 Black Horse Pike, West Collingswood Heights, (856) 456-7911, Rexys.com
Hibachi >> Megu Sushi and Hibachi, 1990 Marlton Pike E., #18, Cherry Hill, (856) 489-6228, MeguSushi.com
Sushi >> Yokohama Sushi and Hibachi, 300 S. Lenola Road, Maple Shade, (856) 608-8812, SushiAndHibachi.com
Hoagie >> Woodbury Cold Cuts, 893 N. Broad St., Woodbury, (856) 845-9758
BYOB >> Ariana Restaurant, 700 Haddonfield-Berlin Road, #14, Voorhees, (856) 784-1100, Restaurant-Ariana.com
Italian >> Illiano Cucina Mediterranea, 200 Tuckerton Road, Medford, (856) 985-2721, IllianoCucina.com
Seafood >> Max's Seafood Café, 34 N. Burlington St., Gloucester City, (856) 456-9774, MaxsSeafoodCafe.com
Outdoor Dining >> The Lobster Trap, 5300 N. Park Drive, Pennsauken, (856) 663-3537, LobsterTrapNJ.com
Chinese >> Joe's Peking Duck House, 145 Route 73 S., Marlton, (856) 985-1551, JoesPekingDuckHouse.com
Chocolates >> Reily's Candy, 719 Stokes Road, Medford, (609) 953-0040, ReilysCandy.com
Mexican >> La Esperanza, 40 E. Gibbsboro Road, Lindenwold, (856) 782-7114, MexicanHope.com
Specialty Coffee >> Crescent Moon, 141 Bridgeton Pike, Mullica Hill, (856) 223-1237; 508 Hurffville Cross Keys Road, Sewell, (856) 582-0617, CMCoffee.com
Dessert Menu >> The Cheesecake Factory, 931 Haddonfield Road, Cherry Hill, (856) 665-7550, TheCheesecakeFactory.com
Happy Hour >> Aloft Hotel XYZ Bar, 558 Fellowship Road, Mount Laurel, (856) 234-1880, StarwoodHotels.com
SteakHouse >> The ChopHouse, 4 S. Lakeview Drive, Gibbsboro, (856) 566-7300, TheChopHouse.us
Pastry Shop >> Classic Cake Company, 480 Evesham Road, Cherry Hill, (856) 751-5448; 100 Hurffville Cross Keys Road, Sewell, (856) 262-7400, ClassicCake.com
Soup >> Robin's Nest Restaurant, 2 Washington St., Mount Holly, (609) 261-6149, RobinsNest- MountHolly.com
Brunch >> Redstone Grill, 500 Route 73 S., Marlton, (856) 396-0332, RedstoneGrill.com
New Restaurant >> Marlene Mangia Bene, 43 S. Broad St., Woodbury, (856) 848-8488, Marlene-MangiaBene.com
Splurge Restaurant >> The Capital Grille, 2000 Route 38, Cherry Hill, (856) 665-5252, TheCapitalGrille.com
Lunch >> High Street Grill, 64 High St., Mount Holly, (609) 265-9199, HighStreetGrill.net
Foodie Shop >> Severino Pasta Company, 110 Haddon Ave., Westmont, (856) 854-7666, SeverinoPasta.com
Group Dining >> Kabuki Japanese Cuisine, 929 Haddonfield Road, Cherry Hill, (856) 661-9599, KabukiCherryHill.com
Retail
Card/Gift Shop >> Jilly B's Boutique and Treats, 100 Springdale Road, Cherry Hill, (856) 795-2337, ShopJillyBs.com
Cigar Shop >> Hemingway's Cigar Shoppe, 107 Merchants Way, Marlton, (856) 985-7580, HemingwaysCigars.com
Pet Grooming >> Camp Bow Wow, 3 Esterbrook Lane, Suite 250, Cherry Hill, (856) 651-9663, CampBowWowUSA.com
Women's Apparel >> Ideal Fashions, 483 N. White Horse Pike, Hammonton, (609) 561-2712, 3180 Glassboro Cross Keys Road, Glassboro, (856) 243-5172, IdealClothing.com
Men's Shoes >> Carl's Shoes, 27 W. Main St., Moorestown, (856) 235-6223, CarlsShoes.com
Women's Shoes >> Best Foot Forward, 2083 Marlton Pike E., Suite B, Cherry Hill, (856) 424-5722
Women's Formal/Evening Gowns >> Penina's, 11 E. Main St., Marlton, (856) 596-1610, FashionsByPenina.com
Men's Formal >> Rochester Formal Wear, 451 Route 38 W., Maple Shade, (856) 755-1466, RochesterFormalWear.com
Fine Jewelry >> David Arlen Jewelers, 1299 Route 38 W., Hainesport, (609) 914-0404, DavidArlen.com
Shopping Destination >> The Promenade at Sagemore, Marlton, (856) 985-3846, ThePromenadeNJ.com
Cocktail Dresses >> Marlene's Dress Shoppe, 707 Haddon Ave., Collingswood, (856) 858-4777, MarlenesDressShop.com
Jewelry >> JG Kronenberger, 417 Stokes Road, Suite C, Medford, (877) 545-5510, JGKronenberger.com
Baby Wear >> Your Royal Highness, 200 Tuckerton Road, Suite 19, Medford, (856) 983-3500, YourRoyalHighnessBoutique.com
Health & Beauty
Makeup >> Tranquility Salon, 154 Route 73, Voorhees, (856) 809-9410, TranquilitySalon.com
Manicure/Pedicure >> Tiffany Nails, 1888 State Highway 70 E., Cherry Hill, (856) 424-7300, TiffanyNails.com
Massage >> Anu Medical Spa, 200 Route 73, Voorhees, (856) 809-0909, Anu-MedicalSpa.com
Pilates >> Pilates Plus Restoration Studio, 151 Greentree Road, Suite E., Marlton, (856) 269-9254
Yoga >> Bikram Yoga Voorhees, 250 Haddonfield-Berlin Road, Glassboro, (856) 309-9642, BikramYoga-Voorhees.com
Tanning Salon >> Tan Zone Studio, 1351 Route 38 W., Suite A-1, Hainesport, (609) 518-2024, TanZone-Studio.com
Permanent Makeup >> The Beau Institute, 2000 Academy Drive, Mount Laurel, (888) 763-2328, BeauInstitute.com
Day Spa >> Aluria Spa, 622 Stokes Road, Medford, (609) 975-6565, AluriaSpa.com
Facial >> The Skin Spa, 1916 Route 70 E., Suite 1, Cherry Hill, (856) 424-1700, DavisCPS.com
Lifestyle
Activities Center >> YMCA of Burlington County, 59 Centerton Road, Mount Laurel, (856) 234-6200, YMCA-BC.org
Florist >> Moorestown Flower Shoppe, 65 E. Main St., Moorestown, (856) 234-0660, Moorestown-FlowerShoppe.com
Published (and copyrighted) in South Jersey Magazine, Volume 9, Issue 4 (July, 2012).
For more info on South Jersey Magazine, click here.
To subscribe to South Jersey Magazine, click here.
To advertise in South Jersey Magazine, click here.