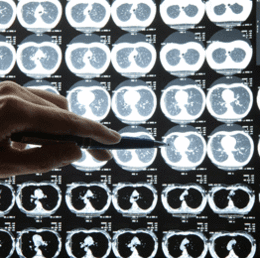 Advanced Care
Innovative medical options have made cancer treatment more effective than ever.
Cancer. It's a scary word, with scarier consequences.
Fortunately, South Jersey residents have numerous options at their disposal, from a local LIVESTRONG group to provide emotional support, to cutting-edge hospital programs in our backyard.
With advances in cancer care, such as a new accelerated radiation treatment or a painless scanner to identify potential skin cancer, medical providers in South Jersey are turning to new technology for cancer treatment—helping to decrease the treatment timeframe and ease patients back to their lives.
Early recognition
When dealing with cancer of any kind, early detection is key. Even if you're not showing symptoms of disease, screening can prevent cancer from developing by identifying and removing abnormalities before they become more serious, according to the American Cancer Society.
Early detection can also improve survival rates by detecting a problem at a time when treatment is more effective; it's been proven to reduce mortality in cancers of the colon, rectum, breast and uterine cervix, according to the American Cancer Society's "Cancer Prevention & Early Detection Facts & Figures" report this year.
"One person dies of malignant melamona, the most dangerous form of skin cancer, every 60 minutes. But if found early, melamona is highly curable," says Dr. Coyle S. Connolly, a board certified dermatologist and founder of South Jersey's Connolly Dermatology. "The key is early detection through careful yearly skin examinations performed by a board-certified dermatologist."
Early warning signs of skin cancer can include changes in the shape, size and color of a mole or an appearance of new skin growths. Connolly Dermatology, with locations in Cinnaminson, Linwood, Barnegat and Cape May Court House, uses an innovative diagnostic tool called MelaFind to assist in melanoma detection.
The system uses "multi-spectral data capture" and a sophisticated computer system to analyze and capture data from under the skin's surface. Scanned pictures can be stored in the patient's file and tracked for unusual changes over time, which helps further assist in understanding moles' growth patterns.
After the painless scan, the doctor can determine whether moles have a high or low degree of abnormality and view the sophisticated data to make a decision on how to treat patients. If a mole with a high degree of abnormality is found, the dermatologist can perform a simple skin biopsy to further examine and help prevent cancer from growing unchecked. For those with low abnormality, patients may be spared an unnecessary biopsy due to this system—another benefit of this innovative new machinery.
High-tech innovation
Our Lady of Lourdes Medical Center features a cancer program that's accredited by the American College of Surgeons Commission on Cancer, which represents only 20 percent of the nation's medical/surgical hospitals.
Dr. Arthur Martella, chief of cardiothoracic surgery at Our Lady of Lourdes Medical Center, explains the program's high tech advancements—in addition to boasting a dedicated oncology unit encompassing board-certified medical, surgical and radiation oncologists—have become a focal point in South Jersey's medical landscape.
"For several years, top centers in Europe have used the robot-assisted approach for lung cancer operations and other thoracic surgery, but this exciting capability remains comparatively new in the U.S.," says Martella, an extensively trained specialist in robotic cardiothoracic surgery.
The use of robotics is changing the fields of general and cardiothoracic surgery, in addition to gynecologic and urologic surgery, Martella says. Compared with thoracoscopy, a surgery that involves inserting an endoscope through a small incision in the chest (for instance, to assess lung cancer or perform a biopsy), the new robotic system "produces very little movement or torque at the port sites through several small chest incisions," Martella says. This is beneficial for patients by reducing pain, soreness and recovery time.
"The dimensional visibility for the surgeon is unprecedented. It's like being inside the surgical site," says Martella. "The articulation of the instruments and the system checks against unwanted motion take surgery to a whole new level in terms of being exacting, reproducible and safe."
Lourdes has extensive experience in using the da Vinci robotic system for thoracic surgery.
"The technology is always changing, always advancing. It's quite exciting the things that are advancing even at community-based radiation centers such as ours," says Nicole J. Bodnar, regional administrator for 21st Century Oncology in Woodbury. "The research and technology is always advancing. That makes it all the more promising with each passing year."
Now, Bodnar says, you can treat tumors with higher levels of precision. Doctors can hit a tumor with everything they can, while sparing all the healthy tissue that surrounds it—which minimizes and greatly reduces side effects.
As lead advocacy ambassador for New Jersey's Congressional District 1 and an advocate for American Cancer Society Cancer Action Network, Bodnar has petitioned for the state to allocate $1 million for cancer research in next year's budget.
"New Jersey has always been a leader. We have made great strides in cancer research and hope to continue that, because that's where the hope lies," she says.
Understanding the disease
In the field of breast cancer, the past several years have seen impressive progress in the realm of the genomics —essentially "cancer DNA," says Eduardo Careaga, MD, medical director of the Kennedy Comprehensive Breast Center in Sewell. He explains that advancements in diagnostics, surgery and treatment options—both at Kennedy and in the field in general—have been steadily improving in the past decade and will only get better with time, he says.
"With genomics, we are able to test certain cancers and determine for example whether patients are at high risk of recurring or whether they are at low risk. From that information, we can tailor a person's treatment even more specifically to benefit them," says Careaga.
Minimally invasive biopsies have become much more widespread; now patients may not have to endure unnecessary surgery and doctors are able to determine what type of abnormality they're seeing through more precise means, says Careaga, also a fellowship-trained breast surgeon.
"The new standard is minimally invasive through image-guided biopsies or needle-guided biopsies done under ultrasound or MRI," he says. "That guidance allows us to be very specific in what we biopsy—using a needle as opposed to surgery."
For breast cancer patients who need radiation after a lumpectomy, the standard has previously been whole breast radiation. But within the past two years at Kennedy, an accelerated procedure has been made available.
"Previously, whole breast radiation would be given every day for five days, for seven weeks," Careaga explains. "With the accelerated radiation, we insert a small balloon catheter, we radiate from the inside out and only the spot where the cancer was, sparing the rest of the breast."
This process is now done twice a day over the period of a week, drastically cutting down on healing and treatment time, allowing patients to recover sooner.
The Kennedy Comprehensive Breast Center has also purchased an upgraded MRI machine, allowing doctors to perform state-of-the-art breast imaging. In addition to those strides, last year the center obtained national accreditation from the American College of Surgeons as a Cancer Center, and also earned national accreditation from the National Accreditation Program for Breast Centers (NAPBC).
Though the technological strides made across the region have enhanced cancer care for thousands of patients and allowed doctors to provide minimally invasive treatment, Careaga says it's important to recognize a patient's quality of life, too.
"I would say that's the best way to measure whether you're doing a good job: Are your patients happy with the care they've received?"
Leading the Charge
When it comes to the fight against cancer, these area institutions are at the forefront.
The Center for Reproductive Medicine & Fertility
They have gained technology to successfully freeze human eggs with good clinical outcomes, so that they may freeze eggs for women anticipating cancer therapy, or for women who delay childbearing.
Voorhees
(856) 767-0009
LouisManara.com
Connolly Dermatology
Cinnaminson
(856) 772-1333
ConnollyDermatology.com
Delaware Valley Institute of Fertility & Genetics (DVIF&G)
When facing a cancer diagnosis, it is difficult to think of anything beyond treatment and survival. But patients are realizing that there is another factor to consider: their fertility. Radiation and chemotherapy can have serious consequences on future fertility. DVIF&G will craft a plan to maintain your "link to life" by ensuring your reproductive possibilities through their SEEDS program.
Locations in Marlton, Lawrenceville and Vineland
(856) 988-0072
DVIFG.com
The Kennedy Health System
Serving South Jersey
(800) KHS-9007
KennedyCancer.org
Our Lady of Lourdes Medical Center
Burlington County
(609) 835-5432
LourdesNet.org
Shore IVF Reproductive Medicine
The use of vitrification technology to freeze human eggs is relatively recent. Researchers have found success experimenting with freezing unfertilized eggs, which has provided options to cancer patients.
Marlton: (856) 334-8030
Lakewood: (732) 363-4777
ShoreIVF.com
Shore Medical Center
Somers Point
(609) 653-3500
ShoreMedicalCenter.org
South Jersey Fertility Center
Division of Regional Women's Health Group LLC
Offering fertility preservation to women and men with cancer. Family planning is an emotional issue when diagnosed with cancer. Patients may be able to freeze eggs, embryos or sperm prior to treatment. Speak to your oncologist and contact the South Jersey Fertility Center.
Locations in Marlton, Sewell and Egg Harbor
(856) 596-2233
SJFert.com
Published (and copyrighted) in South Jersey Magazine, Volume 9, Issue 4 (July, 2012).
For more info on South Jersey Magazine, click here.
To subscribe to South Jersey Magazine, click here.
To advertise in South Jersey Magazine, click here.