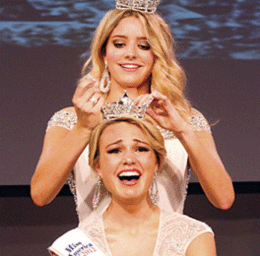 Beyond the Surface
These girls want everyone to understand one thing: Miss New Jersey is not a beauty pageant.
It'll be hard for Katharyn Nicolle to forget her first visit to a new physician after she was crowned Miss New Jersey in 2011.
"I remember I had just switched doctors right before the Miss America pageant," Nicolle recalls. "The first thing he asked me, after I told him that I was Miss New Jersey, was if I had any problems with eating disorders."
She was taken aback at first. Sure, there's a swimsuit portion of the competition, but Nicolle, of Wenonah, knew the judges look for contestants who are muscularly toned, athletic and healthy. So why would someone jump to that conclusion?
But the leap was something she was familiar with, one of many misconceptions about the pageants across New Jersey that lead to the famous four-point crown; the biggest misnomer being that it's a beauty pageant. "That we're ditzes," as Nicolle puts it. "That we're not smart. But how can we not be smart when we're winning scholarships to go to school?"
The Miss America Organization is actually the world's largest provider of scholarship assistance to young women. Last year, between national, state and local pageants—and more than 12,000 competitors—more than $45 million was doled out, and not just to the women who walk away with the jewels. Each round of competition, along with special recognitions, also results in monetary awards for the individual winner.
The four points of the crown are pillars for style, success, scholarship and service, with the latter two held above all else. "I think if it wasn't for competing, if it weren't for the scholarships I've earned," Nicolle says, "I wouldn't be able to go to the school I go to. I couldn't afford Dickinson College. It's definitely allowed me to make my own dreams come true academically."
For Nicolle, a recently-turned 21-year-old majoring in international studies with a concentration in security studies, her scholarship awards have totaled more than $13,000. Having just relinquished her crown last month to the newest Miss New Jersey—Lindsey Petrosh—following a year's worth of service on her childhood reading and literacy platform, Nicolle will now shift her focus to prepare for her first trip overseas to study abroad in Bologna, Italy, this fall. She has her eyes set on a future career in diplomacy.
Petrosh isn't far behind her in scholarship earnings. The 23-year-old Egg Harbor City resident and Rowan University graduate student has totaled around $12,000 in tuition assistance ($10,000 of which was awarded at the state pageant).
She says the money will be enough to pay off her student loans as she pursues a master's degree in higher education and administration.
Then there's Lindsey Giannini, the current Miss Gloucester County, who has received more than $2,000 through her county title and her previous year as Miss Hammonton. She made it to the top 10 in the Miss New Jersey pageant, which earned her another $300; plus, she received $100 for the Community Service Award, $100 as the overall parade winner, and $500 for selling the most ads in the ad book.
"That's the main reason the Miss America Organization operates. This is money I wouldn't have had otherwise. It really is a driving force for a lot of the girls," Giannini says, pointing out that not only does every little bit help, but the recognition alone can have an even further-reaching effect. A past Miss New Jersey ended up being offered a full ride to college.
As an 18-year-old ready to enter her freshman year at Rowan, the broadcast journalism student still has more earning potential ahead of her. And as Petrosh points out, just as valuable as the money is the experience they all go through and how it shapes who they become as women.
"It's improved me as a person," Petrosh says, the reality of her new role as Miss New Jersey still fresh and sinking in. "It's equivalent to a college degree. I've learned just as much about myself. You really challenge yourself as a person."
All of the girls—just a small sample of the thousands that have won scholarships in New Jersey alone since the program began more than 75 years ago—agreed there's a multi-pronged educational benefit to being involved in Miss New Jersey. They receive the needed funds to pay for higher education; they learn important life skills as they build their on-stage confidence; and then they have the opportunity to travel the state—and perhaps one day, the country—to educate others about their platform.
Now that she's done preparing for the state pageant—which involved a personal trainer, nutritionist, singing teacher, and seemingly endless mock interviews—Petrosh, also the 2006 Miss New Jersey Outstanding Teen and two-time winner of the Miss Atlantic County title, will spend the next year instilling the importance of volunteerism in others, especially young children.
For Giannini, her platform has a personal significance for many in South Jersey. She has spent the last several months working to raise awareness of the dangers of texting while driving. She began working recently with Mike Kellenyi, father of Washington Township High School senior Nikki Kellenyi, who was killed in a car accident earlier this year.
Giannini wears a purple bracelet made in her memory at all of her speaking engagements, including one just a week before the Miss New Jersey pageant where, instead of primping and polishing in anticipation, she was speaking before the New Jersey State Association of Chiefs of Police.
She has helped place signs she designed personally across Hammonton and, thanks to a resolution template circulating the state, she hopes to see them in every New Jersey municipality.
"This is an experience you couldn't get anywhere else," Giannini says of the Miss New Jersey organization. "Not only are you getting the tools to further your education, but you're getting these experiences that are educating you beyond your years. When I breeze through that job interview because I've been so exposed to this, it'll be so rewarding."
Katie Berry, a former Miss New Jersey Outstanding Teen and a runner-up in last year's Miss New Jersey pageant, says Giannini is right. She credits the life experiences she received through pageants with helping her land her marketing job at Vacheron Constantin, a luxury watch company in Manhattan. "It helped me with my job interview because it breaks you out of your shell," says Berry, a Mount Laurel native and now the current Miss Manhattan. "I can talk to anyone if I can stand behind a podium for 12 minutes and have people shoot rapid fire questions at me."
And of course, the approximately $14,000 in scholarship money put toward the 23-year-old's communications and dance degrees at Fordham University helped quite a bit.
"The Miss America Organization to me represents a modern-day woman and embraces to the fullest the sense that the modern-day woman is a scholar, an advocate and deeply involved in her community," says Berry, who also made it to the runner-up spot again in June, this time in the Miss New York pageant. But she still has eight months left as Miss Manhattan, valuable time she'll spend working on her HIV/AIDS awareness campaign, breaking down stereotypes with each appearance.
"They put these pageant girls up on a pedestal. I'm here to show I'll jump off that pedestal. I'll trade the crown for a pair of jeans any day."
Published (and copyrighted) in South Jersey Magazine, Volume 9, Issue 4 (July, 2012).
For more info on South Jersey Magazine, click here.
To subscribe to South Jersey Magazine, click here.
To advertise in South Jersey Magazine, click here.