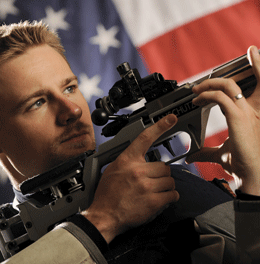 Gold Rush
The best of the best in South Jersey take the stage at the world's biggest competition: the Summer Olympics.
This month, all eyes will be focused across the Atlantic, as the Games of the XXX Olympiad get underway in London for a little more than two weeks of worldwide competition and national pride. Only the country's best make it to these games, the high point of an athlete's career, and an impressive handful has come from our area to join Team USA. In the midst of their hectic training schedules and qualification rounds, we caught up with some of these elite South Jersey athletes, a strong group of young talent that includes a gymnast on the world's leading male team, a soccer star that single-handedly captured the gold in Beijing, and a shooter aiming for his third medal. They've worked hard to make it to London and will work harder once they arrive, competing on the world's stage. Read on to find out how these stars stay on top of their game, and then catch them in competition starting July 27.
Matt Emmons (pictured)
Sport: Shooting
Programs: 50-meter rifle prone, air rifle
Hometown: Cherry Hill
Age: 31
Gold medal: 2004, 50-meter rifle prone
Silver medal: 2008, 50-meter rifle prone
SOUTH JERSEY MAGAZINE: This is your third consecutive Olympics. What is it like finding out you've qualified again?
MATT EMMONS: To know that I'm going back for a third one is pretty darn cool. Pretty much the way I look at it is this is my job, it's what I do. I found out one of the ways I could qualify was through World Cup points, and I had built up enough points that I qualified for the team last year.
SJM: Does it help that you can fall back on your previous experience?
ME: Having done this quite a few times already, one thing that's good is the experience level. Nothing really surprises me, but sometimes I miss some of the things that were new. In 2004, the first time around, was an awesome experience. You have an extra level of energy that is all new. And then of course I was competing again in 2008. This time around is just different, but the experience is something that is going to help me once
I get there. Some things that might make a more inexperienced athlete nervous are not a big deal. I'm ahead in knowing how to prepare, how to be ready.
SJM: How long have you been shooting?
ME: I started shooting competitively after I graduated from college, but I've been shooting since I was 15. All together I've been shooting for about 16 years.
SJM: Your medals aren't the only things that have gained you publicity. What hardships have you overcome to get to this stage in your career?
ME: Let's see, where should I start? The first thing would be having my gun damaged in 2004 about three weeks before the trials. The day before the competition, I borrowed one of my teammate's guns and managed to make both the teams with that gun. I continued to shoot that gun for the rest of the year in Olympics. I gave it back to my teammate but I told her when [she] retired I wanted that gun. She retired in the fall of 2005 and we traded and I've competed with that gun up until this year when the barrel finally wore out. After the course, I had a mistake in my 50-meter three-position in 2004 and all of the things I had to deal with in the media, to walk into the course and do that again was hard. In the Beijing Olympics I walked into that same event and made a different mistake. A lot of people questioned me, but I had to go back and continue to compete. In 2010, I was diagnosed with thyroid cancer, so I had to go and get that removed and here I am. I don't wish that on anyone, but I'm here again and ready.
SJM: How do you react to the pressure of something as big as the Olympics?
ME: For me, it's just keeping up and getting lost in the day-to-day stuff. To react to the stress I try to stay calm, and when me, [my wife] Kate and my daughter are all together, I like to spend my time with them, but I try to take time off the range and get away, do stuff that isn't my job and spend time with friends. I also have our sports psychologist, Sean McCann, and as we lead up to the Olympics, I work with him more and more about challenges getting closer to the Olympics that I know are going to be stressful situations. Things don't always go to plan but I try to stay as prepared as possible.
Jordan Burroughs
Sport: Wrestling
Weight class: 74 kg
Hometown: Winslow Township
Age: 23
SOUTH JERSEY MAGAZINE: What was your first reaction to finding out you've made it to the Olympics for the first time?
JORDAN BURROUGHS: I was super excited. It's a bit of a surreal moment but, at the same time, I expected to make the team. That was a big stepping stone for me.
SJM: How long have you been wrestling, and what made you decided to start?
JB: I've been wrestling since I was 5 years old, so about 18 years. I just brought a flier home from school one day when I was a kid and really wanted to do it. I loved the WWF too. I was kind of a late bloomer when I was small and wrestling was something you needed to be big at, but I really excelled. And then, when I grew, I took things to the next level.
SJM: What hardships have you overcome to get to this stage in your career?
JB: Competing well enough in high school to get a full scholarship was really hard, but wrestling itself comes with a lot of hardships. There was a lot of weight cutting, training, long hours, to get to where I am.
SJM: Describe a typical day in your life as the Olympics draw closer.
ME: I wake up around 9 a.m., lift for about an hour, then lunch, maybe an hour nap, and then its right back to practice. Probably about four hours a day just training. It's a 24-hour-a-day job, but it's my passion. Not very many people can say that they get paid to get to up and do what they love as a job, but I do, and I feel lucky.
SJM: What is your training diet like?
JB: You are what you eat so I have been working on eating a lot healthier. I try to put the right fuel into my tank.
SJM: How do you react to the pressure of something as big as the Olympics?
JB: This is the pinnacle of my career so far and in my life. I'm trying to embrace the pressure. I try to put high standards on myself and I already expect to win. I visualize the Olympics and picture that moment. I'm happy to be on the team but it's kind of like test driving a car. My goal is getting to the gold, not just the team.
SJM: Is there added stress knowing that South Jersey will be watching you extra closely?
JB: It's awesome. Not only do I represent my hometown and my state, but my entire country. It's really motivating to have such a wide fan base. Usually, wrestling is a real small, close-knit community, and I'm excited that it's developed a national coverage.
SJM: Do you miss South Jersey?
JB: My parents still live in South Jersey, but it's tough to get there at the moment. But I try to get home to my family as [often] as possible. I have to go to Wawa when I get home. I love Wawa, and they don't have those out in Nebraska [where I attend the University of Nebraska].
Michelle Vittese
Sport: Field Hockey
Position: Forward
Hometown: Cherry Hill
Age: 23
SOUTH JERSEY MAGAZINE: What was your first reaction when you found out your team made it to the Olympics?
MICHELLE VITTESE: In all honesty, the qualifying game was such a rush; Olympic qualification wasn't in my immediate thoughts. It sounds amateur but that game was paramount in my career and it took a bit for me to finally realize beating Argentina directly qualified us for London.
SJM: How long have you been playing field hockey? What made you get into the sport?
MV: I have been playing field hockey since I was in fifth grade. I started playing because I had played roller hockey for a travel club team and the skill set is basically the same. I picked it up fairly quickly and had a lot of fun learning.
SJM: How have your family and friends back in South Jersey responded?
MV: My family and friends back in South Jersey are extremely supportive. They have watched almost every game I have played and have called throughout every tour, asking about results and performance.
SJM: How do you react to the pressure of something as big as the Olympics?
MV: The pressure of the Olympic Games is unlike anything I have ever experienced. I feel the anticipation building but I do not think I will be able to fully describe the pressure until I have experienced it first hand.
SJM: Is there added stress knowing that your family and all of South Jersey will be watching you?
MV: I have always been the type of person who likes to perform under pressure, with people watching. I think there may be added stress knowing they will all be watching, but I will mostly be excited for everyone to watch me perform on the world stage.
SJM: What is the team's relationship like on and off the field?
MV: The team's relationship on and off the field is similar but one of the most important aspects of a team sport is trust. Although we all have different ages, different personalities and are at different stages in our lives, we share one goal and trust that the person next to you will go through hell and back to have your back. We have respect for one another and are willing to do anything for each other on and off the field. It is one of the greatest feelings in the world.
SJM: What are your career plans after the Olympics have concluded this summer?
MV: My plans are to graduate from the University of Virginia with a bachelor's degree in history.
SJM: Field hockey is a pretty competitive sport among girls in South Jersey. What would you tell girls watching you this summer that are competing or considering joining a team in their area?
MV: I would tell them to let go and just play. Find happiness, live and die by it. Team sports help you to learn a lot about yourself.
Steve Kasprzyk
Sport: Rowing
Position: Men's 8
Hometown: Cinnaminson
Age: 30
SOUTH JERSEY MAGAZINE: What was your first reaction to finding out the team made it to the Olympics?
STEVE KASPRZYK: We were all pretty happy. I guess relieved, too. We went through a qualifier, and that doesn't happen every year, so it was a last chance. We had to get first to get the last spot.
SJM: What made you decide to pursue it in more serious competition?
SK: I've been rowing for about 12 years. I kind of just fell into it at college. I'm kind of taller, 6'7", and that helps a lot in rowing. The taller you are, the longer strokes you can take, so that helps a lot. There was a lot of encouragement from family and friends. It took a lot to get this far and you try to get a little better every year, look for little successes. I was able to see a lot of improvement so that made me want to keep going forward.
SJM: How does each person's position influence the boat when competing on such a large team?
SK: Different seats benefit different abilities. As one of the taller, heavier guys, I tend to be in the middle of the boat to push things forward, but we all do our part.
SJM: What hardships have you overcome to get to this stage in your career?
SK: I've been luckier than most. The biggest hardship was finding the time to train while working a full-time job. It's hard to get up that early, and it's exhausting to go right into work afterward, but you get used to it over the years.
SJM: How do you stay safe while training?
SK: You have to pay attention to little aches and pains, know the difference between a normal pain and something that really could prevent you from competition. Stretch and do what you can.
SJM: Have you started to feel any pressure?
SK: You take things one step at a time. Try and learn from the past and stay in the present. When you work toward a goal, it's all about doing what you can in the present; it keeps you focused and from freaking out.
SJM: Is there added stress knowing that your family, trainers and South Jersey will be watching you extra closely?
SK: I've been to some competitions before that aren't the same scale as the Olympics but it's not going to set in until later. You get there, set up and you race. All that other stuff doesn't really come into play until later.
Carli Lloyd
Sport: Soccer
Position: Midfielder
Hometown: Delran
Age: 29
Gold medal: 2008 vs. Brazil
SOUTH JERSEY MAGAZINE: You played a humongous part on the 2008 team in China. What were some of your favorite memories from your first trip to the Olympics?
CARLI LLOYD: Standing on the podium, receiving a gold medal and listening to our National Anthem was and will remain one of my fondest memories. And, of course, scoring the winning goal. It was a dream come true for my first Olympics.
SJM: How do you describe the feeling of scoring the winning goal in overtime against Brazil?
CL: It was an amazing feeling, something I can't describe. I had trained so hard prior to the Olympics and went in just wanting to contribute and help my team win gold. Having scored the game-winning goal is something that will always remain a highlight of my personal career, but I could not have done it without my teammates and coaches.
SJM: How is this year different, for you personally, from 2008?
CL: When I look back at how I was in 2008, I laugh. I wasn't nearly as fit as I am now. I didn't have a strict diet and I wasn't nearly as smart and efficient of a player as I am today. I am internally motivated to keep improving every single day and I'm definitely a better player going into this London Olympics compared to the Beijing Olympics. I am so confident; my role has also changed on the team and I have the freedom to roam and get into goal-scoring positions. When you factor in that I have definitely improved and my role has changed, I am expecting myself to be a big part of the team's success.
SJM: At what point did you realize that you wanted to start taking your game to a professional level?
CL: When I started training at Universal Soccer Academy [in Medford] under the director, James Galanis. He made it very clear that soccer needed to be my priority if I was to reach and play at the top. He taught me how to think, act and train like a professional. Before I started working with him, I wasn't confident, I wasn't fit, and I wasn't mentally tough enough. After I started training with him, I saw immediate results and I said to myself, "I believe I can do it!" He saw things in me that I didn't know existed. He brought the best out of me and has been the driving force behind my success.
He is the reason I believe in myself and the reason I train day in and day out as if I haven't accomplished anything. When my career is over, I will stop and realize all that I have done. Until then, I need to continue to put in the work to become even better.
Published (and copyrighted) in South Jersey Magazine, Volume 9, Issue 4 (July, 2012).
For more info on South Jersey Magazine, click here.
To subscribe to South Jersey Magazine, click here.
To advertise in South Jersey Magazine, click here.