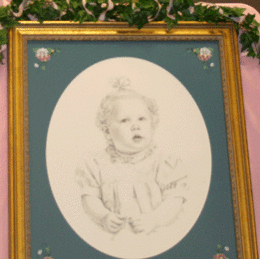 A Lasting Legacy
For one local family, losing their toddler daughter was devastating. Halfway across the world, her memory lives on forever.
The sirens were deafening.
But the other noises were maddening—the shouts from her husband and the car horn she blared as she tore up and down the street looking for help.
Connie's car seared tracks on the grass as she drove up the lawn of a neighbor's house, someone she knew was a nurse. There was no answer, just the sound of ambulances and chaos coming from her yard.
She raced to another house, another neighbor who was a nurse. Connie barely knew her, but it didn't matter. Her daughter's lungs were filled with water—she just needed help.
"Please, can you help us?" was all that Connie could cry when she found the woman at home.
She drove back to her house with the nurse and found a crowd of neighbors and medics encircling her 14-month-old Victoria.
Only moments ago, Connie's house had been buzzing with commotion of a much different sort. Her whole family had gathered to celebrate her brother's birthday, and Connie's parents and sisters had been trickling in and out of the house while the children played in the yard and the men attempted to fly a kite.
When Connie stepped outside to call everyone in, she glanced over at her 3-year-old daughter, Cherylin, and her cousins, and noticed the little group was missing a figure.
"Where's Victoria?" she called out.
The same sickening thought crashed into Connie and her husband at the same moment, and they both sprinted to the pond at the edge of their yard.
Neither of them will ever forget what they found. Although it happened 20 years ago, Connie and Guy Ercol can describe the moment that changed their lives forever with startling accuracy. They remember exactly how they found Victoria, floating on the surface of their pond.
Connie never would have thought that on June 7, 1992, she would have less than 24 hours left with her youngest daughter. Lumberton residents at the time, Connie and Guy spent their last hours with Victoria at Cooper University Hospital, watching in shock as her little life slipped away from them.
"I remember crying out to God in the hospital, thinking, 'Who's ever going to remember Victoria?'" Connie says years later. "'She's only 14 months old, how's anyone going to remember her?'"
Connie's question was the beginning of something that kept Victoria's memory alive, even if it's halfway across the world.
In April, the Ercols, now Shamong residents, held a benefit at the First Presbyterian Church in Moorestown for the Victoria Ercol Memorial Fund. Facing a crowd of about 130, Connie told the story of her loss and what it means now for 180 children in the heartland city of Ho, Ghana.
When Guy and Connie had made the arrangements for Victoria's funeral, they asked for donations to their church in lieu of flowers. With some of the funds, they decorated the church's nursery in Victoria's memory, but had no idea how to use the rest.
Victoria's memorial account sat undisturbed until Connie received a call from her pastor, Bob Dyer, who had recently left his church for missionary work in Ghana. In a village called Ho, Dyer had met Mary Kpeglar, a spit-fiery woman in her 60s who, after a life of working as a nurse in the Ghana army and raising two boys on her own, had started a preschool to help working mothers in her city.
Kpeglar had driven four posts into the ground on a plot of land, laid a piece of tin across it for a roof, and rounded up three children for the grand opening of the Faith Crèche. Kpeglar told Dyer she was raising funds for a facility so that her students would not have to shift from corner to corner to stay in the shade throughout the day.
When Dyer returned to the U.S., he contacted Connie and asked if she wanted to donate Victoria's memorial fund to Kpeglar's school. After thinking about it for a day or two, the Ercols wrote Kpeglar a letter with a check offering the remainder of the memorial account. Neither of them thought they would hear from Ghana ever again.
Kpeglar shocked them with a swift reply and told them how she would spend the money to build a bigger school, and about its new name: the Victoria Memorial Preschool.
"We were blown away," Connie says. "We never imagined anything would come of it."
What came of it was the Victoria Ercol Memorial Fund, a small committee of Connie's friends that spent the next 15 years organizing child sponsorship programs and fundraisers to help Kpeglar expand her school. Gradually, she hired teachers, bought supplies and advertised around the city to bring in more students. The Victoria Memorial Preschool grew into an elementary school that now educates more than 180 children.
Kpeglar flew to the U.S. three times to attend some of Connie's benefits, and traveled around South Jersey telling churches and schools about her vision for the schools. Kpeglar has been told by Ghanaian education ministers that her schools are among the nation's best, with some of the highest rates of literacy and English fluency.
Because the schools are nearly self-sufficient, Connie decided that the benefit in April would be the last. Kpeglar, almost approaching 80, is going to retire and pass leadership of the schools on to her son Edem. She, Edem, his wife and their 2-year-old son traveled to the U.S. to attend the fundraiser at Moorestown Presbyterian.
The benefit raised $10,500, almost enough to complete construction on the second floor of the primary school. Kpeglar says her son has big plans for the future of the schools, and is better equipped to train teachers, an improvement that should make the schools attractive to more parents in Ho.
Although this benefit was Connie's last, she says she will always be involved in the schools in some way. "It's become a part of who I am," she says. "I can't say anything about my life without it."
Published (and copyrighted) in South Jersey Magazine, Volume 9, Issue 4 (July, 2012).
For more info on South Jersey Magazine, click here.
To subscribe to South Jersey Magazine, click here.
To advertise in South Jersey Magazine, click here.