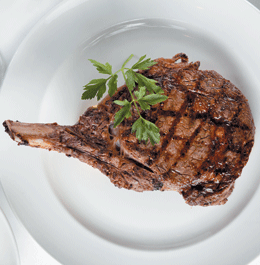 William Douglas Steakhouse
Polished Plates: William Douglas Steakhouse
941 Haddonfield Road
Cherry Hill
(856) 665-6100
3 ½ forks
A classic steakhouse isn't hard to find in South Jersey, but when done just right, it can become a real gem. Enter: William Douglas Steakhouse, tucked behind the towering chain restaurants of the Garden State Park shopping center.
Walking into the restaurant is an instant experience. Low lights, dark wood, and walls of horseshoe booths wrapped in red leather; a setting you'd expect in any big city steakhouse dropped in the heart of Cherry Hill. The walls are lined with paintings and photographs of horse races, a subtle and much-appreciated nod to the area's history, and a pianist sat behind a baby grand playing classic jazz pieces—a bit of added ambience Thursday through Saturday evenings.
The restaurant was anything but buzzing during one recent visit, an unfortunate side effect of summer getaways, according to our waiter. The only exception was the bar, which was lined with fashionable women sipping cocktails while taking advantage of Ladies Night specials. The restaurant boasts an impressive list of wines and house-made infusions, using specialty liquors soaked in a blend of fruits and spices overnight, along with standard mixed drinks and beers, all offered at discount prices during their nightly happy hour. The lengthy scotch list featured classic names like Macallan and Talisker offered at prices so low I had to double check.
Their use of fresh, julienned spinach in our appetizer, oysters Rockefeller, combined with an even portion of creamy béchamel sauce really made the difference in this starter. The star of the dish, the oysters, were not disconnected from their shell, so most of the meat stayed attached and got lost in comparison to the spinach.
"Chinatown style" chicken lollipops, while slightly tough and served lukewarm, were coated in a sweet, then spicy sauce and were accompanied by crisp and tangy Asian-inspired coleslaw that, when eaten in unison, soothed the heat from the drumstick. They were a delightful rebound and left me eagerly awaiting the next plate to be produced.
While anticipating the main course, the staff occupied their time wandering around the restaurant. On two occasions, a young waiter could be seen pacing past our table glued to his cell phone, while just seats away two more staff members scrolled the screens of their own phones, loudly recounting stories that might make a more reserved guest walk out. Still, when service came to our table there was nothing but polite smiles and helpful advice, and their bored indiscretions slipped by the wayside.
I ordered the Colorado rack of lamb for my entrée, a personal favorite. Instead of the classic rack I was expecting, I received four thick-cut, medium-rare chops, though I wasn't disappointed. The slight gaminess of the meat married well with its salty exterior, and with some help from my guest, the portion disappeared rather quickly.
Next up was a 22-ounce dry rub, bone-in cowboy ribeye. It arrived, the crispy exterior still crackling, cleanly trimmed and cooked to medium-rare perfection, each bite more mouthwatering than the last. It was a worthy partner to our side dishes of creamed spinach and brussel sprouts, the former joined by onions and a thick cream sauce and topped with slightly baked parmesan breadcrumbs; the latter cooked just right and in a silky balsamic reduction with thick-cut bacon, diced red bell peppers and coated in shaved parmesan.
With such a great meal already wrapped, it was hard to imagine that the highlight of the night would be dessert. We followed our waiter's advice, ordering the signature bananas mango foster. Prepared tableside, the flambéed bananas and ripe mangos swam in an unforgettable pool of sauce, featuring Cruzan black strap rum and a banana liqueur that stole the show. When poured over thick-cut slices of pound cake and a mound of vanilla ice cream, the results sealed the deal on a night of classic, yet contemporary, surprises.
Published (and copyrighted) in South Jersey Magazine, Volume 9, Issue 4 (July, 2012).
For more info on South Jersey Magazine, click here.
To subscribe to South Jersey Magazine, click here.
To advertise in South Jersey Magazine, click here.