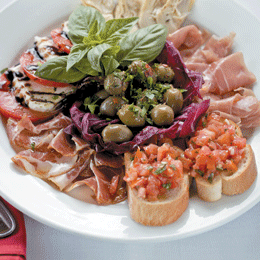 Bella Sera
All in the Family: Bella Sera
745 Corkery Lane
Williamstown
(856) 629-8000
4 forks
Fresh from a trip to Rome, my body was craving the sea-kissed Mediterranean fare and expertly cured meats it had briefly become accustomed to.
I wasn't expecting to find it in a roadside shopping mall, but Williamstown's Bella Sera was welcome discovery. Housed inside a nondescript corner building, near a hair salon and other suburban staples, this BYOB doesn't garner much attention from the street. But chef and owner Marco Muzzupappa draws from generations of family knowledge to produce a menu that speaks for itself, in an atmosphere that's as inviting as an Italian family supper.
After a previous stint cooking at The Borgata in Atlantic City, in 2010 the Atlantic Cape Academy of Culinary Arts graduate took over the restaurant that his parents, Domenick and Nancy, opened when he was 17—known then as Grotticella, later changed to Café Capri under different owners, and now, finally, as his own Bella Sera, which translates to "beautiful evening."
The dining room, an incongruously comfortable space compared to the exterior, glows with a sandy pink color palate, its brick-edged arches and stone tile accents evoking images of Southern Italian cafes. And it should: Muzzupappa's parents are from Sicily and Calabria, where olive oil, garlic and sandy hues are abundant.
A competent antipasto platter set the stage for the rest of my meal: a large white saucer layered artfully with salty prosciutto and aromatic pancetta, marinated artichokes and roasted pepper strips, olives, a small caprese salad with pillowy mozzarella rounds. The plate's two bruschetta rounds were superfluous with such great quality meats. A small bowl of marinated vegetables and beans came gratis, along with airy sliced bread and butter, too.
The service of this generational eatery is joyful, the mood both romantic enough for a weekend date and boisterously familial; a family graduation party in the adjoining dining room made us smile, catching a glimpse of grandma dancing with the Sinatra-esque singer (a weekend dinnertime staple) while we browsed the menu.
Bella Sera has a flair for theatrics, with dishes served tableside. Part of the charm of dinner service here is this constant flow of energy. Servers, food runners and busboys hustle almost metrically through the dining room, ferrying hefty bowls of pasta or greeting familiar faces. Domenick, the elder Muzzupappa, stops at each and every table offering suggestions on what to eat, sharing a joke or uncorking bottles of wine.
Porcini risotto is wheeled out into the dining room with fanfare, presented first in a basin carved from a large wheel of Parmigiano Reggiano; the tender Arborio rice, swirled with shallots and mushrooms, is tossed gently inside the cheese, where it imparts a rich, creamy flavor before being spooned onto a suitable serving dish.
An order of perfectly sautéed broccoli rabe with sausage is a more simple choice, though the flavors of the buttery-yet-bitter greens are bold enough that they don't require embellishment. Veal and shrimp rustico pairs earthy medallions of meat with grilled shrimp in a garlicky wine sauce—a solidly Italian take on surf and turf, you could say.
A special of whole grilled bronzino, bathed in lemon and herbs, is gently filleted next to our seats. A skilled server slips off the Mediterranean seabass' crisp silver skin, separates the flavorful white meat from its tiny bones, and arranges the fish once again on my plate.
I enjoyed the tart bite of lemon in the sauce, which was also shaded with touches of garlic, oil and wine. The accompanying vegetables—simple potatoes and green beans with broccoli—were underwhelming next to the accomplished entrée.
After such a striking parade of dishes, you'd expect desserts to finish the meal in an equally remarkable way. Instead, there's a small selection of brought-in and predictable dolci, though our waitress assured us that tiramisu and crème brulee are sometimes prepared in house (but not on the night we dined in). A conventional cannoli had all the right elements (a crisp, sweet shell piped with creamy chocolate-studded ricotta), but none of the spark.
The teacup-sized chocolate lava cake, seen on nearly every dessert menu out there, was a high mark; rather than characteristic milk chocolate, the cake's petite dome was bittersweet and rich with a warm and gooey center. Despite all we'd eaten, this dessert was forked through easily and quickly finished before the waiter even had time to bring our coffees.
Chef Marco has taken a collection of family recipes, naturally infused with old-world charm, and given them his own character. Though it's clear that the hospitality here is what really enhances the experience, his version of this decades-old restaurant lives up to its name. It was a bellissimo evening indeed.
Published (and copyrighted) in South Jersey Magazine, Volume 9, Issue 4 (July, 2012).
For more info on South Jersey Magazine, click here.
To subscribe to South Jersey Magazine, click here.
To advertise in South Jersey Magazine, click here.