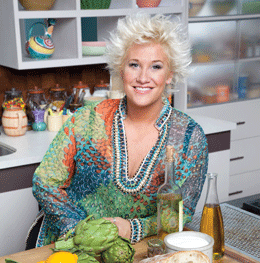 Creating in the Kitchen
Anne Burrell brings her culinary talents and trademark hair to Atlantic City's Food and Wine Festival.
Anne Burrell, the unmistakably recognizable spiky-haired blonde on the Food Network, is not afraid to mix it up with the fellas. She recently ended her third season of The Worst Cooks in America, a show where she mentors amateur chefs against a team led by one of her colleagues, where the winning instructor moves on to defend their title the following season. So far, she's won all three, defeating the likes of Robert Irvine, Beau MacMillan and Bobby Flay along the way. She's also been seen on her show Secrets of a Restaurant Chef, sharing some of the insight she learned working along names like Mario Batali. Her latest show, Chef Wanted with Anne Burrell, sees her putting chefs through the "toughest job interviews of their lives," as they compete to become a restaurant's next head chef. We talked with Burrell to find out what's cooking at this month's Atlantic City Food and Wine Festival, taking place July 26 to 29, where she'll appear along with Irvine, Tyler Florence, Paula Deen, Aaron Sanchez and more fellow Food Network personalities.
SOUTH JERSEY MAGAZINE: How excited are you for the Atlantic City festival and what are you looking forward to most?
ANNE BURRELL: I am really excited to see my Food Network colleagues, but most of all I love participating in these shows. And of course Atlantic City is such a blast!
SJM: Do you enjoy getting the chance to interact with so many viewers and fans at an event like this?
AB: Yes. It's always fun feeding off the audience energy. Sometimes things can get pretty wild!
SJM: With Worst Cooks, it is all about elevating someone's cooking ability. Because you get to consistently rub elbows with other talented chefs, do you find that you can always learn something new when it comes to food?
AB: My mantra is never turn your cheek from learning something new.
SJM: Having won all three seasons of Worst Cooks, you must get bombarded with questions from home cooks on how to improve their skills. What's the best advice you give them?
AB: That's easy: Taste your food!
SJM: What's the camaraderie like working with so many respected names in the food industry?
AB: It's wonderful. I am really blessed to be in this business. I've made some very dear friends.
SJM: It's one of those lazy afternoons at home after a long week, what are you making for dinner?
AB: Probably piccolinis. … Just like Italian tapas.
SJM: Who has the better blonde spiky hair, you or Guy Fieri?
AB: Never ask a woman that! I do, of course.
SJM: People have always been interested in food, but the real foodie movement has taken off in the past decade or so with the popularity of the Food Network and events like the festival in A.C. Do you shy away from the celebrity chef moniker?
AB: It's actually really interesting how the chef industry has become big entertainment. It's a whole new world and I glad to be a part of it.
SJM: You have the new show, anything else in the works you can share?
AB: I have been doing so much traveling for [the show], so I'm looking forward to having some home time to write my new cookbook, which is coming out next year.
Published (and copyrighted) in South Jersey Magazine, Volume 9, Issue 4 (July, 2012).
For more info on South Jersey Magazine, click here.
To subscribe to South Jersey Magazine, click here.
To advertise in South Jersey Magazine, click here.