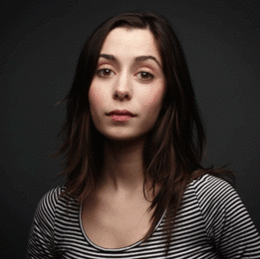 Once in a Lifetime
Cherry Hill native Cristin Milioti's starring role on Broadway leads to Tony nomination.
On May 1, 2011 Cristin Milioti was on her way back to New York City from Cambridge, Massachusetts having just completed a five-week workshop of a fledgling musical based on an low-budget 2006 Irish film with no clear plans for its future. On May 1 of this year, Once received 11 Tony nominations—the most for any production—including a Best Performance by an Actress in a Leading Role in a Musical nod for Milioti. "It's exciting and magical and I think it might take years to process," the onetime Cherry Hill native says. A stage veteran who has also had turns on The Sopranos (Johnny Sack's daughter) and 30 Rock (Abby Flynn), the success of Once has catapulted her to new heights. With the Tony Awards set for June 10, we went backstage with Milioti to find out how she's preparing for the big night.
SOUTH JERSEY MAGAZINE: How did you find about your Tony nomination and can you describe the emotions when you heard about the honor?
CRISTIN MILIOTI: I don't have a television, and even if I did, I'd have been too nervous to watch, so I was awoken at 8:30 a.m. by a call from my agent and manager. Needless to say, it was one of the best wake-up calls I've ever received. I was overwhelmed and experienced numerous emotions, but it didn't fully hit me until about a week later. The first week was a blur, albeit a very happy one.
SJM: Is it true that prior to this production, you had never even played music let alone starred in a musical?
CM: I have never done a musical, but not for lack of trying. I had always dreamed of being in one, and had auditioned for them time and time again, but none would have me. So this is my first musical since high school! As for the musicianship aspect—yes, I did have to learn quite a bit of piano for the show. I can't sight-read, which was a huge challenge during the audition and rehearsal processes. I could always play very simple chords, but I could never play anything that involved either hand playing a different melody.
My friend wrote up charts of the Once music that had letters for notes and numbers for fingers, which is how I learned it. So I still can't sight-read, and I can only play you the songs from Once. If you were to put another piece of music in front of me, I would have no idea what I was looking at.
SJM: Does something like this give you a sense of validation in your young career, in that you met a new challenge head on and succeeded?
CM: Absolutely. This business can be so subjective and fickle, and sometimes you get a role for reasons you cannot possibly fathom and sometimes you lose a role for reasons you cannot possibly fathom. But with Once, I had to really challenge myself in order to prove to the powers that be that I could do this role. I took a risk by learning the piano for the audition, practicing seven hours a day, seven days a week just to audition for a job that I seemingly was very unlikely to get. But I'd never felt such an immediate connection to a character, nor such a connection to a play. So to be where we are now as a company and as a show, it's very validating. I'm so glad I took the risk that I did, because I've never been happier.
SJM: You have done some TV work and also on stage, are the two comparable at all?
CM: My personal experience has been that they are vastly different. However, I've been very blessed to have done TV work that has been very character-based, which is like a lot of the theater work that I do. So there are similarities—you still go in to either process with the focus on what the character wants, needs, how they speak, walk, interact with others, etc. But the ultimate difference is in the editing and time line. A performance on TV or in film can often be made or broken by the editing process, which is a process you have no control over. You do what you can on set, you give as many different takes and options as you can muster, and then you go home and hope that things go well when they edit the episode.
Also, you're shooting everything out of chronological order, with hours or sometimes days worth of time in between shooting scenes that come back to back in the script. Also, you usually have about five minutes of rehearsal before they call action. You certainly have more control over your own performance in theater, but theater in and of itself is an art form that bucks against control. Anything can happen at any moment and it's all live and in front of hundreds of people.
SJM: On stage, does the interaction with a live audience give you a bit of a rush?
CM: I think so, yes. When theater is at its best, everyone is engaged and existing together in a unique, once-in-a-lifetime universe that lasts for about two hours. Everyone in the space, whether audience member or actor, takes a journey together. When you can feel that an audience is on that journey with you, and are as invested as you are, there is no other feeling like it in the world. You feel like you could fly.
SJM: So you are from Cherry Hill, what were some of your old haunts or favorite hangouts, places to go, etc. in South Jersey?
CM: In high school I used to go to the Country Club Diner after class almost every day. But I'm told that it's, sadly, no longer around. We would also hang out in the parking lot of the Wawa in Holly Ravine. I can't even remember what we did—I think we would all just show up there and then talk about what we should do. Very glamorous! But I also have memories of going to the Grounds for Sculpture in Hamilton with my family, which is such a beautiful place.
SJM: Any funny memories from growing up here?
CM: Many. Too many to recount in one article. My family loves to laugh, so I have many funny memories. Here's one though: I used to play in the woods near my house all the time. I would go there every day by myself after school and dig in the dirt (I spent years digging a ditch that I could walk in without being seen) and climb trees and pick flowers—I was like Nell, except without a secret language and you know, a twin. Anyway, I did this for years. And there was this orange creek that I would do all my playing near. I thought because it was bright orange that it surely must have magical properties, or at the very least, maybe elves lived in it. So I played on the banks of this mystical, elf-ridden creek day in and day out for most of my developmental years. Well, turns out it was a sewage drain, which took me an embarrassingly long time to figure out. In fact, I think it was when I brought a boyfriend home from NYC and upon showing him the creek he said, "Oh my God, that's a sewage drain!" that I first realized it.
SJM: This is also our Best of the Shore issue, so do you have a favorite beach town?
CM: My parents grew up in Margate and met each other in high school. Both sets of grandparents lived there for many years, and Margate was where we would go on weekends, holidays, during the summer, etc., I have a deep affection for that town. I've seen it go through so much change, but it's still one of the loveliest places I've known.
SJM: Growing up in South Jersey, you weren't too far from the lights of Broadway. Was theater something you always wanted to be involved in?
CM: No, acting became an interest in high school. Before then I had wanted to be a soccer player, veterinarian or a rock star, possibly even in that order. I don't think I saw my first Broadway play until I was maybe 15 or 16 years old.
SJM: What do you think are the overriding reasons why Once has struck such a chord with audiences?
CM: I think one of the strengths of Once is that it affects people regardless of age, gender, or background. Yes, it's a show about two people falling in love and the power of music, but it's also about loss, family, letting go, and taking risks.
SJM: How anxious are you for June 10th to arrive? Do you have any specific plans set yet?
CM: The only thing that makes me anxious is finding the right dress. It feels like I'm getting married or something! I keep obsessing over it. But I know that regardless of what I wear, it will be an evening I'll never forget. I'm also eager to see all the other shows perform because I haven't gotten the chance to see any of them.
Published (and copyrighted) in South Jersey Magazine, Volume 9, Issue 3 (June, 2012).
For more info on South Jersey Magazine, click here.
To subscribe to South Jersey Magazine, click here.
To advertise in South Jersey Magazine, click here.