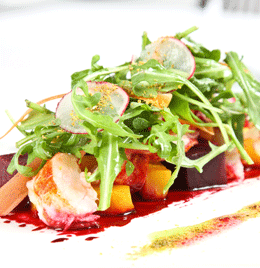 Coastal Cuisine
We love funnel cake as much as the next person, but chowing down at the Shore is about much more than the sugary stuff you find on the Boardwalk. We traveled up and down the coast visiting quaint bistros and historic dining rooms, from Long Beach Island to Cape May, and enjoyed some unbelievably delicious meals along the way. Here we are proud to present our list of the 30 restaurants you should be reserving a table at this summer, with one caveat: that you save us a seat.
Avalon
Café Loren
Open since 1978, Café Loren is the epitome of fine dining in Avalon and has maintained its presence as one of the finest eateries along the Jersey Shore. What the place lacks in overdone elegance it more than makes up for with plates that are as picturesque as they are delicious. The menu is heavy on fresh, seasonal items which means, while your favorites will never go away, there will always be something new to try. Don't miss the homemade peanut butter pie for dessert, it's worth the trip alone. 23rd and Dune Drive, Avalon, (609) 967-8228
The Diving Horse
Locally caught fish and lots of Jersey produce keep the menu fresh and flavorful at this Jersey Shore outpost from the folks behind Philadelphia's Pub and Kitchen. The chilled soups make a perfect summer companion and entrees like the fluke are can't-miss, but the specials designated to specific nights of the week attract their own regular crowd—as do the indulgent desserts. 2109 Dune Drive, Avalon, (609) 368-5000
Fuze
We're suckers for braised short ribs, and the version here with a sweet tomato-panko crust and creamy parmesan polenta is one of our all-time favorites. But it's hard to single out favorites on a menu that boasts everything from tuna tartare to a chicken and biscuits dish that would make any southern belle proud. Keep an eye out for their new Italian spot opening in town this season. 7888 Dune Drive, Avalon, (609) 368-1919
The Sea Grill
From the blackboard menu to ordering from the chef directly, there are some quirks that make this surf and turf spot a fun night out. Of course every show has a star, and here that is Executive Chef Terry White, who gives a deft touch to standard steak and seafood fare. The wine list is above average and a children's menu means it's plenty family friendly. 225 21st St., Avalon, (609) 967-5511
Cape May
410 Bank Street
A taste of Louisiana right in Cape May thanks to Chef Henry Sing Cheng's flair for well-crafted creole food. Cheng's beignets aren't the doughnut balls you may remember; instead, he coats yellowfin tuna in panko and sautés it with lemon, capers and a West Indian salsa. There are plenty of other nods to N'awlins, too, with blackened prime rib, crawfish, gumbo and voodoo shrimp adding a little spice to your next dinner out. 410 Bank St., Cape May, (609) 884-2127
The Black Duck on Sunset
The décor here is as black and white as the historic photos adorning the walls. Don't let the understated design fool you; this kitchen is cranking out highly polished plates. Crowds fill the homespun dining room for a taste of the dry-rubbed salmon and yellowfin tuna, and they linger for the chef's nightly dessert selections. 1 Sunset Blvd., Cape May, (609) 898-0100
The Ebbitt Room
Tucked inside the Virginia Hotel, The Ebbitt Room takes the farm-to-table movement seriously by sourcing seasonal ingredients from their own 62-acre farm in West Cape May. The results are decidedly delicious in main courses like the farm-raised chicken with caramelized sweet potatoes. The approach carries over to the bar too, where fresh fruit is muddled into cocktails. It's hard to go wrong with any of the dessert options, but the sticky toffee pudding is their calling card. 25 Jackson St., Cape May, (800) 732-4236
La Verandah
This Victorian dining room inside the Hotel Alcott is elegance personified. Cozy up for a romantic dinner indoors or dine al fresco on well-executed dishes including the tender, succulent duck confit or the show-stopping scallops flambé—cheese crusted and pan seared with cognac and served in a fennel vermouth sauce that perfectly balances the dish. 107-113 Grant St., Cape May, (609) 884-8871
Oyster Bay Steak &?Seafood
A more casual dining experience in Cape May, but the plates are plenty upscale. Boneless chicken breast is sautéed in wine with lemon and butter before being plated and topped with jumbo lump crab meat and covered in a key lime hollandaise. Many flock to the filet mignon with crabmeat, but we're partial to the bone-in ribeye in a orange-chipotle glaze. 615 Lafayette St., Cape May, (609) 884-2111
Peter Shields Inn &?Restaurant (pictured)
The oceanfront views here only add to the stellar service and refined food. The roasted beet and Maine lobster salad is a great starter, but leave plenty of room for the potato-crusted Alaskan halibut, one of Executive Chef Carl Messick's signature dishes. We also love their take on surf and turf—grilled hanger steak with day boat scallops served alongside a creamy truffle risotto. 1301 Beach Ave., Cape May, (609) 884-9090
Union Park Dining Room
This stylish dining room takes the simple (edamame) and makes it modern, while taking the sophisticated (foie gras) and making it approachable. Striking that balance isn't easy, but it shines through on plates like the South African lobster tails with marscapone risotto and pancetta. Desserts bring favorites like pot de crème and profiteroles, but be sure to try the ice cream sandwich—chocolate meringue cookies filled with Nutella-flavored ice cream and drizzled in a salted caramel sauce. 727 Beach Ave., Cape May, (609) 884-8811
Washington Inn
The five dining rooms at this one-time plantation home dating back to 1840 all have their own unique allure that only further adds to its charm. Garlic-braised escargot or the cavatelli and braised lamb are fine appetizers, while the bacon-wrapped pork tenderloin is an even better entrée. Even hamburgers get the gourmet treatment with caramelized onions and gorgonzola cheese. 801 Washington St., Cape May, (609) 884-5697
Long Beach Island
The Engleside Inn
A place seemingly made for seafood lovers serving up highlights from the wasabi scallops and crispy tiger prawns to the honey-glazed pecan salmon and sea bass roasted with miso and sake for an Asian touch. Playing off that Asian theme, there's even a sushi bar here, serving up quality cuts of sashimi. Carnivores need not feel left out, as the many steak and chop offerings are more than just an afterthought. 30 Engleside Ave., Beach Haven, (609) 492-1251
The Gables
This century-old house has enough variety to please any palate, especially a discerning one. The imported burrata served with prosciutto and grilled Tuscan bread is a fine ode to Italy as are the homemade potato gnocchi sitting in a sweet Italian sausage Bolognese. Whether you're noshing on the portabella fries or the New York strip, you'll notice the attention to detail the kitchen puts forth. 212 Centre St., Beach Haven, (609) 492-3553
L'assiette
French for "base," L'assiette is certainly a foundation in Long Beach Island for those who appreciate cuisine prepared with classic French technique and modern continental flair. Witness the savory brioche pudding with a foie gras mousse. The richness of seared duck breast is magnified with a strawberry-cucumber relish that makes for a one-of-a-kind flavor profile. And when it comes to seafood, they're serving up everything from tile fish to red snapper. 1403 Long Beach Blvd., Surf City, (609) 361-7800
La Spiaggia
Northern Italian cuisine reigns here from the antipasto to the rustic penne pasta with white beans, pancetta, onions, garlic, olive oil and Pecorino cheese. The jumbo shrimp in the gamberi con salsa di spumante are sautéed in a Champagne cream sauce with mixed mushrooms; a far cry from the seafood shacks on the island. 357 W. 8th St., Ship Bottom, (609) 494-4343
Spiaggia e Luna
This Barnegat eatery claims to have the best-tasting pork chop at the Jersey Shore, and it's certainly in the running. But, really the entire menu of Italian favorites, from stuffed shells to veal saltimbocca, is one consistent highlight. Added bonus: They even have a brick oven cranking out audibly crunchy pizzas, like one with sautéed chicken and mushrooms with a marsala reduction. 696 E. Bay Ave., Barnegat, (609) 660-2000
Margate/Ventnor
LoBianco
When this New American restaurant shuttered its Collingswood doors a short while back, some loyalists feared the Margate locale would be next, considering the restaurant has changed addresses in the past. Thankfully, that never happened and the creative plates courtesy of Chef Nick LoBianco are still being enjoyed by his many fans. The panko-crusted zucchini are as memorable as the veal and shrimp picatta, and Fridays bring a special prix-fixe menu of three courses for $30 that is a real foodie find. 20 S. Douglas Ave., Margate, (609) 350-6493
Sofia
Dining here is a trip to the Mediterranean via Margate. You'll find expertly prepared grilled octopus, spanakopita, horiatiki, and a falling-off-the-bone braised lamb shank. The dedication in the kitchen is evident when the branzino or crave-inducing langoustines are delivered to your table. The collection of Mediterranean dip and fresh pita bread make an already enjoyable experience that much more authentic. 9314 Amherst Ave., Margate, (609) 822-9111
Steve & Cookie's
The warm, inviting décor is perfect whether you're catching an early bite or celebrating a milestone. Find yourself tucked into one of the booths behind the bar or at a table overlooking the bay and prepare for an evening of fine fare and a little live jazz. The bouillabaisse is packed with shrimp, clams, scallops and crab in a fragrant saffron broth, and the chicken breast is first Frenched, then marinated with ginger and lemongrass for a light dish ideal for those warm summer evenings. 9700 Amherst Ave., Margate, (609) 823-1163
Tomatoe's
Tomatoe's is the kind of restaurant that you could eat at every night and not get bored thanks to the variety of cuisines on the menu—everything from sushi to pasta. But this isn't a case of fusion confusion, rather topnotch takes on cultural classics. Our go-to pick? The Euro chicken—a boneless breast with a cippolini and pancetta ragout served with a sinful truffled macaroni and cheese. It's comfort food turned upside down and we love 'em for it. 9300 Amherst Ave., Margate, (609) 822-7535
Sea Isle City
Andrea's Trattoria Italiana II
Those familiar with Chef Andrea Covino's Gloucester County locale know the native of Naples is passionate about his food, and it's evident at his beach home, too. Housemade pastas—linguini, fettuccini, ravioli, gnocchi—are the epitome of fresh, rustic cooking and come a variety of ways. There's also plenty of chicken and veal to round out the menu and the mustard and herb crusted salmon in a white wine cream sauce would please any pescetarian. 4216 Park Road, Sea Isle City, (609) 263-5001
Basilico's Ristorante
Basilico's menu reads like a list of tough decisions. The polenta with figs and a walnut Romesco sauce is an appetizer worth bragging about as are the grilled portobellas stuffed with jumbo lump crab, topped with provolone and baked in the oven. The pasta is spot on and the tilapia served over a bed of saffron-scented risotto with sun-dried tomatoes and peas is hard to resist, but it's difficult to ignore the veal medallions topped with grilled eggplant and mozzarella. This isn't the Italian food you're used to, it's better. 27 43rd St., Sea Isle City, (609) 263-1010
Stone Harbor
The Back Yard
This "back yard" garden has some of the most coveted tables in town come sum­­mertime, and for good reason. The menu runs the gamut from duck confit over a white bean and asparagus salad and seared lobster tail served with Asian-style noodles and a sweet ginger-chili sauce to even more accomplished plates like the pan-roasted swordfish in a pinot noir glaze. 220 81st St., Stone Harbor, (609) 368-2627
Jay's on Third
The eclectic menu here is a reflection of Chef Jay Hippen, a cook not afraid to push the envelope with a blend of culinary creativity and skill. Some of the whimsical plates he's known for include his take on fish tacos (he uses monkfish and Peruvian yellow chile pepper) or the grilled Caesar salad. Make sure to save room for dessert, things only get more interesting. 9836 Third Ave., Stone Harbor, (609) 368-1000
Ristorante Luciano
The pack of regular customers will tell you the combination of attentive service, warm atmosphere and traditional Italian food make this one of the most pleasurable dining experiences in Stone Harbor. The penne puttanesca with fresh tomatoes, olives and capers and the chicken marsala are two mouthwatering entrees that never grow old. The pasta is made on the premises and could headline any dinner. 9820 Third Ave., Stone Harbor, (609) 967-9115
Wildwood
Beach Creek Oyster Bar &?Grill
This waterfront eatery serves up highly imaginative seafood plates like the char-grilled sea bass filet served with a lobster risotto-filled, grilled portobello cap. You'll also find a quality ribeye, N.Y. strip and grilled pork chop, but something about being this close to the water leaves us longing for a taste of the king salmon. 500 West Hand Ave., Wildwood, (609) 522-1062
Claude's
Chances are you've never mistaken North Wildwood for Paris, but one taste of Claude Pottier's French-inspired cuisine and you'll feel like you've been transported to the chef's homeland. Escargot in puff pastry is a savory starter and the house pate is downright refreshing after a day spent soaking up the sun. Pottier flexes his muscles with the coq au vin and his duck breast with a rich brandy demi glace, displaying the technique he has been perfecting since age 14. His wife Mary may not hail from France, but her desserts are on par with any pastry chef that's ever come from there. 100 Olde New Jersey Ave., North Wildwood, (609) 522-0400
Marie Nicole's
This upscale restaurant specializes in New American cuisine and features an award-winning wine list. The quesadilla is stuffed with lobster, spinach, cheese, tomatoes, caramelized onions and toasted corn salsa; the perfect variation for the shore crowd. The rack of lamb is encrusted with a blend of herbs and horseradish and the seafood risotto is a large amalgamation of fish—lobster, jumbo lump crab, shrimp, littlenecks—comingling with andouille sausage in a white wine garlic sauce. 9510 Pacific Ave., Wildwood Crest, (609) 522-5425
Pacific Grill
Chef John Schatz oversees the kitchen here (as well as at sister restaurant, Union Park in Cape May) and displays his zeal for fine dining. The bay scallop ceviche will wake up your tastebuds with its cool, acidic flavors, but it just may be overshadowed by the spicy gazpacho, where the soup's kick gives it the ideal balance of hot and cold. And who doesn't love barbecue chicken this time of year? Schatz makes his with coconut rum and serves with papaya salsa, black beans and rice. 4801 Pacific Ave., Wildwood, (609) 523-2333
Published (and copyrighted) in South Jersey Magazine, Volume 9, Issue 3 (June, 2012).
For more info on South Jersey Magazine, click here.
To subscribe to South Jersey Magazine, click here.
To advertise in South Jersey Magazine, click here.