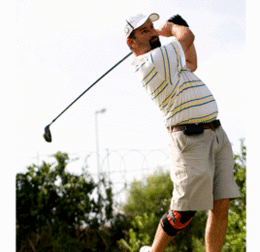 Summer Rush
Why a rise in temperature can lead to a rise in orthopedic injuries
It happens each year: Spring turns suddenly to summer, and we want to seize the 80-degree day, whether that means long hours of kneeling in the garden, epic rounds on the golf course or a high-intensity workout regimen to transform our bodies before beach season really sets in.
It's also prime time for injuries, as weekend warriors take on tasks they're not conditioned for. "I like to call it the too-much-too-soon phenomenon," says Dr. Kathryn Gollotto, a non-operative sports medicine specialist at Reconstructive Orthopedics in Lumberton. In younger or more conditioned athletes, that often manifests in acute problems, like ligament damage or bone fractures, as well as overuse injuries like shin splints, stress fractures, or sprains in the knee or ankle. Among older clients, overuse injuries are predominate: "Once you get into your 30s, 40s and 50s and up from there, stress becomes more evident and it's harder for your body to adapt."
Fortunately, many such injuries are avoidable, notes Dr. Laura Ross of Ross Orthopedics in Hainesport. Stretching before a workout, she notes, is an obvious first step to forestalling damage. But preventing injuries starts before that. "People start exercising and neglect their bone health and nutrition," she says, adding a multivitamin, with calcium and vitamin D, depending on your age, is important along with paying attention to your diet. In general, she continues, it's a good idea to take your overall health into account, and to—cliché as it may sound—consult a doctor before starting a new regimen. "To go from no exercise to really rigorous exercise, that's hard on the body. The last thing you want is to start exercising with undiagnosed high blood pressure when it could be easily treated."
Just as important as nutrition is proper training, adds Dr. Jennifer Vanderbeck, a shoulder and elbow surgeon at Orthopaedic Specialty Group. She sees plenty of rotator cuff injuries in adults and labral tears in younger athletes—and, while she can treat these in a minimally invasive manner, she urges prevention, first with proper technique when playing sports and also by developing lower body and core strength. "Many of the upper extremity problems can be prevented with a lower extremity and core strength program with a trainer or physical therapist," she notes.
Even garden-variety (ahem) yard work or spring cleaning, if done too vigorously, can do damage. "I see people with back sprains from doing too much yard work," says Dr. Lawrence Barr of Garden State Orthopedics in Cherry Hill, Turnersville and Burlington. When it comes to back pain, he is able to do an endoscopic microdiscectomy, removing the herniated disk that may be pushing on a nerve. Since it's minimally invasive, no hospital stay is required. He also often sees arthritis acting up in the knee or shoulder. The good news is, he says, treatment options include a hylan injection, directly into the joint. "It replenishes the fluid balance inside the joint," he says.
And while it may be tempting to go for immediate results, the Rothman Institute's Dr. John Salvo Jr., who performs surgeries at Kennedy University Hospital in Washington Township, warns weekend warriors to avoid programs that promise ultra-fast transformations. "Take it gradually," he urges, suggesting instead signing up for a preventive training program, which can teach you how to do exercises the right way. As you get older, you have to worry about "degenerative conditions—tendons breaking down or tears to the labrum and rotator cuff in the shoulder. [Also] knee meniscus, the shock absorber in the knee, breaks down and can tear," Salvo says, adding that women are anywhere from two to nine times more likely than men to tear their ACL.
As well, it's a good idea to check your equipment—that is, for many of us, running shoes or cleats. "Make sure they're in good condition," says Dr. Michael Ciccotti of the Rothman Institute at Jefferson, where they see plenty of stress fractures in the feet of summer-only athletes. He suggests consulting a shoe expert at a running store for the best fit. Many runners are also opting for minimalist running shoes or FiveFingers shoes. Ciccotti says he's seen injuries, but mostly from people transitioning to the new shoe style. To be safe, runners should "gradually work their way into that shoe wear."
Once you begin your workout, Dr. Sean McMillan of Lourdes Medical Associates advocates starting slow, taking time to stretch and warm up properly, drinking plenty of water, and the first few times out indulging in a post-workout ibuprofen to alleviate the worst soreness. And if you have old injuries and "you've done physical therapy in the past, we generally recommend starting those exercises ahead of time, or start working in those exercises now."
Of course, starting slow doesn't always work. "The classic story is: 'I was fine all winter and then I started jogging, and now my knees are killing me,'" he relates. The problem, he says, can be as simple as weakness of the quadriceps, in which case "we can help retrain the muscles to take pressure off the knee, or we can try an anti-inflammatory, whether its oral or through a steroid injection." It could be an injury that requires minimally invasive surgery, or that could benefit from regenerative approaches like platelet-rich plasma, in which healing growth factors from a patient's own blood are re-injected at the site of an injury.
If an injury does occur, a proper diagnosis can make all the difference in determining what the optimal treatment will be. A few local imaging practices are upgrading their MRI machines to 3 Tesla scanners, notes Dr. Bill Muhr of South Jersey Radiology. "With the new generation of scanners, we're able to much more accurately pinpoint the source of the patient's complaint. Some injuries present with a vague pain: Hip pain can be anything from a ligament tear down to a simple muscle sprain to a stress fracture to a sports hernia. With the new scanners, you can identify and diagnose much more accurately." That can determine the best course of treatment—surgery, rest, physical therapy or another option—much more quickly.
And if surgery is required, the good news is it's less stressful than ever. Dr. Scott Schoifet, of the Virtua Joint Replacement Institute, says he offers same-day total knee replacement, a big improvement over the traditional procedure. "Everything we do is with one goal in mind and that's to help patients get back to their lives sooner. Our patients heal faster because we don't cut the quadriceps tendon, which results in a faster recovery," he points out.
The most important thing to remember throughout all of this, says Ross, is "paying attention to your body and listening when you have pain. They say, 'No pain, no gain.' But if you're trying to work through the pain, you could be ignoring something serious."
Get Back in the Game
…Special Advertising Section from the pages of South Jersey Magazine…
These local orthopedic professionals specialize in alleviating bone and muscle discomfort.
Atlas Spine, LLC
Hainesport
(609) 261-5800
AtlasSpineLLC.com
Children's Hospital of Philadelphia (CHOP)
Our team of world-renowned orthopaedic surgeons, sports medicine pediatricians, nurse practitioners and physician assistants provide high-quality, complete and individualized care for your child. We have provided high-quality, safe and effective orthopaedic care for more than 120 years. Our orthopaedic surgeons and experts handle a wide variety of orthopaedic conditions and offer procedures that are not found elsewhere in the region. Access our services at six convenient locations in PA and NJ.
Serving our region.
(215) 590-4040
(856) 435-1300
CHOP.edu
Garden State Orthopaedics
Cherry Hill
(856) 616-2999
Kennedy Health System/Rothman Institute
Washington Township
1-800-321-9999
KennedyHealth.org/Rothman
Orthopaedic Specialty Group
Sewell
(856) 629-2688
OrthoSpecialtyGroup.com
Our Lady of Lourdes Hospital
Camden: (856) 757-3500
Burlington County: (609) 835-2900
LourdesNet.org
Reconstructive Orthopedics
Cherry Hill: (856) 784-4444
Lumberton: (609) 267-9400
Marlton: (856) 673-3960
Sewell: (856) 256-0051
Somerdale: (856) 784-4444
Voorhees: (856) 673-3960
ReconstructiveOrtho.com
Ross Center for Orthopedics
Berlin: (856) 768-7777
Hainesport: (609) 267-2333
RossOrthopedics.com
Shore Medical Center
Somers Point
(609) 653-3500
Shoremedicalcenter.org
South Jersey Radiology Associates, PA
10 locations in South Jersey
SJRA.com
Thomas Jefferson University Hospital
Philadelphia
(215) 955-6000
JeffersonHospital.org
The Virtua Joint Replacement Institute
Voorhees
1-855-VIRTUA-3
GotMyLifeBack.org
Published (and copyrighted) in South Jersey Magazine, Volume 9, Issue 3 (June, 2012).
For more info on South Jersey Magazine, click here.
To subscribe to South Jersey Magazine, click here.
To advertise in South Jersey Magazine, click here.