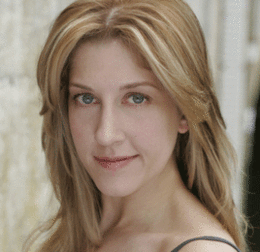 Ready for Action
When Collingswood's Melissa Demyan isn't busy working her day job with the Philadelphia Soul, she can be found filling in for some of Hollywood's biggest names.
Melissa Demyan would be the first to tell you that being behind the scenes certainly isn't synonymous with missing out on the action.
In fact, Demyan's many years of stand-in and background work on dozens of TV shows and Hollywood films like The Good Wife, Music and Lyrics, and Marley and Me, has given the Collingswood resident plenty of fodder for stories. Like how Hugh Grant once caught her off-guard by reaching into a cup of Demyan's dried blueberries for a taste ["I was thinking 'this is incredibly cool and gross—all at the same time,'" she relates]. Or how famed director Peter Jackson unexpectedly ended up directing Demyan—or rather, her hands—for a scene in 2009's The Lovely Bones.
"Rachel Weisz's regular stand-in wasn't in that day so they put me in there to do a scene that was considered pivotal to the storyline," Demyan, 36, recalls. "Peter Jackson was actually directing me and I was just blown away by that; to be working with this man who I respect and whose talents I am in such awe of." That seconds-long scene resulted in the first time Demyan saw her name scroll up on a screen for a major motion picture as the credits rolled. The resulting thrill, she says, was "indescribable."
"Things like that have made it all very worthwhile to me," she says. "I've had a very interesting career so far … maybe I didn't star in The Dark Fields with Bradley Cooper and Robert DeNiro, but I sat across from them at a conference table in one scene. And I wouldn't have had that experience unless I was open to any work that came my way." (In that instance, Demyan was a photo-double; again her hands were used, this time playing those of female lead Abbie Cornish).
Since breaking into the entertainment business more than 15 years ago, Demyan has taken on everything from voiceovers in commercials to stand-in work and film production (the latter for 2007's indie film Leaf, about NFL washout/bad boy Ryan Leaf). But Demyan's current focus is her job with the Philadelphia Soul arena football team, where she works as director of Administration & Community Relations.
"I've been watching football since I was 6 years old and this seemed like the ideal opportunity—the perfect mix of entertainment and sports," Demyan says of the position she's held for more than four years. In addition to overseeing the Soulmates dance team, Demyan also coordinates public appearances for players, dancers and the team mascot, as well as working as stage manager on game days.
"It's a demanding job, but never boring," she says. "Working for the Soul, we all wear a lot of hats—but I wear the most."
Demyan's interest in the entertainment industry goes back to her days as a student at Washington Township High School. There, the petite blonde found herself bit hard by the acting bug, and quickly became involved in school plays. By the time she'd graduated in 1993, Demyan landed the key role of Lily St. Regis in the school's production of Annie. Her interest in acting, as well as TV production, led to a college program that combined music and video production with a business degree.
"It was a perfect fit for me, since I was interested in finding a career that would somehow involve me in the entertainment industry, whether behind the scenes or in front of a camera," she recounts. "It was very broad-based and covered a lot of different aspects of the entertainment world." During her college internship, Demyan worked with a casting director, who led her to a talent manager that hired Demyan over the phone and groomed her to become a talent manager, too.
"I was so excited to be working in the industry—I was right out of school, and representing actors for film work and TV," Demyan says. "It was pretty exciting, and I was very eager to learn." Still interested in becoming an actor herself, Demyan took classes to hone her craft at Philadelphia's Wilma Theater and Walnut Street Theatre, as well as with The Groundlings Theatre in L.A. Before long, one of the casting directors Demyan worked for suggested she try out for a voiceover job. That, in turn, led to her first stand-in role for the Philadelphia-based TV show, Hack. It didn't take long before her side career quickly blossomed.
"If there's anything I've learned from being in the entertainment industry for so long it's that I can't plan anything," Demyan said. "Most of the opportunities have appeared randomly before me. I had a choice to either let them go by or grab the bull by the horns and try to stay on for my eight seconds, so to speak. I always went for it."
For more than five years, beginning in the late 1990s, Demyan worked as a talent manager for the now-defunct Sam's Kids & Adults Talent Management in Marlton. In that role, she guided aspiring actors while cultivating her own career as an actress, doing voiceover and stand-in work, where she doubled as some big household names.
"Whether or not you're picked depends largely on how closely you resemble the person they need a stand-in for in height and hair color," Demyan explains. "So being chosen as a stand-in for Jennifer Aniston or Drew Barrymore or Sarah Jessica Parker based on that criteria isn't particularly flattering, but knowing that my reputation and my work ethic has kept casting directors pushing for and recommending me has been truly flattering."
Being a stand-in isn't as easy as some might think. The days are long—sometimes up to 14 hours—but getting to be part of the process has made it all worthwhile for Demyan, whose credits also include 30 Rock and Saturday Night Live. "When you work long-term on a project, you see these people more than your own family," she says of the film crews. "At the end, you have developed a unique friendship." Still dreaming of that "one great speaking part," Demyan has no reservations. "I'm happy with everything
I've done. Very few people get to be in one career that they really enjoy—and I've gotten to do a lot of different things I really enjoy."
Published (and copyrighted) in South Jersey Magazine, Volume 9, Issue 3 (June, 2012).
For more info on South Jersey Magazine, click here.
To subscribe to South Jersey Magazine, click here.
To advertise in South Jersey Magazine, click here.