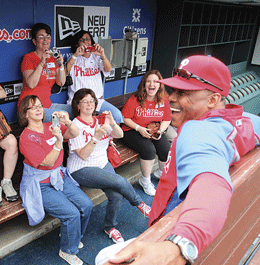 A League of their Own
A special Phillies clinic teaches South Jersey women the finer points of baseball
Thanks to the Philadelphia Phillies recent string of successful years on the field, the team has captured the hearts of many longtime fans who regularly flock to Citizens Bank Park or their favorite watering hole to catch the team in action. It also led to an influx of new fans, especially females who have come to embrace the game traditionally considered to be a man's sport.
To celebrate local women's increased interest, the Phillies created Baseball 101, a program designed just for women that attracts everyone from former softball players to active Baby Boomers, several years ago. Held twice a year at Citizens Bank Park, the daylong clinic takes guests through the complete workings of the team, from the training room to the clubhouse, from the press box to the dugout. Attendees are taught the nuances of the game by team personnel including President David Montgomery, broadcasters like Chris Wheeler and Gary "Sarge" Matthews, manager Charlie Manuel and other coaches.
At any point on a recent May morning you could find crowds of the 140 women in attendance catching grounders from first base coach Sam Perlozzo, while others worked in the bullpen throwing fastballs beside pitching coach Rich Dubee. Another group worked cameras and the scoreboard from the press box area. The day ended with a silent auction, followed by questions with Manuel and outfielder Laynce Nix, along with tickets for that evening's game.
"It's an amazing opportunity to get to know the Phillies in a way you don't usually get to," says Lynn Martin of Lumberton. Martin was assigned to Team Hamels, one of four groups the women followed throughout the day (along with teams Victorino, Ruiz and Rollins). "It's growing in popularity because of what a great experience it is."
This was Martin's first time at Baseball 101, but she came with her friend Barbara Hoopes of Haddon Township, who was now on her fourth year of the clinic. "They always have something different," says Hoopes. "The experience is always something new."
About half of the women present were returning to the clinic after past experiences, coming back to learn more about the finer points of the game. And while some women, like Martin, had a softball background, they were all there to take part in a true, hands-on baseball experience. Hoopes, who could be seen knocking baseballs back in the batting cages alongside former Phillie and hitting coach Greg Gross, joked, "You should have seen me four years ago.
"The first year I stepped up and missed the ball," says Hoopes, "but he (Gross) just told me to keep my eye on the ball, and it worked."
"A lot of the women said that a lot of what they've learned [about baseball] was from coming here year after year," says Phillies ballgirl Rachael Matreale, a Williamstown native. "A lot of them come because they love baseball and they love the sport and they want to see the Phillies' side of it."
For almost all the women, learning the game is the initial attraction, but learning it from the Phillies is the real allure. "We're definitely a Phillies family," says Washington Township's Amanda Toscano, who joined her mother, Donna, and her friends from work for the day. "My family takes road trips and we do the festivals every year, so we're all about the Phillies. This just adds to this. It's a great learning experience, and it's fun with the girls. We've been longtime fans, since we were born, really."
As the Phillies success has grown over the last decade, women have had the opportunity to grow with the team, expanding their knowledge beyond the basics of the sport. While sitting down to lunch with Montgomery inside the Diamond Club, the women shot out questions like seasoned sports pros, regarding prospective trades, injuries and plays from the past season.
"I thought we were going to come here and teach the basics, but so many people know so much," admits Matreale. "More women want to learn about everything. … Baseball is showed to be such a guy's thing, but there is such a good following by women."
"I think the women in this area are very well educated as far as the whole sport goes," says Donna Toscano. "This is just the perfect example of that."
"It's fun to see this many women that are this interested," says Kim Gargin of West Deptford, who was joined by her best friend, Thereasa Heino. "We're huge Phillies fans. I think sometimes people think it's odd that we're two women that love baseball, but to see this many people it shows that the area has really good, strong female fans."
Third base coach Juan Samuel met the ladies in the dugout, sharing with the women how he gives hitters and baserunners signs, offering the same expertise he affords the many all-stars who make up the team's roster. "It's lovely to be able to let them know why we do what we do, why some players play the way they do on certain days. These ladies come to the games and they deserve insight into what we do," Samuel says. "It's fun; it's a nice change of pace from seeing a bunch of guys here."
As for the next clinic slated for sometime in August, women are already clamoring for spots, and with good reason: The first event of 2012 sold out in minutes. "The clinic shows what a spectacular team the Phillies are," says Martin. "Yeah, it's a man's sport but it's a family event. It's easy for women or children, or anyone to be involved."
"I'm never bored of this," says clinic veteran Hoopes. "If I can find a way to get through the lines, I'll be here next year."
Published (and copyrighted) in South Jersey Magazine, Volume 9, Issue 3 (June, 2012).
For more info on South Jersey Magazine, click here.
To subscribe to South Jersey Magazine, click here.
To advertise in South Jersey Magazine, click here.