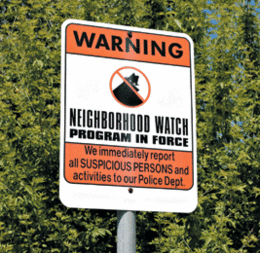 Safe at Home
Local neighborhood watch groups prevent crime, promote community
By Late at night one recent May evening in the normally quiet borough of Collingswood, a resident was awoken to hear two individuals outside her home near Atlantic and Wesley avenues. When she poked her head out the window to investigate, she witnessed the two breaking into a car and instinctively she phoned police. Within minutes, the suspects were apprehended.
In tight-knit communities like this all across South Jersey, that sort of built-in crime prevention goes a long way in helping police who can always use another set of eyes and ears. Somewhere along the broad spectrum between vigilante activism and neighborhood apathy, several local communities are striking a balance with town watch programs as a means to effectively respond to crime.
At one extreme we have seen how a man's seemingly good intentions can turn into a national tragedy, when Sanford, Fla., watch captain George Zimmerman disregarded police advice last February and allegedly confronted, shot and killed 17-year-old Trayvon Martin. While Zimmerman is claiming self-defense, it has put into perspective how far a private citizen should be allowed to go in rooting out dangers in the community, while setting off a firestorm over racial and even apparel-related profiling.
While the tree-lined suburbs of South Jersey have never been the kind of place that required roving patrols of Guardian Angels, which typified the New York City subways in the 1980s and even made their way into Camden City last year during police cutbacks, many communities proudly post the signs that a neighborhood watch is in effect. It's less of a stand on crime and more of a pronouncement of civic pride in an age when community safety is paramount, topping the Gallup Polls of factors Americans consider when choosing where to settle down.
But as local police officials and organizers will tell you, it is a simple kind of volunteerism that makes greater community safety possible. It all starts with being aware of what's happening right outside your windows; and ends with a quick call to police if something is amiss.
Though Collingswood doesn't have an official town watch—they did recently discuss the idea of forming one—citizens like the woman who caught the car thieves in the act are following the same principles of any organized effort to observe and report. "Sharing information with police when it is necessary is the best way to protect your community," says Collingswood Police Chief Richard Sarlo.
Perhaps one of the best working models of a neighborhood watch exists in Mount Laurel, where personal crimes occur just once for every 1,000 residents, FBI crime indexes show, making it one of the safest townships around.
Mount Laurel Community Policing Liaison Lt. Paul Modugno says the success is due to a dedicated effort of about 30 coordinators and a couple hundred volunteers. The watch teams hold quarterly meetings for the organization, which is represented in more than 30 communities. And while these volunteers are assisting the authorities, joining the group is not an invitation to take the law into your own hands.
"We credit the people who participate. It is not a group of people canvassing the streets, but people being aware of what is going on," Modugno says. "We don't want any vigilantes involved in the program … we suggest participants take their keen observation skills out as their tools."
Faye Berlin serves as volunteer coordinator of the Park Place Condominium Association in Mount Laurel, a role she has held for more than a decade. For her, it has come down to filling a void left by budget constraints in what remains an extremely effective police force. "Because of cutbacks, the police [have] less and less time to be patrolling every inch of every neighborhood," Berlin says. "If we can step in and do our part, I am very happy to do that."
Berlin has her own tally of success stories, having prevented fires and deterred burglaries. But her group has also added an intangible benefit larger than just looking for strange or illegal activity: a sense of community pride and connection to a shared goal. "This is my passion," Berlin says. "This is how I give back."
She speaks with an air of nostalgia about the good old days when she would go out on foot patrol to thwart any would-be criminals in her neighborhood. Now those days are limited to twice a year, mostly to maintain esprit de corps among volunteers and recruit new ones if possible. They hit the streets on National Night Out in August, a day meant to strengthen the relationship between police departments and communities across the country, and once more on mischief night.
In Washington Township, efforts are organized under the leadership of Cpl. Dante Spataro, though invariably the spark is lit by residents who seek to improve the quality of life in their neighborhoods. Birches West is the newest addition to the growing ranks of town watch groups, a bursting housing complex where Spataro works to train volunteers.
"Neighborhood watch counts on citizens to organize themselves and work with law enforcement to keep a trained eye and ear on their communities," says Spataro. "Neighborhood watch works because it reduces opportunities for crime to occur. It doesn't rely on altering or changing the criminal's behavior or motivation."
Cherry Hill and Medford can also credit their positive relationships between citizens and police for the existence of organized community prevention efforts. Cherry Hill Community Relations Officer Bill Ackerman regularly updates township residents and business owners of crime trends, proactive police responses, and preventive measures to address crime in their neighborhoods. "The exchange of information between the community and the police is essential in the prevention of crime that traditional policing methods do not address," according to Ackerman.
While the Trayvon Martin incident may have caused some to shy away from being associated with neighborhood watch groups, Collingswood's Sarlo offers advice on just how simple your involvement can be.
"Look out your windows. Walk your dog. Walk with your wife. And bring your cell phone just in case."
Published (and copyrighted) in South Jersey Magazine, Volume 9, Issue 3 (June, 2012).
For more info on South Jersey Magazine, click here.
To subscribe to South Jersey Magazine, click here.
To advertise in South Jersey Magazine, click here.