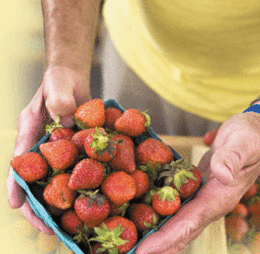 Made in New Jersey
South Jersey farms and markets offer a bounty of foods and products that originated here in our corner of the Garden State.
It used to be that there was something intriguing and exotic about having strawberries in October, watermelon in April, or pineapples, well, just about any time of the year in New Jersey.
But more and more, people are now looking to sync their own cooking with nature's local bounty—and to eschew the ungodly carbon footprint of jet-setting produce and the unsavory mysteries of factory-farmed meats.
South Jersey may be waist-deep in cranberry bogs and beset with blueberry bushes, but there's way more to local produce than that. So we went beyond the pick-your-own peaches to find out what a 100-mile diet really looks like in this area, and found a bounty of options for fresh produce, plants and protein.
Cheese and Dairy
Dairy farms have all but disappeared from South Jersey, a victim of increased development and decreased desire for the fragrance of manure nearby. Charlene Carlisle, of Little Hooves Romneys, says that's why, after generations as a dairy farm, she converted her Moorestown farmstead to a sheep ranch. "Keeping the cows here just became too difficult," she says. Still, that doesn't mean you can't pick up award-winning cheese made within an hour's drive at local shops and farmers markets. Cherry Grove Farm in Lawrenceville is known for its creamy brie, its cave-aged, washed-rind Toma, and its hard Havilah for grating over pasta, all made with raw milk from cows that graze on organic-certified pastures; pick it up at Springdale Farms (1638 S. Springdale Road, Cherry Hill). For fresh ricotta or mozzarella, or straightforward cheddar, Pennsylvania's Hillacres Pride sells every Saturday morning, 8 a.m. to noon, at the Collingswood Farmers' Market (between Collings and Irvin avenues, along the Patco line), and all the time at Whole Foods Market in Marlton. While you're at Whole Foods, you can also pick up Calkins Creamery's artisan Welsh-style cave-aged cheddar, earthy Tomme or smoked mozzarella, made with an emphasis on sustainable practices from the dairy's own Holstein herd in Pennsylvania.
Honey
An investigation by food safety experts last year unearthed a disappointing fact about the majority of store-bought honey: It's not, in fact, honey. That's because the pollen has often been removed, a practice that can be used to disguise the product's origin and incidentally diminishes honey's antioxidants and nutritional benefits. That's one reason for all of the, er, buzz about local honey, produced in small batches by committed Jersey beekeepers. Busy Bee Farm (80 Patty Bowker Road, Tabernacle) is a hive of activity, cultivating lavender as well as the bees to pollinate it, for a full line of wildflower honey, lavender-infused honey and lavender products, like starter plants, lavender-honey soap and lavender culinary salts and sugars. Owners Steve and Toni Price also focus on using native plants and offer a pick-your-own-lavender schedule in late June and early July. Satisfy your sweet tooth at the Burlington County Farmers' Market (Saturdays, 8:30 a.m.-1 p.m., 500 Centerton Road, Moorestown) or the Bordentown Farmers' Market (Wednesdays, 4 p.m.-dusk, 207 Crosswicks St.). If all that just doesn't sound mysterious enough for you, there's another alternative: Hidden Acre Honey (HiddenAcreHoney.com), culled from hives based "in an undisclosed location in Cherry Hill." Options include wildflower, blueberry and cranberry blossom honey, produced in small batches by beekeeper Seth Belson. There's also Fruitwood Orchards Honey Farm (419 Elk Road, Monroeville, FruitwoodOrchardsHoney.com), where the byproduct of bees used to pollinate the apples, peaches, nectarines and more in the orchard ended up becoming a popular side business of its own. Find them at the Collingswood Farmers' Market each Saturday as well.
Meat and Eggs
For local farmers, raising livestock isn't just a living—it's a calling. Which means that the best artisan producers go the extra mile to ensure their animals are happy and healthy, giving them extra space and natural feed. A good example is 7th Heaven Farm, where Carla Growney allows the animals to graze freely on grass or munch on hay in the winter. The farm produces heritage-breed lamb, pork, goat, "rosé" veal, beef, chicken, eggs and turkeys that get ordered months in advance for Thanksgiving feasts. Meat is available by the cut or in bulk, by special order from the farmstead (1154 Old Indian Mills Road, Tabernacle). Carlisle, of Little Hooves Romneys, says demand for local lamb—and the wool and blankets she sells—is skyrocketing as diners start to recognize the difference in quality. She sells in bulk or by the cut, not to mention her popular lamb sausages, at the Burlington County Farmers' Market. Another local option for beef and eggs is Medford's Jennings Farm, which offers pesticide-free, pastured beef and pretty much cage-free chicken eggs (for safety from predators, the birds roost in an eggmobile at night). Jennings sells ground meat, tenderloin, chuck and other cuts, along with fresh eggs at the farm (Monday and Thursday, 4-7 p.m.; Saturdays, 11 a.m.-2 p.m., 40 Jennings Road, Medford) or at the Westmont Farmers Market (Wednesdays, 4-7 p.m., Haddon and Stenton avenues, Haddon Township).
Herbs and Plants
Any type of gardening may be good for the earth and for the soul, but if it's done thoughtfully, it can really enrich your landscape—and your mise en place. That's why many local nurseries are offering up a mix of native plants and herb starters sprouted right here in South Jersey. Try Triple Oaks Nursery and Herb Garden (2359 Delsea Drive, Franklinville) for locally grown seed strains, culinary and fragrant herbs, lessons and workshops, and even an annual May herb festival. Also in Franklinville, Arrowwood Native Plant Nursery specializes in greenery from the South Jersey area (961 Clark Ave.). Or try Hlubik Farms (92 Georgetown-Chesterfield Road, Chesterfield), where herbs and bedding plants are available along with a full complement of produce and locally made treats.
Flowers
­As much as it pains us to admit it, getting flowers shipped in from Mexico or California isn't exactly the green choice. Fortunately, we have the likes of Longview Flowers to bring us spring tulips, summer zinnias and fall mums, all grown in the area; the farm stand is open Wednesday through Friday for fresh-cut beauties (40 Bridge Road, Lumberton). Another option is Darmo's Farm, which sells sweet corn, peppers, cukes and tomatoes as well as fresh-cut flowers, and even allows shoppers to head out into the garden and cut flowers for themselves (900 Cox Road, Moorestown).
Produce
Jersey tomatoes may take home the headlines, but the variety of locally grown produce available goes far beyond that. To start with the classics, though, try Spinella Farm (115 Ehrke Road, Waterford Works), where the tomatoes are of the heirloom variety. Farmer Ed Cuneo also specializes in a range of other heirloom fruits and veggies, plus crisp dandelion greens and herbs, available through a community-supported agriculture (CSA) membership or through farm stands at the Burlington County Farmers' Market and on Wednesdays at the Virtua Voorhees campus. Other local CSAs include Chesterfield's Fernbrook Farm (142 Bordentown-Georgetown Road), where a subscription gets you weekly shares of a variety of vegetables and fruits, plus access to events and volunteer opportunities at the farm so you can check out exactly where your food comes from. Local staples like Springdale Farms in Cherry Hill, Johnson's Corner Farm in Medford and Duffield's in Sewell are good starting points for Jersey-fresh corn, tomatoes and produce of all types (not to mention apple cider doughnuts in the fall). But off the beaten path are fastidiously pesticide- and chemical-free options like 1895 Organic Farm (303 Landing St., Lumberton), which uses old-school farming practices to guarantee maximum taste.
Miscellaneous
For vegans and other seitan worshippers, South Jersey has Michael's Savory Seitan Wheat Meat, based out of Florence and available at Whole Foods in Marlton. Even local flour is available: Great Harvest Bread Co. (100 Springdale Road, Cherry Hill) mills their own whole wheat each day before baking a batch of artisan loafs.
Published (and copyrighted) in South Jersey Magazine, Volume 9, Issue 3 (June, 2012).
For more info on South Jersey Magazine, click here.
To subscribe to South Jersey Magazine, click here.
To advertise in South Jersey Magazine, click here.