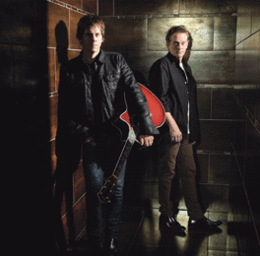 Band of Brothers
Kevin Bacon and his older sibling Michael share a lifelong love affair with music.
Long before Kevin Bacon was being linked to every actor in Hollywood thanks to his busy film career, he would sit on the basement steps of his Center City childhood home listening to his older siblings Michael and Hilda rocking tunes with their band. The experience became a rite of passage for him and music quickly became his life's passion.
It wasn't long before he would tag along with Michael, nine years his senior, all across town from neighborhood record shops to gigs at the original Electric Factory. "I wasn't really into sports, or even movies. If I could save money, I'd buy an album," Kevin said in 2009.
As time passed and Kevin was becoming one of the biggest names in the movie industry, his brother Michael was forging his own career as an Emmy-winning television and film composer. Despite their different career paths, the brothers always shared a musical bond and began to innocently pen songs together with visions of having more established artists record them.
With some encouraging from friends and family, songs written by the Bacon brothers transformed into songs written for the Bacon Brothers, the simple name given to them by a music promoter friend in their native Philadelphia. In 2012, the duo is marking their 17th year as a group with a summer tour that includes stops at Ocean City's Music Pier on July 9 and a performance at Pennsylvania's Longwood Gardens the following night.
South Jersey Magazine talked exclusively with Kevin and Michael to discuss the upcoming shows, childhood trips from Philly to the Shore, and found how they both balance their busy lives outside of the band.
SOUTH JERSEY MAGAZINE: Growing up, your entire family was big into music; is that how you guys each first got the bug?
MICHAEL BACON: A little background on our house: It was six kids all fairly large in age differential. Our parents were always trying to encourage us to follow some creative expression… as long as it was creative, they didn't care about good grades or getting a job and making tons of money and it's what essentially why most of us became creative people.
Our parents weren't musicians, but they had eclectic tastes from opera, folk, classical… it was an interesting way to grow up. Music was a big part of our lives. My sister and I played in a band and Kevin always listened.
SJM: Kevin, what then made you decide to veer away from the music and pursue acting? Was it a conscious decision to maybe step out from your older siblings' shadows a bit?
KEVIN BACON: Maybe a little bit, but there were a few things that happened. First, I took an acting class and fell in love with it. [Also], my mother was a churchgoer and this minister was really into using theater in his sermon. He gave me my first acting gig in a way because he knew I was into theater and he knew I was trying to do some acting. He asked me to appear [in church] and that was my start in a way.
Looking up to my brother, [music] was hard for me. It was harder than I wanted to work, practicing every day. I'm such a multitasking kind of person that it was really hard to hunker down and get good at an instrument and I got frustrated by that.
SJM: Eventually the two of you began playing together again, so how did the idea for the Bacon Brothers first come about?
MB: We really took music seriously and about a year before we put the band together, we put a demo together and we were kind of pursuing getting the songs recorded by other people and that's when a friend, Harry Spivak, called about doing a show at the Theatre of Living Arts on South Street [in Philadelphia].
He said, 'Why don't you put a band together and play as the Bacon Brothers?' We thought, it's one gig, why not, what can happen? So we put together a set and actually booked a gig in upstate New York to get ready for Philly… some other club owners got in touch with me and some guy contacted us about doing a CD. It's been 17 years and now we're working on our sixth studio album.
SJM: You're playing two upcoming shows in our area, one in Ocean City at the Music Pier and one at Longwood Gardens. You've played the Music Pier and other outdoor venues before; do you prepare for them any differently from your theater shows?
KB: It's the same approach; we may call a few audibles as we like to say. What's fun about this tour is we do like to switch the set up and have been grabbing stuff out of the catalog and some new things that we're playing. It's fun for us, to keep us on our toes creatively and musically.
SJM: Speaking of Ocean City, growing up in Philly, I'm sure you guys spent a lot of time going down the Jersey Shore.
MB: Our dad was a real sailing aficionado so we went sailing in Long Beach Island in Barnegat Bay. They also have that amazing state park so LBI was the place we went. I also once played a summer club in Wildwood, it was a multi-faceted club with jugglers…
KB: You know, I've been all over and the Jersey Shore is the only place in the world where people say they are going 'down the shore.' No one else says that anywhere!
SJM: What's the creative process like for you guys when you're writing? Is it collaborative or do you divvy up the responsibilities in terms of instrumentation and lyrics?
KB: We sometimes have written in the past together, [but mostly] we write separately and run the song by the other guy to see if there are any suggestions. Sometimes we have really specific ideas about the song's arrangement and we've done demos that are a spot on idea how you hear the song playing as far as tempo and groove. We'll write songs and bring them to the band to morph into something. Our band members are very strong players and very opinionated.
SJM: Early on in the band's inception, you had to deal with a lot of "here goes another actor acting like they are a musician." Did you guys feel like you had to sell yourselves even more than the average band?
MB: I don't think that ever really ends. It isn't about an actor; it's about a successful actor being in a band. I don't think either of us spend a lot of time thinking about it, particularly when we first started it was a way to get people to see us.
We played clubs up and down the East Coast and if Kevin wasn't in the band, we might get 10 people, instead we got 150-200 people… that helped us get gigs, so in that sense it was great, it gave us an audience and developed the band. All these years later, we both feel strongly to make the band as best as we can and if people show up because they want to see my bother in person, that's fine because they'll see a show that is really entertaining.
SJM: Kevin, you started in live theater, so as an actor you received that instant feedback from the crowd, unlike the work you would go on to do in TV and film. Do you embrace having that interaction when you're performing and is it similar in nature?
KB: It's very similar for a number of reasons because you get that feedback. I like to say it's like a dance you are having with an audience, you're moving around the room and in sync with your partner and sometimes you're stepping on their toes, it's a lot like that. Anything can happen, a lot of stuff that can go wrong, but it's that kind of risk and electricity that makes it slightly more frightening than making a movie or record.
SJM: Both of you have busy careers outside of the band that are pretty labor intensive. Is it difficult to find time in your schedules to sit down and write?
MB: It's pretty different for both of us. For me, my workload is kind of a constant, I'm always busy; I teach school, I score films, I need to practice, it's a really full life.
Most songwriters have a lot of time off, they spend a lot of time reflecting… The days I've written songs are the days I have nothing to do. One of the good things is when Kevin is on a movie set, he has a lot of downtime, he has his guitar and I know he's coming up with some great stuff.
SJM: You have a pretty layered sound that doesn't fit exactly into any one particular genre. Were there any artists in particular that really inspired you guys?
KB: I have a pretty long list, starting with my brother. Growing up listening to the music he was playing, the music he was bringing home. We both went to Philly public schools, and soul music was incredibly important… Motown, the Philly Sound of the '70s. We do a song called 'Old Guitars' and it has 38 different rock 'n' roll references.
MB: I think what makes our sound a little bit different is we sink or swim on the songwriting. We are not great singers, we are not great instrumentalists. We look at the songs and we try to find the environment. We have songs with reggae feel, songs that sound Irish… we try to honor the song, rather than have the song fit into a preconceived sound. And two writers make it more eclectic [too].
SJM: Being brothers, is there any sibling rivalry when it comes to being musicians?
KB: If anything, we compete on writing great songs; or songs in general, great or not great.
Published (and copyrighted) in South Jersey Magazine, Volume 9, Issue 3 (June, 2012).
For more info on South Jersey Magazine, click here.
To subscribe to South Jersey Magazine, click here.
To advertise in South Jersey Magazine, click here.