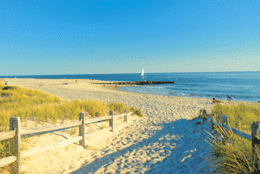 Best of the Shore 2012
Ahhh, summer. The time of year that brings upon that annual rite of passage of trading in our sweaters for swimsuits and heading down to our favorite Jersey Shore getaway. This year, we traveled from LBI to Cape May, from the Boardwalk and beyond to present this extensive town-by-town guide to the best breakfast, ice cream, nightlife, happy hours, shopping and much, much more. You'll also find out what exciting new things you can expect to see when you roll into town this season. When you're done here, be sure and turn to Page 88 for reviews of the 30 best restaurants along the coast; these culinary marvels are worth the trip alone. Keep an eye out for our Best of Atlantic City roundup in December. But in the meantime, we'll see you at the beach!
AVALON
What's New
The Windrift Hotel (105 80th St., 609-368-5175) celebrated its 45th year of operation by opening Level 2 (80th Street and Beach, 609-368-5175) in mid-May, serving upscale American dishes in a contemporary atmosphere. Restaurant and lounge Fuze just opened the doors on their second location, Fuze Italian (2109 Dune Drive, 609-796-5543) in May. Bobby Dee's Rockin' Chair (2409 Dune Drive, 609-967-3300) adds another culinary change to Avalon with their new chef, Francesco Buto, and the addition of brick oven pizzas to their menu.
Ice Cream
You can't go wrong with an institution like Avalon Freeze (23rd and Dune Drive, 609-967-4141), which has kept guests coming back for its classic ice cream and frozen yogurt combinations. Sun­dae Best Homemade Ice Cream (2900 Dune Drive, 609-368-1121) has its own tribute concoction to the city, Avalon Mud, complete with a Hershey's chocolate kiss at the bottom of each cone. For those health-conscious sweet teeth, Toppings of Avalon (2166 Dune Drive, 609-368-3063) has jumped onto the froyo trend, offering seemingly endless frozen yogurt flavors and topping options.
Casual Eats
A quick lunch doesn't have to be a standard plate, and the Concord Café (7800 Dune Drive, 609-368-5505) serves up plenty of sandwiches to prove that. Try their crab cake or roast pork sandwiches, or build your own with their customizable menu. Avalon Sea­food's (29th and Bay, 609-967-7555) take-out and fish market specialize in only the freshest seafood, with made-to-order dishes like crab cakes and broiled mahi mahi. Or grab a hoagie to go at the 29th Street Deli and Grill (29th Street and Dune Drive, 609-967-3354), where hot and cold sandwiches are served in what they call "traditional Philadelphia style."
Happy Hour
The Windrift Hotel's Beach Bar and Tiki Bar (80th Street and Beach, 609-368-5175) feature live entertainment all afternoon and 30 HDTV's playing the games on that day, along with discounted appetizers every Monday, Wednesday and Thursday from 4-6 p.m. You can skip the drink orders and head over to BYO The Real Enchilada (224 21st Street, 609-967-8226) for their happy hour, serving up $1.50 fish, shrimp and pork tacos. They'll even mix your margaritas if you provide the tequila.
Night Life
When the night starts to cool down, The Whitebrier's Mermaid Cafe (260 20th St., 609-267-5225) heats up, with a massive bar, dance floor, outdoor patio, and even their own sushi chef serving up rolls from 4 to 10 p.m. The Princeton (2008 Dune Drive, 609-967-3456) features live music every weekend, including a DJ, rock bands and acoustic performers, and runs its own free shuttle during the peak season. Jack's Place (3601 Ocean Drive, 609-967-5001) mixes up their happy hour every Friday, offering half-priced drinks from 8 p.m. to 2 a.m.
Fun & Games
Set sail with the crew of the Miss Avalon II (1400 Ocean Drive, 609-967-7455) for a fun day of fishing in the Atlantic Ocean. The boat offers fishing parties for four hours, with a guarantee to keep any of your daily catch.
Breakfast
Fishin' Pier Grille (32nd and Boardwalk, 609-967-8144) plates include classic diner breakfasts, such as omelets, pancakes and every local's favorite food, scrapple. Early birds can stop by Gertie's Deli (2001 Dune Drive, 609-368-3900) for unique and mouthwatering breakfast sandwiches. And when you're on the go, the 63-year-old Kohler's Bakery (2709 Dune Drive, 609-967-3694) has earned some bragging rights with the help of their fresh-baked cinnamon buns and coconut macaroons.
Shopping
Get lost during a full day out brows­ing Ava­lon's ama­zing shops, like Per Lei Boutique (2521 Dune Drive, 609-368-2929), which features a stellar list of de­signers, inclu­ding Di­­ane von Furstenberg and Badgley Mischka. Closet Boutique (2509 Dune Drive, 609-368-7400) sells a long list of women's casual-wear, including an extensive jewelry and accessory line. Boutique Bellissima (267 21st St., 609-967-4343) carries an impressive collection of new Tory Burch handbags, and neighboring Tiger Lily (271 21st St., 609-967-4300) has styles to match whatever is hot on the beach this summer.
Health and Beauty
Indulge in a day of pampering at Michelle's Salon and Spa (2345 Dune Drive, 609-967-4291). The full-service salon and spa runs packages on everything from hair and nails to facials and make-up. Fusion Salon and Day Spa (3007 Dune Drive, 609-967-3292) is part of the Redken Elite Salon program, using specialty training and products from the famous brand. Along with their various private and group hatha yoga classes, Sol Luna Yoga (2819 Dune Drive, 609-368-0222) offers holistic massage packages from their in-house masseuse.
CAPE MAY
What's New
The biggest buzz around town has been the grand opening of Cape May's new Convention Hall (714 Beach Ave., 609-884-9536), the 20,000-square-foot, $10 million project, reminiscent of the city's original 1917 convention center. Local wineries Willow Creek Winery (168 Stev­­ens St., 609-770-8782) and Jessie Creek Winery (1 N. Delsea Drive, 609-536-2092) have be­gun pouring their custom bottles, with Willow Creek now offering public tours and tastings. Family-owned business the Red Store (500 Cape Ave., 609-884-5757) has opened at the renovated Cape May Point General Store, selling housemade breakfasts, lunches and baked goods.
Ice Cream
When it's hot outside, cool down at The Dry Dock Restaurant (1440 Texas Ave., 609-884-3434), which serves up classic ice cream sundaes that the whole family will love. South Jersey's only Ben and Jerry's Scoop Shop (414 Washington St., 609-884-3040) is dishing out all of your favorites available in stores but much fresher. Stick with the classics like Cherry Garcia and Chunky Monkey, or dive into their brand new Greek frozen yogurt, swirled with flavors including blueberry vanilla graham and banana peanut butter. Uncle Charley's Ice Cream (310 Washington St., 609-884-2197) is one of the most popular sweet stops in the city, known for its massive variety of hard ice creams and interesting twists, like the pretzel cone.
Casual Eats
Step off the sand and across the street to Hot Dog Tommy's (319 Beach Ave., 609-885-8388), which has earned a reputation for its off-the-wall hot dog toppings, like mashed potato and cranberry coleslaw. Another Cape May staple, the C-View Inn (1380 Washington St., 609-884-4712) serves up hot wings that keep customers coming back from all across the coast. Mario's Pizza and Subs' (Victorian Village Place, 609-884-0085) custom hoagies, like the roast pork Italiano, are really worth sampling. Sea dogs will want to check out the Lobster House (906 Shellenger's Landing Road, 609-884-8296) located along Fisherman's Warf. Step outside of their restaurant to a more casual eatery right on the dock, with a full-service raw bar and fresh seafood available cafeteria style.
Happy Hour
With the windows open right on the beach, it's hard not to stop into Cabana's Beach Bar and Grill (429 Beach Ave., 609-884-4800) for their 4-7 p.m. daily happy hour. The bar serves $4 premium drafts, alongside $5 flatbreads and $4 wine and margaritas. Next door, Carney's at Cape May (411 Beach Ave., 609-884-4424) offers $5 spicy steamed clams, loaded chili nachos, wings, peel and eat shrimp and Carney's specialty crab fries, along with $2 beers and $5 wines. Or start off the night with something a bit stronger at Martini Beach (429 Beach Ave., 609-884-1925), located a floor above Cabanas, where the bar runs $5 custom martinis and $5 tapas from 3-5 p.m. seven days a week.
Nightlife
For a great night out, try The Boiler Room (200 Congress Place) at Congress Hall. The bar hosts adult karaoke, cover bands, and features a nightclub and DJ. The Rusty Nail (205 Beach Ave., 609-884-0017), which boasts the longest bar in Cape May, features live entertainment every weekend this summer, and an outdoor fire pit. Harpoon Henry's (Beach Drive and Browning, 609-886-5529) has three bars, which means you'll never have to wait too long to sample any one of their more than 250 frozen daiquiris, punches, coladas and much more. Or try The Ugly Mug (426 Washington St., 609-884-3459), a well-loved dive in the center of it all.
Fun & Games
It may be small, but the Cape May boardwalk boasts two arcades (Cape May Arcade, 406 Beach Ave., 609-884-1311, and Family Fun Arcade, 732 Beach Ave., 609-884-7020). Cape May Point State Park has three family-friendly nature trails. While there, take a tour of the Cape May Lighthouse (215 Light House Ave., 609-884-5404), or hit the high seas with the Cape May Whale Watcher (2nd Avenue and Wilson Drive, 609-884-5445), a ship that leads guests out on a full-day whale and dolphin watching excursion.
Breakfast
Start your day at The Mad Batter (19 Jackson St., 609-884-5970), where time-tested favorites, including their award-winning buttermilk pancakes, have guests lined up every weekend. George's Place (301 Beach Ave., 609-884-6088) has earned their fame while appearing on the Food Network's Din­ers, Drive-Ins and Dives, and their uni­que breakfast dishes like the bananas foster French toast and salmon scramble are worth checking out. The Blue Pig Tavern (200 Congress Place, 609-884-8422) boasts sophisticated specialties like the French classic Croque Monsieur, an open-faced grilled ham and cheese sandwich smothered in a rich mornay sauce.
Health and Beauty
The city's Sea Spa (200 Congress Place, 609-884-6543), located in Congress Hall, runs the gamut from specialized treatments to luxury massages. Stop in with friends for any of the spa's multiple packages, including a mani/pedi (guys' packages are available, too), or freshen up with a deep cleansing facial and deep tissue massage. The hotel has its own strength training and cardio fitness room, and offers seaside yoga every Monday, Wednesday, Friday and Saturday morning.
Shopping
For a full day of shopping, wander over to the Washington Street Mall. There you'll find a street of boutiques and privately owned shops, including Bath Time (318 Washington St., 609-884-9234), which is loaded with handmade soaps, hair products and lotions that you can't find anywhere else. Love the Cook (404 Washington St., 609-884-9292) sells specialty house-roasted coffees and all-natural loose teas to stock your shore house with, or decorate with unique works of art from the Washington Street Gallery (313 Washington St., 609-884-1818), featuring pieces from local artists. Your closet will never be empty after a trip to any of Washington Street's boutiques, surf and T-shirt shops, including It's a Breeze (319 Washington St., 609-884-1692), Summer Sun Surf Shop (315 Washington St., 609-884-3422) and Jackson Street Boutique (108 Jackson St., 609-884-3194).
LONG BEACH ISLAND
What's New
On Monday and Wednesday nights, the Surflight Theatre (201 Engleside Ave., 609-492-9477) will be the hot nightspot thanks to a partnership with New York City's Catch a Rising Star Comedy Club, promising top acts such as Joe Piscopo and David Brenner all summer long. If you're on the hunt for a new seafood spot, try The Main Course (1301 Long Beach Blvd., 609-492-2328), one of the island's newest additions, serving up hot and cold sandwiches, soup and more in a quaint, New England-style seafood shack.
Ice Cream
With flavors like vanilla to amaretto and everything in between, Skipper Dipper (9305 Long Beach Blvd., 609-492-9680), long considered a LBI family tradition, promises a sweet escape. Another can't-miss family spot is Meltdown (133rd & Long Beach Blvd., 609-207-0527), where you'll find all the standards, plus weekly specials and regular appearances every Monday night in July and August by your children's favorite TV and movie characters.
Casual Eats
At Pearl Street Market (229 Pearl St., 609-492-3910), you'll find fresh seafood, gourmet cheeses and breads, salads and more. Take a seat on the stone patio and enjoy coffee and a rosemary ciabatta square in the cool summer breeze. Stop by the 1920s-converted beach house Harvey Cedars Shellfish Company (7904 Long Beach Blvd., 609-494-7112) for some fresh catches off Barnegat Light. While take-out is an option, we suggest a sit-down if you don't mind waiting.
Fun & Games
SwellColors Glass Studio & Gallery (10909 Long Beach Blvd., 609-492-3783) offers art workshops such as the "Happy Hour Mosaic Mirror," held every Fri­day from 5 to 8 p.m. For a round of mini-golf or bumper cars, more than a dozen amuse­ment rides, or special events like ma­gic and reptile shows, Fantasy Island (320 7th St., 609-492-4000) has it all. Sans-beach outdoor adventures can be found through hiking trails, fishing or bird watching at Barnegat Lighthouse State Park (Barnegat Light, 609-494-2016).
Nightlife
With five bars, including the popular outdoor Tiki Bar nestled between the private beach and pool, Sea Shell Resort and Beach Club (10 S. Atlantic Ave., 609-492-4611) is known as the only "true" indoor/outdoor club on the island. For convenience and peace of mind, Nardi's Tavern (11801 Long Beach Blvd., 609-492-9538) offers a courtesy bus ride to and from the establishment from 9 p.m. to closing.
Breakfast
A visit to LBI isn't complete without a trip to the Chicken or the Egg; excuse us—Chegg (207 N. Bay Ave., 609-492-3695), as it's known to the locals. Wake up to a Florentine omelet or a burrito gordito (scrambled eggs, onion, pepper, chorizo sausage and jack cheese wrapped in a flour tortilla). For a unique spin on a traditional breakfast, try the Cyclops—a fried egg within a pancake—at Mustache Bill's Diner (Broadway & 8th St., 609-494-0155). Morning favorites like farmers omelets, garden skillets, and five different varieties of eggs benny on an especially expansive menu also make Scojo's Restaurant (307 N. Long Beach Blvd., 609-494-8661) a top pick.
Happy Hour
Enjoy specials all week long at Daddy-O's Hotel (4401 Long Beach Blvd., 609-494-1300) from 4 to 7 p.m., including $3.50 domestic beer and house wines, $5.50 selected cocktails, and an award-winning small plates menu (like fig and proscuitto flatbread and sesame-crusted calamari) starting at just $6.
Shopping
Have a variety of items on your shopping list? Try the 12 unique shops at Viking Village (19th St. & Bayview Ave., 609-494-0113). Founded in the 1920s by Norwegian fishermen, the quaint, converted buildings along the Barnegat Light docks offer a history lesson along with a little retail therapy. There's also Bay Village (9th and Bay Ave., 609-492-2800), with 20 shops—including apparel store Breezin' Up or the kids' favorite Toy Dayz—that have you covered from beach gear to peanut butter fudge to art.
MARGATE/VENTNOR
What's New
Salt Ayre Bistro (7309 Ventnor Ave., Ventnor City, 609-428-6952), the latest establishment by the LoBianco family (of the aptly named LoBianco in Margate), opened its doors earlier this year. The restaurant serves up fresh local produce in its entrees, such as the roasted, wild Scottish salmon served over scalloped herb potatoes and sautéed spinach; but the small, 30-seat storefront is already known for its raw oysters on the half shell and daily specials. The Downbeach area has plenty of towel space for you to relax, but now you can enjoy it for free on Thursdays only; no beach tags are needed during "Thrilling Thursdays," a promo sponsored by the Margate Business Association. Ventnor's beaches just had 350,000 cubic yards of sand dumped on them prior to Memorial Day, as part of an ongoing, $18 million beach revitalization.
Ice Cream
Recently re-opened under new ownership, Custard's Last Stand (107 N. Dorset Ave., Ventnor City, 609-823-4033) offers the perfect spot for a sweet treat on the way back from the beach. Caution: This place is known for its extra-large serving sizes. Margate Dairy Bar (9510 Ventnor Ave., Margate, 609-822-9559) is an experience not to be missed. Belly up to the counter and order anything off the extensive menu, from funnel cake fries to swirled soft ice cream to refreshing water ice … if you can brave the lines, that is.
Pizza
Luigi's Pizza Fresca (9414 Ventnor Ave., Margate, 609-822-0575) is an upscale pizzeria toting quite a few awards; and based on their specialty pies, like the one topped with spaghetti, we believe they are well deserved. For an authentic mozzarella pizza or a calzone large enough to feed you for days, visit community staple Jo Jo's Pizzeria (6501 Ventnor Ave., Ventnor, (609) 822-6475).
Casual Eats
The BYOB Yama Japanese Rest­aurant (5305 At­lantic Ave., Vent­nor, 609-822-8007) has indoor/outdoor seating, and some of the most amazing sushi we've ever tasted. Crowd favorites are the sushi pizza, Godzilla roll and ramune soda (Japanese soda bottled and sealed with a marble). Jun­ior's Donuts & Dogs (9315 Amherst Ave, Margate, 609-823-8790) serves fresh glazed donuts and hot dogs heaped with your choice of free toppings.
Breakfast
Annette's Restaurant (104 N. Dorset Ave.,Ventnor, 609-822-8366) is where you can find a traditional breakfast in a charming atmosphere where everyone knows each other by name, and the owner herself waits tables. Try the French toast dipped in pecans, brown sugar and cinnamon. Johnny's Café (9407 Ventnor Ave., Margate, 609-822-1789) is open year round, seven days a week—which is perfect when you're craving their banana bread French toast, topped with bananas and walnuts, or a fresh lox and onion omelet.
Happy Hour
For fresh seafood and inventive sushi beyond the ubiquitous California roll, Tomatoes Restaurant (9300 Amherst Ave., (609) 822-7535) is it. But their Happy Hour is where you can find half-price appetizers (like crisp calamari or lollipop chicken) from 6:30 p.m. to 9 p.m. every day, along with $6.50 martinis, $5.50 well drinks, $6 house wines and a dollar off all domestic beers. If you're up for a late-night bite on Wednesdays, the "Rock and Roll Sushi" promo gets you half off all sushi from 9 p.m. to midnight.
Nightlife
Save your energy for dancing all night at Memories Lounge (9518 Amherst Ave., Margate, 609-823-2196), known for a soundtrack of oldies hits led by "The Geator with The Heater," Jerry Blavat. One of the most popular nightlife spots, Ventura's Greenhouse (106 S. Benson Ave., Margate, 609-822-0140) offers plenty of indoor and outdoor options for mingling singles, like the Tiki Bar where you can grab a frozen drink or the semi-enclosed Sun Deck with a more relaxed atmosphere.
Shopping
Forgot your suit? Cameo Water Wear (9319 Ventnor Ave., Margate, 609- 822-5230) has upscale pool-side fashions, bikinis and cover-ups. Knit Wit (8001 Ventnor Ave., Margate, 609-822-9442), sells designer and European fashions and accessories. For gifts and souvenirs, The Paper Chase (8000 Ventnor Ave., Margate, 609-822-4583) has shell motif dishes and beachcomber-chic décor to fully outfit your stylish beach house. MariElena of Margate (9313 Ventor Ave., Margate, 609-822-4087), owned by Marie Gallagher, has a collection of classic designer looks for mature clientele, mixed in with trendy pieces, too.
OCEAN CITY
What's New
On the Boardwalk, teens can get their kicks at Gillian's Wonderland Pier, which has added The Thrill Zone!, with more attractions geared toward kids ages 13 and up (6th and Boardwalk, 609-399-7082), while two new mini-golf courses—Gillian's Glow-in-the-Dark Mini-Golf (6th and Boardwalk, 609-399-7082) and Haunted Golf (12th and Boardwalk)—have pushed the number of courses by the beach to 14. Dig into "great steaks and delicious shakes" at Uncle Joonie's Steak Shop (955 Asbury Ave., 609-399-3333).
Or stop in for frozen yogurt, fresh coffee or coconut water at the newly opened Yoasis: Your Yogurt Paradise (838 Asbury Ave., 609-525-2100), brought to life by a 2005 Ocean City High School grad. Happy Days Café (960 Asbury Ave., 609-398-1039), a festive '50s-style eatery and ice creamery, will be serving up old-fashioned comfort foods—burgers and fries, waffles and ice cream and 22-ounce milkshakes—amid memorabilia of Elvis Presley and James Dean with plenty of pink neon to boot. Over in Somers Point, Presto will serve up nothing but gnocchi dishes while Latz's by the Bay (801 Bay Ave., 609-788-8838) will offer sustainable seafood creations.
Breakfast
Locals and anointed visitors alike swear by Ready's Coffee Shop (415 E. Eighth St., 609-399-4418). Don't expect anything too fancy, just a solid lineup of breakfast classics—omelets, pancakes, onion-specked hash browns—served in a way that conjures the term "throwback" in the best way possible. The Varsity Inn (605 E. 8th St., 609-399-1500) serves up a bottomless cup of coffee and A-plus a.m. delights—the omelet specials and five-star French toast, for example—sure to satisfy any appetite. At the unassuming Browns (110 Boardwalk, 609-391-0677), the freshly made, still-warm doughnuts—plain, cinnamon sugar, powdered and three kinds of glazed (chocolate, vanilla and honey)—are famous for a reason.
Ice Cream
It may be a few steps removed from the bustle of the Boardwalk or the allure of the sun-kissed beach, but A La Mode Ice Cream Parlor (301 E. 55th St., 609-398-2207) packs a punch with its creamy, vibrantly flavored varieties of ice cream and the perfect accompaniment of homemade waffles. At Kessel's Korner (2760 Asbury Ave., 609-398-1170), the hand-dipped cones, many-flavored sundaes, and famously thick milkshakes will brighten anyone's day.
Pizza
Pie lovers will happily wait for a taste of Manco & Manco (three Boardwalk locations at 8th, 9th and 12th), nee Mack & Manco. Whether you're enjoying a few slices from a vinyl-cushioned perch at the nostalgia-inducing counter or escorting a whole pie back to the safety of your beach blanket, this OC institution serves up an addictively consistent combination of dough, sauce and cheese that's always more than worth the wait. At Preps Pizzeria and Dairy Bar (1004 Boardwalk, 609-398-0636), tuck into a hefty slice laden with Philly cheesesteak toppings or blue-cheese-drizzled Buffalo chicken. For something a little smokier, head to Randazzo's (34th and Asbury Ave., 609-814-1600) for a serious slice of wood-fired brick-oven goodness.
Fun & Games
Sink a putt amid replicas of sunken ships at Pirate Island Golf (112 9th St., 609-398-9938), brought to you by the mind of Ocean City's favorite swashbuckling son, Pat Croce, or learn how to ply OC's finest waves with surf lessons from 7th Street Surf Shop (720 Asbury Ave., 609-398-7070). The Music Pier (801 Boardwalk, 609-525-9300) is proof that fun on the boards isn't limited to kids alone. The pier's season gets underway in style on June 24, with Grammy-winner Debby Boone opening for the Ocean City Pops Orchestra, followed by the Bacon Brothers (July 9), Arlo Guthrie (July 15) and Little Feat (Aug. 20).
Health & Beauty
Looking for more from your gym than the standard offering of dumbbells, treadmills and stationary bikes? Get in beach-body shape at Exodus Integrated Wellness (623 Bay Ave., 609-399-0595), a nurturing fitness studio designed to help you achieve all your personal fitness goals. After the sweat has dried, head to A Bella Salon and Spa (9th and Wesley Ave., 609-399-6999) for a facial, hot-stone massage or any other form of pampering your body craves.
Happy Hour
Head off the island to Obadiah's (301 Roosevelt Blvd., Mamora, 609-390-3574) for a generous weekday happy hour from 4 to 6 p.m., featuring $3 domestic pints, $5 frozen cocktails and a copious offering of bar-food specials for less than $5. On Thursdays starting at 4 p.m., The Crab Trap (2 Broadway, Somers Point, 609-927-7377) offers half-priced appetizers—clams casino, lobster puffs and other gifts from the sea—to pair with a Stella, Sam Adams or Guinness on draught. On Mondays, Thursdays and Fridays, land at the Deauville Inn (201 Willard Road, Strathmere, 609-263-2080) on the bay for $5 apps and a raft of drink specials.
Shopping
Whether you prefer your clothes to be vintage or ultra-modern, enhance your style at Colette (900 Asbury Ave., 609-525-0911), a unique women's boutique whose space is as distinctive as the apparel it sells. In Somers Point, you'll find the flagship Bernie Robbins Fine Jewelers location (507 New Road, Somers Point, 609-927-4848), where you'll find the latest baubles from the likes of Marco Bicego, Ippolita, David Yurman and Ivanka Trump.
Casual Eats
Its exterior an oversized, gaudily pink rendering of an Italian hacienda, The Chatterbox (500 9th St., 609-399-0113) offers an array of gut-busting burgers, sandwiches and homemade soups such as the signature Chatterbox Clam Chowder. For the likes of fresh-caught fish, clams aplenty and salty atmosphere to match, there's no better place than Smith's Clam Bar (910 Bay Ave., Somers Point, 609-927-8783); elegant it's not, but it's no coincidence why this spot consistently reels in the masses. At Jon & Patty's Coffee Bar and Bistro (637 Asbury Ave., 609-399-3377), enjoy an eclectic spin on Shore food, with crowd pleasers such as the fish tacos or Portobello brie quesadillas.
Nightlife
Whether you prefer live jazz or the DJ-powered pulse of dance music, find your groove at BAIA Restaurant (998 Bay Ave., Somers Point, 609-926-9611). Start the week off right here with Reggae Sunday, featuring Marley-esque tunes from its be-happy house band on the outdoor deck. At Caroline's By the Bay (Bay Avenue and Longport Boulevard, Somers Point, 609-927-9007), the plus-sized outdoor deck is perfect for taking in the simple pleasures of an ocean breeze and a cold beer, or head inside to enjoy live music and moving beneath the bright lights.
SEA ISLE CITY
What's New
The town has seen plenty of renovations and business openings since last season, including a revamped Beach Patrol (4416 Landis Ave., 609-263-2466) headquarters; the Welcome Center (JFK Boulevard and Park Road) opening this month near the Promenade, dishing out visitor info and beach tags; and the new Sea Isle City Library (4800 Central Ave., 609-263-7301) where you can pick up a beach read or view the sunset from one of two outdoor overlooks. Cooking demonstrations, teen game nights and events throughout the summer can help get through a rainy day. The popular Ocean Drive will unveil a new outside restaurant and bar called The Ocean Drive Sandbar & Grill (40th and Landis Ave., 609-263-1000), featuring a casual menu created by the team at O'Donnell's Pour House.
Ice Cream
Look to the blue and white striped awning at Marita's Homemade Ice Cream (60th and Landis Ave., 609-263-6800) to steer you to hand-dipped cones and creamy hand-whipped treats just a few blocks from the beach. Try the cherry vanilla ice cream or an Italian soda. Yum Yums Ice Cream Parlor (31 John F. Kennedy Blvd., 609-263-2345) is open late so you've got time to play. Indulge in specialty sundaes like the Hawaii 5-0, with vanilla ice cream, marshmallow and pine­apple toppings; or the Mud Pie with coffee ice cream, hot fudge, crushed Oreos, whipped cream and a cherry on top.
Happy Hour
The Ocean Drive (40th and Landis Ave., 609-263-1000), known to locals simply as The OD, features different specials all week—like $3 Thursdays with no cover charge and a selection of beers, Red Bull drinks or Three Olive vodka cocktails for just $3. Hot spot lounge and deck bar La Costa's (4000 Landis Ave., 609-263-3756) hefty list of specials include $5 frozen drinks starting at 11 a.m. on Monday and Tuesdays, $.25 cent wings all day on Thursdays, and $1.50 hot dogs during all Phillies games.
Casual Eats
Several new eateries have arrived to shake things up this season. Newly opened Taco Shells By The Sea (5006 Landis Ave., 609-263-1223) is dishing out burritos, tacos and other Tex-Mex fare detailed on the giant chalkboard wall, including breakfast burritos with eggs, cheese and chorizo; Hank Sauce (8605 Landis Ave., 609-486-5132) sells their own unique pepper hot sauce, plus customizable tacos, burritos or Puerto Rican pinchos with chicken, pork, beef, shrimp or mahi; for a fruity start to the day, check out Baja Blend (9 42nd St., 609-263-2252), which features fresh fruit smoothies and a tropical-inspired menu. Longtime fixture Braca Café (Kennedy Blvd. & Beach, 609-263-5411) serves rustic fare and generous pastas, while at Sunset Pier Restaurant (86th St. and Bay, 609-263-5200) you'll feast on fresh and fried seafood with a gorgeous open-air view of the bay.
Nightlife
When you're past the age where college crowds are fun, the two-story Dead Dog Saloon (3815 Lan­dis Ave., 609-263-7600) is the place for solid bar food, live entertainment and a rotating list of seasonal draft beers. Catch Quizzo nights, live entertainment and fancy martinis at Kix McNutley's (63rd & Landis, 609-263-7286), catering to the over-30 crowd with three uni­que places to hang out with friends; the main Kix bar, where "happy hour" runs from 10 a.m. to 8 p.m., a summer-only outdoor space, or the more refined Side Kix bar where you can drink in peace.
Pizza
Baked to a golden perfection, the brick oven pizza at DeNunzio's Brick Oven Pizza & Grille (36th St. and the Boardwalk,609-263-2600) is served best when it's simple, with fresh Jersey tomatoes, a light brushing of garlicky olive oil, and a mozzarella blend. But they're also a great spot for specialty pies (like BBQ chicken or taco pizza), calzones and gelato.
Breakfast
For more than 30 years, Shoregoers and locals have turned to Dock Mike's Pancake House (4615 Landis Ave., Sea Isle City, 609-263-3625) for brunch that can please any palate. Sooth your stomach from last night's festivities with a plate of apple strudel pancakes with hot apples, raisins and pecans, or golden brown Belgian waffles topped with fruit. Or, really, any of their hearty breakfasts served all day.
Shopping
Heritage Surf Shop (3700 Landis Ave., 609-263-3033) is the spot for hand-shaped surfboards, wetsuits and shirts, and even private or group surfing lessons. This year, they're selling 50-year limited edition boards, with retro details that'll take you back to the good ol' days. New boutique Approach Clothing (6300 Landis Ave., Unit 1, 856-261-1440) sells the type of sun-softened tees, sweats and accessories that make us want to wear them year-round. Fashionistas should check out White Lotus Boutique (23 38th St., 609-287-7217), opening this Memorial Day Weekend, for unique jewelry, trendy fashions and girly accessories.
Health & Beauty
Protect your locks from damage before relaxing on the beach, with an Awapuhi keratriplex treatment at Elements Salon and Spa (4315 Landis Ave., 609-263-1161), or treat yourself to a sea salt scrub or platinum massage. Don't miss NJ Beach Yoga, with visitor-friendly classes on Mondays, Wednesdays and Fridays with instructor Teri O'Connor (JFK Blvd. and the Beach, 609-602-3398), where you'll sink into savasana with the sound of gentle waves along the shore.
Fun & Games
No trip would be complete without plunking down a few quarters for skeeball or racing down a slide on potato sacks. Fun Town Arcade (63rd and Landis Ave., 609-263-9676) has all the classic games plus a few new ones. This year at Gillian's Funland of Sea Isle City (304 JFK Blvd., 609-263-1363), you can delight in amusement park classics like the carousel or giant slide, or send the kiddies on this season's brand new wacky worm roller coaster or demolition derby cars.
STONE HARBOR
Ice Cream
Few things are as synonymous with Stone Habor as Springer's (9420 Third Ave., 609-368-4631), where flavors with snappy names like "Emotionally Nuts" and "Prohibition Tradition" are homemade and have been attracting crowds every summer. If you've never been here, it needs to be on your Jersey Shore bucket list.
What's New
Construction has begun on Shelter Haven Resort on the corner of 96th Street and Third Avenue. The upscale boutique hotel with waterfront dining hopes to boost downtown business with plans for a spa and shops to follow. Completion of the hotel is expected to be summer in 2013. Spiaggia Seafood Trattoria (9800 Third Ave.) has replaced Sole, while Sweet Nectar Cupcakery (9821 Third Ave.) and frozen yogurt spot Bonnie's Toppings (9500 Second Ave.) have brought new desserts to town. New women's boutiques in town include Gingy's (9823 Third Ave., 609-961-3057) and Coco Blu (9508 Third Ave.).
Happy Hour
At Carney's (9628 Third Ave., 609-796-5137), the party runs seven days a week with $5 margaritas, $5 sangria, $1 off all beer and $1 oysters from 4 to 7 p.m. Stick around after for a heavy lineup of live entertainment. Over at the Stone Harbor Bar and Grill (261 96th St., 609-368-8800), wings are just $.25 on Thursdays from 5 p.m. to closing, and guests can indulge in discounted drink specials and the new thin-crust pizzas the rest of the week.
Shopping
You'll find everything from Toms to Uggs at Global Pursuit (262 96th St., 609-368-5556), which also carries all the Philadelphia sports team gear you need for the summ­er. Skirt (272 96th St., 609-948-4912) offers the latest from well-heeled designers like Diane von Furstenberg and Alice and Olivia, while Free Shop (266 96th St., 609-368-5874) carries names like J Brand and Cynthia Vincent. If your walls are a little bare, Ocean Galleries (9618 Third Ave., 609-368-7777) has fine art with the frames to match. The Wayward Garden­er (9712 Third Ave., 609-368-2010) has the goods to accent both your landscaping and your home.
Casual Eats
Some may be familiar with Back Bay Seafood's outpost in Westmont, but the Stone Harbor location (8305 Third Ave., 609-368-2022) is the original and a summer attraction for the jumbo lump crab cakes that don't pack any filler, but will certainly fill you up. Speaking of seafood, Quahog's (206 97th St., 609-368-6300) is the spot for cornmeal-crusted calamari, but they also serve up traditional Mexican fare by way of grilled lobster tacos at the adjacent Taco Shop. If you are worried about fitting into that swimsuit, the salad and sandwich offerings at Green Cuisine (302 96th St., 609-368-1616) are satisfying without being overwhelming.
Health & Beauty
If you're looking to maintain that beach body, Shape Wellness Studios (9407 Second Ave., 609-368-6900) offers personal training and nutrition guidance, along with a slew of classes from yoga and pilates to Zumba and TRX training. After you work up a sweat, unwind at Salon Elite (359 96th St., 609-368-6431), a one-stop shop for hair, nails, facials and more.
Breakfast
Marabella's (9426 Third Ave., 609-368-5037) is not just an appetizing Italian spot for lunch and dinner, they make a mean breakfast, too. The omelettes are stellar, but don't miss the frittata of the day or the homemade cream chipped beef. For those on the go, the scones, sticky buns and more at the Bread and Cheese Cupboard (246 96th St., ­­609-368-1135) do just the trick.
Fun and Games
The little ones in your group will love creating their own art at Island Studios (261 96th St., 609-368-6500), where everything from pottery to mosaics get a personalized touch. Not only can you get outfitted at Wetsuit World (9716 Third Ave., 609-368-1500), but you can rent a surfboard and get a tutorial on how to hang ten.
WILDWOOD
What's New
The Cattle 'n Clover (3817 Pacific Ave., 609-522-3800) is being billed as a steakhouse with Irish flair. Meanwhile, Italian spot Gia (Garfield and Pacific avenues, 609-729-5959) has moved into a former nightclub space and tripled its seating capacity and is no longer a BYOB. North Wildwood welcomes North End American Grill (Chestnut and Olde New Jersey avenues, 609-435-5691). The Morey group is in the process of building the Grand Wildwoodian, a six-story, $10 million doo-wop inspired hotel with a 124-seat restaurant. Check for a series of events through the summer marking the town's centennial celebration.
Ice Cream
Dreamsicles (405 E. 10th Ave., 609-522-5631) may open at 5 p.m., but you'll find crowds lingering well into the evening for a taste of the inventive sundaes and our favorite: the Dreamsicle shake with orange and vanilla ice cream. Cool Scoops' retro ice cream parlor is the perfect environment to spoon the kryptonite sundae—mint chocolate chip and pistachio ice cream, hot fudge, whipped cream, green jimmies, topped with a green cherry. (1111 New Jersey Ave., 609-729-2665)
Fun & Games
Morey's Piers (3501 Boardwalk, 609-522-3900) made $6 million in improvements at Raging Waters and Ocean Oasis this offseason. Gone is the lazy river and in its place comes River Adventure, a collection of several geysers and waterfalls. At Ocean Oasis, Wipeout! is a six-lane racing slide that pits visitors in head-first, head-to-head competition. Fans of the Sea Dragon may notice the ride has gotten a facelift and is now known as Rip Tide. Mini-golf gets the black light treatment at Dragon's Lair (3616 Boardwalk, 609-522-0474), an indoor experience that mimics an ancient castle.
Casual Eats
Maui's Dog House (8th and New Jersey Ave., 609-846-0444) serves up franks with names like The Cardiac and Cheesy Drunk Horse … in a dog bowl. Embrace the gimmickry because the payoff is a unique hot dog that will outshine any backyard barbecue, all for $5 or less. Just ask the Food Network's Guy Fieri.
Nightlife
A mix of live music and DJ entertainment keeps the dance floor packed at Flip Flopz Beach Bar and Grill (300 New Jersey Ave., 609-522-3350) and nearby Westy's Irish Pub (101 E. Walnut Ave., 609-522-4991). The Casba Comedy Club regularly welcomes notables like Dom Irrera and Jim Florentine (3810 Atlantic Ave., 609-522-8444).
Shopping
If beach gear is what you desire, there's no better place to find everything from swimsuits to sandals than at Kona Surf and Sport in Wildwood Crest (103 E. Rio Grande Ave., 609-522-7899). In North Wildwood, women head to Shore Couture (610 New Jersey Ave., 609-729-2113) for casual, yet classy finds.
Happy Hour
The largest craft beer selection (along with the everyday domestics) on the island can be found at Goodnight Irene's (2708 Pacific Ave., 609-729-3861) where featured drafts, including those from nearby Cape May Brewery, are discounted at happy hour along with a reduced appetizer menu. The wood-fired pizzas topped with everything from crabmeat to chopped ribeye steak can be had for $7.
Pizza
This season will mark Sam's Pizza Palace's 55th year serving perfect thin-crust slices along the Boardwalk. Don't expect gourmet offerings here, just straightforward, quality pies that have loyal pizza fanatics lining up two rows deep to claim victory over a certain spot in Ocean City. (2600 Boardwalk, 609-522-6017)
Breakfast
Samuel's Pancake House (17th and Surf avenues, 609-522-6446) cooks up stellar French toast, waffles and crepes, but come for the "perfect pancakes" in flavors like carrot cake, pineapple/coconut and apple cinnamon sauce. Juan Pablo's (3801 Pacific Ave., 609- 729-6500) is a great place to grab a margarita after a hot day on the sand, but their Latin-flavored breakfast specialties like the huevos rancheros are a standout.
READER'S LIST
Amusement Rides: Gillians, Ocean City
Waterpark: Ocean Oasis, Wildwood
Miniature Golf: Pirate Island Golf, Ocean City
Boardwalk: Ocean City
Fudge: Laura's Fudge Shop, multiple locations
Ice Cream: Custard's Last Stand, Ventnor
Bed & Breakfast: The Doctor's Inn, Cape May
Lifeguards: Ocean City
Shopping District: Asbury Avenue, Ocean City
Bar Scene: Avalon
Pizza: Manco & Manco, Ocean City
Seafood: Quahog's Seafood Shack, Stone Harbor
Waterview Dining: Doc's Place, Somers Point
Italian: Domenico's, Ventnor
French Fries: Chickie's and Pete's, Ocean City
Breakfast: Jayson's Pancake House, Long Beach Island
Published (and copyrighted) in South Jersey Magazine, Volume 9, Issue 3 (June, 2012).
For more info on South Jersey Magazine, click here.
To subscribe to South Jersey Magazine, click here.
To advertise in South Jersey Magazine, click here.