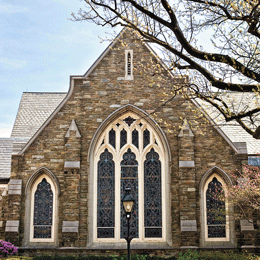 Top Towns 2012
For many across South Jersey, civic pride is a big thing and the old saying "There's no place like home" rings plenty true. So it's no surprise that our annual Top Towns rankings are something we hear about from readers and local officials throughout the year. Months ago our phones began ringing with area mayors and the like wondering when we would publish 2012's results, eager for us to divulge who sits where. Well, the time has arrived to put a spotlight on why South Jersey is an ideal place to live, work and play.
You'll see many familiar names on this list, along with some newcomers. Perhaps, the most noticeable change is the fact that for the first time in recent years, Haddonfield has slipped from the top spot, with Medford sliding into the No. 1 position. Now, Medford's struggles are no secret; in fact, we've recently documented some of the major issues with the township's municipal government. However, that doesn't take away from the overall quality of life—property values remain high, crime remains low, and the local school system is flourishing.
For the third year in a row, we have worked with Niranjan Pati, dean of the Rohrer College of Business at Rowan University. Utilizing the statistical method known as the analytic hierarchy process, assigning weights relative to each criterion by completing pair-wise comparison and keeping things in check with index and ratio calculations that ascertain consistency, Pati spent months studying all the data.
That data, gleaned from 2011 figures, included average residential property value, low residential taxes per average residential value, crime incidents reported per 1,000 people, and high school performance (SAT scores, proportion of college-bound graduates, and the rate at which students passed the statewide proficiency test), in addition to new criterion such as the number of physicians in the area as well as recreational offerings. The rankings were split between towns with populations of more than 8,000 and those with fewer than 8,000 residents.
The results not only led us to a new No. 1, but produced shakeups throughout the list. Cherry Hill, not ranked in 2011, catapulted to No. 6. Glassboro, a town undergoing a bit of a resurgence, thanks to Rowan's expansion, made their debut at No. 21. Meanwhile, West Deptford, also new to the list this year, jumped all the way to No. 3. All told, of the 25 towns, 13 are in Burlington County, seven in Gloucester and five in Camden counties. While this is just one example of how to calculate this data, we can assure you that the results are unbiased and should be used as a guide for readers to delve deeper into the numbers. Read on to see where your hometown ranks and check out our spotlight on this year's Top 10.
(No.1) MEDFORD
After spending three years at No. 4, this affluent yet quaint suburb has jumped to the coveted top spot, and with plenty of reason. Medford is known as a community that's close to everything yet far from it all: the city and Shore are both within a 45-minute drive, yet the neighborhoods nestled in the Pine Barrens give residents a quiet break. With a competitive school system and sports programs, sprawling parks and even a canoe trail, Medford is often ranked as one of the best towns in the region to raise a family.
2011 rank: 4
Average residential value: $200,827
Average residential taxes: $8,977
Commute to Philly: 35 minutes
Fun fact:
The JCC Camps at Medford, which includes a lake, several pools, a petting zoo and more, is the largest Jewish day camp in all of North America.
Retail therapy:
There are shops and boutiques throughout the township, but it's downtown Main Street that attracts antique lovers from across the region, with vintage jewelry from the '20s at The Way We Were; an eclectic mix of antiques and handmade items at the Medford Company Store co-op; and plenty more along this colonial-era destination.
Sites to see:
Kirby's Mill (pictured), a grist mill from the 1700s—which was also the last operating mill in the state—is on the National Register of Historic Places. Stop by for the annual Apple Festival in the fall, the perfect time to witness first-hand the way life used to be in this working town.
What's Cooking:
Braddock's, named after one of the original families that settled here, offers fine dining—paired with cooking classes and wine tastings—in a beautifully preserved atmosphere; while nearby Cafe Rouge serves up casual plates in a quaint setting. The Italian fare at Iliano Cucina Mediterranea is sophisticated and satisfying.
Neighbors to Know:
The range is broad: anyone from sports icons including Mitch Williams, Greg Luzinski and Carl Lewis to R&B singer Dee Dee Sharp of "Mashed Potato Time" fame.
(No.2) HADDONFIELD
Consistently ranked atop our list, this well-heeled community seemingly has everything, from a nationally recognized school system to a walkable downtown area full of boutique shops and notable restaurants. A rich history that dates back to 1682 (did you know that New Jersey transitioned from a colony to a state at the Indian King Tavern?), Haddonfield is also a hit with the younger set who enjoy the suburban life along with close proximity to Philadelphia.
2011 rank: 1
Average residential value: $491,965
Average residential taxes: $12,641
Commute to Philly: 20 minutes
Fun fact:
The town served as the inspiration for the fictional Haddonfield, Illinois in the horror film Halloween.
Retail therapy:
Haddonfield's main drag along Kings Highway is full of unique boutiques and specialty shops like the English Gardener Gift Shop and The Summit Sampler.
What's Cooking:
Eating out in Haddonfield offers tastes from around the globe whether it's the standout Japanese dish at Fuji, the Italian specialties at Da Soli and Tre Famiglia, or Indian delights at Cross Culture.
Neighbors to Know:
Phillies manager Charlie Manuel and Flyer Chris Pronger call Haddonfield home.
(No.3) WEST DEPTFORD
Though ranked last year as one of the top towns in Gloucester County, this suburb didn't actually appear on the top 25 list for the whole tri-county area, making this year's No. 3 debut especially impressive. The low property taxes are one of the main attributes here, thanks in part to the large companies that call West Deptford home, such as NuStar Energy. Combine that with balanced neighborhood growth, a strong recreation program, and family-friendly events throughout the year, and you see why West Deptford is starting to get noticed.
2011 rank: Not on the list
Average residential value: $208,271
Average residential taxes: $4,988
Commute to Philly: 23 minutes
Fun fact:
Soupy Island, a park founded in 1876 as a site for cholera-stricken children to escape the city for the day, is still a very active and beloved site in West Deptford's Red Bank section, with a new playground and basketball courts opened in recent years. Originally known as the Sanitarium Association of Philadelphia, it was renamed when it became known for providing soup during the Great Depression.
Tee Time:
Voted one of the best golf courses in the state by Golf Week, the RiverWinds Golf and Tennis Club is a Ron Jaworski-owned 18-hole championship course offering views of the Delaware River.
What's Cooking:
After a round or two, enjoy the fine dining and extensive wine list at the RiverWinds Restaurant; or for those on the go, stop by In a Pickle, a gourmet delicatessen with low-cal and vegetarian specialties.
(No.4) HADDON TOWNSHIP
Haddon Township skyrocketed 20 spots on this year's list thanks to the ongoing emergence of the Westmont area, where a respectable dining scene and a thriving arts community have found a home.
2011 rank: 24
Average residential value: $223,106
Average residential taxes: $6,791
Commute to Philly: 20 minutes
The Arts:
Community theater is alive and well at The Ritz while the newly formed SoHa Arts District has given a place for aspiring local artists of all ages a place to call home.
What's Cooking:
Pasta lovers flock to Severino for homemade creations like roasted chicken and gouda ravioli while nearby Treno blisters pizzas to perfection in their wood-burning oven. Just down the block, The Pour House complements their menu with a bevy of craft beers.
(No.5) MOORESTOWN
When the township OK'd a referendum last year to allow the sale of liquor at the Moorestown Mall, some feared that the dry town would lose some of its charming innocence. The fact is, it remains one of the best places to live in the country—not just South Jersey. Just ask anyone who lives there.
2011 rank: 5
Average residential value: $533,764
Average residential taxes: $10,364
Commute to Philly: 25 minutes
Retail therapy:
Sure, there's always the mall, but Main Street is the place to find custom footwear at Carl's Shoes, savory desserts courtesy of The Pie Lady, and eye-catching accessories at La Di Da.
What's Cooking:
Mouthwatering spots include Al Dente Italiana and Megu Sushi's sister location.
Neighbors to Know:
Philadelphia Eagle DeSean Jackson catches sleep here as well as CBS 3 meteorologist Kathy Orr.
(No.6) CHERRY HILL
Surprisingly, the township didn't make our Top 25 Towns last year, but they make a rightful return in 2012. One of the larger communities in South Jersey, it's also one of the most diverse, featuring highly developed areas as well as working farmland.
2011 rank: Not on the list
Average residential value: $138,467
Average residential taxes: $7,969
Commute to Philly: 17 minutes
Sites to See:
The 80-acre historic Croft Farm, once a stop on the Underground Railroad, is now a performing arts center; The Garden State Discovery Museum blends learning with fun for little ones; the Goodwin Holocaust Museum and Education Center is the only permanent exhibit of its kind in the tri-state area; and Barclay Farmstead Museum is included in the National Register of Historic Places.
What's Cooking:
The Capital Grille has the food to match its upscale atmosphere; Dream Cuisine Café offers an escape to France without leaving Route 70; and Caffe Aldo Lamberti keeps diners hooked with some of the freshest seafood available.
Neighbors to Know:
The Invincible Vince Papale and political powerbroker George Norcross are some of the folks that call Cherry Hill home.
(No.7) VOORHEES
Voorhees has seen growth across the board in recent times. While its population continues to surge thanks in part to a popular "live where you work" incentive for homebuyers, the 11.6-square-mile township has seen Virtua expand its campus while the Voorhees Town Center brings a downtown vibe to the site of the former Echelon Mall.
2011 rank: 13
Average residential value: $335,928
Average residential taxes: $9,096
Commute to Philly: 25 minutes
What's Cooking:
Most of the memorable eateries in town pack plenty of ethnic flavor. Such is the case with the distinctive Asian plates at Chez Elena Wu and Ritz Seafood, the spicy dishes at Coriander Indian Bistro, the homespun Italian favorites at Ristorante Fieni's, and authentic Afghan cuisine at Ariana.
Neighbors to Know:
Several members of the Philadelphia Flyers rest here, including coach Peter Laviolette, as does Assembly Majority Leader Louis Greenwald.
(No.8) WOOLWICH
One stop by sprawling Locke Avenue Park, where the distinct crack of a bat hitting a pitch and parents cheering on their young stars can be heard on nearly any day this time of year, and it's plain to see this is a family-centered town. Known as the fastest-growing municipality in all of New Jersey—from 3,032 residents in 2000 to more than 10,000 today—this township has seen its struggles as it deals with the rapid growth. However, with an aggressive master plan and mission to attract commercial development along Route 322, its leaders are determined to make it more than just a bedroom community.
2011 rank: 7
Average residential value: $177,749
Average residential taxes: $8,903
Commute to Philly: 34 minutes
Get Out:
Where else can you find an annual festival dedicated to two of South Jersey's biggest agricultural assets: the tomato and wine. It may seem like an odd pairing, but the Tomato and Wine Festival shows off the rich agricultural heritage of Woolwich, while also celebrating the growing popularity of the region's wineries.
What's Cooking:
Keep an eye out for these latest additions to the Weatherby Town Center: A'Pizze Tuscan Grill—a BYOB from the owner of Toscana in Mullica Hill, which just opened; and YoGo Factory, the latest craze in frozen yogurt.
Neighbors to Know:
The Phillies' Jimmy Rollins has a home—and even a backyard batting cage—here. It's also the home of Adam Taliaferro, the Penn State football player who recovered from paralysis, started his namesake foundation, and is now a Gloucester County freeholder.
(No.9) MOUNT LAUREL
Mount Laurel is close enough to the city to be considered part of the Philadelphia Convention Center's hotel system—it actually has the third-highest amount of hotels in the state behind Atlantic City and Newark—yet it has a unique balance of suburban development, commercial corridors and open space. How many towns are known for their technology-sector businesses on one end, and for their open space and municipal-owned nature and animal rehabilitation center (Paws Farm) on the other?
2011 rank: 14
Average residential value: $142,019
Average residential taxes: $5,722
Commute to Philly: 27 minutes
Fun fact:
While there may not be any mountains here, you can check out the "mount" this township was named after at the intersection of Hainesport-Mount Laurel and Moorestown-Mount Laurel roads. The large hill is where William Evans, one of the earliest settlers, called home in the 1600s.
Sites to See:
Mount Laurel was home to Alice Paul, one of the leading suffragists and women's rights activists of the early 1900s. Her home, Paulsdale, is on the National Register of Historic Places and is open to the public for tours.
Retail therapy:
There's East Gate and Centerton Square shopping centers with all the big-box retailer favorites, but don't forget about Rancocas Woods, where you can find one-of-a-kind boutiques like Craft Coleidescope, Cran Beary Collectibles, and Daze of Old Gift Shoppe.
What's Cooking:
Plenty. Whether in the mood for ethnic cuisine at Monsoon Fine Indian Cuisine, traditional Italian eats at Carlucci's Waterfront, or a sweet treat at Gallo's Bakery, one doesn't have to travel far here.
Neighbors to Know:
This seems to be a popular place for Eagles players to retire: Mount Laurel is home to offensive tackle-turned politician Jon Runyan, Action News sports broadcaster Vai Sikahema, and former linebacker Jeremiah Trotter.
(No.10) MANSFIELD
This small township may have dropped a few places from its debut spot last year, but its population continues to rise—it has seen a 62 percent hike from 10 years prior. What continues to draw people to this quiet corner of Burlington County? The low taxes, especially compared with the rest of the county, and the recreational opportunities and rural escape provided to those commuting to Trenton and other nearby centers of business and commerce.
2011 rank: 6
Average residential value: $340,179
Average residential taxes: $6,547
Commute to Philly: 42 minutes
Fun fact:
Several notable residents have added to Mansfield's rich history, including Prince Lucien Murat, nephew of Napoleon Bonaparte.
Retail therapy:
Whether in the market for antiques or collectibles, jewelry or clothes, Amish furniture, quilts and more, the Columbus Farmers Market offers it all from Thursday to Sunday. Add in the popular Produce Row and Flower Row, along with a Lancaster Meats store, and you have one of the largest open-air markets on the East Coast.
Overall Rankings
1. Medford
2. Haddonfield
3. West Deptford
4. Haddon Township
5. Moorestown
6. Cherry Hill
7. Voorhees
8. Woolwich
9. Mount Laurel
10. Mansfield
11. Westampton
12. Harrison Township
13. Edgewater Park
14. Mantua
15. Southampton
16. East Greenwich
17. Mount Holly
18. Waterford
19. Burlington Township
20. Marlton
21. Glassboro
22. Florence
23. Delran
24. Cinnaminson
25. Pitman
Top 10 Small Towns
1. Swedesboro
2. Berlin
3. Springfield
4. Gibbsboro
5. National Park
6. North Hanover
7. Medford Lakes
8. Barrington
9. Chesterfield
10. Woodland

Top Burlington County Towns*
1. Medford
2. Moorestown
3. Mount Laurel
4. Mansfield
5. Westampton
6. Edgewater Park
7. Southampton
8. Mount Holly
9. Burlington Township
10. Cinnaminson

Top Camden County Towns*
1. Haddonfield
2. Haddon Township
3. Cherry Hill
4. Voorhees
5. Waterford
6. Merchantville
7. Gloucester Township
8. Bellmawr
9. Collingswood
10. Runnemede

Top Gloucester County Towns*
1. West Deptford
2. Woolwich
3. Harrison Township
4. Mantua
5. East Greenwich
6. Glassboro
7. Pitman
8. Washington Township
9. Clayton
10. Monroe Township
*Above rankings include only towns with population more than 8,000
Top Property Values (population over 8,000)
1. Moorestown
2. Haddonfield
3. Mansfield
4. Voorhees
5. Lumberton
6. Harrison Township
7. Bordentown Township
8. Cinnaminson
9. Marlton
10. Burlington Township
11. Westampton
12. Delran
13. Collingswood
14. Florence
15. Monroe Township
16. Haddon Township
17. Audubon
18. West Deptford
19. Maple Shade
20. Medford
21. Gloucester Township
22. Glassboro
23. Woolwich
24. Mount Holly
25. Bellmawr

Top Property Values (population under 8,000)
1. Chesterfield
2. South Harrison
3. Wenonah
4. Springfield
5. North Hanover
6. Washington Township (Burlington County)
7. Tabernacle
8. Riverton
9. Medford Lakes
10. Haddon Heights

Lowest Residential Taxes Per Average Residential Value (population over 8,000)
1. Mansfield
2. Moorestown
3. Westampton
4. Lumberton
5. Bordentown
6. Florence
7. Edgewater Park
8. Cinnaminson
9. West Deptford
10. Mount Holly
11. Burlington Township
12. Marlton
13. Maple Shade
14. Camden
15. Harrison Township
16. Haddonfield
17. Voorhees
18. Monroe Township
19. Delran
20. Audubon
21. Riverside
22. Collingswood
23. Gloucester Township
24. Haddon Township
25. Bellmawr

Lowest Residential Taxes Per Average Residential Value (population under 8,000)
1. Bass River Township
2. Woodland
3. North Hanover
4. Chesterfield
5. Delanco
6. South Harrison
7. New Hanover
8. Springfield
9. Tabernacle
10. Eastampton

Lowest Crime Incidence Per 1,000 People (population over 8,000)
1. Woolwich
2. Medford
3. Florence
4. Bordentown
5. Southampton
6. Mansfield
7. Harrison Township
8. Delran
9. Riverside
10. Marlton
11. East Greenwich
12. Mount Laurel
13. Pitman
14. Burlington Township
15. Clayton
16. Mantua
17. Waterford
18. Westampton
19. Edgewater Park
20. Pemberton
21. Franklin Township
22. Monroe Township
23. Maple Shade
24. Willingboro
25. Lumberton

Lowest Crime Incidence Per 1,000 People (population under 8,000) 1. Fieldsboro
2. New Hanover
3. Chesterfield
4. Swedesboro
5. Springfield
6. Shamong
7. South Harrison Township
8. North Hanover
9. Barrington
10. Tabernacle

Rankings by High School Performance (population over 8,000)
1. Haddonfield
2. Cherry Hill
3. Moorestown
4. Voorhees
5. Medford
6. Mount Laurel
7. Harrison Township
8. Mantua
9. Haddon Township
10. Southampton
11. Marlton
12. Washington Township
13. Mansfield
14. West Deptford
15. Cinnaminson
16. Woolwich
17. East Greenwich
18. Pitman
19. Mount Holly
20. Burlington Township
21. Waterford
22. Runnemede
23. Deptford
24. Delran
25. Woodbury

Rankings by High School Performance (population under 8,000)
1. Berlin
2. Gibbsboro
3. Medford Lakes
4. Shamong
5. Tabernacle
6. Woodland
7. Chesterfield
8. Springfield
9. Swedesboro
10. South Harrison Township
Published (and copyrighted) in South Jersey Magazine, Volume 9, Issue 2 (May, 2012).
For more info on South Jersey Magazine, click here.
To subscribe to South Jersey Magazine, click here.
To advertise in South Jersey Magazine, click here.