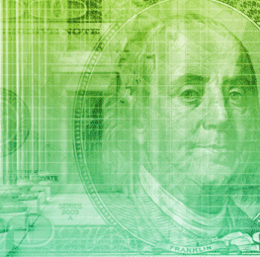 Financial Aid
Now, more than ever, wealth management is crucial. Let these specialists be your guide.
Beneficial Bank
Sharon Hammel
Q: What can parents and educators do to teach their children smart financial habits?
A: It's never too early to start teaching your kids smart financial habits. There are a number of tools and resources available that make financial lessons kid-friendly and fun. Two of our favorite resources are Mark St. Germain's Three Cups and Stuart J. Murphy's Less Than Zero children's books which illustrate the importance of spending smartly, saving, earning interest, borrowing and giving back. We encourage parents and teachers alike to spend time reading these types of books with their kids to instill wise money management skills.
Q: When is it appropriate for young adults to borrow money?
A: Young adults (and adults alike) should only borrow money for life-improving events and purchases. At Beneficial, we consider those to be financing higher education, starting a business or buying a car, house or engagement ring. It's important for young adults to use cash or a debit card whenever possible and avoid credit cards. This will prevent them from racking up interest fees and credit card debt at an early age.
(609) 589-1330
TheBeneficial.com Fox, Penberthy & Dehn
Merrill Lynch
Albert A. Fox, CFP, CIMA
Q: What should I look for in an advisor?
A: The advisor you hire should have the proper training (CFP, CFA, CIMA designations), the ability to cater to specific goals, a clearly defined service model and fee structure, and a long-term outlook that won't deviate from a set of core investment principles.
(888) 287-9258
fa.ml.com/FOX_PENBERTHY_GROUP
The Hughes Senior Silverberg Group at Morgan Stanley Smith Barney
(888) 281-0452
MorganStanley.com/fa/hssg
RBC Wealth Management
Earl Marks CFP
(856) 840-6646
Earl.Marks@RBC.com
The SHM Financial Group
Stanley H. Molotsky,
President/CEO
Q: What should a client expect from their first meeting with a financial advisor?
A: I refer to this first meeting as a financial stress test. It should be a complementary review of a client's financial picture and current investments. Our team discusses the client's goals, objectives and risk tolerance to get an overall assessment of the client's status and future needs.
Q: How important is it for a client to be educated on financial strategies?
A: Education is key, so we offer seminars throughout the year to discuss relevant issues such as economic outlook, best practices in stock market investments, planning income for retirement, and other innovative strategies. Sound financial decisions are best made when clients are educated about the important issues that pertain to their financial needs.
(866) 665-6875
SHMFinancial.com <
Susquehanna Bank
(866) 8309-2020
Susquehanna.net
Published (and copyrighted) in South Jersey Magazine, Volume 9, Issue 2 (May, 2012).
For more info on South Jersey Magazine, click here.
To subscribe to South Jersey Magazine, click here.
To advertise in South Jersey Magazine, click here.