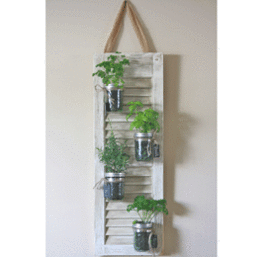 Southern Exposure: January, 2012
A Well-Deserved Honor
The Congressional Gold Medal of Honor is the highest ranked award that a United States civilian can receive, and soon one of those medals will have its home in Moorestown. Harold Phillips (pictured), a lifelong Burlington County native and World War II veteran, has been named as one of the newest recipients that will receive this prestigious award, for his service as one of the first African American Marines.
Joining the Marines right out of high school in 1943, Phillips was stationed in the very first, all-black Montford Point Marine base in North Carolina, where he was suddenly faced with all that came with being an African American in the South during that time. "North Carolina was really tough," Phillips explains. "Living and being educated in Burlington City, I wasn't used to that. … Black people in the South were treated like they were nothing, like they weren't even human."
After serving in the Pacific, he moved to Moorestown, married his wife of 55 years, Cynthia, and raised a son and two daughters. Now 86, the two still reside in the same home they built in 1946.
Go Figure
31: Number of bicycle accidents on White Horse Pike in Camden County between 2008-2010, making it the most dangerous roadway in the tri-county area for bikes, according to a study by the Tri-State Transportation Campaign. Route 537 in Burlington County and Route 47 in Gloucester County follow.
2nd: Where Camden again falls on the list of most dangerous cities in the country, according to the 2011 CQ Press City Crime Rankings.
$862,500: Savings Gloucester County will realize thanks to refinancing a bond locked in at an interest rate of 2.46 percent.
50th: Anniversary celebrated by Cherry Hill, which changed its name from Delaware Township on Dec. 7, 1961.
$1 million: December winnings for a gambler after she made a $20 poker bet at Harrah's Resort Atlantic City.
$7.5 million: Cost of facility Rutgers plans to build on campus of Atlantic Cape Community College in order to expand its bachelor's degree programs.
40%: Students New Jersey loses to out-of-state colleges, more than any other state.
$63: Credit to appear on next bill for the average South Jersey Gas customer thanks to the decline in the wholesale price of natural gas.
4: Gas stations found in both Camden and Gloucester counties that were selling fuel with lower octane levels than advertised. The stations face fines of up to $1,500 for a first violation along with a temporary license suspension.
1,475 lbs.: Weight of canned goods donated by employees of Cooper University Hospital to the Food Bank of South Jersey in December.
Aa2: Moody's rating for Camden County, though a downgrade has been threatened due to a negative outlook on $30 million in capital project revenue bonds.
$340,000: Money raised through text message pledges at the annual Butterfly Ball to benefit Bancroft.
$11 million: Federal funding that will help expedite the reconstruction of a condemned pier in Cape May at the Coast Guard training facility.
$60: Proposed marriage license fee, up from $28, under new bill proposed to eliminate the 72-hour waiting period for a license in New Jersey.
80: Megawatts of solar energy to be produced by PSE&G solar farm, enough to power 140 homes per year, under construction in West Deptford.
7 megawatts: Power that would be produced by a proposed $49 million solar panel project by Camden County government, which would be installed on county properties starting in 2012.
Did you hear?
My work commitments will not allow me to devote the time that is needed in the months ahead."
—Former Medford Mayor Chris Myers in his resignation letter following accusations of a sex scandal
Street Level
SEWELL
A Bankbridge Regional School teacher is now on administrative leave, and facing tenure charges, after he was captured on video mocking a special-needs student in class.
PENNSAUKEN
A Westville woman became a YouTube star thanks to her very public beatdown of her supposedly cheating boyfriend on the NJ Transit River Line, recorded in an 8-minute video by another passenger that has garnered more than 150,000 views.
MOORESTOWN
Secret Santas paid off layaway balances for people across the country in the weeks leading up to Christmas, including at least seven accounts at the Kmart here.
FRANKLIN
A fisherman here had a once-in-a-lifetime catch, a 26-inch alligator, which was quickly turned over to Gloucester County Animal Control.
COLLINGSWOOD
A salon employee was arrested for allegedly promoting prostitution from a Haddon Avenue establishment.
CHERRY?HILL
A Marlton man who was allegedly drunk at the wheel made it relatively easy for police to arrest him. He slammed his car into a parked township police cruiser on Route 70, causing substantial damage to the car but minor injuries to the officer.
How To … Stick to your New Year's Resolutions
Did you know that only about a quarter of the well-intentioned resolutions people make every year are kept? We tend to give up on our best-laid plans by as early as February or March, patting ourselves on the back as if it's the thought that counts, and vowing to try again next year. But with the right mindset and hard work—whether you want to improve your outlook or career, kick smoking or quit Facebook—it is possible to see your resolution become a reality.
Plan ahead. Many resolutions fail because they're an attempt to fix a symptom instead of the underlying problem, according to Melinda P. Neisse, a life coach with Path Seekers Life Coaching in Moorestown. You must figure out the underlying reason you're making the resolution and keep that as the focus. Use what she calls the SMART Model. Is it Specific enough? Measurable? Attainable? Realistic? Timely? Your answers to those questions will enable you to determine if the resolution is right for you.
Visualize it and say it out loud. It's a good idea to write down your goal and keep it in a place where you'll see it frequently. "This is a great way to keep you motivated and get you back on track if you stray," says Keli Boltz, a holistic health coach with Live Well, LLC of Mount Laurel. Just watch out for the wording. Neisse says resolutions tend to be rooted in negative wording, but a positive reframe will help lead to success. For example, instead of saying, "I'm going to quit smoking," a more positive daily reading would be, "I breathe easily and without effort because my lungs are healthy and clean."
Break it into steps. The biggest accomplishments in life are typically the result of several well-planned out steps. If you want to be 30 pounds lighter, Boltz says, focus simply on losing two to three pounds per month—not the grand total.
Evaluate your progress. As you accomplish those steps, take some time to recognize and celebrate, Boltz says. It's also a good time to reevaluate your plan to make sure you're on the right path. "Further strengthen your commitment by sharing it with three to five people who unconditionally support and nourish you," suggests Neisse. "Sharing your resolution with others helps you become more accountable."
Accept setbacks. "Most importantly, don't be discouraged if you fall off track at times or need to adjust your plans," concludes Boltz. "Focus on your long-term goal. Remember, slow and steady wins the race."
Names to Know
Local people making a difference in South Jersey and beyond
When Marc Portner of Collingswood took in 9-month-old Jim, a Chihuahua mix, as a foster pet, he knew he needed to lend a helping hand to the seriously injured puppy, along with the struggling shelter he came from. In good spirit, he put up his prized 1975 Mercedes 450SL on Craigslist, with all the proceeds benefitting the Almost Home Animal Shelter and Jim's $3,000 medical bill.
Mount Laurel's Jake Koerner, 12, got the surprise of a lifetime in December when he was selected by the March of Dimes as one of five children honored at the 2nd Annual Shining Star Awards hosted by Comcast SportsNet Philadelphia. Koerner has been a beneficiary of the March of Dimes, and this February he will take the stage with Philadelphia Phillies relief pitcher Kyle Kendrick to receive his award. Along with the ceremony comes the opportunity for the Phillies fan to spend a fun-filled day with Kendrick, all while raising money to benefit the March of Dimes.
A fire is one of the ultimate forms of devastation for a family, but Jena Mazzio wants to help. The Washington Township resident created Project LOMA, or Life-saving Oxygen Masks for Animals. She hopes to raise enough money to provide specially designed animal oxygen masks to fire departments in the area, so that when disaster strikes, even the furriest of family members can receive the treatment they need.
Glassboro High School junior Leon Purvis is making waves on the Internet with his celebrity prom proposal to teen star Justin Bieber. Purvis, 16, released a video alongside his in-school campaign asking his favorite singer to accompany him as a friend and "bro" to his senior prom, inviting Bieber's girlfriend, Selena Gomez, along. The video has reached beyond 100,000 hits on YouTube and has even been mentioned by Ryan Seacrest.
The Miss Camden County 2012 crown has been awarded to Madison Alterman of Voorhees. Alterman, 19, who grew up as an active member of Cherry Hill and Medford's Jewish Community Center programs, is currently a sophomore studying at Temple University, but will take a break from student life this June as she faces off against the competition to win the title of Miss New Jersey.
In its 118 years of publication, the American Jewish History journal has never had a female editor, until now. Dianne Ashton, a professor of religion studies at Rowan University, has been named the newest editor of the American Jewish Historical Society's journal, published by Johns Hopkins University Press. Ashton is also a published author on the topic, specializing in American Judaism and women in Judaism.
Published (and copyrighted) in South Jersey Magazine, Volume 8, Issue 10 (January, 2012).
For more info on South Jersey Magazine, click here.
To subscribe to South Jersey Magazine, click here.
To advertise in South Jersey Magazine, click here.