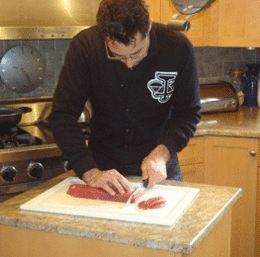 Southern Exposure: December, 2011
15 minutes: Back on the Ice
What do you do after you've accomplished your dreams at age 15? For Washington Township native Tara Lipinski (pictured), the youngest person ever to win an individual Olympic gold medal in figure skating, the journey involved turning pro, then taking several years off to discover what life was like off the ice.
Lipinski, now 29, has since returned to the sport. In anticipation for her Atlantic City performance on Dec. 3 for the Caesars Tribute II: A Salute to the Ladies of the Ice, we caught up with Lipinski to talk about her career both on and off the ice and find out why South Jersey still has a special place in her heart.
Last year's Caesars Tribute marked your public return to the ice. What was the experience like for you?
It was great to be part of that show, with so many champions, past and present. They've all become like your family and friends.
How old were you when you learned to skate?
I started roller skating at 3 and then switched over to the ice when I was 6. I competed in both for a while, but it was too time consuming. I love competing, and ice skating has a lot more opportunity for that. There's a freeness you really can't get anywhere else.
How does it feel to be included in tours that include some of the world's most famous skaters?
Sometimes I pinch myself. Did this really happen? I'm not sure. I love that feeling. [When I won at the Olympics,] Scott Hamilton came up to me and said, "This is going to stay with you forever." He really was right.
You were originally a South Jersey girl. What are some of your memories from this area?
[South Jersey] is where I had most of my childhood and my family is still out there, my aunt and uncle. I go out there every year for Christmas. It's nice to be home and back in the same neighborhood where I grew up.
What's it like being on the commentating side of things?
It's very fulfilling; it's great to be back in the competitive world and really watch and get to know these girls. You get attached to them every year, hoping their season goes well, watching them flourish.
Best advice you ever got.
My mom usually had pretty good advice. Her biggest motto was to make sure whatever you're doing, you enjoy it and you wouldn't want to be anywhere else.
When the A.C. event airs on New Year's Day, it'll kick off National Skating Month. What does this month mean to you?
I love my sport. As a person, it shaped who I was. It's given me confidence. It's given me direction and it teaches you so many great qualities about discipline and hard work and dreaming. In my opinion, there's nothing like it.
Go Figure
163: Acres in Woodland Township donated by the Halgas family to the Boy Scouts of America Burlington County Council.
204: Number of Cinnaminson residents who voted for Independent Austin D'Arpino last month for township committee, despite the fact his name wasn't supposed to be on the ballot.
26%: The record low amount of New Jersey voters who showed up at the polls in November, representing 1.4 out of 5.2 million.
160: Number of write-in votes for former Olympian Carl Lewis, whose name was removed from the ballot for the 8th Legislative District's Senate race.
$9,141: Amount of campaign money U.S. Rep. Rob Andrews used for a three-night stay in Scotland so his family could attend a wedding. Though he says it was a legitimate expense because it was a donor's wedding, he says he will refund the money.
$1.9 million: Yearly cost to Voorhees taxpayers if the Creative Studies year-round charter school is approved by the state.
11: Age Woodbury's Lillian Maimone and Maple Shade's Gavyn Stone turned on 11/11/11.
1: Baby born on 11/11/11 at 11:11 in South Jersey, and it was to two Air Force parents at Virtua Memorial Hospital in Mt. Holly.
63: Days Willingboro High School was closed starting in September for mold remediation. The remediation cost is expected to be around $700,000.
$434: Average amount shoppers in the region plan to spend on holiday gifts this year, an 18 percent drop from last year, according to Deloitte's 26th Annual Holiday Survey.
40: Average percent of Atlantic City's casino winnings that are spent on comps to keep customers coming back.
GOOD
The Ultimate Gift
Jennifer Rothstein, 39, of Cherry Hill, didn't hesitate for a moment when she found out a New York girl was in need of a kidney transplant from a Type-O negative donor. The decision to help made perfect sense—she's a part-time kindergarten and first-grade teacher at Kellman Brown Academy in Voorhees who strives to instill the importance of giving. It didn't matter that Sofia Manfredi, 13, was a complete stranger. And, sure, there would be pain involved, and a two-week recuperation period. But what's that to a life saved?
"I'm the kind of person who tries to look at life as if it's a world of abundance, not scarcity," says Rothstein, who made the donation Nov. 1. "Part of it is religious; part of it is training myself to look at the world in a more positive way. … I have been given a lot; I have a lot of gratitude so I want to do what I can for others."
Street Level
Mount Holly
A "suspicious" device with a battery and wires that caused quite a stir outside the Burlington County Jail turned out to be a mosquito trap.
Monroe
A stray pony was recently found wandering around the area and was taken in by the Gloucester County Animal Shelter after—strangely—no one reported missing a horse.
Marlton
An ordinance was adopted that restricts the use of e-mail and text messaging among council members, just a few months after it was determined officials violated the Open Public Meetings Act by discussing a controversial helipad issue through e-mails.
Medford
A "safe harbor" ordinance was adopted that grants immunity to minors seeking help with removing an underage drinker from the property or seeking medical attention related to alcohol consumption.
Gloucester Township
A Camden woman, sitting inside a car during a traffic stop, called 911 and made a false report to police that a nearby Wawa was being held up, in hopes the officer at the traffic stop would leave. It didn't work.
Q&A: Five Questions with Liza Cartmell
The Haddonfield resident heads up the new Atlantic City Alliance, created as a partnership between the casinos and the state to promote the city beyond the gambling experience. Former Aramark executive Liza Cartmell was tabbed in October to head the ACA and reshape the city's identity. Cartmell—also known locally as the mother of Haddonfield Memorial basketball great Brian Zoubek—spoke with us about the challenges she faces.
What are some of the things you want to accomplish with the ACA?
First and foremost, the main charter that we have is to create a new brand image for Atlantic City that is more representative of its role and capabilities as a tourism destination. And clearly, it is a city that has evolved greatly over the last three decades. From its origins of being completely focused on gaming, it is now a location that has broadened its appeal, so it's all about the dining, the entertainment and the ancillary attractions that are in the area. It's much more than coming to play at the tables and the slots.
It's no secret that Atlantic City has been losing visitors. What can be done to reverse the trend?
I don't think we can quantify how much of it has been competition from competing casino operations in neighboring states and how much has been the overall economy in terms of people pulling back. But the interesting thing is, if you go over the last 30 years in the history of Atlantic City, every time a new operation has opened, it has actually expanded the market. It has attracted additional visitors because of the additional [venues]. And I think this will be true in this instance as well with Revel.
Speaking of Revel, it's very unique in terms of its atmosphere and the outdoor experience it wants to present to visitors. How do you think that will spur traffic?
I think it will because it embraces the environment here—as opposed to the older facilities, which really kind of were transplants in their look and style from Las Vegas, and didn't embrace the shore or the boardwalk. I think that is sort of the wave of the future that the other facilities are evaluating at this point. I think [Revel] obviously has a signature location with a signature look. And it's really building a plan, which from a greening perspective and environmental perspective ... is very strong.
How are you going to accomplish marketing all the natural locations that are available in Atlantic City, like beaches?
That will all come together hopefully in the branding that we're working on currently. There are so many activities here. One good example: A lot of people don't recognize that as a golfing destination, the Atlantic City region is rated as one of the top 10 destinations for golf. That kind of visitation … can be a draw and an appeal to our strong leisure travelers who have a strong bias for taking trips. That is something that is relatively untouched at this point, and absolutely something we will be going out to make people aware of.
You've had an accomplished career, but do you still get a lot of recognition for being Brian Zoubek's mom?
Oh yes, I'm still very definitely Brian's mom. And I like to remind people that I'm also Sarah's mom. [She also won a state championship when she was at Haddonfield Memorial High School.]
How To … Regift with Taste (and without Embarrassment)
The idea of regifting has come a long way since comedian Jerry Seinfeld coined the term in the '90s. A Visa Gift Giving Survey showed 22 percent of this year's holiday shoppers plan to regift at least one item they received last year. So, it's OK—go ahead and gather your collection of wine glasses from your housewarming, or three copies of the same book that you've accumulated. Just follow these simple steps to avoid a potentially embarrassing situation. We wouldn't want to be held responsible if, say, you held onto the gift for so long that you accidentally regifted it to the original giver. (Yes, that's happened.)
Keep the gift in good condition. You may need to open the box and inspect the gift, or look at the expiration date of food items, says Barbara Pachter, business etiquette expert with Cherry Hill's Pachter and Associates. Just don't destroy the wrapping.
The gift has to be fitting. "Your intentions toward the recipient matter," says Dr. Ellen Miller, associate professor at Rowan University's Department of Philosophy and Religious Studies. "If you find yourself rushing to get rid of an item you know your friend will not like, stop yourself."
Watch out for incriminating evidence. Make sure you don't leave something behind, like a lovely note that wouldn't be quite as meaningful if passed along to someone else. "I once received a plant from a vendor that had a note under one of the leaves that indicated the plant had originally been given to her," says Pachter.
Don't regift a one-of-a-kind item. This includes handmade items and those you know required a tremendous amount of thought on the part of the giver, Miller says.
It's OK to be honest. If you receive two of the same gifts, pass one along to someone you know wants it. Dawn Burke Sena, an etiquette instructor and owner of Charm, a boutique in Collingswood, says to be honest and say, "I just got two of these as a gift … I know how much you wanted one of your own."
Be polite. If someone else doesn't follow the same set of etiquette rules, be gracious. "If you receive a gift that you know is a regift, you still say 'Thank you,'" Pachter says.
When in doubt, don't do it, emphasizes Sena. "If you emphasize the relationship you have with the recipient and keep your recipient's personality and likes in the forefront, you will be able to regift without guilt or embarrassment," says Miller.
Home Grown: Pretty Thrifty
Medford Lakes resident Georgann Freeman makes jewelry that gives new meaning to the phrase "selling your wares"—the products come right out of her cupboard.
Freeman creates and sells bracelets, necklaces and earrings out of her own vintage china dishes and cups. She began her artistic career as a graphic designer for the state of New Jersey, which she did for 20 years.
"It's a really interesting process," Freeman says. "Once I put it all together, it really comes alive."
Freeman's vintage ceramic jewelry can be found online on Etsy.com, an online market focused on handmade and vintage products.
You can also find her creations at Creative Genius along Main Street in Medford. The handcrafted pieces range from $30 to $110. For more information, visit Etsy.com/shop/ArtsongJewelry.
Names to Know
Local people making a difference in South Jersey and beyond
Moorestown resident Ninfa Saunders, chief operating officer of the Virtua Health and Wellness Center, was named the Trailblazer of the Year by the South Jersey chapter of the National Association of Women Business Owners. She is credited for her strong leadership and community participation.
Adele Taylor, of Monroe Township, was honored by TeenNick at the Halo Awards in Los Angeles on Nov. 1. The 16-year-old spent the last three years creating Adele's Literacy Library, a foundation that has collected thousands of books to help promote literacy in her community. TeenNick rewarded the Williamstown High School student with a $10,000 grant for her foundation, along with a serenade by Taylor's favorite artist, Jason Derulo.
Benjamin T. Griffith, CEO of South Jersey Federal Credit Union, was named the 2011 Distinguished Citizen of the Year by the South Jersey Council Boy Scouts of America. Griffith, a former Boy Scout from North Camden, was credited for his company's continued efforts in local charities.
The Greater Burlington Chamber of Commerce named Burlington City resident Matthew Pennisi as their Citizen of the Year in November. Pennisi, the owner of Eastwood Restorations, spends most of his free time involved in community events, including organizing the Wood Street Fair each year.
After several decades as a veteran, Burlington Township resident Alan Hayden, 85, was presented with the Prisoner Of War Medal by the U.S. Army for his bravery and honor while imprisoned in Germany during World War II at the young age of 19. Hayden was imprisoned for 64 days until April 27, 1945, just days before Germany's surrender.
Kennedy Health System in Voorhees President and CEO Martin A. Bieber has been awarded the March of Dimes "Born to Shine" award. The award recognizes local hospital presidents for their support of maternal and child health care. Bieber also serves as chairman of the board for Haddonfield's Bancroft.
Published (and copyrighted) in South Jersey Magazine, Volume 8, Issue 9 (December, 2011).
For more info on South Jersey Magazine, click here.
To subscribe to South Jersey Magazine, click here.
To advertise in South Jersey Magazine, click here.