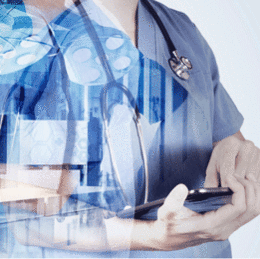 Health Care Profiles
When it comes to health and wellness, you want a provider you can trust to give you the individualized care you need and deserve. You don't just want to see any doctor, you want to see a specialist who is a leader in their field schooled on the most up-to-date technological advances and medical procedures. In other words: you want the best. Well, look no further. Here is our special guide for the medical experts in our region who strive every day to make South Jersey a happy, healthy place for you and your loved ones.
Atlas Spine
Leadership in Spine Care
Surgical and Non-SurgicalOptions.
Dr. Orin Atlas is a Board Certified, fellowship trained, orthopaedic surgeon, specializing in all aspects of spinal care and reconstruction, including complex revision surgery. He devotes all of his time to providing the highest quality non-operative and operative management of spinal disorders. He is very fortunate to collaborate with other fellowship trained spine surgeons, pain management specialists, and local physical therapists.
Atlas Spine, LLC
(609) 261-5800
atlasspinellc.com
St. Chris Care at Washington Township
Sports Safety For Children
Children + sports = a winning combination. Regular exercise provided through sports can help children develop strong bones, control weight, decrease the risk of developing type 2 diabetes, improve sleep, be academically motivated and build self- confidence. Playing sports also can be fun, but it does have a downside. Approximately 2 million children under the age of 15 are treated in emergency departments annually for sports-related injuries. That's why it's so important for parents to take an active role in sports safety for their children.
Some of the most common sports-related injuries are sprains and strains. Children also can experience growth plate and repetitive motion injuries, as well as heat-related illnesses. Injuries can be either traumatic, such as a broken bone caused by a single application of force, or chronic, which result from repetitive training over a period of time. Injuries can occur for a number of reasons, including accidents, improper training or lack of appropriate gear.
Some sports injuries are inevitable, but parents can take steps to minimize risk while encouraging their children to participate in regular physical activity.
* Children should have a physical examination before beginning an exercise program or training.
* Gradually increase the time and intensity of workouts to avoid overuse injuries.
* Choose activities appropriate for the child's developmental level.
* Teach children how to follow the rules of the game.
* Provide the necessary gear that protects, fits properly and is appropriate for the sport.
* Make sure every exercise routine has a warm-up and cool-down period.
* Provide plenty of water or sports drink while playing to ensure proper hydration.
* Use sunscreen to reduce the risk of skin cancer that can occur later in life.
* Do not allow children to play when they are very tired or in pain.
If an injury does occur, seek professional medical treatment if necessary. Make sure the injury heals completely before playing again. Start playing slowly and protect the injured area with a brace or special equipment.
From neighborhood soccer teams to high school football teams, more than 30 million children participate in organized sports in the United States. Even more are involved in recreational activities, such as biking or hiking. Parents should help their children select sports that match their personalities and fitness levels so they will want to practice more and improve their abilities. This physical competence can, in turn, help build both confidence and self-esteem.
Orthopedics and Sports Medicine are two of the pediatric specialties at St. Chris Care at Washington Township. St. Chris Care at Washington Township, located at 405 Hurffville-Cross Keys Road, brings advanced care and experienced pediatric specialists closer to home for many South Jersey residents. For more information or to schedule an appointment at this multispecialty practice in South Jersey, please call 856-582-0644.
Brandywine Senior Living
Care Is Paramount But Fun is Brandywine.
Studies show that seniors who have social connections are linked directly to overall good health and longevity. While socialization is critical for all people, regardless of age, seniors can be more susceptible to isolation. Decreased socialization can derive from the loss of a spouse, the inability to drive and be independent, or even various health issues. Research has indicated that an active social lifestyle is more important than ever in helping seniors maintain a sharp mind, remain connected to the world, increase feelings of happiness, and develop a sense of belonging. The need for human contact and interaction is crucial.
Assisted living communities can provide a beautiful living environment, delicious and nutritious dining, and a wide array of social and educational choices, but also have the supportive health and wellness services. Brenda J. Bacon, President and CEO of Brandywine Senior Living says it best - "By providing adventure, excitement and discovery to our residents every day gives them a reason to get out of bed in the morning."
Brandywine believes taking ordinary arts and activities programs and making them extraordinary is key. Having the same routine week after week only causes boredom and apathy.
Betty lived in the same condo for over 30 years. After experiencing the snowstorms of last winter, her daughters started exploring assisted living possibilities. Betty agreed to move to Brandywine, for everyone's peace of mind. She knew her children were worried about her and she was not taking care of herself by not eating right and skipping meals.
She was losing weight and sleeping a lot. When she thought about it, moving seemed like an adventure. Betty recalls "The first time I got off the elevator I heard a voice, 'Hello Betty, how are you today?' I was impressed with how friendly, kind and sweet the entire staff was. There was such a warm and friendly feeling. They treated me like their own mother." Looking back on how she felt when she lived alone, it is a world of difference.
Betty has more energy, made friends and can live her own life and have her needs met without depending on her children or hiring anyone. "Everything," says Betty, "is right here for me."
Brandywine found the vital ingredients to improve seniors' lives through play and interaction with Escapades…for Life! This exciting new program improves healthy minds and spirit, and is now a way of life at Brandywine.
For example, it's not just exercise – it is Fun Fit & Fabulous – an energized exercise program with certified fitness instructors who motivate, teach (Tai Chi anyone?) and dance to great music. It's not just nutrition – it's Cooking with Class – an interactive food extravaganza where the audience not only participates, they also get to taste and rate the culinary delights they make. It's not just current events – it's Lifelong Learning – where exciting and intriguing topics engage you in something new every day.
At any age, socialization keeps you young. At Brandywine, life is never boring – it's beautiful.
Brandywine Senior Living
1-877-4BRANDY
Brandycare.com
Continuum Health Alliance/Advocare LLC
Advocare, The Area's Largest Independent Private Physician Group Advocare Pediatricians, Primary Care Physicians, and Specialists Care for 500,000 Patients in New Jersey and Pennsylvania
When renowned pediatrician Dr. John M. Tedeschi spearheaded an alliance of South Jersey pediatric practices known as Children's Health Associates in 1998, he was seeking a way to streamline practice management so that doctors could focus more on the delivery of patient care. Dr. Tedeschi had already proven himself as an innovator in delivering healthcare services in hospitals and outpatient facilities, and was serving on various regional, state, and national committees to promote health and wellness. But while he loved practicing medicine, he was increasingly frustrated by how the business of medicine affected physicians' ability to focus on patient care. He knew that other doctors shared his desire to spend less time with paperwork and more time with patients.
Ten years after 33 pediatricians united under Dr. Tedeschi's vision, the private physician group was renamed Advocare to reflect its strong commitment to patient advocacy and superior health care. Many of South Jersey's finest physicians joined the partnership, attracted to an environment in which doctors can build strong relationships with patients and their families.
Growing beyond pediatrics, Advocare today encompasses more than 250 doctors serving patients at every stage of life, from birth through elder care. In more than 85 offices and leading hospitals throughout New Jersey and the greater Philadelphia region, Advocare pediatricians, primary care doctors, specialists, and nurse practitioners collectively see patients in more than one million visits each year.
Advocare doctors share operational oversight and efficient practice management systems through their relationship with Continuum Health Alliance, LLC, a regional healthcare management company, also led by Dr. Tedeschi. At the core of the area's largest, independent private physician group is a commitment to serving communities with the highest level of care. Advocare doctors focus on preventive care and wellness, clinical expertise, research, and teaching. And because Advocare is an independent physician group, patients may choose Advocare doctors affiliated with various hospitals throughout New Jersey and the greater Philadelphia metropolitan region. Many Advocare physicians are annually recognized as "Top Docs" in their fields.
Advocare's partnership philosophy extends beyond the physician group to each and every patient. Dedicated Advocare doctors communicate, collaborate, and believe that wellness is best achieved when doctors, patients, and their families work together towards the goal of good health.
Find your Advocare doctor at advocaredoctors.com
Innova
Your Loved Ones Health Care
Emotionally challenging decisions.
It's one of the most emotionally challenging decisions you will need to make in your lifetime. When is it time to place your aging parent or relative in the care of professionals? And when the time comes, where would you like them to be?
Like all of us, you want your loved ones to receive the best care possible at all times. Innova Health & Rehab specializes in just that - delivering trusted, quality health care and rehabilitation services to patients in the South Jersey and Eastern Pennsylvania regions.
A warm, caring environment, Innova's three facilities in South Jersey – Mount Laurel, Deptford and Hammonton – offer the widest array of health and rehabilitation services focusing on short- and long-term rehab, dialysis, Alzheimer's and dementia care.
The Innova team consists of full-time, licensed health care providers, attending physicians, nurses and staff members who specialize in post-acute care, physical therapy, occupational therapy, speech therapy, respiratory therapy, social work and therapeutic recreation.
The Step Between Hospital and Home
With insurance-mandated, ever-shrinking windows for post-procedure hospital stays, many patients, once discharged, are not quite ready to go home. Innova Health & Rehab serves as that extra step in between the hospital and home, offering all aspects of rehabilitation and post-surgical care. Your own doctor can visit you to provide any follow-up care needed, while Innova staff ensures you adhere to your medical regimen.
Alzheimer's, Memory Loss and Long-Term Care
When it comes to long-term care, Innova can make its patients feel at home. Beautiful private and semi-private rooms, exceptional health care services and convenient personal services ensure your loved one's stay at Innova is comfortable and as home-like as possible.
For those with Alzheimer's disease or other forms of memory loss the Essentia neighborhood offers a meaningful life in a secure and safe environment. A seven-day-a-week therapeutic program, Essentia delivers structure, daily activities and, above all, dignified care to Alzheimer's and dementia patients.
Living with Renal Failure
Innova's specialized sub-acute unit for dialysis patients and Lourdes Health System hemodialysis stations on the premises offer comfortable and convenient treatment for patients with inefficient kidney performance. Innova's unique combination of rehabilitation and dialysis services under one roof, along with a dedicated nurse-liaison bridging the two departments, ensure continuity of care and best treatment outcome for patients.
Bridging Cultures
In 2010 Innova opened a Korean Community unit at its Mt. Laurel location. The unit can accommodate 40 patients, and is designed for first-generation immigrants who speak no English. A dedicated staff of Korean-Americans includes three nurses, an activities coordinator, an office manager, two chefs and an interpreter on-hand 24/7. Korean residents enjoy amenities consistent with their own culture, including popular games, gardening, music and even Korean television stations, and can participate in a daily religious service.
Meanwhile, Innova in Hammonton opened a Spanish language unit, catering to the needs of the area's Hispanic and Latino populations. The unit is staffed 24/7 with bi-lingual nurses, case workers and other staff.
Innova Health & Rehab
1-877-91 INNOVA
innovahealthandrehab.com

Advanced Cardiology
Leading The Way In Cardiac Care
Do you have Peripheral Artery Disease?
Peripheral Arterial Disease (PAD) is increasingly being recognized as a risk factor for heart disease. PAD is a condition that causes the arteries in the neck (carotid artery) and in the pelvis and legs to become hardened and narrowed due to the buildup of plaque (atherosclerosis).

It affects 10-15 million Americans, nearly 75% of who never have symptoms. In fact, people with PAD have a 6-7 times higher risk of heart attack or stroke. It's incidence increases with age. By age 70, about 30% of the population is afflicted. Those at risk include smokers, diabetics, people with high blood pressure, high cholesterol, family history of PAD, and obesity. It is a disease that is often unrecognized, misdiagnosed, and overlooked by many physicians, since screening is not done early enough.

Early diagnosis is important since untreated PAD can lead to stroke, gangrene in the legs that often leads to amputation, and to death. Common symptoms are pain in the hips, thighs, or calves when walking or climbing stairs. This is known as "intermittent claudication". This pain goes away when you stop exercising in a few minutes. Many people confuse the leg pain as arthritis, sciatica, or just "stiffness" from getting older.

Those with diabetes may confuse PAD leg pain with neuropathy, a common diabetic symptom which is a burning or painful discomfort of the feet or thighs. Symptoms of severe PAD include foot pain that doesn't go away when you stop exercising, foot or toe wounds that won't heal, or cold lower legs or feet.

If there is PAD in the neck arteries (carotid arteries), symptoms may include intermittent loss of vision, facial numbness, or intermittent weakness in either upper extremity. This is called a TIA (transient ischemic attack) and occurs because there is a blockage in the carotid artery and the brain is not getting enough blood to meet its needs. If left untreated, a significant carotid artery blockage can lead to a stroke. If there is PAD in the aorta it can lead to an aneurysm (a ballooning out/enlargement of the aorta) that if large enough can rupture and lead to death without warning.

PAD can easily be detected by simple tests some of which are done in our office. Early detection is important. These tests include: Doppler duplex imaging of arteries in the neck, legs, and the aorta. This procedure, which is painless and inexpensive, measures the blood flow in the arteries to indicate the presence of a blockage. Other tests if needed include CTA (computed tomographic angiography), MRA, or angiography, and are done in hospitals.

PAD can be treated by diet, lifestyle changes, medications, or surgery. Some of the medications include antiplatelet medications that "thin" the blood and reduce blood clotting. Cholesterol lowering medicine is at times prescribed, to cause plaque in the arteries to "shrink". For some patients the above recommendations are not enough and they may need angioplasty/ stent placement where a tiny balloon is inflated inside the artery to open up the clog (as is done in the heart), or surgery.

If you have signs/symptoms of PAD or have been diagnosed with PAD and would like to learn more, please call Dr. Vic Bahal at Advanced Cardiology of South Jersey.
Advanced Cardiology
(856) 241-3838

UMDNJ Stratford Campus
Meeting the health care needs of the future.

According to a report issued last year by the U.S. Department of Labor, more than three million new jobs will be created by the healthcare industry during the 10-year period of 2008-18. Technological advancements, new developments in how Americans receive health and medical care and the increasingly important role of research and public health make this one of the most dynamic areas in today's economy, including 10 of the 20 fastest growing occupations in the country. The industry's needs are not only for new employees, but also for current employees who can add to their expertise through additional education or training.

In Stratford, the University of Medicine and Dentistry of New Jersey (UMDNJ) anticipates the future of healthcare while continuing the commitment that UMDNJ has made for more than three decades to meet many of the region's most pressing health needs.

Although the UMDNJ-School of Osteopathic Medicine remains the flagship school in Stratford, the campus is also home to UMDNJ's schools of biomedical sciences, dentistry, health related professions, nursing and public health. Students receive a truly inter-professional health sciences experience, with unique educational opportunities and programs in a wide range of health disciplines.

Years before health care reform became part of the American lexicon, UMDNJ schools in Stratford began preparing health care providers to meet America's future health care needs. In 2006, Dr. Thomas Cavalieri, dean of the UMDNJ-SOM, convened the first meeting of Stratford Campus Inter-School Collaboration Group, consisting of the deans and campus deans from the UMDNJ schools of Osteopathic Medicine, Nursing, Public Health, Biomedical Sciences, Dentistry and Health Related Professions.

"The dynamic interaction of the six UMDNJ schools on the Stratford campus serves as a model for health professions education throughout the country," Dr. Cavalieri said. "By sharing services, faculty and other education resources, we are developing students today who will lead the culturally competent, inter-professional teams that will be essential in the future."

Currently, nearly 1,000 students attend programs at one of the six UMDNJ schools on the Stratford campus. Conveniently located just off Route 30 (White Horse Pike) near the Lindenwold PATCO station, UMDNJ provides a wide array of clinical, educational and community service programs throughout the region. From dental services in Atlantic County to primary care for high-risk populations in Cumberland County and community outreach services in Camden, UMDNJ maintains a longstanding dedication to meeting the challenges in South Jersey.

Schools of UMDNJ-SOM:
UMDNJ – School of Osteopathic Medicine (som.umdnj.edu)
UMDNJ – Graduate School of Biomedical Sciences (gsbs.umdnj.edu)
UMDNJ – New Jersey Dental School (dentalschool.umdnj.edu)
UMDNJ – School of Health Related Professions (shrp.umdnj.edu)
UMDNJ – School of Nursing (sn.umdnj.edu)
UMDNJ – School of Public Health (sph.umdnj.edu)
(856) 566-6149
umdnj.edu

Advanced Orthopaedic Center
Because You Haven't Got Time For The Pain
Striving to meet all your orthopaedic needs in a timely and professional manner.

Advanced Orthopaedic Centers physicians have years of experience and specialty training in orthopaedic surgery and rehabilitation. Our goal is to provide the finest personalized care possible. YOU are our number one priority. We will strive to provide you with the personal attention you deserve.

At Advanced Orthopaedic Centers they can diagnose and treat problems dealing with diseases, injuries and conditions of the musculoskeletal system. This includes the body's muscles, joints, ligaments, tendons and nerves.

We specialize in giving the highest quality care in general orthopaedics, trauma orthopaedics/fracture care, sports medicine/ arthroscopy, joint replacement, concussions and spine care.

Learn about the Doctors:
Thomas P. Obade, MD.
Dr. Obade is a graduate of The University of Pittsburgh and the University of Pittsburgh Medicine School. He attended the Residency Program in Orthopaedic Surgery with the United States Naval Hospital in Philadelphia PA. Currently Dr. Obade is a member of numerous professional organizations within his field and has done extensive presentations and teaching on the topic of Arthroscopic surgery.

Bruce A. Monaghan, MD.
Dr. Monaghan is a graduate of the University of Pennsylvania (undergraduate) and the University of Pennsylvania medical school. He is the author of numerous articles and publications within the Orthopaedic field. Currently he is the Vice Chairman, Department of Surgery and the Chief, Division of Orthopaedic Surgery at Underwood Memorial Hospital. His practice concentrates on the Hand and Orthopaedic Surgery. He was named a Top Physician in South Jersey Magazine (Hand Surgery) in 2009.

Robert J . Cabry, Jr., MD.
Dr. Cabry is a graduate of Saint Joseph's University and attended medical school at Thomas Jefferson Medical College in Philadelphia PA. He is fellowship trained in Sports Medicine and did his residency at the Crozer-Keystone Family Practice Program. He is board certified in Family Practice and Sports Medicine. He is the Director of the Osteoporosis Program and Primary Care Sports Medicine.

Steven Frey, MD.
Dr. Frey is a graduate of The State University of New York, Binghamton – Georgetown University and Georgetown University School of Medicine. He is the Founder/Director of the first annual "Iron Med Charity Triathlon" which raises money for the Lombardi Cancer Center – Pediatric hematology/Oncology in Washington DC. Dr. Frey has been involved in extensive research and co-authored numerous articles/publications relating to the Orthopaedic field. His practice is geared around Sports Medicine.

While using cutting-edge technologies, along with a comprehensive team approach, Advanced Orthopaedic Centers provides treatment for immediate or chronic problems. Our sphere of practice embraces Arthroscopic Surgeries, Custom Total Joint Replacements, Minimally Invasive Surgeries, Hand and Elbow Procedures, and Shoulder Reconstruction. We also have on-site digital x-ray services for your convenience, and we provide both Sports Medicine and Outpatient Rehabilitation programs to help put you back in the game.

The more active you are in your recovery, the faster and more successful your recovery will be. We look forward to this partnership and are pleased to have you as a patient. If you have any questions, always feel free to call us, and our trained staff will assist you in any way possible.

Advanced Orthopaedic Centers
(856) 848-3880, (856) 343-0055
advancedorthocenters.com

Marlton Rehabilitation Hospital
Restoring Independence.
At Marlton Rehabilitation Hospital, it's not only about the number of therapy hours. It's about the individual and intensely addressing physical, social, and emotional well-being. It's about providing innovative and comprehensive care, obtaining best outcomes, and a smooth transition to community living.

Marlton Rehab is a comprehensive Acute Inpatient Rehabilitation Hospital. Our Outpatient Rehabilitation Program provides a continuum of care to assure quality and improved outcomes. Our credentials, state-of-the-art gyms, heated pool, cutting edge treatment modalities, patient satisfaction, and excellent reputation distinguish Marlton Rehabilitation Hospital as the leading and most respected provider in Southern New Jersey.

After a neurologic, traumatic or orthopedic event, a person may be left with functional limitations which may prohibit them from returning to their previous lifestyle. At Marlton, we expertly address the needs of patients with Orthopedic injuries, Reconstructive surgery (including Joint Replacements), Multiple trauma, Stroke, Brain, or Spinal cord injury, Neuromuscular disorders, Advanced osteoarthritis, Neurological conditions, and more.

Acute inpatient rehabilitation is oftentimes the best treatment modality towards recovery. Comprehensive medical, physical and psychological intervention is provided in a hospital setting to overcome pronounced functional limitations.

Under the leadership of a physiatrist (Rehab Doctor), the multidisciplinary team evaluates each patient and collaboratively establishes treatment goals and an individualized plan of care. The intensity of therapy is personalized and goal-oriented - keeping the patient's needs and ability level foremost in mind. Family input and education is an integral part of the process.

Specialty physicians are consulted to address specific disease states that may impact the rehabilitation progress such as renal, pulmonary, cardiac, diabetes, wounds, and more. At Marlton, there is strong physician presence – with daily oversight and intervention.

Rehabilitation doesn't end in the gym. Rehabilitation is incorporated into the daily regimen. Rehabilitation Nurses, a certified Recreational Therapist, and other clinicians and staff members focus on patient-specific rehabilitation goals as an integral aspect of patient care and recovery.

An Intense Collaborative Approach: Maximizing independence through therapeutic intervention and leading edge treatment modalities

Physiatrists • Physical Therapists • Occupational Therapists • Rehabilitation Nurses • Clinical Dietitians • Speech and Language Pathologists • Neuropsychologists • Respiratory Therapists • Recreational Therapists • Neuro-Optometrists • Case Managers • Certified Wound Care Nurses

Additionally, Marlton Rehab has over 200 consulting specialists on staff who also serve at major area health systems.

Core therapy programs include Physical and Occupational Therapy, Speech and Language Therapy (including swallow therapy), and Cognitive Remediation. Specialty programs include: Stroke and Brain Injury, Amputee / Prosthetic Training, Spasticity and Pain Management (including Baclofen Pump Management), Vestibular and Balance Therapy, Wound Management, Lymphedema Therapy, Pulmonary Rehab, Aquatic Therapy, and more. Therapeutic Recreation is provided by skilled and certified clinicians. Driver screening/testing is also available.

Credentials
Serving South Jersey since 1995, Marlton Rehabilitation Hospital has been awarded accreditations from CARF (The Commission on Accreditation of Rehabilitation Facilities) and JCAHO (The Joint Commission of Accreditation of Healthcare Organizations). Marlton is the first in NJ to receive CARF accreditation for excellence as an Inpatient Stroke Specialty Program.

Patients are admitted to Marlton Rehab from hospitals, nursing facilities, surgery-centers, Assisted Living Facilities, home, physician's offices, and emergency rooms. An assessment for admission can be set up by a physician, social worker, case manager, or the patient/family can activate the referral process by contacting Admissions at 856-988-4106.

Marlton Rehabilitation Outpatient Services are a logical next-step in an ongoing follow-up plan for those who require a comprehensive outpatient rehabilitation program. Monthly Support Groups are also available.

Marlton Rehabilitation Hospital
(800) 988-9828
marltonrehab.com

Bromley Neurology
Innovation In Neurology
One of the area's top physicians is now offering personalized medical care in neurology.

Steven M. Bromley, M.D. is a Neurologist and Diplomate of the American Board of Psychiatry and Neurology. After graduating from the UMDNJ- Robert Wood Johnson Medical School with honors, he proceeded with his Medical Internship at Pennsylvania Hospital in the University of Pennsylvania Medical System. He received the 'Intern of the Year' award during his internship year. His Neurology Residency training was at Columbia-Presbyterian Medical Center in New York City where he was made Chief Resident of Neurology during the time of the 9/11 attacks. While at Columbia, he was awarded the Arnold P. Gold Foundation Humanism and Excellence in Teaching Award by the medical students of Columbia College of Physicians and Surgeons. Dr. Bromley's Fellowship training was in Clinical Neurophysiology at Thomas Jefferson University Hospital in Philadelphia. In addition to this general neurology training, Dr. Bromley has special training in Epilepsy, Neuromuscular Disease, Neuropsychiatry, Botox administration, and the management of Smell and Taste Disorders. Most recently, he has helped to establish the Deep Brain Stimulation (DBS) surgical program for Parkinson's Disease at Cooper Hospital where he manages the regular adjustment and care for the patients and their Deep Brain Stimulators.

He is a Clinical Assistant Professor of Neurology and was Director of Medical Student Education Clerkship in Neurology at UMDNJ- Robert Wood Johnson Medical School in Camden. He is one of the founders of the Neurology Clinic at the Cooper Neurological Institute in Camden, N.J. Most recently, he has taken on the role of Director of Outpatient Services of Neurology for the Virtua Medical Group throughout South Jersey. While he sees patients in other locations, his primary office has been his Private Office – Bromley Neurology, P.C. – in Audubon, N.J. where operations are owned and overseen by Dr. Bromley himself. Quality of care is the utmost priority of the practice. Dr. Bromley is licensed to practice Neurology in New Jersey, Pennsylvania, and New York. Since 2004, Dr. Bromley has been awarded the 'Teacher of the Year' for Neurology from the UMDNJ medical students of Robert Wood Johnson Medical School in Camden.

Our History
After being established as a practice in 2003, the office opened its doors as a 'home' for the treatment of all forms of neurological and neuropsychiatric disease. Dr. Steven Bromley and the Bromley Neurology office are well known for dealing with the toughest to diagnose and treat conditions. The office has a close connection to most regional and many national medical facilities, and it is not uncommon for Dr. Bromley to receive patient referrals from other states around the country. Also, Dr. Bromley treats many other physicians and their families – a testimony to the level of confidence in his abilities and care.

Lecturing and Consultation Services
Dr. Bromley is an avid lecturer and has been invited to lecture regularly throughout the country. His enthusiastic and motivational style has made him popular among many patient groups. He is also asked to give expert testimony for legal cases. For details regarding these services, please call (856) 546-2300.

The New VIP Service
Dr. Bromley has developed a new approach to caring for neurology patients by establishing the first and only VIP concierge practice for neurology in South Jersey. This is a revolutionary approach for treating neurology patients by giving them the time and attention they deserve.

Bromley Neurology
(856) 546-2300
BromleyNeurology.com

Anu Medical Spa
Combining Beauty, Science & Spirit
To bring out the best in you.

Dr. Anu Momi has been practicing laser medicine and aesthetic skin care in the South Jersey area since 2003. She has extensive experience in skincare performing these state-of-the-art procedures, and currently trains other physicians in all aspects of laser medicine in addition to doing them herself in her own office full time. Dr. Momi is Board Certified in Family Practice, and a Fellow of the American Society of Laser Medicine and Surgery, as well as an active member in the Medical Spa Society. She is one of the few who is certified to train on the Cutera system. She also works as a consultant to help other physicians start up and manage medical spas. Dr. Momi takes a key interest in wellness and has trained in Nutritional Supplementation and is also proud to announce the addition of Weight Management.

Anu Medical Spa
(856) 809-0909
anumedicalspa.com

Dorfner Family Medicine
Excellence In Medical Services
One of Burlington County's most experienced, convenient family practices.

Dorfner Family Medicine is Burlington County's leading family practice, striving to provide patients with everything they need for the upmost comfort, confidence and compassionate medical care. Because it is extremely important to see your family doctor regularly to prevent complications from high cholesterol, diabetes and high blood pressure, our office offers flexible hours, including evenings and Saturdays to meet the needs of our patients. With over 40 devoted professionals, we are dedicated to providing complete assistance for all healthcare needs, offering the finest state of the art facilities available. Because insurance companies encourage screening exams, in some cases there is no co-pay needed. Through a simple blood test our physicians can test for many potential adverse medical conditions. Early prevention can save lives; Dorfner Family Medicine can talk to your family about living a healthy lifestyle.

Dorfner Family Medicine
dorfnerfamilymedicine.com

Magaziner Center For Wellness
Providing Natural Solutions For Medical Conditions
Striving for excellence in integrative medicine.

Our mission at the Magaziner Center for Wellness is to prevent disease and to promote optimum health by providing natural solutions for your complex medical conditions. Our approach focuses on integrating cutting-edge medical treatments with the latest advances in nutrition and preventive medicine. Board certified physicians, Dr. Allan Magaziner and Dr. Scott Greenberg are renowned for their clinical experience, medical expertise and compassionate healing. We treat with prolotherapy, bioidentical hormones, oral and intravenous vitamins, and herbal medicine while we focus on chronic pain, hypertension, fibromyalgia, chronic fatigue, allergies, cancer and non-surgical cosmetic rejuvenation. Contact us to find out how you can feel more vibrant and regain your health.

Magaziner Center for Wellness
(856) 424-8222
drmagaziner.com

21st Century Oncology
Oncology Specialists
Leading edge technology close to home.

21st Century Oncology is a leading provider of radiation therapy in the area. With 4 locations to serve you in South Jersey, we offer state-of-the-art technology in a personalized setting. Dr. Alexis Harvey and Dr. Michael Stambaugh were named Top Physicians by South Jersey Magazine. 21st Century Oncology--- superior cancer care, close to home.

21st Century Oncology
1-888-21st-ONC

Reconstructive Orthopedics
Raymond R. Ropiak, M.D.
Shoulder/Elbow Specialist.

There are many advances in Orthopedics, one of the most important being sub-specialization. As a fellowship-trained Shoulder and Elbow subspecialist he offers a broader range of surgical solutions including the most complex surgeries not previously available in South Jersey. Dr. Ropiak is thrilled to offer specialty services such as Total Shoulder Replacement, Reverse Shoulder Replacement, and Elbow Reconstructive procedures to the South Jersey community.

Reconstructive Orthopedics
(609) 267-9400, (856) 673-3960
reconstructiveortho.com

Reconstructive Orthopedics
Manny D. Porat, M.D.
Joint Replacement Specialist.

Clinial studies prove that patient outcomes from joint replacement are more consistent when performed by high volume surgeons and high volume hospitals. Dr. Porat and his colleagues at Reconstructive Orthopedics are not only Joint Replacement subspecialists, but they also utilize true minimally invasive procedures for total hip and total knee replacements. Your return to active life and elimination of pain are our sole objectives.

Reconstructive Orthopedics
(609) 267-9400, (856) 673-3960
reconstructiveortho.com

Reconstructive Orthopedics
Robert M. Greenleaf, M.D.
Spine Surgeon

Back and neck pain can be terribly debilitating. Fortunately, patients have many treatment options. As a fellowship-trained spine surgeon from Harvard's Massachusetts General Hospital, he has training in all non-surgical and surgical treatments. Their goal is to improve your neck and back pain without surgery. However, if surgery is necessary, he and his colleagues possess the surgical expertise to return you to your desired activities.

Reconstructive Orthopedics
(609) 267-9400, (856) 673-3960
reconstructiveortho.com

Dr. Louis R. Manara
Personalized Infertility Treatment
Making a difference.

Board Certified- Reproductive Endocrinology & Infertility -25 years. Dr. Louis R. Manara provides individualized care at their State-of-the-Art Center. Understanding the uniqueness of each couple's situation, he designs treatment plans to achieve success quickly. A full service reproductive center providing In-Vitro Fertilization, Egg, Donation, Artificial Donor Insemination, Pre-Implementation Genetic Diagnosis, Ovulation Treatment, and all surgical treatments related to infertility. "Fertility Support Group" available.

The Center for Reproductive Medicine and Fertility
(856) 767-0009
louismanara.com

Ross Center For Orthopedics
Meet The Newest Team Member
Ross Center For Orthopedics

The right addition makes a great team even stronger. The Ross Center for Orthopedics is pleased to announce that Kelly Patton Gambino, Nurse Practitioner, has joined the practice. Kelly combines extraordinary experience with an uncompromising commitment to patient care. Her background highlights include providing in-patient and out-patient care at the prestigious Rothman Institute, as well as a 16-year tenure with an internationally renowned hand/upper extremity specialist. Great interpersonal qualities and impeccable qualifications make Kelly an outstanding new associate.

The Ross Center for Orthopedics is a general orthopedic practice offering a full spectrum of treatments for musculoskeletal conditions and injuries. Dr. Ross and her team understand the importance of being responsive to an individual patient's preferences. Their goal is to involve patients on treatment options enabling you to better participate in your healthcare. Offices in Hainesport and Berlin.

Ross Center for Orthopedics
(609) 267-2333, (856) 768-7777
RossOrthopedics.com

South Jersey Fertility Center
State-Of-The-Art Fertility Care
Friendly, comfortable environment.

South Jersey Fertility Center is a premier provider of fertility care in South Jersey. With a long history of helping patients achieve their dream of a family, they offer comprehensive, state-of-the-art fertility care in a friendly, comfortable, environment at a reasonable cost.

The doctors are Board Certified, and voted "Top Doctors" in South Jersey publications, garnering more awards than any other fertility center in South Jersey. Over 500 referring physicians place their trust in them, but the biggest source of referrals is satisfied patients. Three convenient locations in South Jersey, the main office is Marlton, with other offices in Egg Harbor Township, Forked River and Sewell. Evening appointments are available.

At SJFC every patient receives special individualized treatment. Some of the full range of fertility services include: IVF, ICSI, Cryopreservation of Embryos and Eggs; Donor Egg and Donor Embryo cycles; Pre-implantation Genetic Diagnosis; Ovulation induction; Intrauterine Insemination (IUI); Donor Insemination; Laser Laparoscopy and Operative Hysteroscopy; Tubal Ligation Reversals; Myomectomy; Evaluation and Treatment of Recurrent Pregnancy Loss, PCOS and Endometriosis.

South Jersey Fertility Center, a Division of Regional Woman's Health Group, LLC
(856) 596-2233
SJFert.com

Appearance Dermatology
Excellence In Dermatology Care
The dermatologist who can give you a fresh look for the holiday season.

Born and raised in New Jersey and a graduate of Princeton University and UMDNJ, Dr. Toome of Appearance Dermatology has devoted the past 20 years to the study of dermatology and the importance of skincare. Established in 1990, the practice consists of general and cosmetic dermatology. Striving to make each patient feel that one on one personal touch, a treatment plan is designed specially for the patient's individual needs.

The office specializes in all diseases of the skin, hair and nails, including 13 lasers on site to treat aging skin, acne scars, acne, broken blood vessels, leg veins, freckles and laser hair removal, as well as tattoo removal. Botox® is offered, as well as Radiesse®, Sculptra® and Restylane® for facial rejuvenation. In addition to the physician and physician assistants, a team of state board licensed aestheticians are on staff to administer medical grade skincare treatments and educate patients on the latest in cutting edge skincare.

Appearance Dermatology
(856) 751-9560
drtoome.com

Burlington County Eye Physicians
Trust Your Eyes To A Specialist
Oculofacial Surgeon.

Damon B. Chandler, MD is a board-certified and fellowship-trained oculofacial surgeon, a specialist in cosmetic and reconstructive surgeries around the eyes and of the face. Having trained at Duke, Harvard and the University of Pennsylvania, Dr. Chandler is expertly trained to perform the delicate surgery to make you look and feel your best!

Burlington County Eye Physicians
(856) 235-2448
chandlercosmetic.com

Professional Gastroenterology Associates
Providing Top Quality GI Services
With a sensitive, innovative team of physicians.

Professional Gastroenterology Associates is a sensitive, innovative team of practitioners dedicated to providing a wide range of top quality GI services.

Doctors Werbitt, Shehata and Balani specialize in cancer screenings and diagnose and treat a wide range of diseases of the colon, esophagus, stomach, intestine, pancreas and liver.

The American Society for Gastrointestinal Endoscopy recommends periodic reassessments of your gastrointestinal tract which includes your esophagus, stomach and colon, for polyps, inflammatory conditions and precancerous lesions.

Professional Gastroenterology Associates
(856) 429-4433
profgastro.com

Cosmetic Surgery Center
Begin Your Journey To A More Beautiful You
Cosmetic Surgery Center of Cherry Hill with Dr. Lyle Back

Lyle M. Back, M.D., F.A.C.S. is originally from New York City and graduated with honors from Rutgers Medical School. He completed his surgical training at Ohio State and is Board Certified by The American Board of Plastic Surgery.

Dr. Back is a Fellow of the American Academy of Cosmetic Surgery (AACS) and a longstanding member of the American Society of Plastic Surgeons (ASPS). Dr. Back served as a professor of Plastic Surgery at Temple University and St. Christopher's Hospital for Children in Philadelphia and performed reconstructive surgery with "Operation Smile" in Vietnam.

Dr. Back is a well known, popular Cosmetic Surgeon and has been in the Cherry Hill area in private practice for 20 years. He specializes in the full range of the most modern and state of the art cosmetic procedures (surgical and non-surgical) available today. 2011 "Top Physician" Dr. Back and friendly, helpful, and supportive staff consistently receive rave reviews and heartfelt gratitude from patients throughout The Delaware Valley.

Cosmetic Surgery Center of Cherry Hill
1-800-MAKEOVER
Ilovelyleback.com

Shore IVF Reproductive Medicine
Infertility Treatments Can Be Challenging
Helping you through the process.

Shore IVF Reproductive Medicine & Dr. Allen Morgan are pleased to announce Dr. David Corley is joining Shore & is back in the Marlton/Medford area.

Shore brings state-of-the-art comprehensive medical treatment & technology to work on your behalf, while never forgetting you!

The experienced staff provides customized treatment programs. Both doctors have worked successfully with couples that have failed IVF previously, & have a success rate consistently exceeding the national average.

Shore IVF Reproductive Medicine
(856) 334-8030
shoreivf.com

VITAS Innovative Hospice Care
Compassionate And Comprehensive Hospice Care
Providing physical, emotional and spiritual support.

Innovative VITAS team-nurse, physician, social worker, chaplain, hospice aide and volunteer – focus on the patient, not the disease. When appropriate, VITAS offers Intensive Comfort Care at the bedside and at our inpatient hospice unit.

Vitas provides care to all patients, regardless of their ability to pay. Medicare, Medicaid and most private insurance plans cover 100% hospice care, from home visits to medication and therapy.

Vitas Innovative Hospice Care
(800) 778-0222, (800) 938-4827
VITAS.com

South Shore Plastic Surgery
Discover Your Beauty
Receive compassionate and experienced care.

The popularity of non-surgical facial rejuvenation has grown tremendously in the last few years. One of the most popular products that we use is ScupltraAesthetic. Scupltra (poly-lactic acid) is a facial injectable, which produces body's own collagen. It will help to correct lost facial volume naturally. Scupltra will restore this volume gradually through a series of injections done right in the office.

South Shore Plastic Surgery and Center for Aesthetic Center
(856) 784-2639
drvasisht.com

Care One At Harmony Village
Dedicated To Alzheimer's Care
Voted Burlington County's best assisted living community.

At Harmony Village, we believe that Alzheimer's is treatable and agitation, anxiety, aggression, and apathy are not symptoms of the disease but responses to caregiving, medical treatment, and physical environments not designed to support someone living with Alzheimer's. Using ENVIRONMENT, ACTIVITIES, and COMMUNICATION our approach effectively treats many of the most common symptoms of dementia.

ENVIRONMENT: The environment is made to feel like HOME so that people living with Alzheimer's can feel at HOME. Our common spaces are decorated and sized to communicate what the appropriate behaviors are for those areas, as well as, our Gardens that are designed therapeutically, and with safety in mind.

ACTIVITIES : Our activities are designed to increase a person's sense of purpose and incorporate choice into a person's day. We focus on our residents strengths by concentrating on available skills in order for them to continue to function at a high level.

COMMUNICATION: We break tasks into simple steps and demonstrate tasks. We speak slowly and distinctly and never test our residents or tell them "NO". Most importantly we always use nonverbal communication like "Hugs" and "Hand Holding". The goal is to look for the emotions underneath our residents words and validate their feelings.

Care One At Harmony Village
(856) 638-1244

Published (and copyrighted) in South Jersey Magazine, Volume 8, Issue 8 (November, 2011).
For more info on South Jersey Magazine, click here.
To subscribe to South Jersey Magazine, click here.
To advertise in South Jersey Magazine, click here.