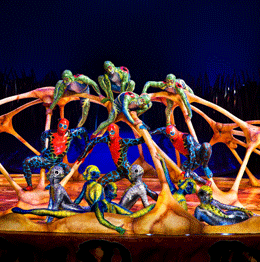 Southern Exposure: November, 2011
How to … throw a holiday party people will remember
Between office parties, get-togethers with friends and holiday dinners, the months of November and December pass by in one big blur. But don't let your own party fade into the distant memory of your guests among all the other holiday hoopla. If you follow these simple yet creative tips offered by local experts, you're sure to not just impress, but to guarantee your party will be at the top of your guests' lists for next year.
The right look. As Nikki Schrope, events consultant with Haddon Heights' South Jersey Party Rentals, puts it, "Bring the club to your casa." Use cocktail tables, she says—a great way to give your home the look of a trendy venue. Combine that with seating for just half your guests, and it'll keep your guests mingling.
Also consider a themed party for an added touch of elegance, says Cory Gosik, sales and operations director at Sensational Host Caterers in Maple Shade, such as "Winter Wonderland." Everything, from linens to decorations, could be white and sparkling silver to add flare to the evening.
At your service. To ensure your guests aren't the only ones having fun, why not hire a bartender? Ori Geshury, of the Mixology Wine Institute in Cherry Hill, says they will match hosts up with graduate bartenders to hire for a private affair. It's a good idea to hire a bartender when you're looking at more than 40 people, he says. Most importantly, they let you entertain.
It's also a good idea to have a signature drink, says Barry Nachimson, of E Lounge in Cherry Hill/Barry Catering. A bartender could help you come up with one, but these experts recommend a peppermint stick martini or hot buttered rum. Geshury also says hosts should offer a good craft beer, such as Dogfish Head's Midas Touch, a champagne-like beer said to be "fit for a king."
Simply palatable. When it comes to food, include holiday-themed appetizers, Nachimson suggests. Try 12 unique appetizers to represent the 12 Days of Christmas; eight for Hanukah; or seven for Kwanzaa.
For entrees and dessert, sometimes simple is best. Keegan Gosik, sales and marketing director for Sensational Host, stresses that you shouldn't be afraid to stick to classics like a spiral ham. You could also shrink the portion sizes down and have a tasting party, which isn't just for wine anymore, says Schrope. From chocolate to cheese, tapas to tequila, the key to a successful tasting party is to keep everything small.
Feeling Festive
Get out your autograph pens and prepare to laugh, cry and be inspired all at once—it's time for the 22nd Bank of America Festival of Arts, Books and Culture. This annual event, known for its unique ability to draw main-stage names right here to our own back yard at the Katz Jewish Community Center in Cherry Hill, will feature more than 30 authors, artists and entertainers. This year's lineup includes award-winning actors and authors Marlee Matlin and Henry Winkler; author and Sen. Joseph Lieberman; fashion designer Vicky Tiel; composer Charles Fox—who, by the way, composed the theme song for Happy Days; the regional debut of the off-Broadway production Reading Under the Influence; and, of course, many more from South Jersey and beyond.
"This year is filled with some of the most tantalizing stories ever told," says Jodi Kaufman, festival co-chair. "Incredible memories, tales of spies and political scandals, and intense topics that will definitely get people talking. It's been a wonderful experience finding authors that will really enlighten and engage our community." Nov. 13-20 at The Katz JCC, 1201 Springdale Road, Cherry Hill, (856) 424-4444, KatcJCCC.org.
Book It
Among the highlights of this month's Bank of America Festival of Books, Arts and Culture at the Katz JCC are the works by our very own local authors. Take a look at just a brief sample of what, and who, you'll find Nov. 13-20.
Coffee Talk
A special panel discussion entitled "Coffee, Cake & Conversation" will feature Dr. Andrew Levitas, a Cherry Hill-based psychiatrist and author of "Alumni Notes"; Merrick Rosenberg, founder of Team Builders Plus in Marlton and author of "Taking Flight! Master the Four Behavioral Styles to Dramatically Improve Your Career, Your Relations … Your Life!"; and Robert Strauss, a Haddonfield native and author of "Daddy's Little Goalie."
Love and War
Cherry Hill's Pam Jenoff will discuss her latest work, "The Things We Cherished," referred to by Random House publishing as an ambitious novel that spans decades and continents. Taking place during modern day and the Holocaust, the novel is "rich in historical detail … a testament to true love under the worst of circumstances."
Awkward Adolescence
The final local author to be featured will be Matt Blackstone, of Cherry Hill, who wrote the young adult novel, "A Scary Scene in a Scary Movie," a witty take on the life of a teenage boy with obsessive compulsive disorder, his dysfunctional family, and the friendships he forges.
Go Figure
$61.4 million — The amount of transitional aid, extra funding given to distressed cities, Camden City will receive this fiscal year from Trenton. In total, the city will receive $107.4 million from the state, down from $115 million last year.
4% — The proposed municipal tax hike in Camden. The state, in its transitional aid award letter to the city, said it's "confident" the city won't have to raise the proposed increase after its aid award.
$1.9 million — Amount Cherry Hill School District may have to put toward a new charter school, Regis Academy, scheduled to open Sept. 2012, for the estimated 169 Cherry Hill students who would attend.
Four — The number of top cops Trenton has had in the last 15 months. Trenton Mayor Tony Mack recently named Capt. David Armitage the acting police director.
$500,000 — The amount a liquor license was sold for recently in Cherry Hill to the developers of the former racetrack on Route 70.
54% — The amount of New Jerseyans who approve of Gov. Christie's job, up from 44% in May.
60 days — The extension, lasting till Dec. 7, that Collingswood received to settle the $8.5 million it owes a developer, which could result in Moody's revisiting its Ba1 "junk" credit rating.
2:24 — The time it took Cherry Hill's Jackie Neal to roll 42 pretzels, which comes out to 3.4 seconds per pretzel. Neal recently won part of a competition sponsored by Auntie Anne's, making her one of the fastest pretzel rollers in the country.
$950,000 — The money that will be saved among Cherry Hill, Voorhees, Haddon Township, Merchantville, Winslow, Somerdale, Gibbsboro and Collingswood thanks to a recent trash disposal collective purchasing agreement.
$87 — The approximate amount that New Jersey workers will have back in their annual pay thanks to a change in the state's disability insurance.
Home Grown
Mister Clean
South Jersey native Aaron Krause recently stumbled upon an extremely useful kitchen tool—one that he invented, in fact. Krause, founder of Innovative Accessory Products, developed a highly-engineered foam scrubber, meant for use at auto detailing shops to combat grease, oil and rust. But a happy accident revealed a different use, after Krause's wife used the scrubber to clean up after dinner one evening in their Voorhees home. Thus, the "The Scrub Daddy" was born.
Molded in a smiley face, the patented sponge's "eyes" serve as finger grips while the mouth and zig-zag edges cut through grease on utensils, cups and more. Made up of a temperature-sensitive material that becomes soft in warmer water and rougher in cold water, the sponge is designed to last for months and remain odor free.
"Right now, the economy is bad," Krause says. "Everyone's down on America. I think this is a positive thing; manufacturing items right here in the Delaware Valley."
Now you can purchase the Scrub Daddy on Amazon.com, on shelves at ShopRite stores in Cherry Hill and Marlton, or at GetScrubDaddy.com. —Doug Gausepohl
Spotlight
And The Nominees Are…
A look into South Jersey's history shows the area was the birthplace of many notable figures whose contributions went on to have a lasting impact on the world. Which is why it comes as no surprise that this year's list of nominees for the 2012 class of the New Jersey Hall of Fame has a distinct South Jersey flavor.
Those with area ties being considered for the 2012 class include John Dorrance, the Campbell's Soup president who invented condensed soup (Cinnaminson); Ed Sabol, founder of NFL Films (Atlantic City); Thomas Paine, the Revolution-era journalist (Bordentown); Dr. James Still, known as the "the black doctor of the Pinelands" (Moorestown); civil rights leader Irene Hill Smith (Woodbury); David Sarnoff, who formed the National Broadcasting Company (NBC) and the Radio Corporation of America (RCA) (Camden); and Elizabeth White, the first in the nation to introduce the cultivated blueberry (New Lisbon/Pemberton).
To read biography information for all 50 nominees and to place your vote, through Jan. 1, visit NJHallofFame.org.
Street Level
Glassboro
A Washington Township woman allegedly bit a Glassboro ShopRite employee in the chest and kicked him in the groin when he tried to prevent her from shoplifting $89 worth of merchandise.
Marlton
The Evesham Police Department is first in the area to join the national tip411 program, allowing citizens to use their cell phones to anonymously send tips via text message to the department. The police can respond back and it remains an anonymous "chat."
Deptford
A Westville woman was indicted on charges of endangering a helpless person, neglecting a senior citizen and aggravated assault after she allegedly used an iron to burn a wheelchair-bound man in his Deptford home.
Cherry Hill
Someone slashed the tires of 31 Burlington County BurlLink buses, used to transport elderly and disabled residents. The buses are kept at a depot in Cherry Hill.
Camden
A Camden Fire Department captain, from Sewell, pled guilty to stealing $27,000 from his fellow firefighters' "house fund," which is used for supplies at the firehouse.
Glassboro
Rowan University students got a wild surprise after a six-point buck crashed through a window of the university's music hall. The injured deer roamed the halls for 10 minutes before leaving, breaking four windows as students took cover in practice rooms.
Cinnaminson
A Mt. Laurel man allegedly stole $100,000 worth of supplies from the manufacturing firm he worked for and sold the products on the black market.
Notebook
New Jersey's medical marijuana program was hit with a setback in October when the proposed site of a dispensary in Maple Shade was rejected by the zoning board. Of the six companies that have been granted state licenses to dispense medical marijuana, Compassionate Sciences Alternative Treatment Center was the first to come before a zoning board for approval.
While the company weighs an appeal, another dispensary has its eyes on South Jersey as well, and would like to open a facility in Westampton at a site near Route 541 and Exit 5 of the Turnpike. The space is zoned for medical use, among other things. However, though an official proposal hasn't been submitted yet, there have already been hints of opposition among local officials and neighbors.
15 Minutes
New Sensation
Christina Grimmie (pictured), a 17-year-old Marlton native, is a rising star thanks to YouTube, the modern equivalent of Star Search, but she's quickly becoming known around the world, with her cover songs amassing an average three million views each. In early 2011, she won the MyYouTube contest, receiving a higher number of votes than teenage heartthrob Justin Bieber. That helped her score the opening spot on Disney star Selena Gomez' U.S. summer tour, and the two just finished a Canadian tour. Though Grimmie is unsigned, the pianist and singer has been in talks with record companies and has almost too many Facebook fan pages to count—her main page has more than 700,000 fans. She put out an EP of her originals, entitled "Find Me," earlier this year, and she recently performed on The Ellen DeGeneres Show. What we're trying to say is: If Grimmie isn't on your radar yet, she should be.
We asked Grimmie, who admits she used to be too nervous to sing in front of people and she still doesn't like to be away from home too long, to share some of her thoughts about her new life in the spotlight:
What first got you into music?
I've just always had a genuine love for music and singing. It consumed my childhood.
What made you put up that first YouTube video?
My friend Lauren convinced me to try it. She told me that she thought I sang better than a lot of the YouTube singers, which I personally disagreed with. But I threw one up there and to this day don't regret it.
Were you shocked when you first saw the reaction you were getting from fans?
Of course! And at the time, I didn't consider them fans. The thought of me having fans was out of this world, really.
How did you get the gig opening for Selena Gomez?
Selena's parents are my amazing managers and they really believe in me, which is why I have the amazing opportunity to open for Miss Selena. The experience is like no other; it's been so fun and exciting.
You're currently unsigned. Where are you with offers?
As much as I'd love to be signed to a major label, I gotta say the music industry is so much fun right now. There is so much you can do independently.
What are your career goals?
Ultimately, I want my career as a musician to be taken seriously and for people to really be inspired by my work.
Who are your musical inspirations?
I was very much in love with the vocal styling of Stacie Orrico. I was about 10 when I got into her. I tried hard to mold my voice around her skills and that's where I believe the "soul" in my voice came from. The newer but very powerful influences are Christina Aguilera, Adele and Coldplay.
What's your favorite thing about performing?
If the energy of the crowd is high and loud and crazy, the better my performance is and it just gets me going.
What have you learned about yourself?
I've learned how important it is to keep a level head and not consider yourself "all that." I have my Jesus Christ and my family surrounding me to help me stay grounded, as well.
How was your high school experience affected? Are you still a "normal" kid when you're back home?
I'm homeschooled now, although I suspect it'd be much different if I actually went to high school. I started homeschooling my junior year and I am as of right now a senior. And yes, I would say I am very much so a normal kid back home.
How do you choose your cover songs?
Usually it's based off of the popularity of the song, so I know people are going to be searching for it and saying "Hey, I wonder if Christina has covered this song yet."
A lot of people compare you to Bieber because you both got your start on YouTube. How do you feel about that?
It's right off the bat relatively flattering, considering the success Justin has found and the talent he has. However, I think that our musical styles are much different from each other.
Are there are local teachers who encouraged you to pursue your dreams?
There are a few teachers that I would really love to know have touched my life. Mr. [Frank] Guerrini was my choir teacher in 9th and 10th grade. I always enjoyed his class; he was so serious and passionate about music, as am I. He told me I was "ahead of my time" and was very encouraging. And there is also my communications tech teacher, Mr. [Rob] Caccamo. Even though I can unfortunately say that I failed quite a few projects of his, he never gave up on me and always encouraged me to keep going. He saw my creativity and, despite my failure, he was one of the greatest teachers I've ever had.
Will your heart always be in South Jersey?
Yes. Forever and always I will be a South Jersey girl.
+ GOOD
Smart Money
Your phone rings, out of the blue; the voice on the other line wants to give you $500,000, with no strings attached. For Jacob Soll, a professor of history at Rutgers-Camden, that was a reality last month when he became the newest MacArthur Fellows grant recipient. Soll, a twice-published author with a Ph.D. from Cambridge University, has meticulously researched the political, cultural and institutional history of Europe from the 16th through 18th centuries, applying his findings to the modern world. This year's 22 Fellows, all working in a broad range of creative endeavors (including a poet, a radio broadcaster and a developmental biologist), will receive support from the foundation during the next five years, offering "unprecedented freedom and opportunity to reflect, create, and explore."
Names to Know
Haddonfielder Robin Shreeves and First Lady Michelle Obama have at least one thing in common: a passion for good, healthy food. Shreeves, a food blogger for the eco-friendly Mother Nature Network, was chosen to attend a fall garden harvest at the White House in October. The blogger participated in a "tweet-up," sharing her observations throughout the day on Twitter with 16 other guests.
Rowan professor Mark Berkey-Gerard has been paving the way for innovation in the classroom – and the newsroom. The former Gotham Gazette journalist now directs two multimedia online journalism courses, and was recognized this semester by the university's Faculty Center for Excellence in Teaching and Learning, earning a Junior Faculty Innovative Teaching Award.
Marlton's Ray Rizzo has a unique claim to fame: the 19-year-old is the only person to win the World Pokémon Championship two years in a row, against 400 players from 27 countries. Rizzo placed first in the Masters division, scoring him a scholarship of more than $5,000 and world title bragging rights.
Meet Janet Z. Smith: the newest Superior Court of New Jersey judge hails from Cinnaminson. A former deputy assistant public defender and Cinnaminson attorney, Smith was officially sworn in as a state superior court judge in late Sept. The mother of four will serve Burlington County's Family Division
Rick J. Goldstein, a Cherry Hill attorney with Hangley Aronchick Segel Pudlin & Schiller, is the man to know for all things altruistic in South Jersey's Jewish community. Goldstein, a member of the Ambassador's Circle of the American Jewish Joint Distribution Committee, among other active groups, received a prestigious service award from the Jewish Federation of Southern New Jersey, for his dedication and leadership in the community.
Michael Giordano of Medford and Andrew Weiner of Haddonfield are taking to the skies as a team for Angel Flights Northeast, a nonprofit organization arranging free flights for critically-ill patients. The pair uses a private plane to personally fly patients to and from distant hospitals, helping those who cannot afford transportation. They have piloted several dozen flights so far, going as far as Boston and Pittsburgh.
John Colucci, a 15-year Mount Laurel firefighter, was sworn in as the new chief of the town's fire department this month. The father of four will oversee a department of 110 career and volunteer firefighters, protecting the town's roughly 40,000 residents.
Pint-sized country singer Payton Taylor, a Washington Township native, just released her debut album to positive critical feedback. With a voice beyond her years, this 14-year-old won a round in a national talent contest, Texaco Country Showdown, before starting an east coast tour. Her seven-song album, "Shine," is available on iTunes and Amazon.com.
Published (and copyrighted) in South Jersey Magazine, Volume 8, Issue 8 (November, 2011).
For more info on South Jersey Magazine, click here.
To subscribe to South Jersey Magazine, click here.
To advertise in South Jersey Magazine, click here.