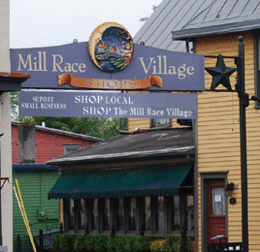 Neighborhood Watch: Collingswood
From the towering piles of luminous Jersey tomatoes at its farmers' market (one of the best in the state), to its vibrant Second Saturday art scene, to its throwback third-Thursday cruise nights and its friendly bike share program, downtown Collingswood really comes into its own in the summertime. Wander Haddon Avenue (and veer off down intriguing side lanes) on an August afternoon, and you'll discover fresh-baked cupcakes, original artworks, one-of-a-kind shopping and enough alluring dining options to put your diet on permanent hiatus. Make a day of meandering along this irresistible main street and you'll find plenty of rewards along the way.
Snack attack
The gourmet cupcake trend has reached Collingswood with a bang. The ultra-feminine, whimsical four-month-old My Little KupKake (685 Haddon Ave., 856-240-1097) serves large, medium and mini cupcakes in larger-than-life flavors like peanut butter cup, s'mores and fruity pebbles, plus pie-lets in mixed berry, coconut cream, lemon chiffon and other daily-changing flavors. And if that doesn't sate your sweet tooth, there's always Cipolli Cannoli, (1150 S. Atlantic Ave., 856-858-3510) a Friday- and Saturday-only establishment that specializes in the ricotta-stuffed pastries and even sells fill-at-home cannoli kits. Or, if you prefer salty to sweet, give your taste buds a shock at Gourmet Popcorn Creations (802 Haddon Ave., 856-858-0711), where they serve up flavors like blue raspberry, peanut butter, dill pickle and vanilla. The calorie-shy (or those suffering a sugar-crash) can grab a mean cup of coffee from Grooveground (647 Haddon Ave., 856-869-9800), a coffee bar that also sells local music and artwork.
Dinner
Regulars flock to Nunzio's Ristorante Rustico, (706 Haddon Ave., 856-858-9840), for good reason: namely a Tuscan-inspired setting and authentic antipasti, calamari dorati, homemade gnocchi or the special occasion-worthy whole branzino. Sapori (601 Haddon Ave., 856-858-2288) is another notable Italian destination. Can't decide between casual and fine dining? Make a last-second call between chef Alex Capasso's upscale Blackbird Dining Establishment and its younger, hipper, conjoined sister, West Side Gravy (714 Haddon Ave., 856-854-3444), which serves the type of warm comfort food that your Grandma would make, but with a gourmet, contemporary edge. Casona's (563 Haddon Ave., 856-854-5555) wraparound veranda is one of the best seats in town for spectacular Cuban and Latin foods, (especially the five types of guacamole). Or, detox with vegetarian Chinese dishes at the Green House (655 Haddon Ave., 856-854-0896), popular for its General Tso's tofu and bubble teas.
Shopping & Spa
In need of a wardrobe upgrade? Charm (697 Haddon Ave., 856-833-1697) could have the answer, with dresses and accessories for women and tweens—plus etiquette classes to ensure you can carry off your new look. Or, pick up something for the kids (or your collectibles-obsessed husband) at Brad's Toy Room, (807 Haddon Ave., 856-942-0344) where 1980s through modern-day playthings are in stock. If you'd rather pick up something for your home, wander through The Painted Cottage (719 Haddon Ave., 856-854-0534), where winding rooms are filled to the brim with vintage furniture like dressers, night tables and floral sofas beautiful enough to fill Marie Antoinette's dressing room. Or, for a true tres chic vibe, visit Two Cherubs (20 Irvin Ave., 856-287-5185), packed with imported French antiques and vintage furniture, linens, ornaments and house wares, culled by owner Jenny Lunny from Parisian flea markets and warehouses. For all things green, stop by Frügal (740 Haddon Ave., 856-858-0700) for a selection of vintage and used clothing, plus baby gear and childbirth classes run by store owner and Bradley Method instructor Morgan Robinson. Speaking of green, duck into the environmentally conscious Verde Salon (4 Powell Lane, 856-858-0911). Or check in at Bauhaus (788 Haddon Ave., 856-833-1116), known for standout cuts with strong, geometric styles.
Art
Collingswood loves their local artists—which is why their works can be found at aforementioned businesses including Bauhaus, Grooveground and West Side Gravy. But there's way more local art in store at galleries and gift shops like ZUZU (577 Haddon Ave., 856-240-1420), where they also offer courses in making your own fabulous metal jewelry. These evenings are filled with artists showing their latest masterpieces, musicians belting out their tunes, and shops opening their doors after normal hours. Arts Plus Gallery, (704 Haddon Ave., 856-854-5500) known for its framing, also features plenty of artwork and gifts. Not far away, the sleek Aida Jaine Gallery (554 Haddon Ave., 856-854-3727) promises changing exhibitions by fine artists from the region and beyond. Once you're inspired, make your own masterpiece at All Fired Up (602 Haddon Ave., 856-833-1330) a pottery-painting studio that offers kids' workshops and popular adult nights.
Published (and copyrighted) in South Jersey Magazine, Volume 8, Issue 8 (November, 2011).
For more info on South Jersey Magazine, click here.
To subscribe to South Jersey Magazine, click here.
To advertise in South Jersey Magazine, click here.