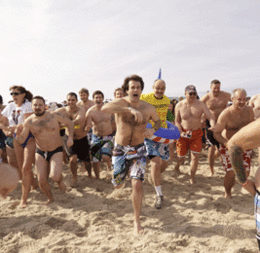 Southern Exposure: September, 2011
Book It
Easy Readers
Among all the gloriously nerdy delights South Jersey has to offer, nothing beats the Collingswood Book Festival. To mark the occasion, we caught up with a handful of local authors who will be appearing at the festival, to chat about their newest books, ranging from sociology-minded travelogues to mysteries to gangster lit. Check out the authors below and show up Oct. 1, from 10 a.m. to 4 p.m., for readings, workshops and other events along Haddon Avenue. CollingswoodBookFestival.com
Mob Scene
Pitman resident George Anastasia has been covering the criminal underworld for the Philadelphia Inquirer for a quarter-century. So, he was a natural choice to join with sports talker Glen Macnow for a book centered on dramatizations of the mob world: The Ultimate Book of Gangster Movies, (Running Press, Sept. 27, $20), a survey of the 100 greatest mob flicks of all time. Each movie selection comes with an essay and fun facts like body count and best line. Anastasia says the list contains surprises, including sleeper hits and obscure foreign films. So, he expects plenty of debate: "If the book works," he says, "People will argue." Here, then, are of few of his (highly subjective) picks.
Best movie: "[The] Godfather and [The] Godfather II. Cinematically those movies are great."
Most realistic: "Goodfellas and Donnie Brasco. They really captured what the underworld is like: there's a lot of treachery and a lot of paranoia. Pacino really nailed it as this schlub, Lefty Ruggiero, every day trying to make it."
Most overrated: "Scarface. Glen would have preferred to have it in the top 10, and I would have preferred to have it in the bottom 50. It ended up around 16 or 17."
Culture Shock
In 2003, Audubon's Donna Gottardi went to rural China as a teacher trainer, and began writing to friends about her experiences. "It seemed to make a really neat book of e-mails, and I was just going to compile them for myself," she says. But as she filled in the gaps, it turned into a book, Raining Cats and Rats: Lessons and Life in Chinese Siberia, which came out last August (Seaboard Press, $16). Her experience in the remote reaches of China bordering Russia was flavored by both stark cultural differences and surprising similarities. She also recounts the small novelties: finding dog paws in a buffet, being addressed in Russian and the difficulty of teaching idioms, like "raining cats and dogs," which got twisted by an eager colleague into the book's title phrase. Next up, a book of short stories about her journeys through India, Turkey and Vietnam.
Crime Pays
When Robin Hathaway was 50, she began writing novels. After 10 years of rejection slips, her book The Doctor Digs a Grave, starring the sleuthing Dr. Fennimore, won the St. Martin's Press mystery award, and launched a prolific career including eight murder mysteries all drenched in local color. Now, the part-time resident of Greenwich, a tiny seaport town near the Delaware Bay, is working on a historical spy novel set at Cape May Point in World War II, based on local legends and Hitler's very real plans for the region. She says she's been driven to write about this region for years now. "In my Dr. Fennimore books, he keeps leaving Philadelphia to go to South Jersey. I don't think my editor was so keen on that, but I couldn't help it," she says. "What I love about South Jersey is there's all this history."
Rock On
Jerry Blavat, a.k.a. The Geator, hasn't exactly lived under the radar. But in his new autobiography You Only Rock Once (Running Press, July 27, $23) he lays it all on the line. "I realized that America was not the same as when I grew up. Radio was not the same, music was not the same. And I felt compelled to write a story, especially for young people, about when America was young, rock 'n' roll was young, and when you lived in a neighborhood where you knew everyone and people would cheer you on—and what it was like to have a dream and a passion and to just go for it," he says. Jamming on Bandstand, rolling with mobsters, rocking dance clubs down the Shore—it's all in the book. If you can't wait for the festival, catch The Geator Sept. 15 at 7 p.m. at the Barnes & Noble at Garden State Park in Cherry Hill.??
Go Figure
71: Age of Joey Vento (pictured), the Shamong resident and South Philly cheesesteak slinger famed for his "Speak English" signage. Vento, who died of a heart attack in August, will be remembered for his broad-ranging charitable efforts and larger-than life personality.
6.1: Number of divorces performed per 1,000 men in New Jersey in 2009—the lowest in the country according to a new Census Bureau release. (The marriage rate was also among the lowest, at 14.8 per 1,000.)
+13: Burlington and Camden counties' score on a quality of life poll of New Jersey counties. (Gloucester County scored a +12 on the scale, which ranged from -100 to +100.) These scores translate to some of the lowest levels of satisfaction in the state, according to the Monmouth University survey.
59%: Burlington County respondents who said they would move out of Jersey, the second-highest rate in the state.
72%: Gloucester County residents who rate their hometowns positively, the fifth-highest proportion in the state.
Notebook
Caylee's Law Review
At an office in Cherry Hill, workers stood in shock around a television, watching the news feed live from an Orlando courtroom. A Mount Laurel mom angrily fired off a Facebook status to her friends about what it means to "be a good mom." Hundreds of thousands of reactions, shocked, angry, jaded, echoed around South Jersey as the verdict for Casey Anthony—accused of killing her 2-year-old-daughter Caylee—came in this July.
Anthony, 22, was acquitted on charges of first-degree murder, aggravated child abuse and aggravated manslaughter of a child. She was convicted only on a misdemeanor charge of lying to investigators about the disappearance of her daughter. Among the most alarming facts in the case: Caylee was missing for 31 days before her disappearance was reported. Now, three local assemblymen are at work on a state law to prevent that level of negligence from occurring again.
A bill proposed by Assemblyman Domenick DiCicco of Gloucester and Camden counties and Atlantic County's John Amodeo and Vince Polistina, would make it a third-degree criminal offense when a caretaker fails to notify authorities within 24 hours if they know the child is missing or in danger. The legislation also requires a caretaker to notify authorities within one hour of a child's death.
"To be frank, I was shocked there wasn't a law already in the books," DiCicco says. The assemblyman says his office received "floods of calls" from constituents asking for action.
The proposed legislation has yet to go to vote (session resumes this September) but DiCicco says he and his colleagues believe it will be easily passed. Caylee's Law will join a number of laws named for departed young victims, most famously Megan's Law, established in New Jersey in 1997 after 7-year-old Megan Kanka was raped and killed by her neighbor, a convicted sex offender. The law's reach has since spread nationwide Versions of Caylee's Law are in the works in 16 states. A petition on Change.org has netted 1.3 million signatures since July.
Some have called it knee-jerk legislation, but, says Mary Van Osten of Mount Laurel, who took to social media following the verdict, if Caylee's Law "spares one more little life, then it's worth it." —Allie Harcharek
Street Level
Dispatches From our Backyard
CINNAMINSON
A 97-year-old woman, who earlier this year survived an enormous explosion in her home, scared off a would-be burglar by slapping his hand when he broke a window and reached inside to undo the lock.
MOUNT LAUREL
Local teens who had ventured into Philadelphia past curfew were rounded up by police for fear they might join a flash mob.
MOUNT LAUREL
A 58-year-old local man with a passion for jumping rope has begun marketing his hobby as a fitness regimen for people of all ages.
DEPTFORD
A man who stabbed a baby shower attendee last year received a seven-year prison sentence.
HADDONFIELD
The fire department failed to nab a parrot named Penelope who flew off into the suburban wilderness after discovering that her clipped wings had grown out.
Home Grown
Undertoe
A few years ago, Medford's Donna Hill faced a conundrum. She was heading to a party at a neighbor's house, she says, "and I didn't know if it was a shoes-on or shoes-off house." Horrified at the thought of leaving her scuffed and stained sandals by the door, she threw together a fabric sticker insole, and the idea for FlopTopz was born. The cushioned flip-flop insoles are priced at $7.50, and Hill hopes to get them into stores nationwide over the next year. In the meantime, pick them up in Marlton at Ageless Skin Solutions or in Medford at Cindy's Nails or Creative Genius. Your flip-flops might survive through your next vacation after all. FlopTopz.com
Quoted
"If a person is arrested upon a criminal charge, involving an accusation of bastardy, rape, fornication or of having had carnal knowledge of an unmarried female, and the accused person consents to marry such female, any licensing officer is authorized to immediately issue a marriage license." —Language, remediating rape by marrying the victim off to the perpetrator, that was officially stricken from New Jersey law books by Gov. Chris Christie in August
Sporting
Up and Running On the G4 cable program American Ninja Warrior, Chris Wilczewski, 22, of Mount Laurel, was eliminated this summer after reaching the final 15—meaning he won't be competing in Japan for the title of international ninja master. That, however, doesn't mean Wilczewski can't have his own dojo.
The athlete is capitalizing on the growing number of South Jersey teens and 20-somethings to have taken up the sport on which the TV series is based, by opening the area's first parkour training center, The Warrior Lab. Also known as freerunning, the sport emphasizes bypassing obstacles with as much efficiency and agility as possible. Made famous in the past decade by eye-popping YouTube videos, and even more so by the cult popularity of the Ninja Warrior series, parkour has officially reached South Jersey.
"There's a very large, almost underground community [of South Jersey freerunning enthusiasts] that operates within itself and trains together," he says. Now, that training is open to anyone.
Wilczewski has been holding training sessions all summer at parks around town, but now, he has a full parkour gym set up within CrossFit Mount Laurel. "We'll have a lot of boxes and structures where people can practice parkour moves, and where we can teach relatively fluidly," he says.
Though Wilczewski is mostly self-taught, he says traveling around the country visiting parkour gyms has given him new insight into the proper techniques. (He also picked up a teaching certification from Parkour Horizons.) He starts with the basics, and has plenty of mats in place for those inevitable falls. So far, he's been able to pass those skills along to about 10 students ages 13 through 26, but he says older students are welcome too. "It's not really competitive: it's more of a discipline, and you can constantly see yourself improving. If you work hard, you'll get better and stronger at it," he says.
Classes are $120 per month, or $960 for a year. A one-week trial is free. CrossFit Mount Laurel, 113 Gaither Drive, Mount Laurel, (856) 905-9863, JerseyParkour.webs.com
Good
Young at Heart
In 2003, Haddonfield residents Steve and Lisa Hurly lost their son Stephen at just 5 weeks old, to heart disease and complications of premature birth. Ever since then, they've remembered him—and raised thousands of dollars to fight against pediatric heart disease, cancer and premature births—with KidzFest, an annual event that's part fundraiser, part celebration.
"It's [like Stephen's] birthday party every year," Lisa Hurly says. "We really want to focus on his birthday and kind of celebrate his life. He's the motivation not only for me, but for everybody who does it." And there are lots of people involved, including scores of volunteers from Paul VI High School and, in past years, as many as 5,000 attendees.
The event features a FunAThon, where kids ages 6 to 12 can raise money by participating in basketball, hockey and soccer shootouts. "We realized the importance of helping to get children more involved to help other kids. That's our biggest goal now," says Hurly, who has four more children of her own, ranging in age from 4 to 9.
Giant slides, inflatables, pony rides, a petting zoo, face painting, crafts, food and entertainment round out the day of community, which benefits research at the Children's Hospital of Philadelphia as well as reproductive medicine at Virtua. So far, the event has raised over $50,000—but Hurly says it's done way more than that.
"When we first started KidzFest, we had the idea that it would raise all this money, which it has done, but we realized the importance to us is the families coming together," she says. "I've met a lot of women who have gone through what we went through. The whole reason we do it is to help other people."
KidzFest: Sept. 18, 11 a.m.-3 p.m. at Challenge Grove Park, 100 Borton's Mill Road, Cherry Hill, (877) 744-3083, KidzFest.org, free
On The Road
Travelogue
Medford's Jeff Salvage, increasingly well known as the photographer for the One Dress, One Woman, One World project, has a new book out: A Journey Alongthe World's Great Treks, written with Kirk Markus. Visit GreatTreks.com to travel vicariously or go to L.L. Bean in Marlton, Oct. 1 at 2 p.m. for an author's presentation.
15 Minutes: Robin Rieger
An Edgewater Park native, Robin Rieger has made strides in her career—but she's never strayed far from her roots. The Glassboro State grad and one-time Burlington County Times reporter has been a longtime fixture on CBS 3. We asked Rieger, wife of 76ers radio announcer Tom McGinnis about her life at home and off the air in Burlington County.
The high point of my career has been ... being trusted by so many people I've interviewed over the years. Many are elated over the best moments, others devastated by tragedy.
My industry role model is … the colleagues I work with now that I grew up watching. They still inspire me and know who they are.
I never leave home without … hugging and kissing my husband and kids.
The perks of being married to sportscaster Tom McGinnis are … he's an even better dad and husband, and often makes our kids laugh by reading the morning paper in play-by-play mode.
When I wake up in the morning I look forward to … our kids coming in for hugs before we have to get moving.
The best advice I ever received was … love isn't just a feeling, it's what you do.
I'd like to have dinner with … any president.
My favorite meal in South Jersey is … chicken parm over linguini at Goochie Brothers in Brigantine.
My goal for the future is … to have a relationship with our kids similar to what Tom and I enjoy with our own families.
I'd rather be … golfing with Tom.
Names To Know
Local people making a difference in South Jersey and beyond
Marlton firefighter Michael Robertson was honored with the 2011 Fire News Outstanding Leadership Award, for his efforts with the county's Junior Firefighter/Explorer program. Robertson led a county-wide initiative to bolster volunteer firefighter recruitment.
Jessica Boyington, a resident of Sicklerville, has joined the CW Philly Crew after appearing on television shows such as Royal Pains and in Hollywood blockbusters like Sex and the City 2 and How Do You Know? A Rowan graduate and former Miss New Jersey, Boyington will appear regularly on the CW.
Adam Meisel, a Washington Township High School grad, is making mouths water all over the nation with his work at Gojee, a start-up company running a new photo-centric recipe website. Meisel, a designer at the fast-growing company, explains the site keeps track of what's in your pantry and suggests recipes that work with what you have. They've earned props from The Washington Post, Mashable.com, Forbes and more.
Glassboro's Kathy Moscufo was the first-ever woman inducted into the South Jersey Football Coaches Association hall of fame. This summer she was honored with the Clem Homan and Jerry Hoglen Distinguished Award. Mofusco runs on-site management for the Adam Taliaferro Foundation's All-Star Football Classic at Rowan University.
Rowan University appointed Pitman resident Shreekanth Mandayam as executive director of the South Jersey Technology Park and Associate Provost for Research for the university. Mandayam has been with the university staff since 1997 and teaches electrical and computer engineering.
Stefania Shamet, a Marlton attorney who works for the U.S. Environmental Protection Agency, received the Edward T. "Red" Heinen Wetlands Award, the EPA's most prestigious award, for her work and counsel on sensitive water and wetlands matters. Shamet has been with the EPA for 14 years, including work on the Clean Water Act and the Safe Drinking Water Act.
Mount Laurel resident Eric Carlin, 18, broke the Guinness World Record for most consecutive ollies done on a skateboard. Carlin set the new record with 247 ollies in a row (a move where a skateboarder pops the board into the air using only their feet), surpassing the previous record of 215, set by professional skateboarder Rob Dyrdek in 2007.
Steven Suflas of Ballard Spahr in Cherry Hill has been named Labor and Employment Lawyer of the Year for the Philadelphia and Southern New Jersey region by a survey of peers printed in Best Lawyers magazine.
Do you know a local person who is doing great things? Let us know by e-mailing Allie@SouthJersey.com.
Published (and copyrighted) in South Jersey Magazine, Volume 8, Issue 6 (September, 2011).
For more info on South Jersey Magazine, click here.
To subscribe to South Jersey Magazine, click here.
To advertise in South Jersey Magazine, click here.