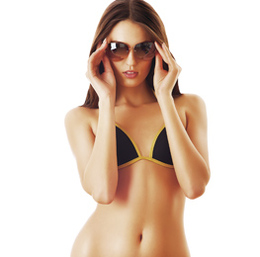 Summer Rush
The procrastinator's guide to looking great for beach season.
Bikini season is finally here. But are you ready? If you've been putting off getting in shape for summer, it's not too late. From minimally invasive procedures to medically supervised weight loss programs, South Jersey's experts have plenty of solutions that will have you beach-ready in no time.
Shape Up
Traditional plastic surgery can require weeks of recovery time. Instead, skip the knife for a minimally invasive (and much less expensive) alternative. One option is VelaShape, an FDA-approved, non-invasive cellulite reduction procedure that can smooth your stomach, thighs, neck, upper arms and knees, resulting in lost inches. Patients can see results in about four treatments, according to Dr. Birgit Toome, of Appearance Dermatology in Marlton. The device uses radiofrequencies, infrared light, massage and a vacuum to tone and sculpt.
"Say you're in shape and have had your baby and have worked off everything else. If you have a [small belly] that you don't want [to have] surgery for, this is a good way to go. It's not a weight loss device; it's for someone that's at their normal weight that wants to tone and tighten certain areas," says Toome.
Face Forward
If it's facial wrinkles that have you worried, there is a litany of options, according to Dr. Gary A. Tuma of Plastic Surgery Associates of New Jersey, the director of plastic surgery at Capital Health. For a quick, non-invasive fix, Botox and fillers are a great solution. Botox paralyzes the muscles to decrease the formation of wrinkles and fine lines. With a few injections, patients can experience a tighter (but not too tight), youthful look.
"Most people who have had Botox say their friends and loved ones don't know what's different about them; they just look better. It gives most patients that refreshed look," says Tuma. A complement to Botox is the use of fillers, which can restore volume that has been lost over the years. The fillers offset some of the characteristics that occur with aging, such as shading and depressions, adds Tuma.
And if you are considering surgery, Tuma says the new Vectra 3D imaging machine is transforming how it's done. This new technology gives patients the ability to visualize the outcomes of surgical procedures such as rhinoplasty, breast augmentation, liposuction, body contouring and facelifts. It "gives the patients an idea of what is possible, while having nothing done to them," he adds.
Eat Right
Many want to lose weight for summer, but fad diets rarely produce lasting results. A smart alternative is a physician-supervised weight loss program that offers a long-term diet solution.
Dr. Jose Diaz-Jimenez of Creations Medical Spa in Sewell emphasizes ?be?havior modification in his program. That includes eating the right proportions and understanding the differences between junk food and healthy food.
He creates an individualized plan that is composed for each patient—and then offers a maintenance plan for once the patient meets his or her goal weight.
"My patients absolutely love it," Diaz-Jimenez says. "They get increased energy, increased stamina; they look good and feel great. The No. 1 thing they love is how much energy they have afterwards. Their energy levels spike through the roof." His program is only two years old, but he says that so far more than 95 percent of his patients have maintained their weight.
Dr. Adarsh Gupta, director of Weight Management Services for the University of Medicine and Dentistry of New Jersey, also recommends a personalized weight loss program customized to each patient's routine, activity level, medical conditions, lifestyle and eating habits. Options depend on the client and can include a healthy lifestyle program that emphasizes food choices, exercise, stress management and sleep issues; a more aggressive trim-and-tone program where patients eat 1,200 calories a day in addition to using meal replacements; and a very low calorie diet program in which meal replacements are taken six times a day.
And while embracing a healthy lifestyle can take some time, it's a gift to yourself that will last for many summers to come.
Beach Beautiful
…Special Advertising Section from the pages of South Jersey Magazine…
The top experts can help create a new you.
Appearance Dermatology
Established in 1990, the practice offers both general and cosmetic dermatology. Striving to make each patient feel that one-on-one personal touch, they offer a treatment plan designed specially for the patient's individual needs. The office specializes in all diseases of the skin, hair and nails, and maintains 13 lasers on site.
Marlton | (856) 751-9560 | DrToome.com
Creations Medical Spa
Why spend hours upon hours going to different locations for different treatments when you can have it all in one convenient location? Creations Medical Spa is the answer! They offer a complimentary consultation by their board-certified medical director or their licensed medical aesthetician.
Sewell | (856) 589-1151 | CreationsMedicalSpa.com
Davis Cosmetic Plastic Surgery
In about three hours, look years younger without surgery. Turn the clock back and return to work looking relaxed, refreshed and younger! The "Vacation Lift" incorporates facial rejuvenation, breast lifting, buttocks lifting and more.
Cherry Hill | (856) 424-1700 | DavisCPS.com
Plastic Surgery Associates of New Jersey
Offering the full range of options for face, breast and body. With 3D Imaging that shows you your options before surgery. Serving all of southern New Jersey, double-board certified plastic surgeon Dr. Gary A. Tuma provides university-level care in a comfortable, convenient location.
Ewing | (609) 354-6414 | PlasticSurgeryOfNJ.com
South Shore Plastic Surgery
South Shore Plastic Surgery encompasses the full spectrum of cosmetic surgery. Let them help you get summer-ready with breast augmentation, tummy tucks, body contouring and even laser treatments for sun damage.
Voorhees | (856) 784-2639 | DrVasisht.com
UMDNJ School of Osteopathic Medicine Metabolic and Weight Loss Surgery Program
UMDNJ doctors understand the importance of mak ing the decision to have weight loss surgery. Their mission is to provide the finest medical and surgical care along with lifelong education and support. The two board-certified, fellowship-trained bariatric surgeons and their support staff have cumulative experience of more than 2,500 bariatric cases.
Stratford & Washington Township
(856) 566-2700 | TheUniversityDoctors.com
Published (and copyrighted) in South Jersey Magazine, Volume 8, Issue 3 (June, 2011).
For more info on South Jersey Magazine, click here.
To subscribe to South Jersey Magazine, click here.
To advertise in South Jersey Magazine, click here.