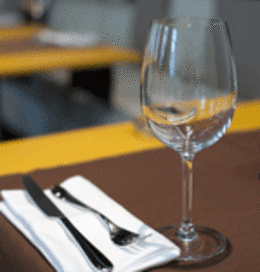 IndeBlue Indian Cuisine
Spicing Things Up
IndeBlue Indian Cuisine
619 Collings Ave.
Collingswood
(856) 854-4633
IndeBlueRestaurant.com 3 and a half forks
It would be a good sign for the Collingswood dining scene if any Indian restaurant had found it necessary to expand to accommodate a growing legion of guests. But the fact that IndeBlue has made the move—from its old 34-seat storefront to the 80-seat former Blackbird space—is even more significant. This, after all, is exactly the kind of Indian restaurant you hope will succeed: no cynical pandering to a lowest common denominator with half-conceived faux-Indian dishes, no kitschy décor that relies on sub-continental flair to distract customers from sub-par food. IndeBlue is as honest a rendition of the cuisine as you'd hope to find, even if some of the famous fire of Indian fare has been lost in this particular translation.
That was the case with the lamb dhansak. Perhaps the least visually appealing dish I ordered—the lentils and spinach blanketing the lamb were military-fatigue green—it was among the most delicious. The flavor of those lentils was every bit as remarkable as their appearance was drab, vibrating with high-toned fenugreek and the sweetness of meltingly soft slices of mango. Set against the gentle gaminess of the still pink-centered lamb, this dish embodied what fans of Indian food are drawn to: a range of flavors contextualized in exquisite balance.
That balance was present in most of what I tasted at IndeBlue, even the less exciting dishes. Those were generally the result of a tad too much sweetness in the sauces or stews themselves. While this is a smart way to introduce newbies to Indian food without overwhelming them with spice or aggressive aromatics, it runs the risk of making all the preparations taste too similar to one another.
Still, if the strain of sweetness grew a touch tiresome, it certainly didn't undermine the thoughtful accomplishments of chef/owner Rakesh Ramola, a serious talent whose formal training in India and respect for his ingredients carried the day more often than not.
Chole bature, a dish that is, arguably, the greatest final resting place for a chickpea, proved that even this humble legume can be downright luxurious. Pomegranate juice gave the garbanzos a bright sense of sweetness, as did tomatoes and onions, but these were balanced out by the nuttiness of chickpeas, which retained their starchy crunch. Scooped up with fried puffy bread (the bature), the concoction had only one flaw: it created the temptation to eat too much before entrees arrived.
Baingan bharta, or smoked eggplant, also benefited from chef Ramola's deft touch with sweeter flavors. Here, deeply caramelized onions in tomato-based sauce resulted in a combination of smoke, sweetness and acidity that was thoroughly appealing.
Unfortunately, that sense of delicacy occasionally undermines dishes that are often lauded for their brassier flavors. Chicken vindaloo, for example, though ordered spicy, lacked the tongue-searing heat and bracing hit of vinegar that I was hoping for. It was an attractively composed and well-mannered version, to be sure, but it lacked the often-riotous pop that its best versions have in abundance. (You don't go to a rock 'n' roll concert hoping to hear Haydn, after all.) Shrimp koliwada was another technically perfect dish—the fried chickpea flour that encased the tender shrimp was wafer thin and shattering—that would have been even better with a bit less sweetness and more fire in the chile-mayonnaise dipping sauce.
Still, all of these issues are tweaks, not overhauls. And in general, the food here matches the ethos of the place beautifully: Glossy woods and veneers, a gently babbling water sculpture, tur­meric-colored walls, service that's soft-spoken and deeply knowledgeable. Calmness pervades, from the decor to the food itself.
Of course, there is excitement as well. Garlic naan was blistered beautifully from the sides of the tandoor, and, in a touch that I wish more chefs would think of, the garlic wasn't added until late in the process, which meant there were no bitter black knobs of charred garlic marring the dough's chew. Salty lassi was savory, but not so much that it overwhelmed the food it was sipped alongside. Loose, perfumed vermicelli kheer referenced rice pudding with a wink. Even the decidedly un-Indian peanut butter ice cream, made in-house, worked alongside everything else simply because it was so flat-out good.
It makes sense that IndeBlue is growing as it turns locals into satisfied regulars. And with so many standouts on the menu, it merits plenty of return visits.
Published (and copyrighted) in South Jersey Magazine, Volume 8, Issue 3 (June, 2011).
For more info on South Jersey Magazine, click here.
To subscribe to South Jersey Magazine, click here.
To advertise in South Jersey Magazine, click here.