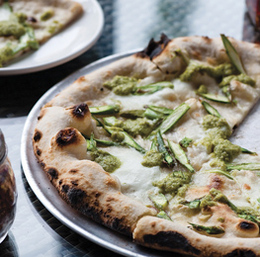 Treno Pizza Bar
More On The Menu
Treno Pizza Bar
233 Haddon Ave.
Westmont
(856) 833-9233
TrenoPizzaBar.com
3 forks
Since opening in December 2009, Treno has worked hard to establish itself with South Jersey diners. Fans of the storefront's former inhabitant Kitchen 233 may have been surprised to hear that a "pizza bar" was moving in, but after a few minutes in the casual yet refined dining room, you quickly realize that, while the wood-fired pizzas may be the star of the show, there's an ensemble cast that brings the production together: tapas dishes, fresh pasta, house-made sausage, all crafted with just as much care as the pizzas themselves. Chef Todd Fuller even cures his own charcuterie, which is where my meal began.
The wooden board of meats, cheeses and other early-course goodies exceeded all expectations. Tongue-draping slices of Parma prosciutto joined gently piquant coins of house-made soppressata, rough-hewn hunks of Parmesan sweetened with well-aged balsamic, a melty-soft rectangle of Tallegio and oil-drizzled ricotta (also made in-house!) As well, there were rosemary-kissed roasted peppers and grilled eggplant, all of it fresh and well composed, and perfect alongside virtually whatever wine you're starting off with.
Too often, house charcuterie plates are depressing affairs of bulk-purchased meats and cheeses presented with all the finesse of a fifth-grade production of a Tom Stoppard play. But at Treno, the thought­fully craft­ed platter seemed to indicate a loftier goal.
It evinced an attention to detail that, I hoped, would run throughout the meal. And, indeed, the quality of the ingredients in all the dishes we sampled was apparent, as was the kitchen's skill, under Fuller's watchful, passionate eye. Thanks to Fuller, who spent five years cooking for Stephen Starr before coming to Treno, dinner here included several more hits than misses, though there were a few.
Often, it was the little touches that stood out. Perfectly fried, fresh calamari was accompanied by a chunky tomato vinaigrette. Its balance of sweet, spicy and earthy rendered the rings and tentacles infinitely more interesting than they usually are when accompanied by the industrial-grade tomato sauce that is, unfortunately, the standard at many places. Smoky, silky, oven-grilled Caesar salad took full advantage of the flame-spitting wood-fired oven behind the bar, balancing the crisp romaine with a creamy Caesar dressing that possessed just enough garlic and anchovy zip.
The oven was just as successful in churning out pizzas, which arrived with impeccably blistered crusts and toppings demonstrated a nice compromise be­tween creativity and respect for the classics. The hyper-seasonal Jersey asparagus variation was especially remarkable, the sauceless pie glistening with moisture from mozzarella, studded with an addictively nutty asparagus pesto and shaved slices of asparagus. (Fortunately, the wine list is well stocked with enough glasses and bottles to accommodate even that grape-averse combination of ingredients. I enjoyed my pizza with the Simi Rosato, a dry, fruit-driven, crisp rosé from the famed Sonoma producer, though the verdejo, from Spain's El Hada winery, would also work nicely.)
All components of the fish stew, a Sicilian "cacciucco," that followed were cooked properly, avoiding what is often the downfall of cioppino, bouillabaisse, paella and other mixed seafood dishes everywhere. And the tomato broth was delicate enough to allow the spotlight to fall where it should: on the fish itself.
In the context of these successes, then, the shortcomings were confusing. The centerpiece of the "Sunday Gravy" dinner—a family-style, $19 steal—was a letdown. Overcooked, starchy spaghetti, relatively bland tomato sauce and too-greasy, under-seasoned garlic bread don't bring to mind the dinner at nonna's that I imagine was intended. This was re­deemed, however, by an utterly gorgeous side dish of fluffy meatballs; addictive beef braciole whose texture reminded me of pulled pork in its succulence; and a beautiful house-made sausage. But for all the pasta that was offered, there were only two meatballs; Sunday gravy should be about abundance, not scrimping.
The dessert menu hit the right notes with traditional Italian pastries. The zeppole could have been fried a bit longer, but the petite cannoli was both tasty and thoughtful. After loading up on pasta and meats, the last thing you want is to face down a bratwurst-size pastry shell.
For all that Treno sets out to do, it generally executes it admirably. Unsurprisingly, given its ownership by P.J. Whelihan's parent PJW Restaurant Group, it's a great place for families (especially with that Sunday supper), as well as for a drink and snack at the bar. The care Fuller puts into the execution of his menu bodes very well for the restaurant. The pieces are present, the prices are fair and the best dishes really sing.
Photo: Asparagus and pesto pizza.
Published (and copyrighted) in South Jersey Magazine, Volume 8, Issue 3 (June, 2011).
For more info on South Jersey Magazine, click here.
To subscribe to South Jersey Magazine, click here.
To advertise in South Jersey Magazine, click here.