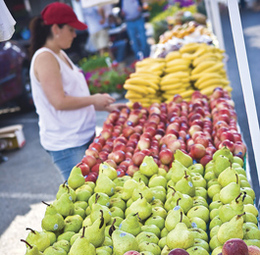 Growing Pains
South Jersey is at a turning point between its agricultural past and its fate in the future.
Standing amid seemingly endless rows of farmland planted with spring peas and hardy spinach, it's hard to imagine that Springdale Farms is the last working farm in Cherry Hill. Each bed is neatly planted, waiting for first buds. Tractors and equipment silently relish the twilight of their winter slumber. Chickens mill around their coop, oblivious to the 21st century world of progress that surrounds them on all sides.
John Ebert, the youthful 45-year-old who owns the farm along with his sister Mary Ann Jarvis and her husband Tom, is a passionate steward of his family's agricultural legacy in Camden County—spanning six generations on one side and seven on the other. His father bought the nearly 100-acre farm in 1949 and built the business slowly and earnestly, driving an oil truck in the offseason before the farm became self-sustaining. "It has always been a family business," says Ebert.
In the early years, "My father primarily grew crops for Campbell Soup. Then my mother established a customer base at the Camden Farmers' Market. That led to my older brother Thomas setting up a few crates in front of our house to sell strawberries." These modest beginnings led to a robust retail business that today features an onsite bakery and a slate of specialty foods to complement their homegrown produce.
Their retail operations allowed them to survive as neighboring farms succumbed one by one to land development pressures and out-of-state competition, until Springdale was the last one left. The disappearance of farmland in Cherry Hill is in many ways representative of the evolution of the agricultural industry throughout South Jersey. Farmland has gone from occupying nearly half the land in Burlington, Camden and Gloucester counties in 1950, to just 18 percent today. As the real estate market begins to bounce back, agricultural areas will once more be the targets of land-hungry developers. Now the question is: Is it too late to preserve our legacy as the Garden State? Brian Schilling, a specialist in agricultural policy at Rutgers, explains that the shift away from our farming heritage has been a long time coming. "The makeup of South Jersey began to change after World War II when people moved out of urban centers and into the rural periphery."
In 1950, the tri-county area had 4,700 farms comprising 350,000 acres; today 1,800 farms take up 140,000 acres. But the loss of farmland is only half the story; farms that remain have been forced to reconsider how they do business under pressure from changing regional economics. "Factors such as suburbanization, increased production and labor costs, and a complex regulatory environment have forced farmers to adapt their business to extract more profit from less land," Schilling says. Consequences have been a dramatic overall shift from livestock to crops, a move from commodities such as wheat and corn to higher value crops such as fruits and vegetables, and a tremendous boost in direct-to-consumer sales.
Barry and Carol Savoie's organic farm in Williamstown reflects many of these changes. Each with established professional lives (Barry, 36, is a nuclear power control room operator and Carol, 37, has a doctorate in marine biology and biochemistry), the couple carved their start-up out of the high brush of Carol's father's former thoroughbred horse training grounds. They bought a tractor in 2005 and began the grueling task of clearing the roughly 10-acre fields and establishing quality soil. A house was constructed the next year and a barn followed in 2008. The couple have retained their day jobs and are raising two young children. Yet Sa­voie Organic Farm has experienced ex­ponential growth each year through sales at local farm markets.
"Our goal is to transition to farming fulltime within the next few years," says Barry Savoie. "It is tremendously re­warding to sit back at the end of the day and be proud of what you've made. I have customers at the farm market who actually thank me for what I'm doing after spending their hard-earned $20 or $30." Certified organic since 2007, the farm has established a niche in high-end produce. In addition to immediate economic benefits—the Sa­voies received $9 for a 25-pound case of tomatoes before organic certification and get $22 to $27 for the same case now—they see organic as the future of New Jersey farming. "With the growing interest in local organic foods, I'm hopeful that people will continue to appreciate and support small farms like ours," Carol says.
Yet, the Savoie farm has been a rare bright spot in South Jersey, where the issue of farmland loss has become serious enough to draw state- and county-level intervention efforts. While the housing downturn has provided a brief respite, development pressures are certain to resume eventually.
"If you look at a map, unpreserved farmland still represents a lot of what is available to developers," says Schilling.
Some residents, says Gloucester County Freeholder Director Robert Damminger, "came here to get away from high-density areas, to enjoy the open spaces and fresh air.… The issue of preservation gets tremendous support." As a result, county residents have already approved a tax designated for preservation efforts.
Those are primarily in the form of preservation easements. "We have permanently preserved nearly 14,000 acres of farmland as well as over 3,000 additional acres of open space in Gloucester County since the program began in the late '90s," notes Ken Atkinson, director of Gloucester County's Office of Land Preservation.
One look at Medford's Jennings Farm, a participant in the state's Farmland Preservation Program, reveals the program's worth. The 1785 farmhouse and barn on 100 bucolic acres, once part of an uninterrupted expanse of Burlington County farmland, is now surrounded by new homes on all sides, with more on the way. The farm is run by sisters and retirees Mary Beth Melton, 68, and Sally Jennings, 70. It's been in their family since 1914; it's where they were raised.
"We enjoyed watching our father raise soybeans, corn and strawberries and helped on many a hot day in the hayfield," says Melton. After their parents died, the sisters returned home to carry on the family's farming tradition. But while a love for the land helped draw them back, ("the idea of selling fills us both with despair," says Jennings), they had more seeds to sow than just corn and soy.
It's the sisters' respective passions—Jennings' for animal rights and Melton's for sustainable agriculture—that inspired them to reject a relaxing retirement in favor of converting hayfields into pastures and launching a new business venture. The reinvented farm features horse boarding and grass-fed beef operations, and incorporates the latest in sustainable and humane practices.
While this approach is much more expensive than the conventional route, Melton explains, "We love what we are doing, and feel it is important to try and do the right thing and leave this place better than we found it."
There's no doubt that there is a part of our agricultural past—the era when miles of uninterrupted farmland stretched out toward the Shore—that is gone forever. Reflecting upon the area's significantly changed landscape, Springdale Farms' Ebert says, "When my father bought the farm, Cherry Hill was considered a rural area. People were drawn here because it was all farms and orchards."
While that's in the past, there remain a number of positive signs for the future of the agriculture industry in our area. Those include the ingenuity exhibited by local farmers over the last 60 years to adapt to a changing world, as well as the growing interest in buying locally sourced produce. But the strongest argument for farming's permanence is the farmers themselves and their passion to endure, whether that's motivated by a family legacy, the opportunity to chase the American dream or the hope for a sustainable future.
Published (and copyrighted) in South Jersey Magazine, Volume 8, Issue 3 (June, 2011).
For more info on South Jersey Magazine, click here.
To subscribe to South Jersey Magazine, click here.
To advertise in South Jersey Magazine, click here.